Baylor vs. Houston & Gonzaga vs. UCLA Odds & Pace Report: Examining Tempos & Predicting Totals for Saturday's Final Four Games (April 3)
Credit:
Ben Solomon/NCAA Photos via Getty Images. Pictured: Tyger Campbell.
The four teams remaining in the NCAA Tournament play different styles of basketball, making for a compelling weekend of college hoops for fans and bettors alike.
Collin Wilson broke down each team's preferred tempo and personnel to predict the totals for each game.
Check out his breakdown and picks for both Baylor vs. Houston and Gonzaga vs. UCLA below.
The wildest college basketball season comes to a conclusion with the Final Four on Saturday followed by the National Championship game from Indianapolis on April 5.
COVID-19 cast a shadow over the entire Division I schedule as four teams remain in a bubble to compete for the biggest prize.
Baylor missed three weeks of play during the crucial month of February, longer than the stint Gonzaga sat out of play during December. While UCLA did not have any pandemic interruptions, head coach Mick Cronin had a reshuffled lineup through the season without Chris Smith and Jalen Hill.
This article will serve as the pace report for our two semifinal games, looking for statistical trend edges in the total for both contests. Each one of these teams plays a different style, which will provide a compelling weekend of basketball.
Houston vs. Baylor Odds
Houston Odds

+5

Baylor Odds

-5

Moneyline

+175 / -220

Over/Under

134

Time

Saturday, 5:14 p.m. ET

Time | TV

CBS

Odds as of Wednesday evening and via PointsBet.
---
The Bears returned from their COVID-19 break missing their defensive efficiency in late February.
Three early March games all eclipsed 150 points with a game against West Virginia passing 180 points in overtime.
Baylor finished the season with an adjusted tempo rank of 186th but sliced by average possession length on offense that moves to 112th. The Bears finished with a faster tempo in recent games against Arkansas, Hartford, Oklahoma State and Kansas State than their season average would suggest.
A torrid pace to start off 13-2 against the Razorbacks was eventually slowed down, allowing the Hogs to get back in the game.
Baylor looks to push the tempo in its four-guard lineup, a stark contrast from a Houston team that is 331st in offensive tempo.
The Cougars have logged a steady average of 65 possessions per game with Cincinnati, Our Lady of the Lake and Lamar being the only teams to exceed 71 possessions per game.
Those games went well over the posted total because of the domination on the boards from Houston. The Cougars had 12 more offensive rebounds than Oregon State in the Elite 8.
This Final Four game features a large rebounding discrepancy on the offensive boards for both teams. Baylor and Houston are top-10 nationally in offensive rebounding, ranking 273rd and 151st on the defensive glass.
Both teams come to the semifinal with a 3-point rate just inside the top 55, as Baylor is the best long-distance shooting team in the nation. The formula calls for a bevy of 3-point shots and offensive glass tap-backs.
Per Torvik, Houston should have plenty of success with an increasing effective field goal percentage against a sinking Baylor defense.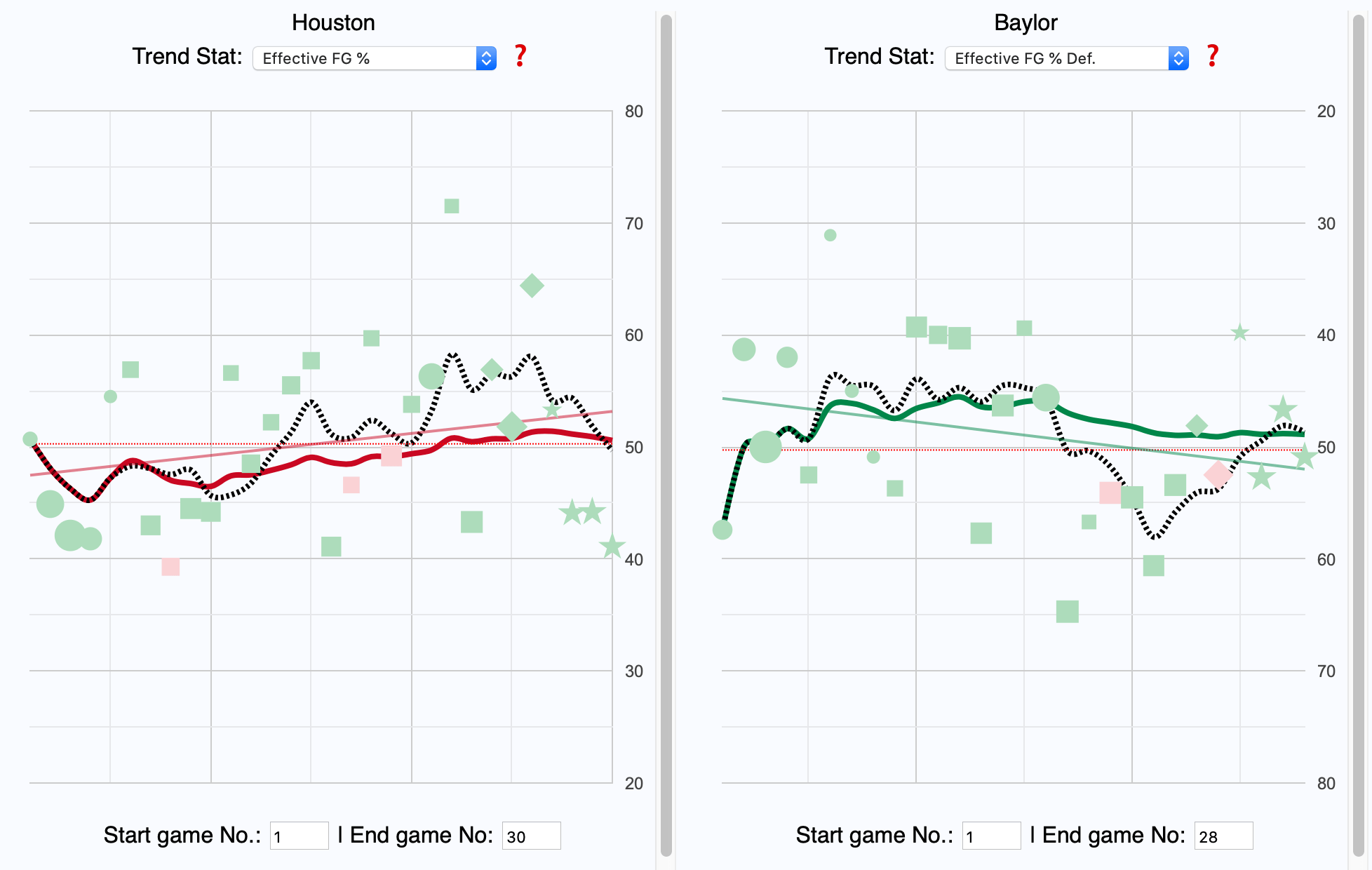 The projected pace of the game is 65 possessions, which targets a final score in the low 140s.
Similar to effective field goal rate, Houston is soaring in the points per possession department with a current moving average of 115.
Baylor will implement pace to avoid a Cougars defense that doesn't allow teams to get quality shots. With so many offensive boards and a Houston offense that is maximizing possessions, the over is the look.
Pick: Over 134.5.
---
UCLA vs. Gonzaga Odds
UCLA Odds

+14

Gonzaga Odds

-14

Moneyline

+690 / -1050

Over/Under

145.5

Time

Saturday, 8:34 p.m. ET

Time | TV

CBS

Odds as of Wednesday evening and via PointsBet.
---
The Final Four could not have asked for a bigger discrepancy in offensive pace than Mark Few versus Mick Cronin.
The Gonzaga offense is one of the fastest and most efficient units in the advanced statistical era of college basketball.
The Bulldogs are third in offensive average possession length while shooting the highest effective field goal number in the nation. While USC struggled to eat clock and convert long possessions to points, Gonzaga pushed the tempo for easy points in the Elite 8.
UCLA loves to do the exact opposite on offense, as Tyger Campbell walks the ball up the court for an offensive average possession length rank of 319th.
While the Bruins had the pace of a slug in wins over Michigan, Abilene Christian and BYU, the pace of the Alabama game may be an indicator of how tempo with the Bulldogs will play out.
The Bruins and Crimson Tide ended with an adjusted tempo of 79 possessions, 15 more than the season average for UCLA.
The Bruins dominated the final 10 minutes of the first half and in overtime with a 27-point differential from the Tide. Despite Cronin's attempts to slow games down, if Johnny Juzang is open, there will be plenty of quick shots.
Taking an under in a game against Gonzaga is a wager full of anxiety, but recent trends show this may be the route. UCLA does prefer to extend possessions, especially when Juzang is not on the floor.
Gonzaga has had an issue forcing turnovers since mid-February. On the flip side, the UCLA offense has only gotten better in ball protection.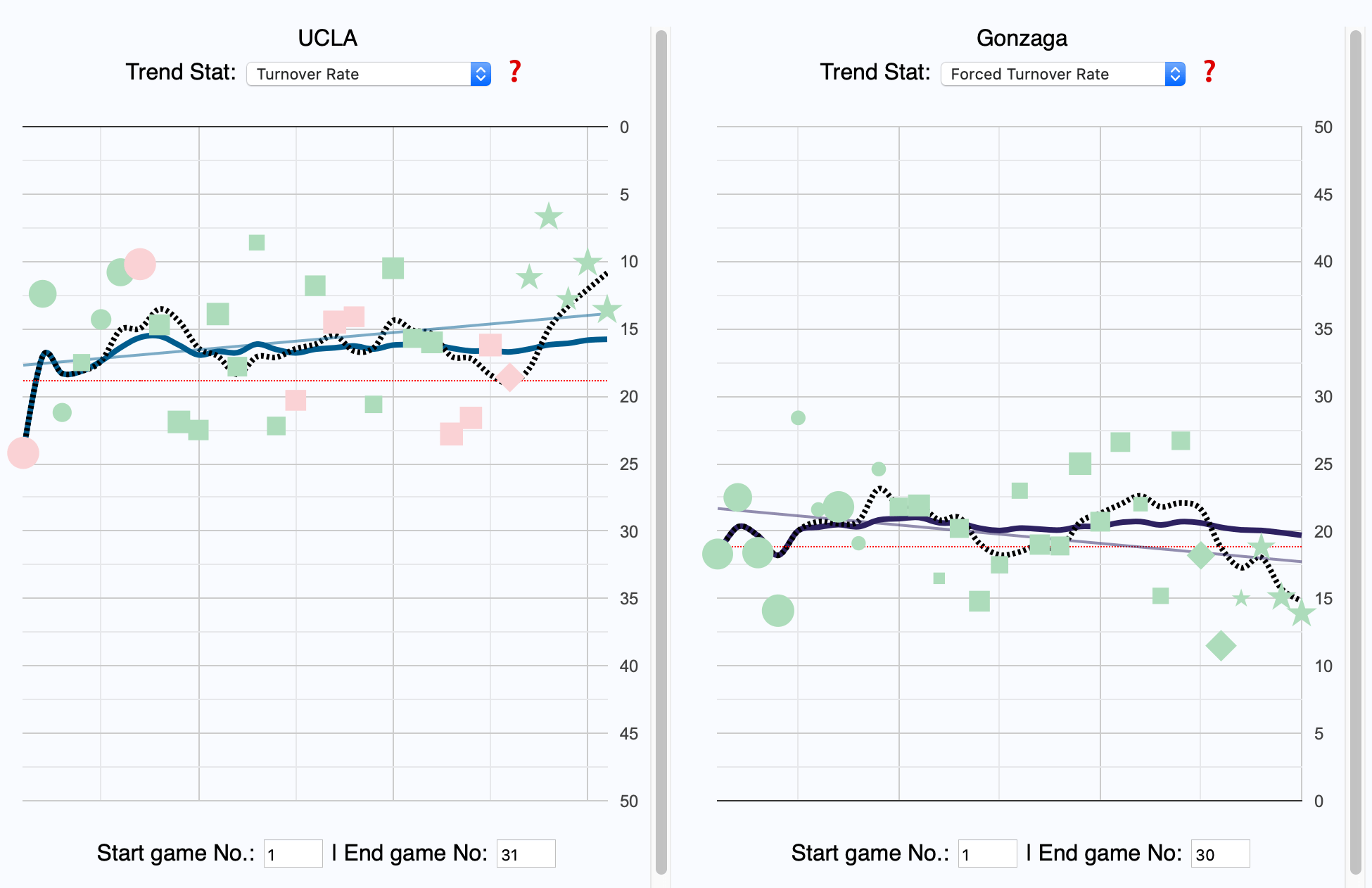 The Bulldogs will prefer to score their points in transition and avoid the half-court sets, making the UCLA transition defense the most critical aspect of this game.
Alabama committed 14 turnovers against the Bruins and shot just 25% from beyond the arc. UCLA will need a similar performance to subdue Gonzaga's quick-strike offense.
With UCLA's slower approach to offense and the potential for the Zags to slow down games up by 20, this game could have under all over it when the score is in blowout territory.
Pick: Under 145.
How would you rate this article?