Final Four Betting Odds & Pick for the UCLA vs. Gonzaga NCAA Tournament Clash
Credit:
Getty Images. Pictured: Corey Kispert (left) and Johnny Juzang (right). Illustration by Katie Richcreek.
Gonzaga. UCLA. Final Four. A chance to face Baylor in the national championship.
Mark Few's Bulldogs are hoping to keep their undefeated season alive against the Cinderella UCLA Bruins.
Stuckey shares betting picks and analysis for the semifinal game below.
UCLA vs. Gonzaga Odds
UCLA Odds
+14.5
Gonzaga Odds
-14.5
Moneyline
+700 / -1430
Over/Under
147
Time
Saturday, 8:34 p.m. ET
TV
CBS

Odds as of Saturday evening and via DraftKings.
It shouldn't surprise anybody that the undefeated and No. 1 overall seed Gonzaga Bulldogs are here in the Final Four. However, not many people thought their opponent would be the No. 11 seed UCLA Bruins, who will make their 19th Final Four appearance.
Let's take a closer look at each team and their respective path so far before diving into this matchup of West Coast teams and what to look for from a betting perspective.
How Did Gonzaga Get Here?
I don't really have to go into great detail here.
Gonzaga has simply continued to do what it has done all year: blow teams out in dominant fashion.  The Bulldogs have won all four tournament games by 96 combined points — or an average of 24 points per game. Oklahoma came the closest of those four teams, losing by "only" 16.
On the season, Gonzaga has won every game by double digits except for one — a five-point victory over West Virginia way back in early December in a game in which Jalen Suggs went down with an injury in the first half.
Since that game, Gonzaga has won 27 straight games by at least double-digits, which is the longest streak in college basketball in over 60 years. The Zags have also led by double-digits in the second half of all four NCAA Tournament games in all but 32 seconds.
For the season, they lead the nation with an average halftime lead of 14.1 points. The only other teams that average double-digit halftime leads are Houston and Baylor at 10.6 and 10.0, respectively.
If you still have doubts about Gonzaga because of its conference schedule (you shouldn't), I will remind you that the Zags also beat Kansas, Auburn, Iowa and Virginia on neutral courts in their non-conference schedule by an average of 17.25 points. The Bulldogs own seven wins over current top-25 KenPom teams. For reference, Baylor only has six.
If it can finish the job this weekend, this group will go down as one of the greatest college basketball teams of all time.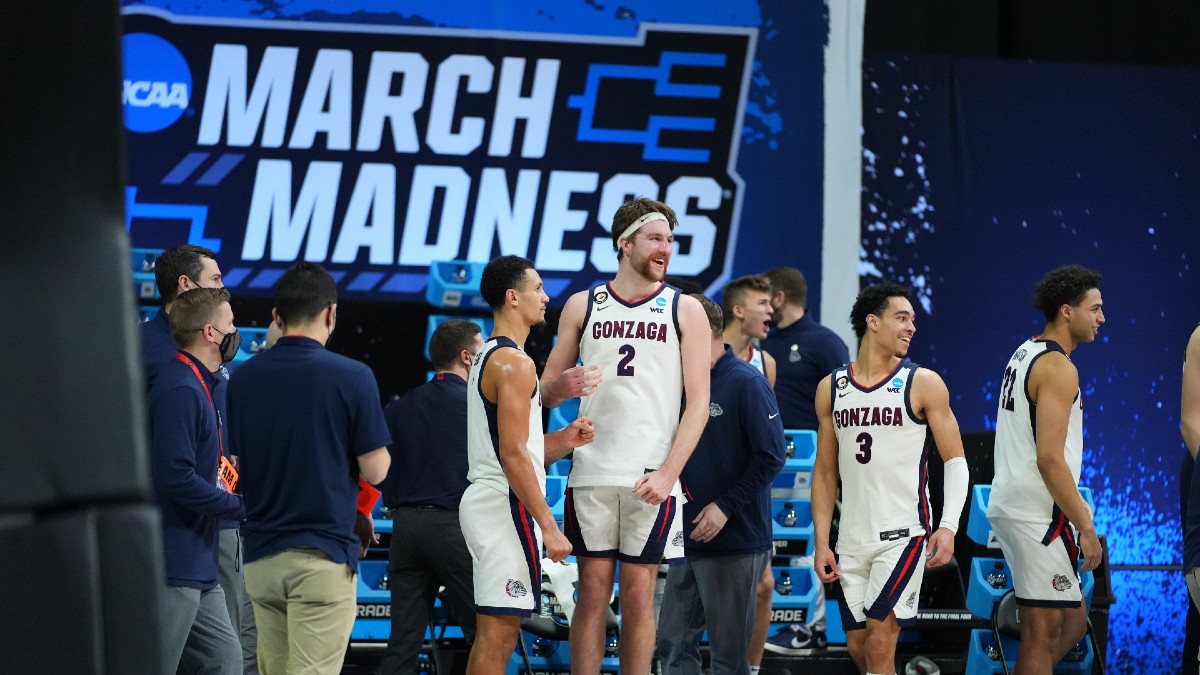 How Did UCLA Get Here?
After taking out No. 1 seed Michigan, UCLA became just the sixth double-digit seed to advance to the Final Four since the NCAA Tournament expanded to 64 teams in 1985.
History isn't on the Bruins' side, as the previous five teams all saw their runs end in the semifinals, losing by an average of 12.6 points per game. Only VCU — the only other team in tournament history to advance this far after playing in a First Four game — managed to stay within single digits.
However, that VCU team cruised through four of its five games en route to the Final Four. While the Rams did need overtime to defeat Florida State in the Sweet 16, their other four victories all came by a double-digit margin. That VCU squad also came up short against No. 8 seed Butler in the Final Four, while UCLA will have to go through the No. 1 overall seed.
I actually think UCLA's run is much more similar to what we saw No. 11 seed LSU do 35 years ago in the 1986 NCAA Tournament. In the first round, the Tigers snuck by Purdue in double overtime then beat Memphis on a buzzer-beater before taking out No. 2 seed Georgia Tech by six points and No. 1 seed Kentucky by two points. LSU then fell to eventual national champion Louisville.
UCLA also started out its journey with an overtime win over Michigan State. Then, after two relatively easy wins against Abilene Christian and BYU, it defeated No. 2 seed Alabama in overtime and No. 1 seed Michigan by 2 points. Sound familiar?
The Bruins have certainly enjoyed a great deal of good fortune in regards to opponent shooting variance. Take a look at these 3-point shooting splits through five games of the tournament:
UCLA: 37-of-98 (37.7%)
Opponents: 23-of-93 (24.7%)
And it's not like the Bruins faced a bunch of poor 3-point shooting teams.
Only Michigan State ranked outside the top 101 nationally in that category on the season. From a pure shot-quality perspective, the Bruins have only had a marginally higher chance of getting to this point as winning five straight coin flips — and that's with two blowout wins.
Plus, I didn't even mention the opponent free-throw shooting over the past two games. Michigan and Alabama combined to go 17-of-36 (47.2%) from the charity stripe in games the Bruins won in overtime and by one possession. That's nothing more than pure dumb luck.
But hey, it's one of the reasons we love this tournament. And credit the Bruins for finding a way to pull out these close victories. I was especially impressed with their ability to recover in overtime after Alabama tied the game at the buzzer.
So, can the Bruins become the first team seeded ninth or lower to advance to the national championship? Well, to do so, they will have to pull off a major upset as the biggest underdog in Final Four history.
Who is UCLA?
Head coach Mick Cronin deserves a ton of credit for the masterful job he has done with this team.
Not only did he lose highly-touted point guard Daishen Nix to the G-League before the season even started, but Cronin also had to adjust to losing two of his better players to injury during the regular season in Chris Smith (12.6 PPG, 6.4 RPG) and Jalen Hill (6.1 PPG, 5.1 RPG).
In typical Cronin fashion, UCLA wants to slow games down to a screeching halt (338th in adjusted tempo) and earn its paycheck on the defensive end. The defense has struggled a bit on the perimeter throughout the season but has started to come together at just the right time — even if partly due to some beneficial shooting variance.
The offense has actually been the more efficient unit if you look at season-long metrics. The Bruins rank 13th in adjusted offensive efficiency, per KenPom.
They are led by the dynamic backcourt duo of point guard Tyger Campbell and the red-hot Kentucky transfer Johnny Juzang. And while they aren't a 3-reliant offense (300th in 3PA/FGA), Jaime Jaquez and Jules Bernard can knock them down on the wings with both shooting over 39% from distance on the season.
The other primary scoring option is Cody Riley, who primarily does his damage in the post. The Bruins prefer to work late into the shot clock and are very effective in pick-and-roll, which they use at a top-110 rate and rank in the 90th percentile in terms of points per possession, per Synergy.
Part of their favorable efficiency rankings comes from the fact that they rarely turn the ball over, ranking 29th in the country in that category.
UCLA is extremely reliant on 2-point jump shots, ranking 335th in rim-and-3 rate (per Synergy) and fifth nationally in 2-point jump shot rate (per Hoop-Math). That's certainly not a normal characteristic for an uber-efficient offense, but the Bruins shoot 40.7% on those shots, which ranks 54th in D-I. They have tough shot-makers.
Who is Gonzaga?
Gonzaga is an offensive juggernaut, ranking first in adjusted efficiency, effective field goal percentage and 2-point percentage, per KenPom.
The Zags run a beautiful ball screen-based offense with precise cutting and flawless ball movement. They have three players who were in the discussion for Player of the Year in point guard Jalen Suggs, sharp-shooter Corey Kispert and big man Drew Timme. Oh, and don't forget about Joel Ayayi and Andrew Nembhard, who seem to fit like a glove with the big three in Mark Few's offense.
There really are no flaws with this offense, which ranks 34th in rim-and-3 rate but is not reliant on the 3-point shot (278th in 3PA/FGA). Gonzaga takes the third-highest frequency of shots at the rim and leads the country with an obscene 72% on those attempts.
Most of the time, Gonzaga is simply ending its possessions with a layup as it did against the top 2-point defense in the country in USC last time out. It rarely takes 2-point jumpers although it's extremely efficient when it does, as the shots are usually wide open.
The Bulldogs prefer to play super fast, ranking sixth in adjusted tempo. They are especially lethal in transition, leading the country in both percentage of shots (34.5%) and field-goal percentage (65.9%) in transition. No team gets out on the break faster than the Bulldogs.
While the defense isn't as elite as the offense, Gonzaga still ranks fifth in adjusted defensive efficiency, per KenPom.
Suggs, in particular, can really apply pressure on the perimeter and the defense is very versatile, which allows them plenty of flexibility when it comes to switching. The defense does have a few vulnerabilities, ranking in the 59th percentile against spot-up shots and in the 17th percentile in post defense, per Synergy.
For as much as Timme brings on the offensive end, he can be exploited on the other end of the floor. Still, I'm nitpicking here. Teams can score on Gonzaga when Timme is on the floor but just nowhere close to as efficiently as Gonzaga scores with him in the lineup.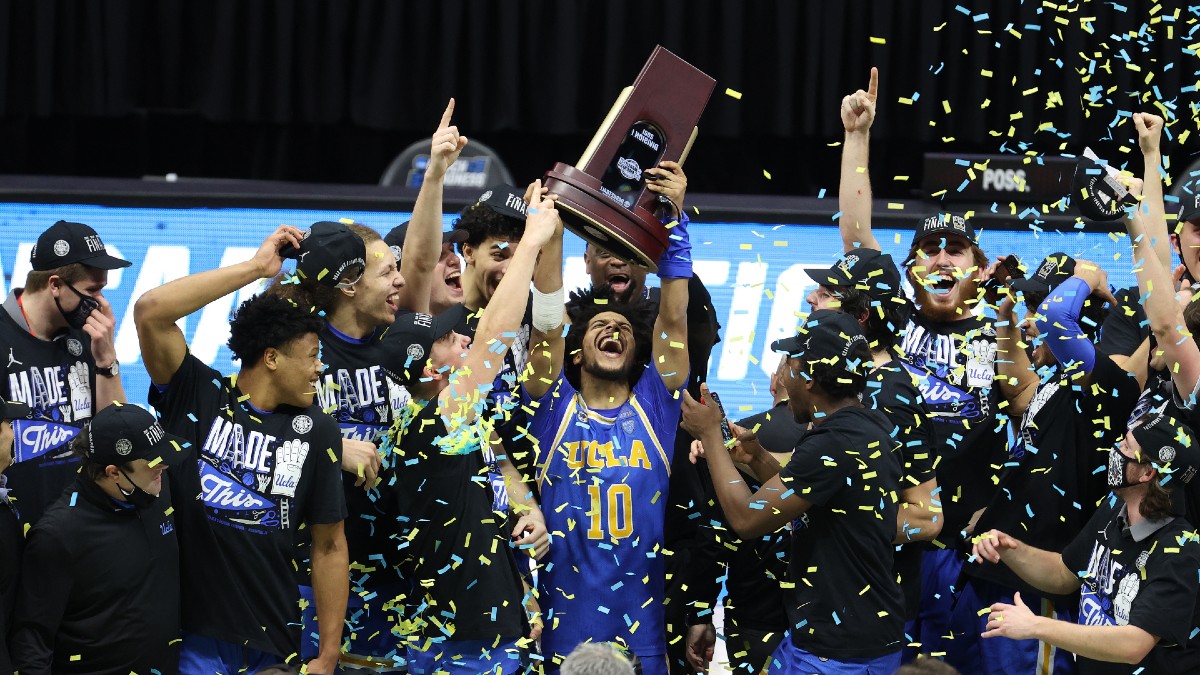 The Matchup
I'm sure the Bruins will try to keep Gonzaga out of transition, but I'm just not sure that's possible.
UCLA does rank in the 92nd percentile in points per transition possession (27th overall), per Synergy. However, this Gonzaga offense might be the best transition offense of all-time. It had no issues against other top-100 transition defenses (BYU, USC, Santa Clara) and put up 98 points against a Virginia team that plays at the slowest-tempo in the country (and allows the third-fewest transition opportunities).
Riley has done a tremendous job this tournament defending at the rim against three post-heavy offenses in Michigan, Abilene Christian and BYU. However, while Gonzaga does work through Timme a decent amount in the post, he's a much different animal than a traditional big in the post. He has elite vision, a wide array of post moves and is a tremendous passer. If he could carve up the Mobley brothers and the USC interior defense, I'm not sure how much Riley can do.
Cronin has also used Kenneth Nwuba more often against post-reliant teams for his defensive and rebounding prowess, but he brings almost nothing offensively. Timme should eat as usual.
Bottom line: Gonzaga is going to score, score, and score some more. UCLA can try to slow the game down, but the Zags will still get easy buckets in transition while scoring with hyper-efficiency in the half-court.
I'm convinced the only way to beat Gonzaga is to simply go ballistic on offense. And the Bruins would still likely need an off-shooting night from the Bulldogs.
So, can UCLA have success offensively? I think some.
The Bruins can exploit Timme and Kispert in the post and create mismatches with screening action on the perimeter. Now, will it be enough to even put a scare into Gonzaga? In my humble opinion, absolutely not.
However, it could lead to a cover. UCLA also doesn't have as many turnover issues as USC. Those doomed the Trojans from the start. Coughing up the ball before even getting a shot off against Gonzaga is a death sentence.
Bets to Watch
The UCLA offense is way too reliant on 2-point jump shots and goes through way too many droughts to keep up with the Gonzaga juggernaut.
However, this is a confident offensive unit with tough shot-makers who can schematically create enough mismatches to keep Gonzaga at least interested for most of the game. The Bruins will get some open 2-point jumpers at the top of the key area, and Riley can have some success in the post.
I'm interested to see what Cronin does from a schematic perspective to try to slow down the Gonzaga offense. I'm sure the Bruins will try to keep Gonzaga out of transition, but I'm just not sure that's possible.
Will they utilize more zone or go under every screen? Will they just dare Gonzaga to beat them from 3 and hope the Dogs are cold? Mick will pull out all of the stops, but I don't see many paths to success.
It's no surprise that I think the line is pretty fair, as I make it Gonzaga -14.7. It's tough to find spread value this late in the year when the market becomes super efficient. Therefore, I have no interest in getting involved pregame.
I do see some tiny value in the over but not enough to pull the trigger unless we get back under 145.
I'd actually prefer the Gonzaga team total over 79.5, but that's somewhat dicey since it's semi-dependent on UCLA at least keeping this somewhat interesting for 30-35 minutes. If not, we could see Gonzaga sit on a huge lead late as it has throughout the tourney.
But if Gonzaga's outside shots are falling (and a UCLA opponent is certainly due to go crazy against its vulnerable perimeter defense), I like its chances to clear this hurdle, especially if UCLA can keep it respectable. We did see Washington State and Oregon both eclipse that mark against the Bruins in regulation during Pac-12 play when their outside shots were falling.
One minor concern worth noting is potential UCLA fatigue. It's not a deep team right now, and its starters have played 204 more minutes than Gonzaga's. It's possible legs become an issue in the second half in a faster-paced game that will be the Bruins' third of the week.
From a player props perspective, I'd target the following four:
Cody Riley, Over 9.5 Points
Corey Kispert, Over 17.5 Points
Jalen Suggs, Over 14.5 Points
Johnny Juzang, Under 18.5 Points
Riley has really come on down the stretch, scoring in double figures in eight of his past 12 games. He'll also have a favorable matchup on the low block. Plus, I think he gets a huge share of minutes, as UCLA really needs his offense to keep up with Gonzaga. I also think Cronin will look to feed him early and often, looking to potentially get Timme in foul trouble.
The only concern would be foul trouble trying to guard Timme on the other end, but hopefully, the refs swallow their whistle some on this big of a stage.
Meanwhile, Kispert, who averages 18.9 points per game, could be the main beneficiary of the UCLA 3-point defense regression. He should also have a favorable matchup on the perimeter against a group of vulnerable spot-up defenders.
The same can be said for Suggs, who I think will be ultra-aggressive from the jump.
Going under on the red-hot Juzang is a scary proposition, but recency bias is driving this number up. He may get a lot of looks from 2 off screening action, but I'm sure Mark Few will have him circled to contain in the game plan.
How would you rate this article?
This site contains commercial content. We may be compensated for the links provided on this page. The content on this page is for informational purposes only. Action Network makes no representation or warranty as to the accuracy of the information given or the outcome of any game or event.