Gonzaga vs. Baylor: The Top 2 NCAA College Basketball Teams Reprise Their Canceled Regular Season Matchup in the NCAA National Championship Game
Credit:
Getty Images. Pictured from left: Corey Kispert (24) of the Gonzaga Bulldogs and Mark Vital (11) of the Baylor Bears.
Editors Note:This article was originally published days before the Final Four on Saturday, April 3, 2021. Some language has been updated accordingly, but otherwise the article remains in tact as originally published.
Saturday, Dec. 5, 2020.
No. 1 Gonzaga and No. 2 Baylor were scheduled to play a neutral-site game at Bankers Life Fieldhouse in Indianapolis, IN.
Then, the inevitable happened … or, at least that's how it felt at the time: Gonzaga vs. Baylor was postponed, then ultimately cancelled, due to COVID-19.
Since the cancellation, college basketball fans have spent every minute of every day waiting for this matchup.
For most of the season, these two playing on Apr. 5 seemed like a foregone conclusion. The Bulldogs and the Bears were unequivocally the two best teams in the country.
But, there were struggles — more so for Baylor than for Gonzaga. The 'Zags mostly cruised past a weak West Coast Conference schedule, but even the juggernaut Bulldogs had a scare vs. BYU in the WCC Championship game.
Nevertheless, both teams have made it through five rounds of NCAA Tournament action — including another Bulldogs scare against UCLA in the Final Four.
Now, the country's two preeminent powerhouses finally meet — exactly four months displaced from the date of their previously scheduled matchup in December. And this time, it won't just be an early-season non-conference victory at stake: The NCAA National Title will be on the line.
---
---
Back on Dec. 5, I previewed the originally scheduled Gonzaga vs. Baylor early-season matchup that was ultimately canceled.
What has changed since the two teams were supposed to meet in December? Is either team playing differently? Who would have the edge on Monday? Would I change my original handicap on this game?
Let's dive into the last four months for the Bulldogs and the Bears.
---
Gonzaga vs. Baylor Betting Odds
Before odds for Gonzaga vs. Baylor were pulled from the board on Dec. 5, here's where the lines closed:
| | |
| --- | --- |
| Gonzaga Odds | -2.5 |
| Baylor Odds | +2.5 |
| Moneyline | -141 / +120 |
| Over/Under | 155.5 |
---
Fast-forward four months, and now NCAA National Title lookahead lines for Baylor vs. Gonzaga have already begun to surface across the betting market. FanDuel has the spread at Gonzaga -5.5, and Circa Sports lists the over/under at 160.5.
These are early lines, and a lot can change after the Saturday games.
However, it feels right that Gonzaga has gained three points and the over has jumped five since early December: Gonzaga's season has been historically dominant, while Baylor's season has been a rollercoaster.
---
Gonzaga's Dominance
Gonzaga is not just 30-0.
The Bulldogs won 29 of those games by double digits while scoring 91.6 points per game and only allowing 68.5. Gonzaga's adjusted efficiency margin (AdjEM) of +38.82 is more than eight points better than second-place Baylor, per KenPom.
In fact, it's the best adjusted efficiency margin that Ken Pomeroy has ever recorded. The Bulldogs have a legitimate argument as the best college basketball team of all time.
But, this isn't an article contrived to extol Gonzaga's dominance. Over the past four months, what's changed for Mark Few's Bulldogs?
In short — the Bulldogs impressed from Day 1 … and then drastically improved.
On Dec. 5, Gonzaga ranked 15th in effective FG% (eFG%) and ranked fourth in 2P%. But, by the power of Drew Timme, Corey Kispert and Jalen Suggs, Gonzaga's interior offense has reached all-universe levels.
Gonzaga now ranks first in the nation in eFG% and is the best 2P% shooting team of all time. The offense also scores close to the basket: Gonzaga takes 48.4% of shot attempts at the rim (fourth in NCAA) and scores on 72% of those attempts (first in NCAA), per Hoop Math.
The Bulldogs' other huge improvement has come on the defensive end. Over the course of the season, Gonzaga's defensive metrics gradually began to catch up with its offensive metrics. The Bulldogs now boast the fifth-best adjusted defensive efficiency (AdjD) in the country.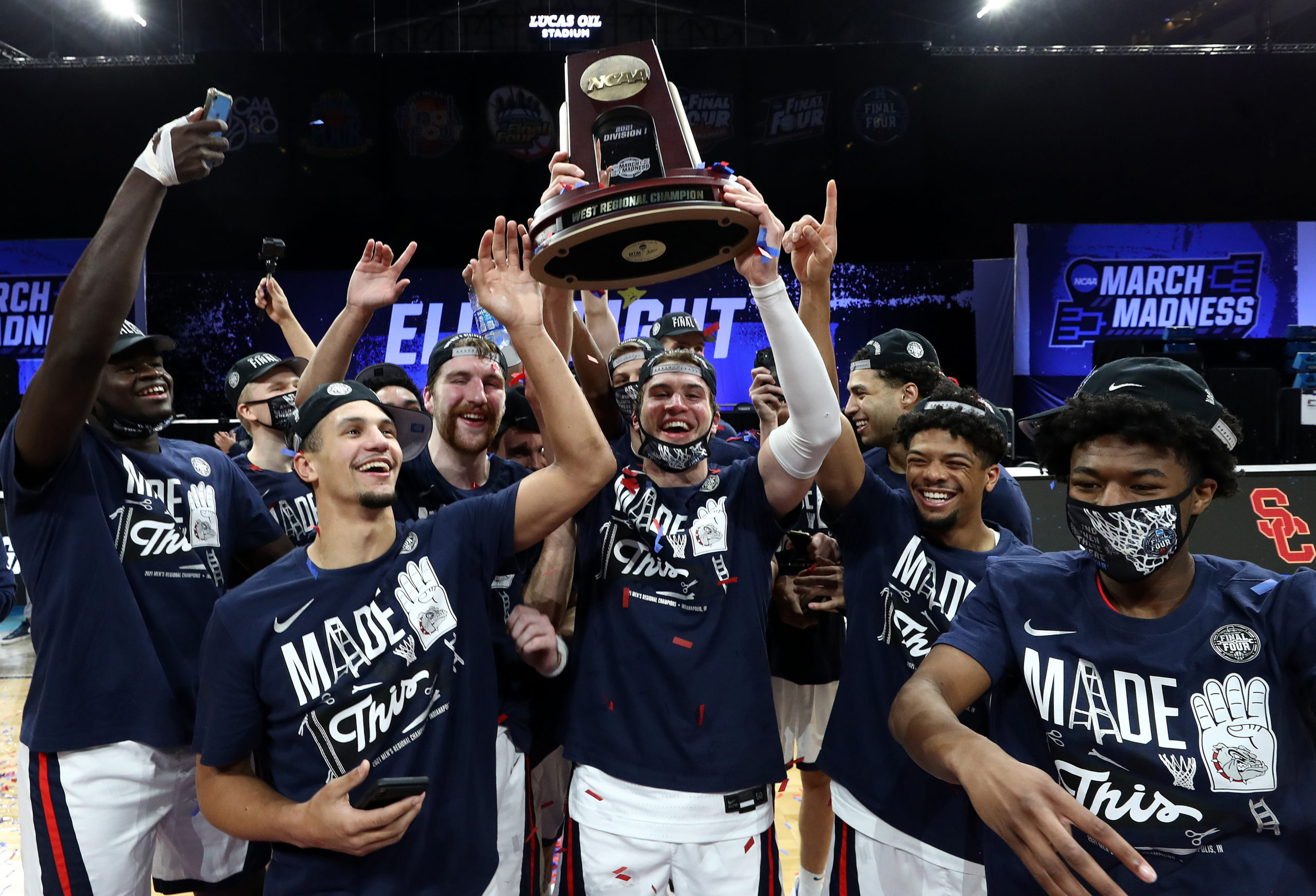 After Gonzaga cruised past Virginia on Dec. 26, Gonzaga was playing just 'okay' defensively. It allowed 0.99 points per possession over the first month of the season.
However, the Zags' season-long defensive points per possession mark has dropped all the way to 0.91. Plus, since the start of WCC Tournament play, Gonzaga's AdjD is an elite 87.3, per Torvik.
In its past two games, Gonzaga held USC and Creighton to a combined 131 points. For a supposedly offensive-minded team, that's an impressive stretch of defensive play.
Gonzaga has been challenged exactly once this season: Against BYU in the WCC Tournament Final. The Bulldogs trailed by 12 at halftime. Then, on the strength of Jalen Suggs' 23 points and five assists, Gonzaga proceeded to outscore BYU 31 to 15 over the final 10 minutes of play. The Zags' second-half performance flipped their double-digit deficit to a double-digit victory.
Nonetheless, BYU did provide a blueprint for beating Gonzaga. It's basically a three-step process:
Contain Timme as best you can.
Shoot 70% from 3.
Hope and pray that Gonzaga shoots 20% from 3.
No big deal, right?
---
Baylor's Rollercoaster
This is what I wrote about Baylor heading into its early-season matchup with Gonzaga:
"The Baylor defense is really good. The Bears have the defensive prowess to contain Kispert and Suggs on the perimeter. I would be worried about defending Timme inside, but the way Baylor dismantled [Illinois big man Kofi] Cockburn alleviates that worry."
When that game was cancelled, the Baylor defense was playing great. It ranked eighth in AdjD after finishing fourth in that metric in the 2019-20 season.
However, following an early February game against Texas, a Bears player tested positive for COVID-19. What followed was a three-week pause in play; then, a complete defensive collapse.
When Scott Drew's team returned from its nearly month-long stoppage, Baylor wasn't defending at nearly the same level. The rotations were either late or non-existent, the one-on-one defense was shaky, and opponents were beating up on the smaller Bears guards by driving to the basket.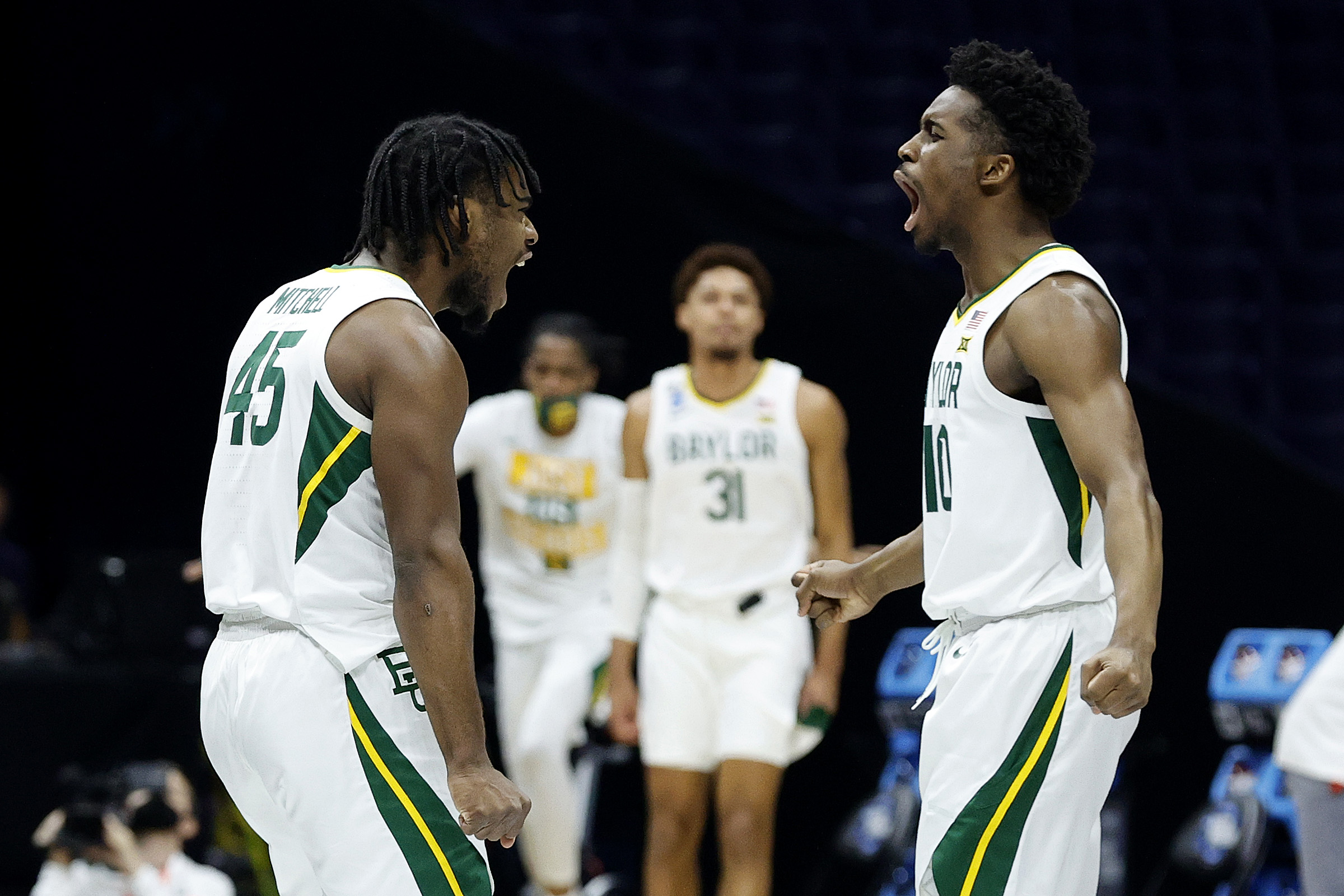 During the stretch of seven games from the team's return to play to the end of the Big 12 tournament, Baylor allowed a whopping 1.09 points per possession. It also lost twice during that span and almost lost to a winless Iowa State team.
However, following the Big 12 conference tournament, the defense now appears to have self-corrected. Over its four NCAA Tournament games, Baylor reports an AdjD of 86.1 and has allowed only 60.3 points per game. If Baylor has any chance to compete with Gonzaga, the defense will have to continue to play at that elite level.
While the defense was in shambles, the offense never missed a beat. The Bears are lights out from the perimeter (they lead the nation in Team 3P%) and can easily score on the interior as well.
Whichever way Baylor scores — or defends — everything starts and stops with its guards. The trio of Jared Butler, Davion Mitchell and MaCio Teague make up the best two-way backcourt in the country. When Baylor is clicking, this trio scores and defends more efficiently than any group of players in college basketball.
---
Gonzaga vs. Baylor: Then vs. Now
Back on Dec. 5, I took the under in my matchup preview. At the time, it was too difficult to pick a side, so I cited Baylor's defensive dominance and the tendency for No. 1 vs. No. 2 matchups to be low-scoring.
After watching both teams play for an entire season, there is no chance I would make that decision again. The Bulldogs have proven they can score on anybody; meanwhile the Bears have been explosive offensively but remarkably inconsistent on defense.
Since Gonzaga and Baylor couldn't decide anything on the court in December, experts and fans alike have garnered myriad arguments for both sides over the course of the season. Common talking points include:
Few's Bulldogs are 4-0 against Drew's Bears since 2006, with the most recent victory coming in the 2016 Sweet 16.
Baylor has played a much more difficult schedule than Gonzaga and is therefore the stronger team.
Gonzaga has too much firepower and size for Baylor to keep up — either offensively or defensively.
Guard play is the most important factor in the NCAA Tournament, and Baylor has the best guards in the country.
… and so on, and so forth.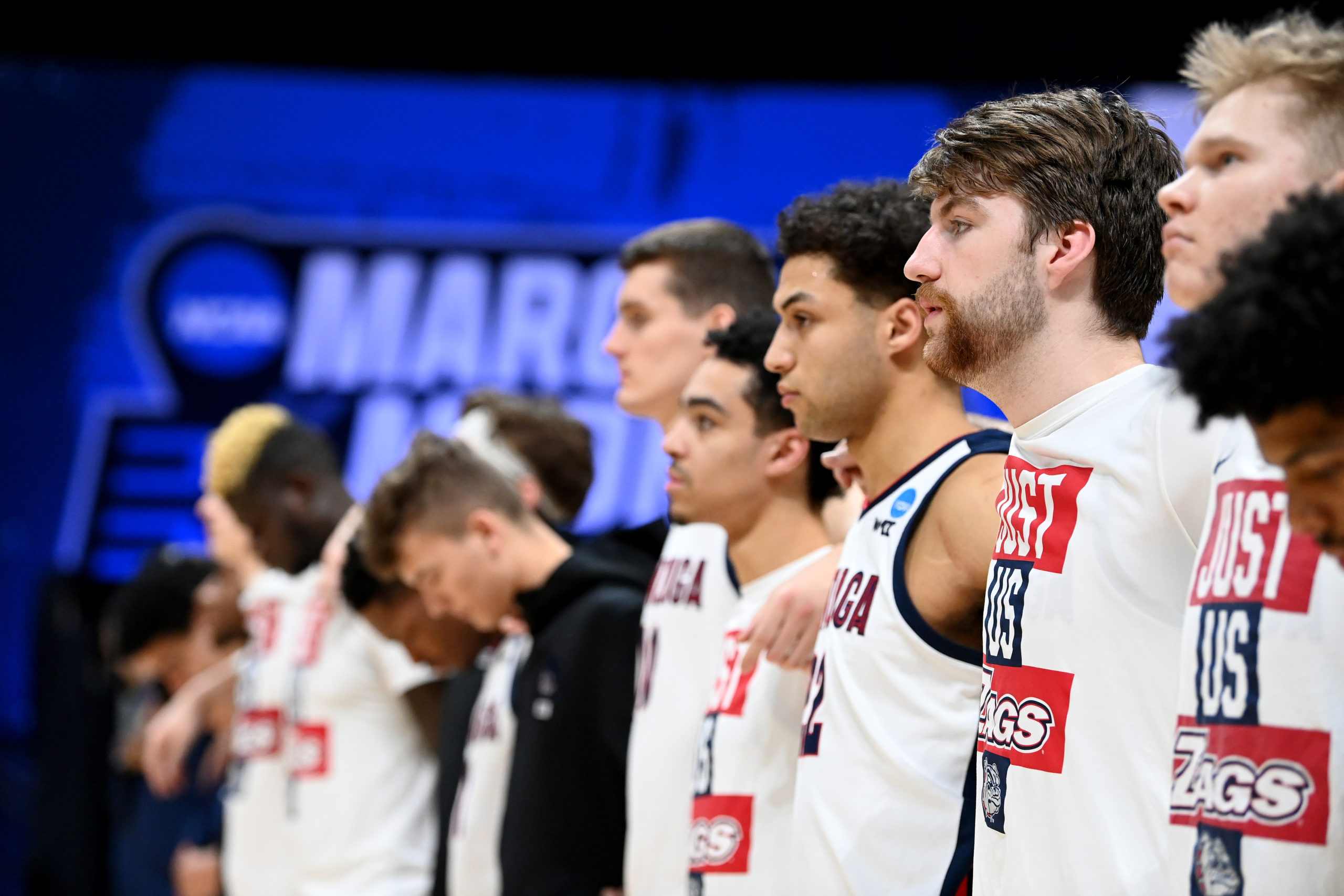 Either way, one thing seems clear: Baylor is the underdog in this fight. Since Dec. 5, Gonzaga has steadily improved while Baylor had a huge, COVID-19-related stumble.
One more thing also seems clear: When Baylor is playing its best basketball, it is capable of beating any team in the country. Yes, that includes Gonzaga with the National Title on the line.
During the 2021 NCAA Tournament run, there have been two distinct stretches when we witnessed Baylor play its absolute best basketball:
The First 10 Minutes vs. Arkansas
Baylor went up 19 points by hitting outside shots and forcing turnovers. Baylor's guards also managed to keep up with a much-bigger Razorback team, which bodes well for defending against 6-foot-4 Jalen Suggs.
The Second Half vs. Villanova
Baylor outscored the Wildcats by 18 points in those 20 minutes. It forced 16 turnovers while only turning the ball over six times. And it also held Jeremiah Robinson-Earl to just eight points on the interior, which bodes well for containing Drew Timme.
For the Bears to win the 2021 NCAA Championship, the Baylor team from the two previous examples must show up on Apr. 5. Otherwise, picking a side in this iteration of Gonzaga vs. Baylor won't be very difficult.
How would you rate this article?
This site contains commercial content. We may be compensated for the links provided on this page. The content on this page is for informational purposes only. Action Network makes no representation or warranty as to the accuracy of the information given or the outcome of any game or event.