College Basketball Odds & Picks for Kentucky vs. Tennessee: How to Bet Saturday's SEC Rivalry Game (Feb. 20)
Credit:
Andy Lyons/Getty Images. Pictured: Kentucky's Jacob Toppin drives against Tennessee.
Kentucky and Tennessee's Saturday matchup might not the marquee SEC meeting of the season, but this showdown still has plenty of intrigue.
Tennessee is favored and should take care of business with a home win, but there could still be other value to be found in this game.
Shane McNichol previews Saturday's matchup and gives his betting pick below.
Kentucky vs. Tennessee Odds
---
Kentucky Odds
+7.5
Tennessee Odds
-7.5
Moneyline
+255 / -330
Over/Under
137
Time | TV
1 p.m. ET | CBS
Odds updated as of Saturday at 11 a.m. ET and via PointsBet.
---
In a typical year, Kentucky and Tennessee's two meetings on the hardwood are generally among the most critical on the SEC schedule. While that might not be the case this season, there is still tons of intrigue leading into the second meeting of the Wildcats and Volunteers.
Kentucky's season began disastrously, with a six-game losing streak early in non-conference play, but John Calipari and company have bounced back — to a degree — and won their last two. Big Blue Nation will have a difficult task Saturday, facing the Vols, one of college basketball's best defensive teams.
While Tennessee should take care of business with a home win, there could still be other value to be found on the betting markets surrounding this game.
---
Tennessee's Newly Balanced Offense
This Tennessee team is really two teams trying to mesh into one unit. While a team with seven players averaging between 8.5 and 12.4 points per game might look incredibly balanced, the Vols' offense has fluctuated throughout the season, with the averages just by chance landing all in a muddy middle.
Last year's Vols were a middle-of-the-pack SEC team that played at a very slow pace by college basketball standards. Rick Barnes then added two freshmen with first-round NBA talent, Keon Johnson and Jaden Springer, both of whom have the athletic pop and push-the-rock attitude to play much faster.
This season's Vols have struggled offensively as they balanced two identities.
More recently, it's been Springer and Johnson taking center stage. In Tennessee's first nine games, Springer averaged 18.9 minutes per game and Johnson played 20.2 minutes. In those games, they combined for 18.7 points and 3.8 assists per game, attempting 13.7 field goals and 6.4 free throws per game.
In their nine most recent games, both have played more minutes, with Springer playing 29.7 minutes and Johnson at 24.2 minutes per game. Their production has followed, with the two combining for 26.1 points and 6.8 assists, while attempting 18.1 field goals and 9.5 free throws.
Playing faster with the freshmen in a larger role has proven successful for the Vols. When Springer and Johnson combine for 17 or more points, Tennessee is 13-1. In their nine games that have topped 70 total possessions, the Vols are 8-1.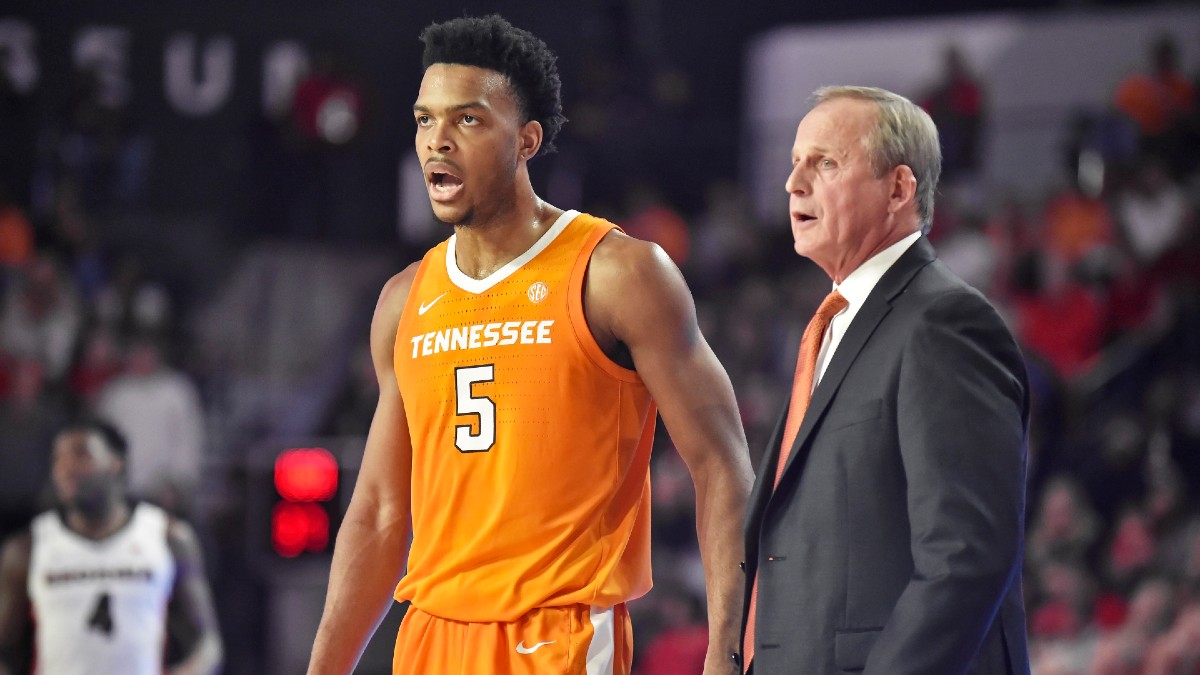 Kentucky's offensive growth
Kentucky has played significantly better since starting this season just 1-6.
Part of that improvement has been addition by subtraction, with freshman Terrence Clarke out of the lineup.
In the seven games he played before being derailed by a knee injury, which Calipari has taken some not-so-subtle swipes at of late, Clarke was horribly inefficient and looked unready for the college game, while playing more than 30 minutes per night and shooting over 10 field goals per game.
The majority of Kentucky's improvement has come on the offensive end of the floor. In 18 games against power conference foes, Kentucky has managed more than 1.0 points per possession only six times all season, three of which were the Wildcats' last three outings.
In Kentucky's first seven games, with Clarke in the lineup, the Wildcats averaged just 0.94 points per possession. Remove a season-opening win against Morehead State and that number drops to 0.89 per possession, which would rank among the worst offenses in the nation.
Since Clarke left the lineup and the Wildcats began SEC play, the offense has improved, to the tune of 1.01 points per possession.
Obviously, removing Clarke from the lineup was not a catch-all solution. Other changes have gone a long way in Kentucky's steadying of its season.
Sophomore Keion Brooks returned from an injury, pitching in with 10.7 points and 6.3 rebounds per game, offering Calipari another experienced collegiate-level player.
Redshirt freshman Dontaie Allen's shooting has been a boon for Kentucky's offense as well. After playing an average of just 4.8 minutes in four early Kentucky games, Allen has played 18.6 minutes per game in Kentucky's last 13 outings.
He's the only Wildcat shooting above 34% from outside the arc on more than one outside attempt per game. When he's in the lineup, he takes full advantage. Allen is attempting more than nine 3-pointers per 40 minutes of action.
Allen's minutes have dipped in recent weeks, yet he received his most playing time of February in the first meeting with Tennessee and got up five attempts from long range.
BJ Boston's Shooting Woes May Have Ended
Brandon Boston's shooting improvements of late are another reason Kentucky's offense has bloomed. The once highly-heralded recruit could not make a shot early in the year.
In Boston's first 14 games this season, he managed 12.1 points on 36.4% shooting from the field and a disastrous 18.0% from outside the arc.
In his last five games, Boston's overall production has not radically changed, but his effect on the Wildcat attack has. In that period, he has scored 12.4 points per game on 37.5% shooting from the field and 52.0 percent from long range. The 180-degree flip in his shooting has opened things up for Boston's teammates and changed how many defenses look to stop him.
While his 3-point shot has normalized to an extent, Boston is still struggling inside the arc. This season he's shooting just 52% on attempts at the rim and a dismal 29% on 2-point jump shots, per Hoop-Math.com.
Tennessee and its highly ranked defense are hardly the team to allow Boston to figure out his issues. The Vols have allowed the lowest field goal percentage at the rim in the SEC, thanks in large part to the rim protection of Yves Pons.
---
Betting Analysis & Pick
Tennessee should win this game.
The Vols have more to play for, will be hosting the game in Knoxville and are the better team.
This Kentucky team, however, does magically pull a rabbit of its hat from time to time. The Wildcats stole a win at Florida and handily beat LSU last month.
Making jump shots can make any team look better, but when this Kentucky team gets hot, it opens so many other avenues for the Wildcats. Driving lanes are more prevalent and transition defense becomes less of a priority. Predicting how this team will shoot on any given day would be like trying to predict the weather on Jupiter 10 years from now.
Instead, there's more value in betting the total in this game, which sits at only 134.5. Both offenses have improved and both of these teams have played faster-paced games of late. Each of the last seven Kentucky games have cleared 134.5, and so have the last five Tennessee games.
That may look like two streaks due for regression if it weren't supported by how these teams have changed of late. W
ith Kentucky spreading things out and shooting better, plus Tennessee letting its freshmen push the pace, the over looks like a strong bet.
Pick: Over 134.5 (up to 137).
How would you rate this article?