The $1,000 March Sadness Bracket Challenge: Round of 32 Results
March Madness did not go on as planned this year, but that didn't stop us from throwing our own Bracket Challenge.
Our selection committee of one (Stuckey) set the bracket on Sunday and you all signed up in droves for what we're calling The $1,000 March Sadness Challenge.
At this point, you should've received an email that assigned one of the 64 teams to you. (If you didn't, reach out to feedback@actionnetwork.com.)
After simulating the Round of 64 on Wednesday, we're on to the Round of 32!
Reminder: The team that covers the spread is the team that advances in the March Sadness bracket.
If your team makes it all the way to the end, that's when you'll be entered into a random drawing with all the other entrants who also have your same team. The winner of that random drawing, gets the $1,000 cash.
Below we'll detail the game-by-game results for the Round of 32, but we won't judge you if you want to skip the words and go straight to the printable bracket, which also contains spreads for the Sweet 16 matchups.
---
EAST REGION
16. Robert Morris vs. 8. Auburn
Spread: Auburn -16.5
Score: 87-78 (Auburn wins, RMU covers)
Not enough defense for Auburn and Bobby Mo does it again. In a tourney format where a 16 seed can win it all with six straight covers, Robert Morris has two of the six out of the way.
12. Yale vs. 4. Kentucky
Spread: Kentucky -7.5
Score: 70-69 (Yale wins, Yale covers)
Upset city in the East as Yale backs up its win over Houston with another outright win (and cover) over Kentucky
6. West Virginia vs. 3. Florida State
Spread: Florida State -1.5
Score: 73-69 (WVU wins, WVU covers)
West Virginia is actually making some shots this tourney. And when it does that, the Mountaineers are as dangerous as anyone with their elite defense and prowess on the glass.
7. Penn State vs. 15. Little Rock
Spread: Penn State -14.5
Score: 83-59 (PSU wins, PSU covers)
The Cinderella story is over for Little Rock as they get trounced by Penn State
---
WEST REGION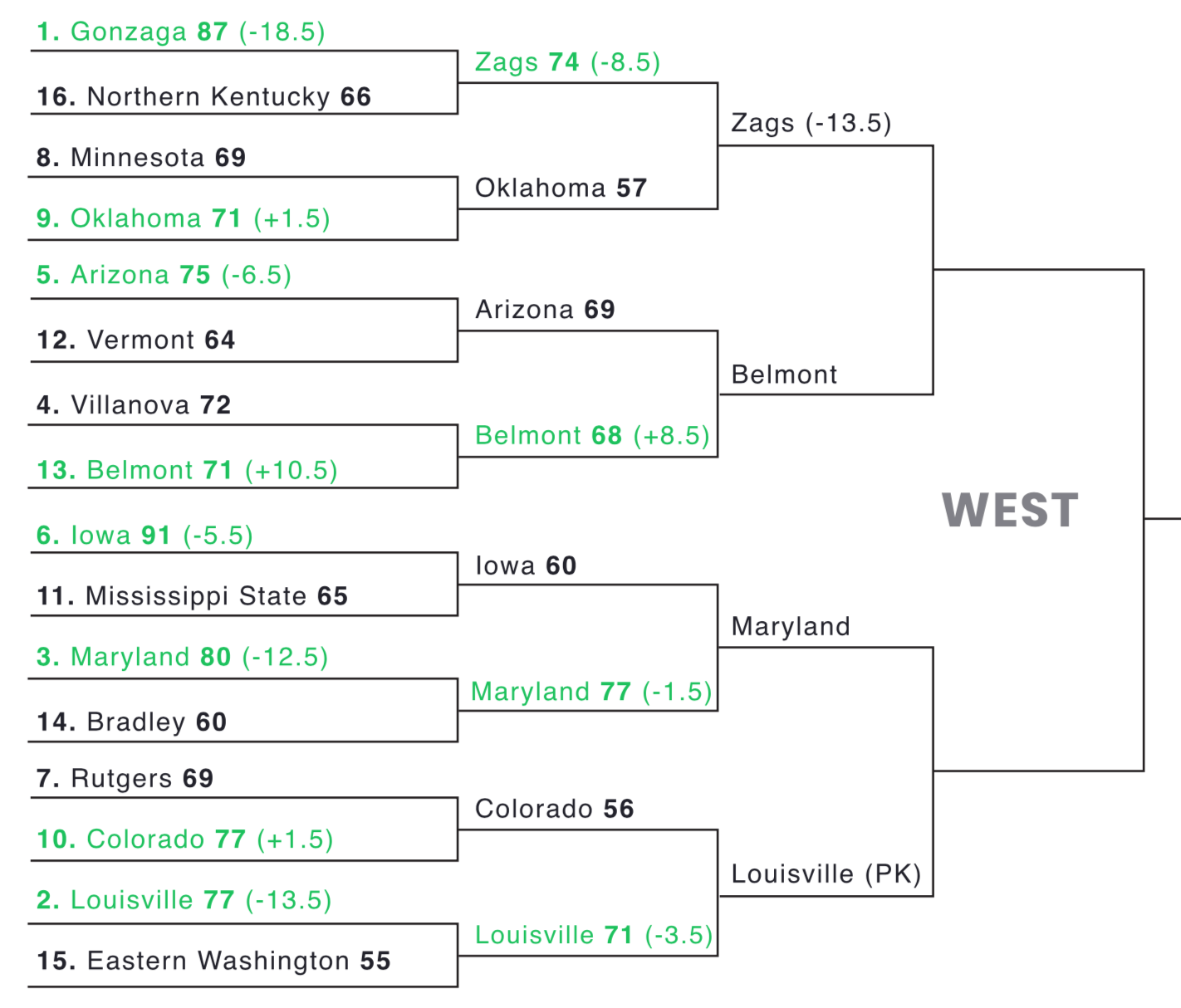 1. Gonzaga vs. 9. Oklahoma
Spread: Gonzaga -8.5
Score: 74-57 (Gonzaga wins, Gonzaga covers)
Zags offense continued to roll as they brushed aside Boomer Sooner to advance to the Sweet 16. Is this the year the Zags get their first title?
5. Arizona vs. 13. Belmont
Spread: Arizona -8.5
Score: 69-68 (Arizona wins, Belmont covers)
Just cover, baby! That's the name of this game and that's exactly what Belmont did in a 1-point affair against an Arizona team that never lived up to expectations.
6. Iowa vs. 3. Maryland
Spread: Maryland -1.5
Score: 77-60 (Maryland wins, Maryland covers)
This second-round Big Ten clash was never in doubt as the Terps rolled Iowa in convincing fashion.
10. Colorado vs. 2. Louisville
Spread: Louisville -3.5
Score: 71-56 (Louisville wins, Louisville covers)
Louisville breezes by Colorado for an easy cover, which sets up a blockbuster Sweet 16 coin-flip matchup against Maryland.
---
MIDWEST REGION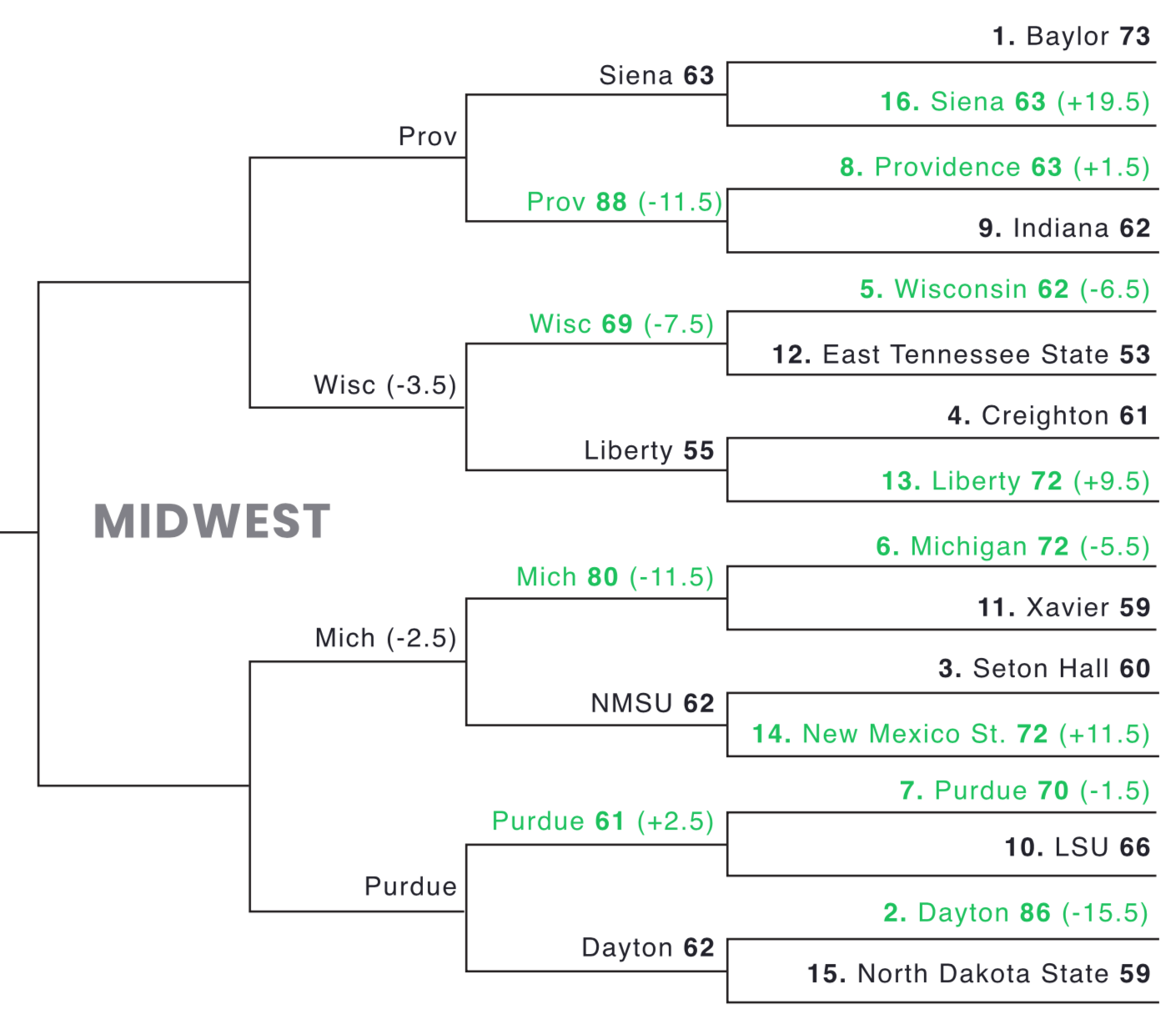 16. Siena vs. 8. Providence
Spread: Providence -11.5
Score: 88-63 (Providence wins, Providence covers)
Providence wanted to make sure no backdoor was open for Siena as it smashed the Saints to advance to the Sweet 16.
5. Wisconsin vs. 13. Liberty
Spread: Wisconsin -7.5
Score: 69-55 (Wisconsin wins, Wisconsin covers)
Wisconsin was just way too solid for a veteran Liberty team.
6. Michigan vs. 14. New Mexico State
Spread: Michigan -11.5
Score: 80-62 (Michigan wins, Michigan covers)
Michigan has looked very dangerous through two rounds and the Big Ten is showing it deserved the credit it received all regular season.
7. Purdue vs. 2. Dayton
Spread: Dayton -2.5
Score: 62-61 (Dayton wins, Purdue covers)
Speaking of which, Purdue knocks out Dayton with a cover on a late Sasha Stefanovic 3. That makes three of the four Sweet 16 teams in this region all from the Big Ten. Fitting in the Midwest.
SOUTH REGION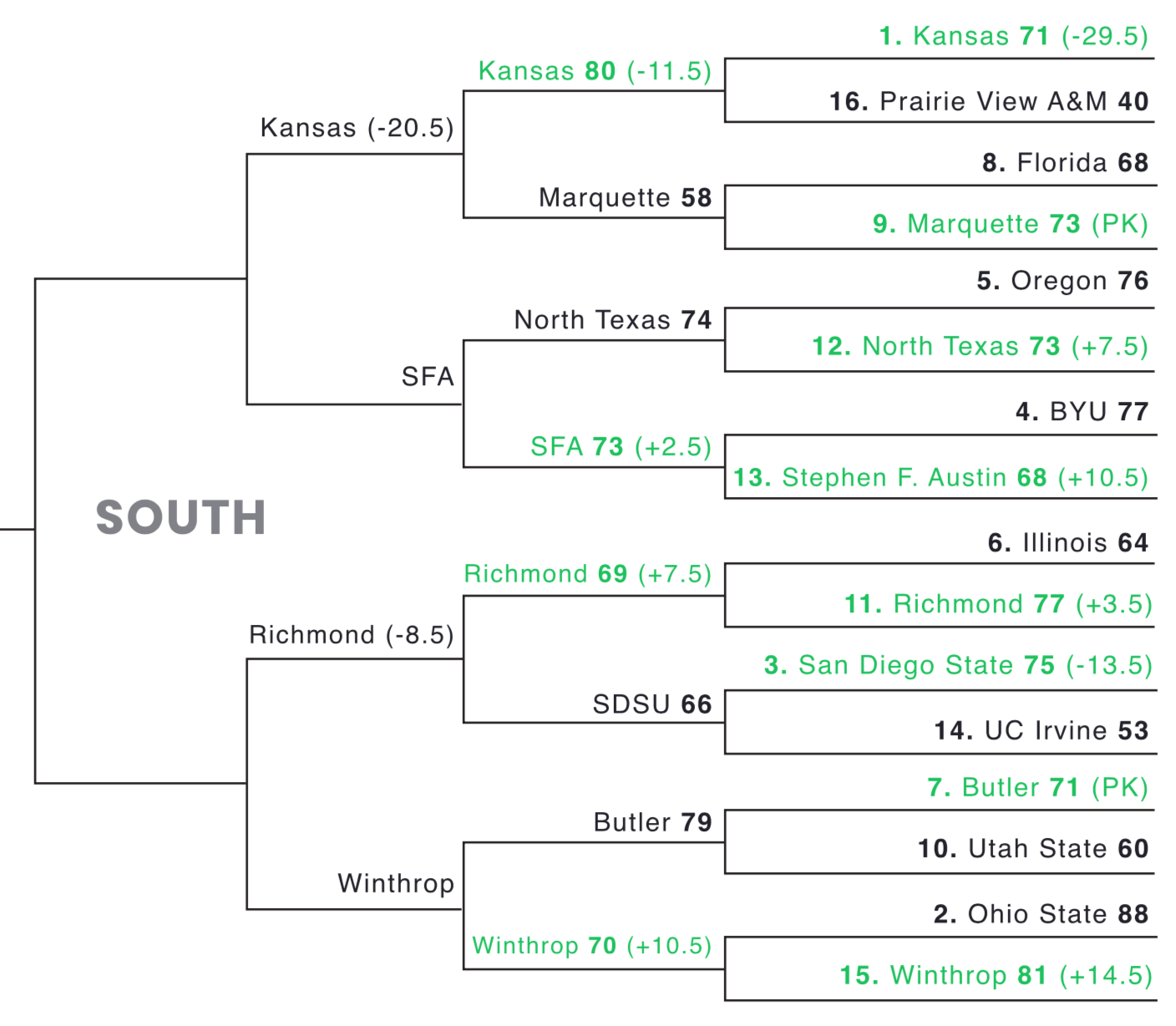 1. Kansas vs. 9. Marquette
Spread: Kansas -11.5
Score: 80-58 (Kansas wins, Kansas covers)
Kansas is elite and the Jayhawks showed it once again in a romp of Marquette. The Golden Eagles kept it close in the first half but rock chalk stepped on their throat in the second half with a 24-3 run to break it open for an easy cover.
12. North Texas vs. 13. Stephen F. Austin
Spread: North Texas -2.5
Score: 74-73 (North Texas wins, SFA covers)
In the surprising 12/13 matchup that went right down to the wire, Stephen F. Austin pulls out the cover thanks to some late clutch free throws.
11. Richmond vs. 3. San Diego State
Spread: SDSU -7.5
Score: 69-66 (Richmond wins, Richmond covers)
Richmond does it again! The Spiders beat Virginia in the play-in game, then Illinois and now San Diego State. This time on a Nick Sherod 3 pointer as time expired for the outright win and easy cover. Arachnophobia in full effect down South.
7. Butler vs. 15. Winthrop
Spread: Butler -10.5
Score: 79-70 (Butler wins, Winthrop covers)
Winthrop is just finding ways to cover and that's the name of the game.
How would you rate this article?