2023 Mountain West Basketball Tournament Betting Preview, Bracket & Odds
Credit:
David Becker/Getty Images. Pictured: The Mountain West logo.
Because of its balance from top to bottom as a whole, the Mountain West is often one of the most competitive and exciting conference tournaments during Championship Week.
If the regular season is any indication, the MWC Tournament should provide plenty of drama and chaotic finishes at the Thomas & Mack Center from the opening round Wednesday until a champion is crowned on Saturday.
There are only two MWC teams that are definitely in the NCAA Tournament field right now — No. 1 seed and tournament favorite San Diego State and defending tournament champion and No. 2 seed Boise State. No. 4 seed Nevada and No. 3 seed Utah State are firmly on the NCAA Tournament bubble and need at least one win to make the tournament given their current resumés.
For everyone else in the league, it's conference title or bust, including a likely popular underdog in No. 6 seed New Mexico.
One of the challenges of forecasting this tournament is that home teams tend to be so dominant in the regular season. It's very difficult to win on the road against the quality teams in the league, even for the top-tier teams like SDSU.
---
2023 Mountain West Tournament Bracket
---

2023 Mountain West Tournament Odds
---
Mountain West Performance Change in Last 30 Days
---

San Diego State Has No Value at the Market Number
If you've watched and bet on the Aztecs throughout the season, they've likely left you incredibly frustrated more than a few times. Even though they cashed as the conference favorite preseason and won the league, it always feels like something is missing for them.
The defense is elite, as always, and SDSU even showed more of an offensive ceiling this season with improved perimeter shooting. But the offense still is dependent heavily on isolation looks from Matt Bradley and goes through long scoring droughts far too often.
Even more troubling is its inability to close out games in crunch time.
This flaw eliminated the Aztecs from the NCAA Tournament last year against Creighton. They let Boise close on a 16-3 run just last week in Boise. The Aztecs couldn't handle Nevada's full-court pressure without a ton of turnovers and went minutes without a basket in crunch time at Fresno State.
As good as Brian Dutcher is at game planning, his teams have struggled under full-court pressure and in late-game half-court execution. If Bradley isn't making shots, they can lose to anyone.
The Aztecs sit between +150 and +170 to win the league, but consider how many close games they've played in the league this season. SDSU lost at Nevada and Boise State. It needed a last-second 3 to beat New Mexico and overtime to beat Colorado State. The Aztecs beat Utah State by two and Fresno State by two.
For a +155 consensus future in a wide-open league that loves close games, don't bet SDSU at this number.
---
Boise State Won Last Year, But Lacking Depth Hurts
Nevada had a wide-open 3 at the buzzer to knock top-seed Boise State out of the MWC Tournament last year. The Wolf Pack missed it, and as a result, Boise snuck into the semis, beat Wyoming and beat SDSU by a point to claim the title.
Three games in three days was less daunting for that Boise team. But this team ranks 349th nationally in bench minutes and really only plays seven deep. Boise is 89th in BartTorvik efficiency since Feb. 1.
The Broncos won four games on the road in the league — at Colorado State, UNLV, Wyoming and Air Force — four of the league's five worst teams this season. Given their likely quarterfinal at UNLV and the fact that I'd make Utah State a favorite over them in a rubber match, there's no value in their conference odds either.
---
New Mexico Faded Hard Down the Stretch
New Mexico is the trendy underdog pick here in the MWC, and it certainly has the high-end talent with Jaelen House and Jamal Mashburn to beat anyone in the league.
I like the Lobos' matchup in a potential final with SDSU, but do they have the consistency or legs to get there? I doubt it.
They're near the bottom in bench minutes and have faded hard down the stretch despite being on the bubble. In my view, injuries have hurt, but they've played their way off the bubble and won't be stealing a bid. They'll need to beat USU, Boise and SDSU to win this and will be underdogs in all three games.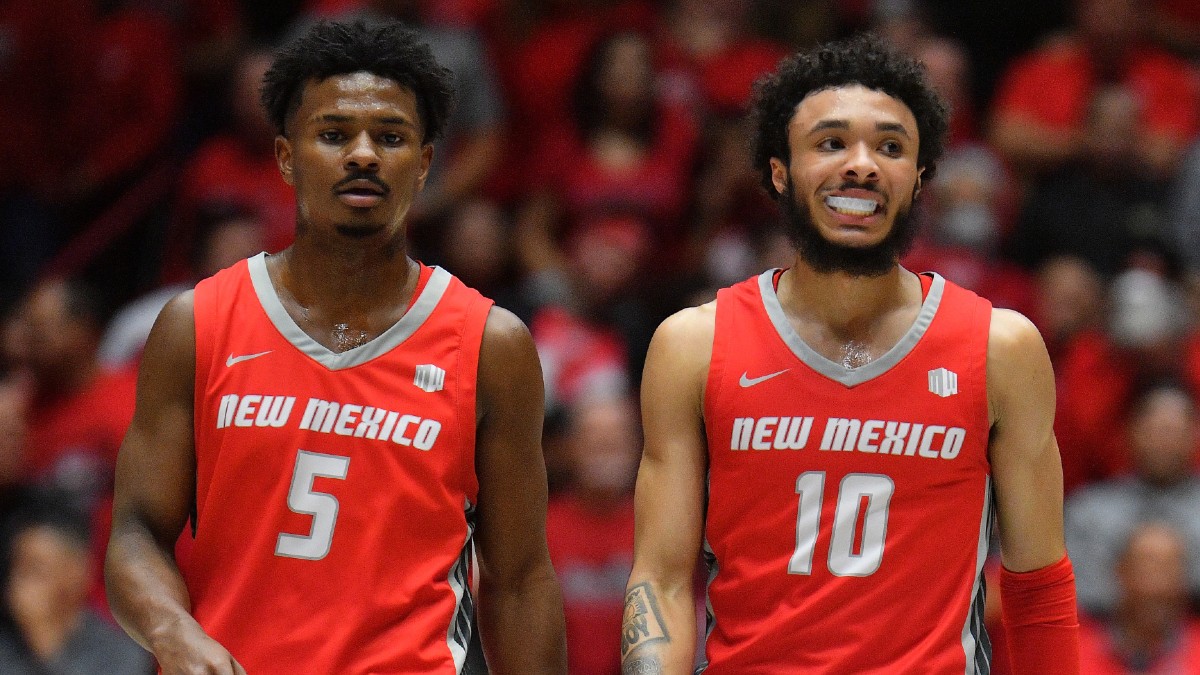 Photo by Sam Wasson/Getty Images. Pictured: Jamal Mashburn Jr. #5 and Jaelen House #10 of the New Mexico Lobos.
---

UNLV May Be at Home, But That Hasn't Helped It Much
UNLV has actually played to the second-worst home-court advantage in the entire country this season, per Haslametrics. There's plenty of noise and small samples in that data, but his rating system says only Wichita State has a weaker HCA in all of Division I.
That just means that UNLV performed well away from home relative to expectations and performed worse at home. You'll hear a lot about how UNLV can make a run on its home court, but I'm not buying it at all given the path.
Winning four games in four days is hard enough, and Air Force isn't a pushover in the first round. Then they'll face a Boise State team that will be rested and can force UNLV to execute in the halfcourt. The Broncos aren't going to turn the ball over much either, so it's not a great matchup for the Runnin' Rebels.
On paper, Utah State is poor matchup for the Runnin' Rebels too in a potential semifinal. They play a very aggressive gamble defense that tries to force turnovers and concedes a ton of open 3s as a result. Utah State's offense is elite at ball movement, spacing and shooting. The Aggies won't turn the ball over much, and if you let the Aggies get open looks, they'll bury you.
They just crushed UNLV, 91-66, in the same building on March 1. I'll pass on betting UNLV to win the MWC Tournament. I'd be more interested in UNLV against Nevada or SDSU,  but on this side, there's more issues for them.
---

Utah State Is My Pick to Win, But Don't Bet It At +380
Since Feb. 1, the Aggies rank 14th in the country in BartTorvik efficiency. They play a high-variance style well-suited for a tournament because they shoot and make a ton of 3s.
Their most likely path includes New Mexico and Boise State, two teams they just handed comfortably in the last few weeks. There's no matchup in this league that I'm particularly worried about for them, and Ryan Odom's ball screen heavy offense is hard to consistently stop for 40 minutes.
There's a high hold from the sportsbooks on some of these conference tournament markets, though, and that's why I'm recommending a moneyline rollover on the Aggies that's likely to pay out much higher than a standard conference tournament bet.
If you bet $100 on the moneyline in the Aggies' first game, and they play New Mexico (projected -150 ML), you'd return an estimated $166.67. If they play Boise State in the semifinal, that's projected -110, and you'd compile about $320 in total by rolling the investment over.
Now we're in the final. Utah State is +120 in a potential San Diego State final. If it wins, you've now made about $704 in total. That's the equivalent of a +704 future, which is nearly double the +375 consensus price at most books.
There's a chance Boise or SDSU isn't in the path and the payout is lower, but it will still almost certainly be better than +375 by the end.
---

Notes From Bottom of MWC
It's a lost season for Wyoming, which doesn't have the depth or talent given the injuries and program departures. I'll be looking to bet on the Cowboys in the first round against New Mexico given that the Lobos are likely to be inflated in the market by a few points due to their "must-win" status. Utah State is a nightmare matchup for the Cowboys in the second round even if they did upset New Mexico.
Colorado State

doesn't have any real rim protection and doesn't guard enough to make a realistic run through this tournament. SDSU head coach Brian Dutcher's ball-pressure defense has disrupted Niko Medved's passing and motion offense in most of their meetings too, so it's hard to see the Rams winning more than a game.

Fresno State

opens with Colorado State and is likely to be undervalued in the market on a game-to-game basis. It can stay in any game because of its slow pace and solid guard play. But the Bulldogs can't shoot at all and have no real upside to pull multiple upsets. With that said, Fresno is a "bet on" team against a likely inflated SDSU in the quarterfinals. SDSU beat the Bulldogs by just seven last year in the quarterfinals, and the game in Fresno

was a coin flip a few weeks ago.
How would you rate this article?
This site contains commercial content. We may be compensated for the links provided on this page. The content on this page is for informational purposes only. Action Network makes no representation or warranty as to the accuracy of the information given or the outcome of any game or event.