National Championship Odds & Best Bets: Our Staff's Top Picks for San Diego State vs. UConn
Credit:
Photos from Getty Images. Pictured: Adama Sanogo of UConn & Matt Bradley of San Diego State
Welcome to the final game of the 2022-23 college basketball season. It's a bittersweet moment — we won't have any collegiate hoops to bet on for seven months, but we also get to crown a champion for this epic campaign.
Without further ado, our staff has six best bets to help you create your card for San Diego State vs. UConn.
So, dive in below to get the top NCAAB National Championship odds, picks and best bets.
---
6 NCAAB National Championship Best Bets
Click the team logos below to navigate to a best bet for tonight's 2023 NCAAB National Championship Game.
---
San Diego State vs. UConn
By D.J. James
As good as the Connecticut Huskies look right now, Monday's game may be a display of two great defenses going up against each other.
San Diego State struggles on the offensive side of the basketball, but it's a phenomenal defensive squad.
Many of UConn's points this season have come from beyond the arc, while the Aztecs have held opponents to a 46.5% effective field goal percentage and a 3-point percentage of only 28.1%.
In addition, the Aztecs rank 270th in Adjusted Tempo, per KenPom, forcing teams to use up 18.5 seconds per possession on average. UConn ranks 214th in Adjusted Tempo and uses up 18.2 seconds per possession on offense.
These stats indicate a slow-paced affair without a wide separation between these two teams.
If SDSU can hold UConn in check from deep, it should keep this within the number.
Another point against UConn is that it ranks 225th in Open 3 Rate, per ShotQuality. Although the Huskies can usually hit the deep ball, they are not the most efficient — even if SDSU gives them a few open opportunities from outside.
Lastly, the Huskies are used to getting their way on the offensive glass, ranking second in offensive rebounding percentage. The Aztecs rank 76th in offensive rebounding percentage and 68th in defensive rebounding percentage.
These stats signal that the rebounding battle should be relatively even, further stating that this game could be close down the stretch.
Yes, SDSU does not have the efficiencies on offense that UConn owns. However, the Aztecs can muddy this game up and keep it close, so betting their side of the spread is wise.
What is QuickSlip?

QuickSlip is an Action Network feature that allows users to automatically pre-load their bet slip at FanDuel Sportsbook.
---
In UConn's march to the National Championship, it has yet to play a game that has been decided by single digits. I believe that changes on Monday night.
San Diego State has been up to every challenge it has been tasked with all tournament, whether that be a blowout win against Furman, or quite literally a final-second victory against FAU.
In this matchup, the Aztecs will be the first team UConn has seen that has the level of athleticism required to at least slow down the potent Huskies offense.
Connecticut has torched opposing defenses from behind the arc, but SDSU checks into this game ranking third in the entire country in defending the 3-ball, per KenPom.
I expect Brian Dutcher's team to make it a point of emphasis to take away the 3-ball, forcing UConn to beat it on the inside.
On the other end, there's no doubt that the Aztecs will need the best from Matt Bradley if they want to be able to keep pace.
Lamont Butler and Darrion Trammell have made big plays throughout March, and they will be playing totally free and confident in this one.
I ultimately expect Dan Hurley and the Huskies to cut down the nets inside NRG Stadium tonight, but SDSU is poised to give them the stiffest test they've seen at any point in this event.
Give me the Aztecs to hang inside the 7.5 points here in what will hopefully be a great final game of the college hoops season.
---
---
By John Feltman
This number was already steamed down pretty hard when most books opened this total at 136, but I still like it here at 132.5.
Although UConn's offense has been absolutely electric during its tournament run, what's impressed me most is its defense. I expect a stifling effort here once again, as the Aztecs are as methodical as it gets on offense.
This is a game where the Aztecs realize that they will have to slow down the tempo of this game tremendously if they want to have a shot at pulling off the upset.
They have the strong defensive metrics (4th in AdjD) to fuel their game plan, and they will more likely than not empty the defensive playbook to prevent the Huskies from getting out in transition.
The Aztecs' defense wasn't its usual selves against FAU, so I think a bounce-back effort here should be expected.
Dan Hurley's group will gladly allow the Aztecs to stick with their usual offensive game plan of attacking the mid-range, so I wouldn't expect them to light up the scoreboard here.
UConn's defense has been extremely impressive thus far, and the metrics suggest it shouldn't have any issues handling this Aztecs group.
Nobody likes taking an under in a championship game, but this will have to result in a true rock fight for the Aztecs to pull this off. There isn't much wiggle room to work with in terms of taking this under, so I would go ahead and grab Under 132.5 at FanDuel right now.
---
Two of the best defensive teams in the nation will battle it out for the men's college basketball national title tonight in Houston, Texas.
Make no mistake about it, UConn is the more complete team and brings blue-blood heritage to a final that also features a mid-major contender.
However, San Diego State is a physical team that has leveraged its defense all the way to the biggest stage in college basketball.
San Diego State enters the game with the fourth-ranked defense in the nation, per KenPom's Adjusted Defensive Efficiency ratings.
The hallmark of the Aztecs' defense is shutdown 3-point defense. Season to date, San Diego State ranks third in the nation in 3-point defense, allowing opponents to make just 28.1% of attempts from beyond the arc.
After four games of stellar 3-point defense, the Aztecs got burned by Florida Atlantic in the Final Four, allowing it to go 9-for-22 (40.9%) from beyond the arc. Last-minute heroics were required to overcome excellent shooting from FAU.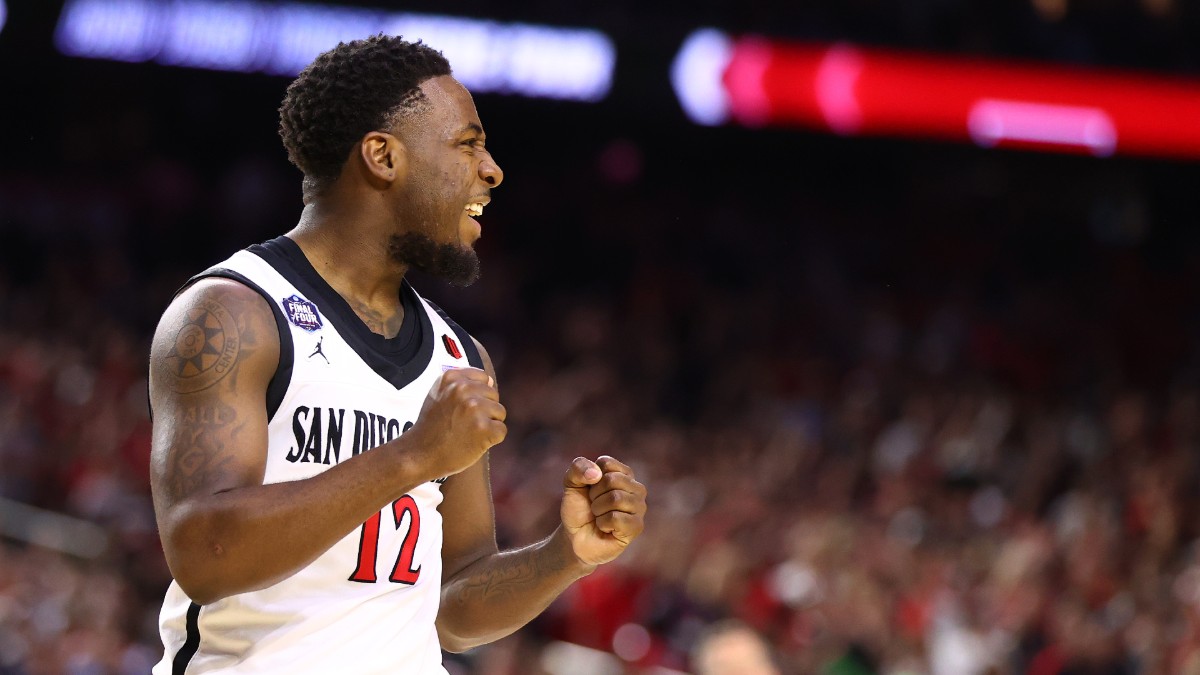 Prior to the Florida Atlantic game, San Diego State was ruthless in defending the 3-ball. Through the first four rounds of the tournament, San Diego State had held opponents — Charleston (20.8%), Furman (23.1%), Alabama (11.1%) and Creighton (11.8%) — to an average 3-point rate of just 17.0%.
I expect the San Diego State defense to bounce back here and lock the 3-point line down in tonight's game. UConn is a good 3-point shooting team, but it won't be the test and subsequent anomaly that Florida Atlantic was.
The Huskies rank 59th in 3-point rate, connecting from deep on 36.3% of attempts.
I expect the Aztecs to generate downside 3-point variance, as they have all season, forcing the Huskies to shoot below their season average from deep.
Lastly, the UConn defense is just as good as San Diego State, ranking eighth in KenPom's defensive efficiency rankings. The Huskies have gotten it done by having excellent 2-point defense, ranking 10th in the nation in the metric, per Bart Torvik.
The Aztecs' offense is going to have a hard time scoring against the Huskies, especially from inside the arc, where they rank just 240th in the nation in 2-point percentage (48.8%). This is below the national average of 50.1%.
San Diego State doesn't pose a major threat from deep either, attempting 3s on just 33.8% of possessions and connecting on 34.3% of those attempts.
My model is projecting the total to be 130 points, offering value to available markets of 132.5 at the time of writing. I recommend playing the under in this game at 131.5 or higher.
Look for the defensive prowess of both teams to be on full display and for buckets to come at a premium in tonight's national title game.
---
---
By Alex Hinton
UConn's Andre Jackson Jr. is the glue guy of this team and does all the little things. He can make a huge impact without scoring a ton of points.
He only averages 6.8 points per game this season, but he's second on the team with 6.3 rebounds per game and is tied for the team lead with 4.7 assists per game.
Altogether, that adds up to 17.7 points, rebounds and assists. However, he's averaging 20.6 PRA over his last 10 games and 20.4 during the NCAA tournament.
He totaled 12 PRA in the Final Four victory over Miami. However, he has hit this line in eight of his last 10 games. In seven of those games, he totaled 20 points, rebounds and assists.
Tonight, Jackson could have his fingerprints all over this game. He has pulled down at least five rebounds in four of his past five games. He has also dished out seven assists in four of his past five games.
While Jackson is not a big-time scorer, several recent national title games have had an unsung hero step up and provide a scoring punch. Just yesterday on the women's side, LSU's Jasmine Carson scored 22 points despite averaging just 2.2 on the season.
With that in mind, it wouldn't surprise me if Jackson scored in double figures, particularly given that SDSU's game plan will likely be focused on stopping Adama Sanogo and Jordan Hawkins.
If he does, that would get him over half way towards this line. However, even if it's through mostly rebounds and assists, I like Jackson's chances of cashing this over.
Pick: Andre Jackson Jr. Over 18.5 Points, Rebounds & Assists
---
By Stuckey
Back to the well with a Darrion Trammell under points prop.
Similar to my analysis for Nijel Pack's under on Saturday against UConn, Trammell's scoring output is highly correlated with his 3-point shooting. When he's not making 3s, he's really not scoring much.
Well, now he goes up against arguably the best 3-point defense in the country when you factor in both attempt rate and percentage allowed.
I also think he'll struggle with the extreme UConn length, and it doesn't hurt that Matt Bradley found his shooting stroke the other night, which takes some of the scoring onus off of Trammell
Pick: Darrion Trammell Under 9.5 Points
---
---
How would you rate this article?
This site contains commercial content. We may be compensated for the links provided on this page. The content on this page is for informational purposes only. Action Network makes no representation or warranty as to the accuracy of the information given or the outcome of any game or event.