Ultimate Betting Guide for UNC-Duke
Credit:
© Bob Donnan-USA TODAY Sports
Even if Patriots fans are still in hiding and Eagles fans are still drinking, most of us have already shifted our full attention to college basketball. And if you haven't yet, what better way to get in the swing of things pre-March than with the best rivalry in college basketball (and arguably all of sports). It's the first matchup of the season between the two Tobacco Road rivals, and UNC opened as a 1-point home underdog, but the line quickly moved.
Ideally, we will see this matchup for a third time if they meet again in the ACC Tournament, and maybe even a fourth time in the NCAA Tournament, where the two have never played. In this preview, we will set the stage and then cover the following sections:
What's at stake
What the sharps are betting
Trends
Situational angle
Scheme analysis
Key matchup
NBA Draft outlook
Who we like
The Setup
By Stuckey
Duke and UNC doesn't require much setting up. This is potentially the most competitive rivalry in all of sports. Just look at the wins by each over their last 100 meetings.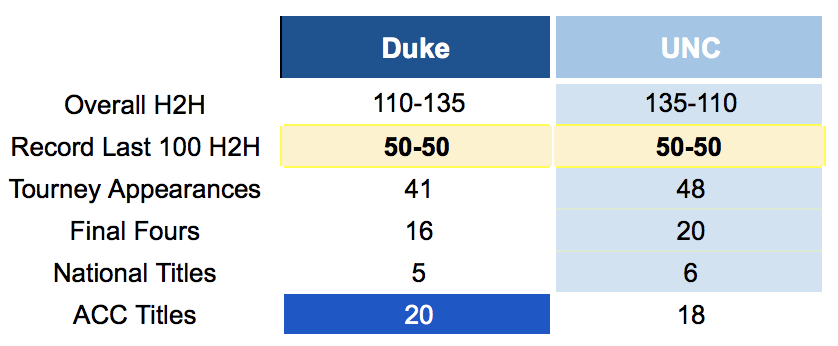 The list of ridiculous finishes and memorable games is endless. I know Duke fans will never forget this buzzer beater from Austin Rivers to beat UNC.
Don't worry, Carolina fans. I won't leave you hanging. Remember the time Duke blew an 8 point lead with 17 seconds left against UNC? Probably not since if happened in 1974, but still.
The Stakes
By Stuckey
Pride. Bragging rights. Seed implications. All of the obvious stakes of Duke-Carolina. However, neither team needs this game, per se. Additionally, neither team has a real shot at winning the ACC regular season, as Virginia looks like a virtual lock to take that crown.
In regards to the ACC tournament, this game does hold meaning. Since the first four seeds get a double bye, Thursday's matchup could ultimately determine who ends up only needing to win three games for an ACC Tournament Championship.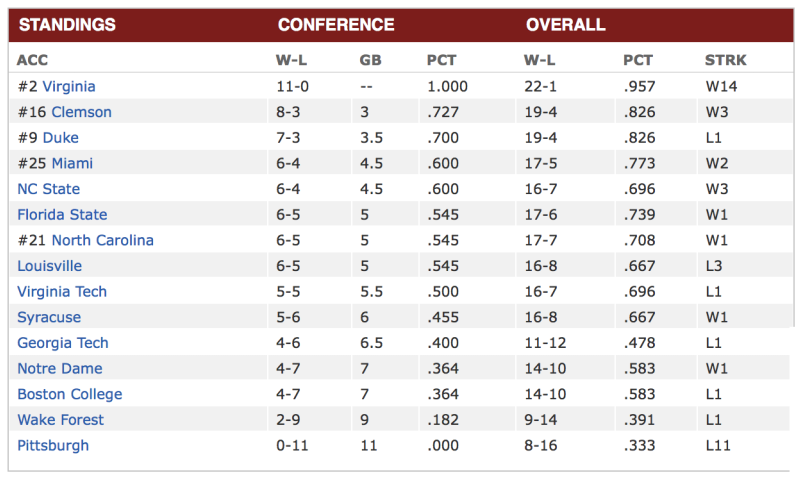 Sharp Report
By PJ Walsh
It didn't take long for sharp money to jump on UNC and the points in this matchup. Both Bookmaker.eu and Pinnacle opened Duke as 1-point road favorites and early Blue Devils money pushed the number up to -1.5.
However, UNC steam bought-back this initial line move, driving the number to a pick'em. A second wave of sharp money hit the Tar Heels late this morning, pushing the line even further to UNC -2.
Getting Trendy
By Evan Abrams, John Ewing and Stuckey
Home court advantage hasn't mattered in this series since 2005. Over that period, the road team has gone 13-13 SU and 16-8-2 ATS.
Along those same lines, believe it or not, North Carolina has not defeated Duke in consecutive home games in 20 years (1997-98).
In matchups of top 25 conference opponents since 2005, lower ranked teams at home (UNC in this case) have compiled an ATS record of 142-118-8 (55%).
Since 2005, top 10 teams have covered at a 58% clip (77-55-4) against top 25 opponents after losing and failing to cover their previous game. Duke fits this mold, as they lost their last game as an 11-point favorite at St. John's.
In the last decade, Duke has played 29 games directly after a loss to an unranked opponent. The Blue Devils are 25-4 SU (86.2%), but an even 14-14-1 ATS (average spread differential: -10.8). During that span, Duke has actually played UNC twice in this situation. The Blue Devils won and covered both, with the first coming exactly six years ago today.
Situational Angle
By Stuckey
This is Duke-UNC. Situational handicapping usually doesn't come into play in this heated rivalry. As always, motivation will be abundant on both sides. I do expect both teams to play with a little extra desperation. Duke comes off a really bad loss against a Johnnies team that had lost 11 in a row. Although, after seeing the result last night at Nova, that loss doesn't look as bad. And UNC lost three in a row before drumming a horrendous Pitt team over the weekend. No real advantage for either side from a situational perspective.
Schematically Speaking
By Jordan Majewski
When Carolina Has The Ball
To go small or not to go small? That is the question for Roy Williams, who has seen the success that comes with spreading out Duke's big men Marvin Bagley and Wendell Carter. Boston College, NC State, and St. John's have all had success against Duke with small lineups that featured multiple slashers to the rim.
First, let's look at the success of UNC's small lineup after Roy slid in a healthy Cam Johnson for big Garrison Brooks eight games ago. Per hooplens, that lineup, which shifted Luke Maye down to the 5, scores an impressive 1.15 points per possession. However, they have struggled defensively, allowing 1.05 points per possession (ppp). As a comparison, the bigger lineup only scored 1.07 ppp, but only allowed .95 ppp. Brooks did have the benefit of playing against weaker out-of-conference opponents, but I actually subtracted Western Carolina and Portland from those previous numbers to give a more fair comparison.
Interestingly, UNC has actually rebounded better with their smaller lineup. That is key since UNC butters their bread by pushing in transition off the defensive glass and relentlessly crashing the offensive glass. The smaller lineup utilizes Maye more often as a cutter/screener at the top of the key. That could cause problems for Duke, which has struggled when teams have moved Bagley around the floor.
When Duke Has The Ball
If Roy goes small, Duke will have a demonstrable advantage at the rim. That UNC small lineup would need Maye and Theo Pinson (rather than Johnson) to contain Duke's big men. Throwing 6'6″ Pinson or even 6'8″ Johnson on Bagley and/or Carter could terrify Ol' Roy back into his traditional dual big lineup if the Duke bigs go off early.
UNC has been playing faster with their smaller lineup. That is critical since Duke is so deadly in transition. Not only is Duke lethal on the break (1.17 ppp), but UNC grades out in just the 21st percentile nationally in transition defensive efficiency, per Synergy. It could be a result of playing grinder offenses (Pitt, Georgia Tech, Clemson), but the smaller Heels lineup gets back in transition much better.
While the Duke offense has advantages at the rim against a smaller UNC lineup, Blue Devil fans will still hope Grayson Allen emerges from his slumber. The nature of UNC's underscreening defense allows for a plethora of 3-point attempts, which Allen and Gary Trent Jr. have the ability to exploit. In fact, UNC ranks dead last in the ACC in defensive 3-point attempt rate. Both Allen and Trent Jr. will get their fair share of looks.
Key Matchup Watch
By Bryan Mears
Duke has one of the most prolific offenses in the country. So prolific, that you can't count them out of a deep run, despite an Adjusted Defensive Efficiency ranking of 72nd in the country. They allow 99.2 points per 100 possessions, and just got torched by a subpar St. John's offense. Their defensive struggles do make their margin for error smaller and UNC certainly has matchups to exploit.
Carolina ranks in the top-20 nationally in percentage of total FGA in transition (27.5%), and, as Jordan mentioned, the Tar Heels play their most efficient ball with a smaller lineup. Per Adrian Atkinson, here are Carolina's splits with Maye at the 4 vs. 5:
        Maye as a 4: 202 minutes, 113.9 ORtg, 112.6 DRtg, +1.3 net efficiency

        Maye as a 5: 163 minutes, 119.2 ORtg, 102.9 DRtg, +16.3 net efficiency
But going small would leave Carolina vulnerable on defense — and Duke is already one of the country's best teams at finishing shots at the rim (69.6%, 10th overall). In a matchup of two conflicting strengths, which team will force the other to change first?
NBA Draft Outlook: Marvin Bagley
By Bryan Mears
Bagley is certainly easy to fall in love with. He's 6'11" with a relentless motor and, as Ben Falk put it, has "easy athleticism." When you watch him against Carolina tonight, no other player will stand out more in terms of this dude looks like an NBA player. He embodies the word "fluid."
With that said, Bagley shoots just 62.1 percent from the line and doesn't project as a prolific rim protector, due to his short 7'0" wingspan. Thus, he's an uber-talented player without a solid positional fit in the NBA. He lacks the size and defensive ability to play the 5, but also doesn't have the shot and game to play the 4.
Of the top prospects, team fit is most important with him. If he ends up alongside a unicorn like Kristaps Porzingis in New York, he can essentially play the 5 on offense but 4 on defense. He has All-Star potential in that scenario. Unfortunately, very few squads have a player like Porzingis who can afford him that opportunity.
What's Your Favorite Bet?
Stuckey: UNC can't defend the rim or the perimeter in this matchup. Duke +2
Jordan: Duke will score at the rim and Allen will be in full villain mode. Duke +2
Mears: My brain says pass. My heart says UNC. Pass
We all look at games through a completely different lens. We value that diversity of thought, especially since we will do these previews through the end of the season. When all three of us like the same side, it should signal a strong bet. That said, look at this as a unanimous endorsement of Duke. Think about it: the two unbiased cappers like Duke, and the one die-hard Carolina fan (who normally caps with zero bias) decided to pass. Good luck.
Editor's note: The opinion on this game is from the individual writers, and is based on their research, analysis and perspective. It is independent of, and may not always match with, the algorithm-driven Best Bets from Sports Insights.
How would you rate this article?
This site contains commercial content. We may be compensated for the links provided on this page. The content on this page is for informational purposes only. Action Network makes no representation or warranty as to the accuracy of the information given or the outcome of any game or event.