Stuckey: How I'm Betting the National Championship Game
Credit:
Rob Kinnan-USA TODAY Sports. Pictured:Virginia Cavaliers guard Kyle Guy
The 2019 national championship between Virginia and Texas Tech tips off at 9:20 p.m. ET on CBS.
Stuckey gives his full breakdown of the game, including his favorite side, over/under and player prop.
National Championship Monday has arrived. No, it's not Duke vs. Kentucky, but Texas Tech and Virginia brings us a fascinating chess match to determine which team will cut down the nets in Minneapolis.
Nobody can question the legitimacy of Texas Tech's run. It has won five games by an average margin of 14 points — and three of those wins came against top two seeds. And don't forget the blowout win over Buffalo, which had one of the most explosive offenses in the country.
On the other hand, Virginia is more than lucky to be here. From overcoming a 14-point first half deficit against Gardner Webb in the first round to a miracle overtime win against Purdue followed by grand larceny against Auburn, the Cavaliers have had anything but an easy road.
That said, the paths don't matter. What matters is these are the two teams we have left standing. Let's take a closer look at the matchup from a betting perspective of two teams that are pretty similar in principles on both ends of the floor.
---
National Championship Game Betting Odds, Breakdown
Spread: Virginia -1.5
Over/Under: 118
Location: Minneapolis, Minn.
Date: Monday, April 8
Time: 8:49 p.m. ET
TV: CBS
Texas Tech's dominant run continued on Saturday when its defense suffocated another opponent. The Red Raiders have allowed a minuscule 0.729 points per possession in the half court, which is tied for the third-best rate since the 2013-14 season.
Tech's predominantly man-to-man defense excels for many reasons, but you can start with its ability to switch everything. That enables Chris Beard's bunch to defend ball screen action at a historically great level.
Virginia had been running a ton of ball screen continuity offense (pick-and-roll based), which would have been a nightmare against Tech However, it went back to running a lot of Tony Bennett's bread-and-butter blocker-mover action on Saturday. And I think we will see that again tonight.
That motion could potentially give Tech a few problems. The Red Raiders' aggressive defense is elite in almost every single area, but they are susceptible to good cutting action.
That said, Virginia certainly won't score easily against the best half-court defense in the country, but I do think the 'Hoos can do enough on that end to win this game.
On the other end of the floor, don't forget Virginia also has a spectacular defense of its own. It has only allowed 0.768 points per possession in the half court, per Synergy Sports. That's not at the level of TTU, but it's still good for fourth-best in the nation.
I think Bennett's pack line can give TTU a ton of problems. Yes, the Red Raiders have plenty of capable shooters from beyond the arc (over 36% as a team this season). But they don't have the guards that can really get out in transition before Virginia's defense is set. Nor are they capable of breaking down the Virginia guards off the dribble to break down the pack line — something Auburn had with Bryce Brown and Jared Harper.
Bottom line: this should be an absolute grind. By now, everyone knows Virginia is the slowest team in the nation. And while Texas Tech isn't a snail, it doesn't play fast either. You can expect Virginia to control the pace, especially considering the stakes.
You can usually count on a national championship (conference championships as well) in college basketball to grind to a halt tempo-wise as both teams value every possession so much more with what's at stake. We could be in store for a repeat of the UConn-Butler national championship, which didn't get to 100 total points.
I ultimately had to play Virginia -1 purely based on the discrepancy to my number of Virginia -3.2, which was almost right in line with the lookahead line of Virginia -3.5. You can't use the low-limit lookahead line market as a true proxy for the real market, but I think we are seeing a huge overreaction from recency bias.
As I mentioned before, Virginia has been extremely lucky to advance in each of its past few games, while Tech continues to roll. That has caused the market to sell Virginia more than I think it should. This line implies Michigan State would be favored over Virginia as Sparty closed -2 in the Final Four against TTU. I just don't agree with that premise.
Look, I thought the line was incorrect when it first came out, but I was mistaken. It's a good line based on the action I've seen Tech take on. But there's still a major discrepancy to my true number, which is why I had to play the Hoos. Yes, they've been lucky at the end of games, but they've also been unlucky in regards to 3P shooting on both ends.
I'm playing this game purely from a numbers perspective. But it's hard not to think this Virginia team has something special going. You can't use perceived "destiny" to really handicap a game, but it just seems like it might be UVA's year. After becoming the first No. 1 seed to lose to a No. 16, winning the national championship the next year with almost the same group would make one hell of a movie.
You can generally expect a lot of nerves in a national championship, especially early on, but Virginia is basically playing with house money after its last two games. This UVA group has also played in a ton of "big-time" games against elite power conference teams.
Look, Tech could easily win this game and I do hate fading Chris Beard, who makes pregame and second half adjustments as well as any coach in the game. (Although one day in between does limit some of that prep advantage over a UVA team that really just does what it does).
I do think UVA finds a way to pull out another one for the storybook ending. However, I'm ultimately only betting this game because I have to play my number here. The Tariq Owens injury could also hurt Tech. I expect him to go, but if he's limited, that would really hurt the Red Raiders' length.
In regards to the total, I also like the under 118. I expected to see 114 with these two defenses in what should be a snail-type pace. Hot outside shooting, a quick whistle and/or extended late-game fouling could always bust a total this low, but the pace and defense will be there.
The Picks: Virginia -1. Under 118
---
Favorite Player Prop
Kyle Guy Over 14 Points
I think the x-factor tonight will be Kyle Guy. He should come in with sky-high confidence after scoring the last six points in Virginia's comeback win over Auburn.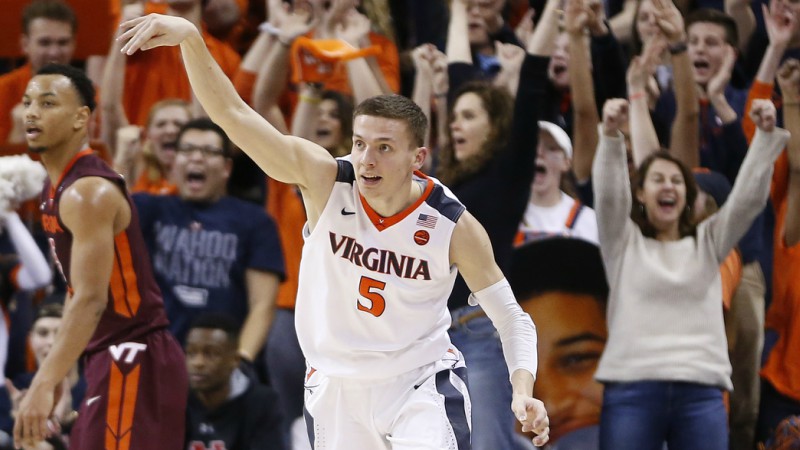 Guy had really been struggling with his shot although he wasn't missing by much. I think he will carry that momentum over into tonight inside the same arena and have his best game of the tourney.
How would you rate this article?