College Football Betting Picks (November 30): Our Staff's 6 Best Bets for Saturday Week 14
Credit:
Kim Klement-USA TODAY Sports. Pictured: Kyle Trask
Need a few quick college football betting picks to add to your card? You've come to the right place.
Our staffers have narrowed down the board to one favorite play, ranging from a Mountain West under to a big Pac-12 underdog.
Say it ain't so. The college football regular season is coming to an end.
In honor of this national tragedy, we've worked hard through the holiday to whittle down our cards to one favorite play for the week.
If you're looking to add a few quick plays to your college football card on Saturday, we've got just the thing for you.
College Football Betting Picks
Odds current as of Friday afternoon.
Sean Zerillo: Air Force-Wyoming Under
Odds: Wyoming at Air Force (-11)
Total: 41.5
Time: 3:30 p.m. ET
TV: CBS
This game features one of the lowest totals on Saturday's slate, but for good reason.
The weather forecast calls for a temperature of 30 degrees, with wind speeds of 25 mph at kickoff in Falcon Stadium, and these two offenses are amongst the slowest in the country — with Air Force ranking 104th and Wyoming 113th in terms of pace.
Per BetLabs, when average wind speeds are more than 20 mph (since 2005), unders are 64-38-3 (62.7%), covering by an average margin of 2.47 points and netting a consistent $100 bettor +$2,354 (22.4% ROI).
This game also fits the following Pro System for unders between teams with strong rushing statistics:
As you might imagine, the most commonly flagged teams in that system are the service academies.
Unders are a combined 36-18 (66.7%) in games involving any of those three teams, and 13-8 (61.9%) specifically in Air Force games.
The Falcons ran for 362 yards in a 35-27 win over Wyoming last season, but Wyoming's rushing defense is much improved in 2019, holding seven of its opponents to fewer than 100 rushing yards while allowing 2.69 yards per carry for the year.
These Air Force-Wyoming matchups typically have not been low scoring, but the conditions are ripe for an under in this one.
I'm OK betting the number down to 41.5 but would prefer to wait or a take a cheap buy up to 42.
Pick: Under 42 or better [In New Jersey? Bet now at PointsBet]
Collin Wilson: Auburn +3.5
Odds: Alabama -3.5 at Auburn
Total: 49.5
Time: 3:30 p.m. ET
TV: CBS
When Auburn has the ball, it will find success in short yardage. The soft part of the Alabama defense is the front 7, specifically over the middle. Auburn is a successful rushing team, but continue to rank outside the top 100 in explosive rushing. The important advanced stat is Auburn's rank of 10th in offensive stuff rate to the defense of Alabama at 111th. The Tigers will get every short yardage rush.
All the national talk centers around Alabama's path to the playoff, but it should be about whether or not the Tide can win the Iron Bowl.
---
Check out PointsBet, where Action Network users can access an exclusive promotion to get a 200% deposit match (deposit $50, bet with $150). No strings attached. No rollover required.
---
Mac Jones spent most of last week's game vs. Western Carolina hitting DeVonta Smith in the flats on quick passes. That formula should be neutralized by an Auburn secondary that is top 30 in defensive back havoc. If Bama receiver Henry Ruggs, who is listed as questionable, is out for this game, then the remaining Alabama targets will receive more attention.
The Crimson Tide have played a strength of schedule ranking of 84th in comparison to Auburn at 13th. The Tigers hold a clear special teams advantage, will be able to rush for short yardage at will and have the best defense the Tide have seen.
My money is not only on Alabama to not make the playoff, but Auburn in an upset in the Iron Bowl.
Pick: Auburn +3.5 [In New Jersey? Bet now at PointsBet]
Stuckey: Auburn +3.5
Odds: Alabama -3.5 at Auburn
Total: 49.5
Time: 3:30 p.m. ET
TV: CBS
I agree with Collin here on Auburn in a game I make a true coin flip, which is why I took Auburn +4 earlier in the week.
I think there are two reasons why my number differs from the market in such a marquee game this late in the season:
I have the difference between Tua and Mac Jones as closer to six points where as I think many in the market are closer to 2-3. Tua is a generational talent that also brings a mobile component to the game that Jones does not.
I've heard a lot of people point to Jones' splendid stats so far this year but those mostly came in two starts against FCS Western Carolina and lowly Arkansas. Color me not impressed. Plus, both of those games against subpar defenses came at home. Auburn will not only mark the toughest defense he's faced by far, it will also be his first ever collegiate road start.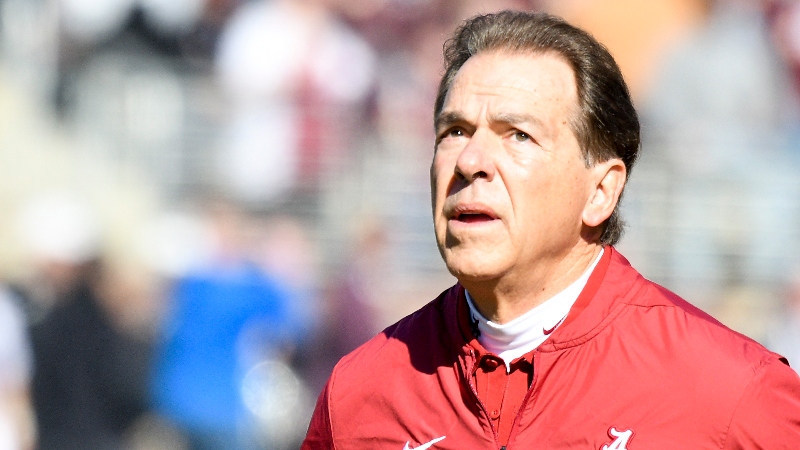 The Alabama name still holds weight in the market, regardless of who is under center.
But this ferocious defensive front for Auburn can match up with Alabama in the trenches and make Jones beat them, which I'm willing to pay to see.
Plus, this Alabama team is not without flaws, especially along the defensive line where the Tide can be pushed around. I said coming into the year this Alabama defense will take a step back after losing so much talent from last year's squad and that's exactly what happened in the LSU game. They've looked great the rest of the season but have had a relatively easy schedule.
And even with the much tougher, the Auburn defense still has superior advanced metrics. And just look what the Tigers have done against some of the best offenses in the land: per my numbers, they've faced 8 top 50 offenses this season and have held them to an average of 19 points per game. That includes three games against top teams at the time (Georgia, Oregon, LSU) in which none of the three got to 24 points.
Let's look at the common opponents on each team's schedule:
LSU
At Alabama: 46 points and 7.1 yards per play
Vs. Auburn: 23 points and 5.8 yards per play
Ole Miss
At Alabama: 31 points and 5.5 yards per play
At Auburn: 14 points and 3.9 yards per play
Texas A&M
Vs. Alabama: 28 points and 5.6 yards per play
Vs. Auburn: 20 points and 5.6 yards per play
Miss State
Vs. Alabama: 7 points and 4.7 yards per play
At Auburn: 23 points and 5.2 yards per play
Arkansas
Vs. Alabama: 7 points and 3.8 yards per play
Vs. Auburn: 10 points and 3.4 yards per play
So, if you look at the five common opponents they've played this year, Alabama has allowed an average of 28 points per game (112) while Auburn has allowed an average of only 20. And from a yards per play perspective, Auburn allowed 4.8 yards per play to Bama's 5.4. (Auburn also held Georgia to 21 points and below 4 yards per play).
I understand freshman quarterbacks have not had much success in the past against Nick Saban, but Nix has gotten valuable experience against one of the toughest schedules in the nation. Plus, he will be much more comfortable at home.
Give me the home dog Tigers and the better defense (and actually the more experienced quarterback) here at anything over a field goal.
Pick: Auburn +3.5 [In New Jersey? Bet now at PointsBet]
Steve Petrella: Oregon State 1H ML (+500)
Odds: Oregon -19.5 vs. Oregon State
Total: 65.5
Time: 4 p.m. ET
TV: Pac-12 Network
Have I lost my mind? Certainly. Have the Beavers done enough for me to go back to the well one last time, albeit a far-too-deep well? You bet.
I've been opining on the reasons for taking underdogs with good offenses in games with high totals on the first-half moneyline all season in this space. More scoring leads to more variance, and that usually favors the underdog.
Several times I've gone back to Oregon State, which has a strong passing attack and dynamite offense in the red zone — the Beavers rank No. 1 nationally in touchdown percentage in the red zone (32 scores on 37 chances). That's a good recipe to steal a halftime lead against a better team.
The Beavers have been a dog 10 times this season and held the halftime lead in six of those games.
OSU has really struggled against elite defenses this year, but Oregon's defense has taken a step back in the second half of the season. The Ducks have allowed at least 6.4 yards per play in three of their last five games, and an average of 25.4 points per game in that span.
Pick: Oregon State 1H Moneyline (+500) [In New Jersey? Bet now at PointsBet]
John Ewing: Florida -17.5
Odds: Florida -17.5 vs. Florida State
Total: 54.5
Time: 7:30 p.m. ET
TV: SEC Network
This year's Florida-Florida State rivalry game will be decided by the defenses. The Gators rank No. 12 (303.5 ypg) and FSU 96th (433.2 ypg) in total defense.
Not only is Florida the better side, the Gators also have an advantage coming off a bye. Since 2005, it has been profitable betting ranked home teams following a bye week.
Bye weeks give teams extra time to rest and prepare for upcoming opponents and Top 25 programs, which are the most talented teams in the country, are best suited to exploit this advantage.
Since 2005, ranked home teams after a bye week have returned a profit of $2,921 for a $100 bettor.
The Gators won last year's meeting 41-14 in Tallahassee. I expect a similar outcome in the Swamp on Saturday.
Pick: Florida -17.5 [In New Jersey? Bet now at PointsBet]
Kyle Miller: ULM-ULL Over
Odds: UL-Monroe at UL-Lafayette (-19.5)
Total: 70
Time: 7:30 p.m. ET
TV: ESPNU
I've had my eye on this bet since I was doing my research over the summer. These teams have two of the best offensive lines in the entire country, and that's lead to two very good offensive performances in 2019.
Though Louisiana's defense has been a lot better than I predicted, it's  still highly susceptible to the ground game. The Ragin' Cajuns rank 113th in rushing success rate and 70th in defending rushing explosiveness so Caleb Evans and the Warhawk offense will be able to do some damage.
There's no doubt in my mind that Louisiana will light up the scoreboard in this game. They have the best Group of Five offense in the country in my opinion and UL-Monroe's defense is an atrocity in every category.
This total is a little higher than I wanted it to be when I first had this though in July, but I'm still comfortable playing the over at 70 or better.
Pick: Over 70 [In New Jersey? Bet now at PointsBet]
How would you rate this article?