College Football Futures Betting: Keep an Eye on Big 12 & Pac-12 Conference Races In Week 8
Credit:
Tim Warner/Getty Images. Pictured: Spencer Sanders.
Kody Malstrom: We all had a suspicion that this season was going to be wild. Boy, has it delivered.
Widely regarded as the No. 1 team in the nation, Alabama suffered a loss early and now needs a win against new No. 1 Georgia in the SEC Championship game to have a chance to get into the College Football Playoff.
A Group of Five team in Cincinnati is No. 2 in the nation. Ohio State lost early to Oregon. Oklahoma has looked questionable but is slowly figuring it out. Clemson is an afterthought.
Teams that were on the cusp of the playoff going into the season have now stumbled out of the gates as well. Teams like North Carolina, Miami, LSU, Wisconsin, Oregon, UCLA, USC, and Notre Dame all started off slow, seeing their playoff chances disappear in a cloud of smoke.
That's exactly what a team like Cincinnati needed.
This is not the top of the board that most people would have expected, but to everyone ranked this high, it has been well-deserved.
Georgia is the clear-cut No. 1 team. The defense is on a historic pace, and the offense is finding some rhythm. This is the best chance Kirby Smart has to get over the hill and finally win it all.
Cincinnati is proving it belongs by bulldozing everyone in its path and beating the name-brand programs comfortably. Desmond Ridder has looked like one of the best quarterbacks in the nation and will continue to do so on the way to the playoff.
A quarterback change has also sparked Oklahoma, seemingly having its way with opponents when on offense.
You would think benching potential NFL Draft pick and preseason Heisman favorite Spencer Rattler would've put a bow on the season, but it has been the complete opposite.
If the defense could round into form, Oklahoma could find itself comfortably in the championship game.
With Georgia, Cincinnati, and Oklahoma occupying the top three spots in the College Football Playoff, a question remains: Where does the value reside with the fourth spot?
---
Odds as of Wednesday morning and via WynnBET
---
National Championship Picture
Kody Malstrom: Born and raised in Northern Michigan for all 26 years of my life, you would think I bleed maize and blue or at least green and white. Oddly, that's not the case. My heart belongs to the North Carolina Tar Heels. Weird, I know.
Growing up, I couldn't stand either fan base, constantly blabbering back and forth about the past in endless arguments that led to both being irrelevant for the most part.
With that said, it pains me to say I see value in taking the Michigan Wolverines to win it all at +3000.
At this point of the season, the market starts to get really tight, giving us the thinnest of margins to make money off of futures. We need to start looking for juicy numbers in favorable spots that will allow us to hedge down the road.
That's exactly what I see with Michigan.
The schedule is somewhat favorable, as the Wolverines come off a bye as a 23.5-point favorite against Northwestern.
They then travel to East Lansing against rival Michigan State, which I believe is a fraud. While rivalry games can be unpredictable, I believe they will handle the Spartans. Next on deck would be Indiana, which is already on pace to go well under its season win total.
After Indiana, it gets interesting.
Your first potential hedge piece comes into play as Michigan travels to Penn State. While PSU quarterback Sean Clifford suffered an injury against Iowa, the Nittany Lions are still a formidable squad. We roughly power rate this as PSU -4 on a neutral field and around -6 with home-field advantage.
If Michigan can show why it belongs in the playoff with a win over Penn State, it gets a tune-up game against Maryland before hosting rival Ohio State.
Ohio State will be the first place I look to hedge. I will either profit from an OSU win or feel comfortable about Michigan making it into the playoff if it wins.
The Wolverines aren't perfect. There's a reason they're +3000.
They heavily rely on the rush, yet struggle to generate a push with the offensive line, the passing is middle-of-the-pack in advanced metrics, and they are of zero threat on converting the big play.
The defense, meanwhile, is a different story. This unit means business.
Teams are finding little to no success running on it, struggle to score when they get past the 40, and quarterbacks are constantly under pressure. Michigan boasts impressive rankings across the board, including a top-five rank in PFF Tackling.
This defense can constantly give the Wolverines a puncher's chance. If the offense could find some more explosion and diversity, then Michigan can really make some noise en route to the playoff.
I'll take the +3000 now, as this number will crash across the market as Michigan cruises past its next three opponents.
Conference Pictures
Mike McNamara:  There are two key games that I have my eye on this week that will have massive implications on the conference races in both the Big 12 and Pac-12.
The first is the afternoon matchup between Oklahoma State and Iowa State.
The Cowboys head to Ames fresh off a come-from-behind win over Texas in Austin last week. The Pokes continue to find ways to win games, although it may not always look pretty on the offensive end.
Oklahoma State surrendered just one yard to Texas in the fourth quarter of that game, and its defense continues to be the heartbeat of the team.
Meanwhile, to the surprise of nobody, Brock Purdy and the Iowa State offense have started to hit their stride as the calendar turned to October.
The Cyclones handled Kansas State a week ago in Manhattan and will look to end Oklahoma State's perfect season at home on Saturday.
The reason why this game is so big is that if Oklahoma State can find a way to pull it out, we'd be looking at a very likely possibility of the two Oklahoma schools facing each other in back-to-back weeks to end the year.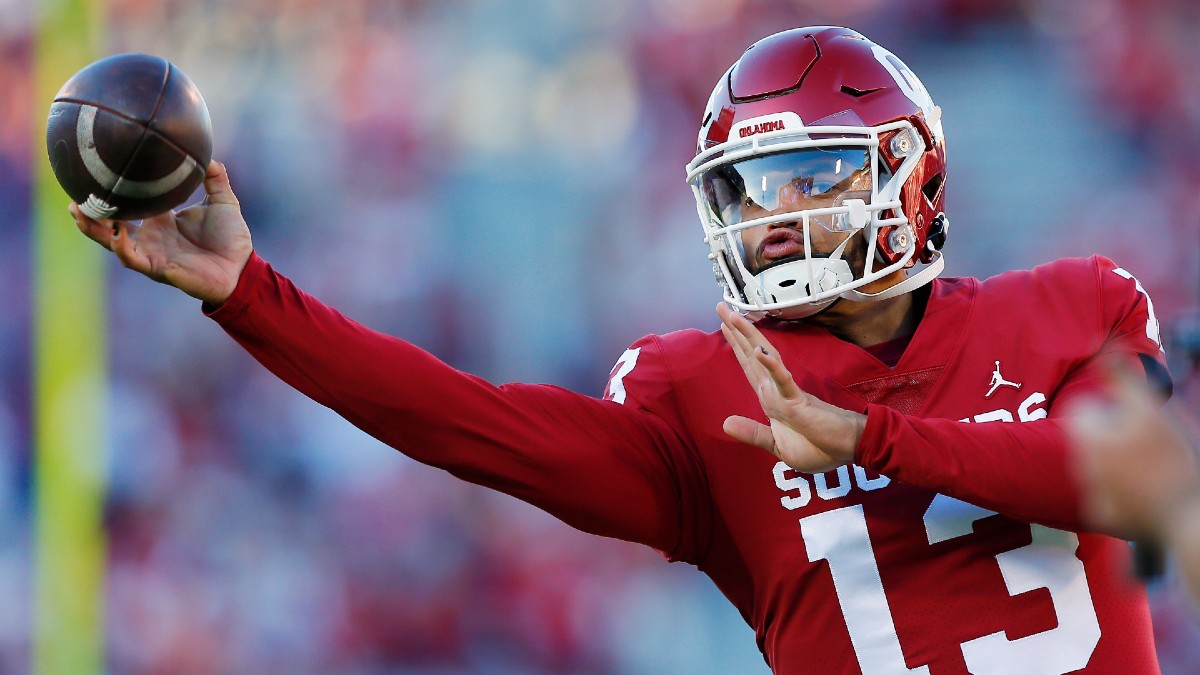 Bedlam is set for Nov. 27, the last week of the regular season. A Cowboy win in Ames would have the Pokes and the Sooners sitting atop the conference at 4-0 and would leave only Baylor as the other team with fewer than two conference losses.
If that's how it plays out, there would be little to no betting value on any other team in the conference to make a run to Jerry World.
On the flip side, if the Cyclones secure the victory at home, the door opens for several other teams to have a chance.
Oklahoma would still be in the driver's seat, but the second spot in the Big 12 Championship game would be up for grabs. Iowa State would move to 3-1 in conference play and would just need one additional Baylor loss to control its destiny for a spot in the league title game.
Even a team like Texas would not be completely out of the race at 2-2 if the Longhorns could run the table from there.
Mike McNamara: Moving out west, the game I have my eyes on is the Oregon vs. UCLA battle at the Rose Bowl. Arizona State's loss to Utah last week gave a big boost to UCLA's Pac-12 South chances.
The Bruins get the Ducks at home, and if they can find a way to win this one, their matchup with Utah would very likely be for the Pac-12 South title.
On the Oregon side, the Ducks are currently in a pretty strong position to control the North.
Washington has already lost twice, and Stanford, which handed the Ducks their only loss, dropped its third conference game last week in Pullman. Rival Oregon State is the only Pac-12 North team that currently has fewer than two conference losses.
The Ducks still have hopes of fighting into the College Football Playoff, and they are really the Pac-12's last chance at this point. Securing a road win in Pasadena would keep their playoff chances alive and would also go a long way in punching in another trip to the Pac-12 title game.
From a betting perspective, I will be looking to make a move on UCLA if the Bruins can get it done on Saturday.
Utah and Arizona State still have shorter odds in the South, but the Bruins have a pretty doable schedule following the Oregon contest.
I'm looking forward to sitting back and enjoying these two conference battles in what has already been a crazy 2021 college football season.
How would you rate this article?