Saturday CFB Sharp Report: How Pros Are Betting Washington-Arizona, 4 Other Games
Credit:
Jennifer Buchanan, USA Today Sports. Pictured: Jacob Eason
Sharps have taken a clear side on the betting line for Oklahoma vs. Texas.
They're also betting four other games on the slate, including Maryland vs. Purdue and Washington vs. Arizona.
The college football slate on Saturday features a healthy handful of marquee matchups. The timing isn't so bad either, as Oklahoma-Texas, Bama-A&M and Florida-LSU are spread across the noon, 3:30 and 8 p.m. ET slots, respectively.
---
Odds as of Friday at 3 p.m. ET. Check out PointsBet, where Action Network users get an exclusive 200% deposit match (deposit $50, bet with $150).
---
As is always the case, though, sharps aren't concerned with the excitement surrounding the games they bet. They've attacked the slate with the sole purpose of finding value, and on Saturday's slate, that's led to bets on five games — including the Red River Rivalry.
Also on sharps' card this weekend:
Toledo @ Bowling Green (12 p.m. ET)
Maryland @ Purdue (12 p.m. ET)
BYU @ South Florida (3:30 p.m. ET)
Washington @ Arizona (11 p.m. ET)
Oklahoma vs. Texas (at the Cotton Bowl)
12 p.m. ET | FOX
The most heavily-bet game of the weekend (at least heading into Saturday) boasts a spread that might seem like a lot at first glance. That's how most bettors have felt, anyway, as 68% have taken the Longhorns, who are now 10.5-point underdogs.
The spread wasn't always quite that high, though.
After opening Oklahoma as a 9.5/10-point favorite, sportsbooks have been convinced by sharp bettors to increase this line through the key number. The 32% backing of the Sooners has generated 40% of actual money, meaning bigger bettors — ones more likely to be sharps — are laying the points rather than taking them.
Confirming that those bigger bettors are, in fact, wiseguys, Sports Insights Bet Signals — indicators of sharp action causing market-wide line movement — have triggered four moves on Oklahoma.
It's certainly worth noting that all four Bet Signals came at -9.5 or -10, meaning there's yet to be confirmation of professional activity at the current number of -10.5.
Sharp angle: Oklahoma (moved from -9.5 to -10.5)
Maryland @ Purdue
12 p.m. ET | Big Ten Network
Opening totals for this game ranged from 57 to as much as 59 at some of the earlier books to market. Now, the number sits at a consensus 53.5. With bets essentially split — 53% have hit the under — that kind of movement is a pretty telling sign of sharp action.
The bettors on the under have once again been of the bigger variety, as evidenced by the 77% of money they've generated.
And again, SI Bet Signals have confirmed that sharp indication, triggering four moves ranging from 58 to 56.5. We've yet to see any conflicting moves on the over.
Sharp angle: Under (moved from 57.5 to 53.5)
Toledo @ Bowling Green
12 p.m. ET | CBS Sports Network
Unders, like the one above, are generally the more common landing spots for sharp action when it comes to totals. That's not too surprising, considering the tendency for public bettors to root for points and load up on overs.
Every so often, though, the public finds a spot where the appeal of rooting for points doesn't outweigh the value they think they're getting on the under. When that happens, there's a decent chance that sharps are going to take the contrarian route on the over.
Only 32% of tickets have hit this over, yet the line has moved from 63.5 up to 65.5 — an immediate sign of wiseguy activity. That 32% backing has accounted for 40% of actual money, revealing that bigger bettors are expecting a high-scoring game.
In this case, four Bet Signals have been triggered on the over at numbers from 63 to 64.5, getting this up to the current line.
Sharp angle: Over (moved from 63.5 to 65.5)
BYU @ South Florida
3:30 p.m. ET | CBS Sports Network
South Florida's two wins this season have come against South Carolina State and UConn. Meanwhile, BYU has beaten the likes of USC and Tennessee.
With that in mind, the 72% of bettors have taken a liking to the Cougars, which initially sent this line up from -6 to -7. But in keeping with the theme of the weekend, those bettors have generated a much smaller percentage of actual money being wagered.
To be exact, only 35% of the loot has landed on BYU despite the heavy majority of bets. USF has also dominated the Bet Signals.
Eight signals — ranging from +7 to +5.5 — have hit the Bulls, driving this number back down to a flat 5. Given the importance of the number 7, it says a lot about sharps' confidence in USF to see them hitting numbers within the touchdown spread.
Sharp angle: South Florida (moved from +7 to +5)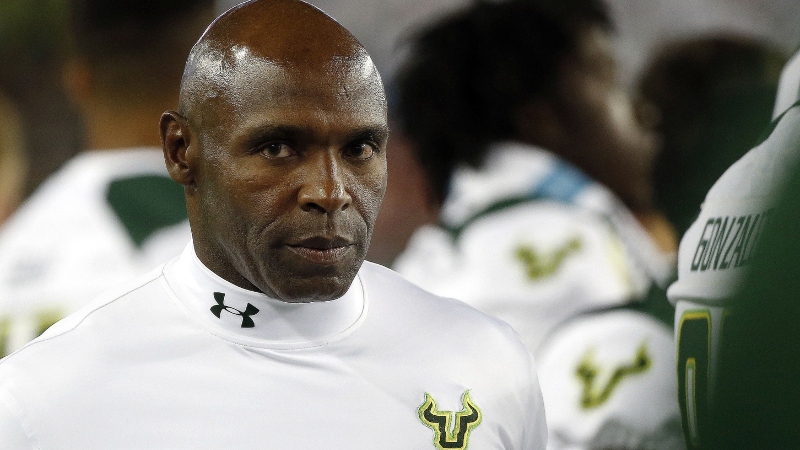 Washington @ Arizona
11 p.m. ET | FS1
A similar story is unfolding in the final game of the evening. After being bet up from -6 to -7 early in the week (at a small handful of books), Washington has come back down to a 6-point favorite thanks to some sharp action on the home dog.
In this case, the bet-vs.-money discrepancy on Arizona hasn't been quite as significant (58% of money on 48% of tickets), but the Wildcats have still triggered five SI Bet Signals at +7 and +6.
With this game setting up to be a "chaser" for a lot of public bettors, it wouldn't be a surprise to see some more tickets hit the favored Huskies as the day plays out. If that leads to any movement back toward the key number of -7, I'd expect sharps to be ready to pounce on Arizona once again.
Sharp angle: Arizona (moved from +7 to +6)
How would you rate this article?