How to Bet on College Football Bowl Games: 10 Tips for 2021
Credit:
Brian Bahr/Getty Images. Pictured: Mario Williams.
Handicapping bowl season is an entirely different animal.
I personally love the challenge of trying to solve each individual puzzle with so many moving parts and so much uncertainty. I've learned so much from betting bowls over the past 15-plus years, and there's still so much I learn each and every year.
Therefore, I thought I"d share some general tips for betting bowls that I've picked up over the years.
You shouldn't blindly follow any one of these factors. They are each merely one tool in your toolbox for handicapping bowl games, which can be just as much art as science.
Know Who's Playing and Coaching
There are a lot of moving parts with injuries and NFL Draft opt-outs in addition to the dizzying coaching carousel and transfer portal.
It can even get more complicated since some players who enter the transfer portal can still play in the bowl game. Some coaches do the same and stick around, while others leave prior to the bowl.
For your convenience, I've continued to update this article with any material news for every single bowl game. The news has been nonstop this year, making this exercise even more critical.
Understand Your Risk Aversion Level
If every other sport is any indication, we will likely see COVID-19 issues pop up for a number of programs throughout bowl season. That means late breaking news that will undoubtedly impact betting lines.
If you don't feel comfortable with that uncertainty, I'd suggest waiting until closer to kickoff before placing any bets. However, just know that you will in all likelihood not be able to react before the market does.
I personally am okay with getting ahead in some of the games I see value in while simply hoping the COVID-19 variance breaks my way. It's unfortunately just the new reality we live in as bettors for the time being.
Motivation Matters
Handicapping bowl games is as much about reading the tea leaves as it is about understanding the X's and O's. Figuring out which teams care and which teams won't is sometimes all that matters, but it's certainly no easy endeavor.
A few questions worth asking yourself:
What were preseason expectations?
When was the last time they played in a bowl?
What was their last bowl victory?
Have the seniors ever won a bowl?
Have they played in this bowl recently?
How did they end the season?
Additionally, here are a few key nuggets to keep in your back pocket:
Service academies (Army, Navy, Air Force) always care, no matter the week. It's part of the reason why they've covered over 70% of the time in bowls over the past 40 years.

Teams with poor records the 

previous

 year tend to care. Teams that won 0-3 games the previous year have gone 27-9 ATS (75%) since 2005. Five programs fit that mold this year: Northern Illinois, Washington State, Baylor, Old Dominion and South Carolina.

Getting to over .500 seems to be a great motivator. Six-win teams 

against winning teams are 68-48-2 (58.6%) ATS since 2005, per Action Labs — including 

45-25-1 (64.3%) as an underdog, covering by just under a field goal per game. And t

eams coming off a win to get to six wins have been even more profitable at 26-11-1 (70.3%) ATS.
Coaching Matters, Too
Obviously, an edge in the coaching department can shine through with so much time to prepare for a game.
Additionally, coaching experience has proved valuable historically with teams that have the more experienced coach faring much better from an against-the-spread perspective.
This is especially true for extremely experienced coaches against first-timers, which we have plenty of this year — especially with all of the coaching changes that forced some into the job on an interim basis.
Logically, this makes sense for these unique annual events. Coaches have to learn over time how to best prepare their teams and keep a bunch of college kids focused and away from distractions.
For reference, the following 25 head coaches will make their bowl debuts over the next month:
Keep in mind that the following matchups will feature two first-time bowl head coaches:
UTEP vs. Fresno State, New Mexico Bowl
Marshall vs. Louisiana, New Orleans Bowl
East Carolina vs. Boston College, Military Bowl
Virginia Tech vs. Maryland, Pinstripe Bowl
Washington State vs. Miami, Sun Bowl
The biggest experience advantages belong to Bob Stoops (interim at Oklahoma) and Mike Leach (Mississippi State).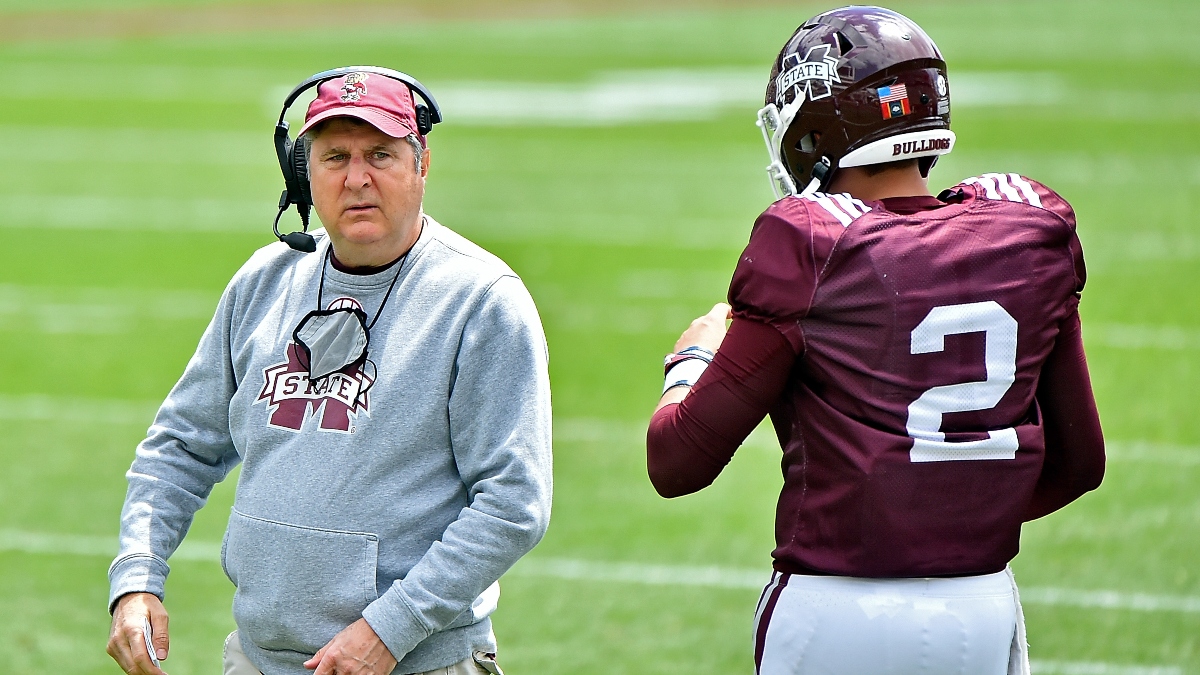 Respect the Betting Market
There is a long hiatus between the regular season and bowl games, which means there's ample opportunity to gather information surrounding all of the uncertainty that naturally comes along with bowl games.
You can safely assume that someone out there probably knows more than you do if you see a big line move, so tread lightly.
A perfect example this year is the massive line move in the Pittsburgh-Michigan State Peach Bowl, which is almost assuredly tied to the status of Pitt quarterback Kenny Pickett, who has yet to announce whether or not he will play. As of right now, the market is essentially pricing his chances of playing as very low, as evidenced by the big move toward Sparty.
Location, Location, Location
Bowl games get played almost exclusively at neutral sites. Knowing where the game is being played can help you answer a few questions:
Does one team have a regional advantage in terms of fans and/or travel?
Is one team more familiar with the venue?
Is the game being played on a fast or slow track? Indoors or outdoors?
If outdoors, is there any weather to watch out for? For example, the Bahamas Bowl is notorious for windy conditions
Shop Around
This applies to all walks of life in the betting world, but I'd be remiss if I didn't mention it: Make sure you shop around for the best line available.
That obviously means having more outs becomes more valuable. I promise you that half-point will add up over time.
Double-Digit Dogs Have More Bite
In case you're curious, double-digit underdogs have gone 41-30 ATS (57.7%) in non-playoff bowl games since 2005, per Action Labs. Those numbers improve the earlier the bowl gets played, which I think speaks directly to motivation.
Double-digit favorites in early bowl games tend to be better teams playing in bad bowls, which leads to a higher risk of not caring.
As a result of a potential lack of motivation, double-digit underdogs have performed better on the moneyline in bowl season when compared to the regular season. Consequently, I always recommend sprinkling a little on the moneyline for any large underdogs you fancy, especially if you believe the favorite might be lacking in the motivational department.
Below, you will find some numbers to back that up since 2005. I only included underdogs catching between 10-20 points since you'll rarely see more than a 20-point spread in bowls and it allows a more fair comparison by removing the massive regular-season favorites that would skew the results. I also excluded playoff games since motivation is never an issue in those contests.
Regular season moneyline: 597-3182 (15.8%) for a -14.9% ROI with an average margin of -15.8. A $100 bettor would be down $56K backing all of those 10-20 point dogs on the moneyline over that span.

Bowl season: 18-52 (25.7%) for a +31.6% ROI with an average margin of -9.4 points. A $100 bettor would be up over $2200.
How about underdogs between 10-14 points?
Regular season: 415-1649-1 (20.1%) for a -5% ROI

Bowl season: 14-38 (26.9%) for a + 26% ROI
In regards to this year's bowl season, I'd say UTEP is the most likely candidate to pull off the upset as a double-digit underdog, especially if Fresno State quarterback Jake Haener doesn't get the start.
Bowls are Exhibitions
Speaking of moneyline bets, the following is a personal rule of thumb of mine for 1.5-point favorites and underdogs.
Bowls are basically exhibition games. Who wants to play overtime? Therefore, when a team trails by a touchdown late, there's a higher chance they may just decide to go for two and the win.
That's why I always prefer the moneyline if I like a 1-1.5 point favorite. In contrast, I always take the 1 or 1.5 points when I fancy a short underdog.
Monitor Early Conference Results
Lastly, I like to monitor early results by conference. The sample size is very small and the variance can be quite high, but it's possible I had teams from an entire conference over or underrated based on their performances during league play.
There are times when I will adjust accordingly by maybe avoiding a certain team if I'm on the fence and other teams from their respective conference have performed poorly early on in bowl season.
For what it's worth, the MAC has always been a favorite fade of some bettors during bowl season. Teams from the MAC have gone just 31-43-4 (41.9%) ATS in bowls since 2005, failing to cover by 3.73 points.
However, they are 17-15-1 (53.1%) since 2015, including 6-2-1 over the past two seasons. Don't get too wrapped up in narratives.
How would you rate this article?
This site contains commercial content. We may be compensated for the links provided on this page. The content on this page is for informational purposes only. Action Network makes no representation or warranty as to the accuracy of the information given or the outcome of any game or event.