Who Is Ian Book? 5 Things Bettors Should Know About Notre Dame's Quarterback
Credit:
Jeremy Brevard-USA TODAY Sports. Pictured: Notre Dame quarterback Ian Book
Ian Book will lead the Notre Dame offense at quarterback against Stanford (7:30 p.m. ET Saturday, NBC).
Book had an excellent game against Wake Forest last week in place of Brandon Wimbush.
Ian Book has taken over Notre Dame's offense, and Irish backers are hoping to see more of the same from last week.
Book revved up Notre Dame last week in a 56-27 win over Wake Forest. He looked like a far superior passer to Brandon Wimbush, and went 25-of-34 for 325 yards and five total touchdowns.
While he hasn't officially been named the starter by coach Brian Kelly, it's likely he sees the bulk of the snaps against Stanford on Saturday. The Irish are a 5.5-point favorite in that game.
5 Thing to Know about Notre Dame QB Ian Book
1. Book Wasn't an Elite Recruit
Book came all the way to Notre Dame as a 3-star recruit in the Class of 2016 from El Dorado Hills, Calif. He was originally committed to Washington State, but visited Notre Dame and flipped his commitment three days later.
He threw for more than 7,500 yards with 78 touchdowns in his high school career and was the sixth-ranked pro-style quarterback in California in his class. No. 1? His opposing quarterback Saturday, Stanford's KJ Costello.
2. Book Is a More Natural Passer than Wimbush
Wimbush was the No. 3 dual-threat quarterback in the Class of 2015 and the heir apparent to DeShone Kizer.
Wimbush started all of last season and is 12-3 in his career, but completed only 49.5% of his passes for 6.8 yards per attempt in 2017. He ran for 804 yards and 14 scores to supplement that.
Book, however, is a much more natural passer. He can make most of the necessary throws and looks comfortable doing it.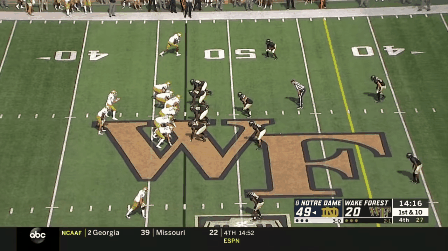 A lot of Book's yardage came from runs after the catch last week, but when you can deliver a 30-yard strike on a comeback like that at the college level, you're going to beat a lot of defenses.
3. Book Can Run, Too
He's not Wimbush with his legs, but he's athletic — certainly athletic enough to make a few guys miss when he needs to.
Perhaps more importantly, Notre Dame trusts him with designed runs, which speaks to that athleticism. The Irish called had a handful against Wake Forest, including this late touchdown.
Book ran for three scores against the Demon Deacons.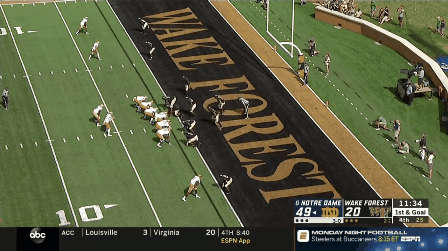 4. Notre Dame's QB Battle Has Been On Since Last Season
Book led Notre Dame to a comeback win over LSU in the Citrus Bowl last season after Wimbush went 3-for-8 for 52 yards early on.
Book finished 14-of-19 for 164 yards, two touchdowns and one interception in that game.
That led to a lot of speculation about the Irish's quarterback situation, though we don't know what went on in the dressing room. Wimbush won the job out of training camp and led the Irish to a win over Michigan in the season opener (thanks in large part to his legs), but struggled against Vanderbilt and Ball State.
But it sounded like Wimbush had only won the job for that game against the Wolverines out of camp. Nothing more. He did gash them with his legs, and it appeared to be the right decision.
"The whole offseason was focused on Brandon beating Michigan," Kelly said. "The offense was not mature enough going into Michigan. The playmaker on our offense was Brandon Wimbush."
Similar to Jalen Hurts at Alabama or Kelly Bryant at Clemson, the question was not whether Wimbush was capable of winning, but whether he could test and beat the best defenses in the country.
5. Kelly Compared Book to Baker Mayfield
We're not indicting Kelly for this comparison. And Book is certainly not Baker Mayfield. But there are some similarities.
Book stands at just 6-foot-0
Accurate
Athletic, but not beat-you-with-his-legs athletic
Quick release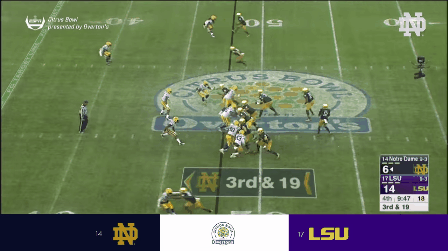 That easy, natural release could serve him well against a Stanford defense that ranks 41st in the country in sack rate against quality competition.