2021-22 NHL Betting Preview: Stanley Cup Odds, Best Bets and Analysis for All 32 Teams
Preseason power rankings are an annual tradition in every sport. Most media outlets will publish their own rankings heading into the season, with very little difference from station to station.
One of the nice things about sports betting is it can refresh the way you look at a player, a team, a season or even an entire sport. Whereas also-rans like the Buffalo Sabres and Arizona Coyotes may not matter to casual fans this season, if you're betting hockey every night, those teams matter to you just as much as the Tampa Bay Lightning or Colorado Avalanche.
That's why instead of ranking teams from best to worst in the traditional sense, I publish my own NHL Betting Power Rankings ahead of every season. The list below goes from bottom to top based on how I think each team is being priced in the futures markets heading into the season. In other words, it's a ranking of most overrated to best value using the pre-season betting market as a guide.
For example, last season I had the Philadelphia Flyers listed last because I thought the fact that they were listed as the favorite in the East Division and one of the top-10 teams by their Stanley Cup odds was egregious. Turns out I was right about the Flyers (but wrong about teams like the Wild, Ducks and many more!).
In addition to ranking each team from 32 to 1, I've also listed my favorite bet or betting strategy for each club head into the new season. Be warned, I don't think all of these bets are +EV, but I wanted to leave an actionable takeaway in case you are looking to have some skin in the game as we grind through another NHL season. (Please do not make all 32 of these wagers, you maniacs.) At the very end of the article you'll see the bets I've actually placed.
Now let's get to it, starting with a perennial Cup Contender at No. 32:
---
Odds provided by DraftKings. And a special note of thanks to MoneyPuck, HockeyViz, Top Down Hockey, Clear Sight Analytics, Natural Stat Trick and Evolving Hockey for the statistical data used in this preview.
---
2021-22 NHL Betting Power Rankings
Click on a team to skip ahead to that analysis.
Pittsburgh Penguins | Chicago Blackhawks | Edmonton Oilers | Arizona Coyotes | Minnesota Wild | | Anaheim Ducks | Toronto Maple Leafs | Philadelphia Flyers | Buffalo Sabres | Vegas Golden Knights | Tampa Bay Lightning | Washington Capitals | New Jersey Devils | Detroit Red Wings | Colorado Avalanche | Boston Bruins | New York Rangers | Carolina Hurricanes | Vancouver Canucks | Nashville Predators | | Ottawa Senators| Seattle Kraken | Los Angeles Kings | Columbus Blue Jackets | Montreal Canadiens | San Jose Sharks| Winnipeg Jets| St. Louis Blues | New York Islanders | Florida Panthers | Calgary Flames | Dallas Stars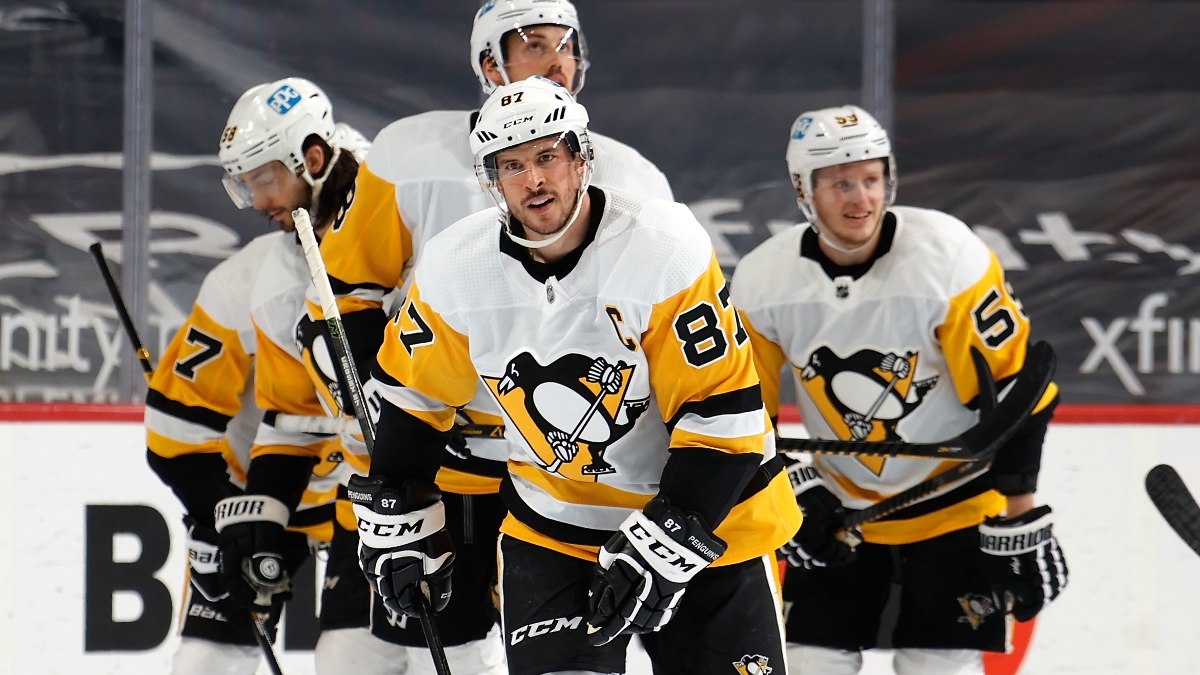 32. Pittsburgh Penguins
| | |
| --- | --- |
| Stanley Cup Odds | +2500 |
| Division Odds | +475 |
| Make/Miss Playoffs | -215/+175 |
| Over/Under | 96.5 |
The Pittsburgh Penguins are still a good hockey team, but their window is certainly closing. Those two things aren't mutually exclusive and the Penguins aren't the only team in the Metropolitan Division that fits that particular narrative.
For the first time in ages, there are plenty of reasons to be skeptical of Pittsburgh going into a season. The division is tough, their core is aging, the team's depth is questionable and they are already dealing with injuries to Sidney Crosby and Evgeni Malkin.
It is unknown how long Malkin and Crosby will be out, but in the ultra-competitive Metro, getting off to a slow start could be ruinous. And unlike in season's past, I don't think the Penguins have the supporting cast to be able to keep the ship afloat until the two future hall-of-famers get back into form.
With Crosby and Malkin on the shelf, the Penguins center depth looks like this: Jeff Carter, Teddy Blueger, Brian Boyle, Evan Rodrigues and Sam Lafferty. In his prime, Carter could play as a No. 1 center on a good team, but he's way past his salad days and is much better suited to a middle-six role. Blueger is a great defensive center with little offensive upside, while Boyle didn't play in the NHL last season and for almost all of his career played as a checking-line pivot. Rodrigues and Lafferty are more of the same.
The Penguins, especially in the early going, could struggle to score. Jake Guentzel and Bryan Rust have been consistent producers alongside Crosby, but who knows how they'll fare in the early going. And if they struggle to find the back of the net, there's not much of a safety blanket as none of Jason Zucker, Kasperi Kapanen nor Brock McGinn are consistent goal-scoring threats.
On paper, the defense projects to be decent-but-unremarkable with Kris Letang and Brian Dumoulin at the top, while John Marino, Marcus Pettersson, Michael Matheson, Pierre-Olivier Joseph, and Mark Friedman are all fine for their roles.
Like with any team, stellar goaltending can provide cover for deficiencies. Conversely, pedestrian goaltending can exasperate them. With Pittsburgh it seems like the latter is more likely than the former as neither Tristan Jarry nor Casey DeSmith has established himself as a reliable starter in the NHL just yet.
DeSmith had a stronger regular season in 2021, posting a +2.2 Goals Saved Above Expected (GSAx) in 20 games, but he's only played in 70 NHL games in his career. Jarry really struggled last season, skating to a -11.8 GSAx in 39 appearances in the regular season and then following that up with a -7.9 GSAx in the postseason.
Goaltending is volatile so there's a chance that Jarry bounces back or DeSmith puts together a full season, but the Pens will need to improve a defense that finished 19th in preventing high-danger scoring chances last season.
Seeing the Pittsburgh Penguins at 25/1 may seem tempting on the surface, but there are just far too many question marks on this roster to back this team in a deep division. With the injury issues, the goaltending conundrum and an aging core I think it's pretty close to a coin flip on whether or not the Pens qualify for the postseason in the Metro.
Bet: Pittsburgh to miss the playoffs (+175)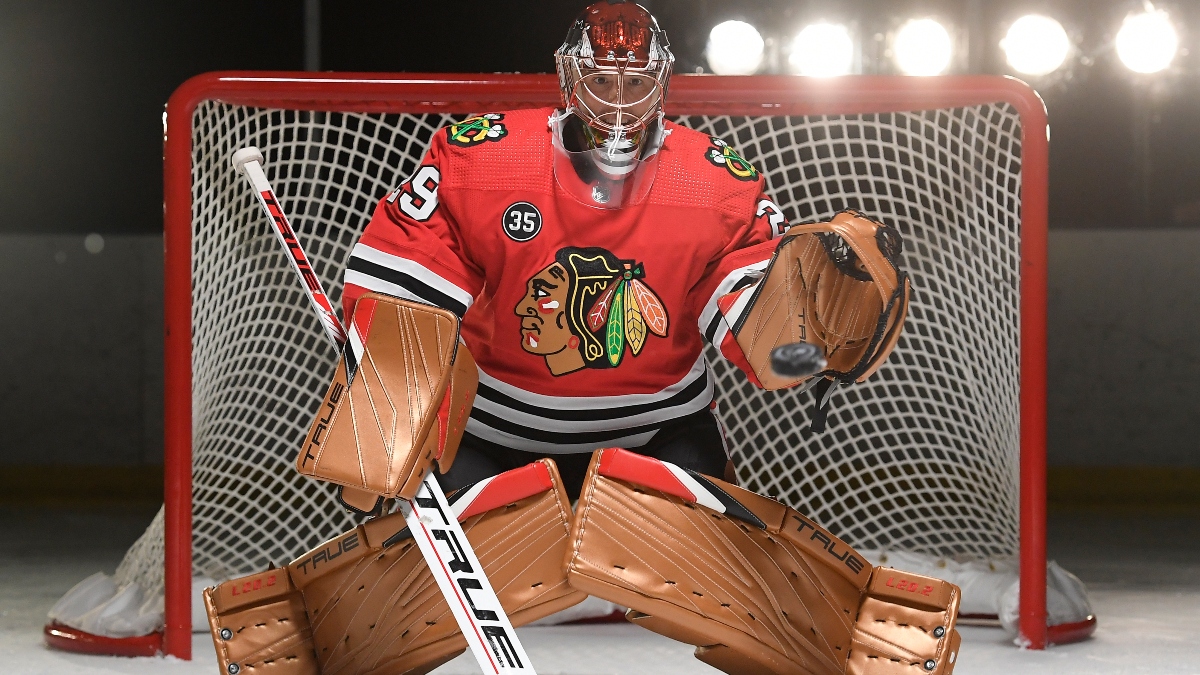 31. Chicago Blackhawks
| | |
| --- | --- |
| Stanley Cup Odds | +4500 |
| Division Odds | +1800 |
| Make/Miss Playoffs | -120/+100 |
| Over/Under | 91.5 |
High-profile teams are often overvalued in the betting market. That is not unique to the NHL. Throw in the fact that the Hawks traded for one of the league's most popular players right after he won the Vezina Trophy and you've got a recipe for inflation.
I had Chicago similarly overrated heading into last season and it looked like a bad call in the early going as the Blackhawks started the season 12-7-4 and looked like they actually might surprise and qualify for the postseason. But even in their hot start, the same cracks from 2019-20 began to show.
Two seasons ago the Blackhawks posted the worst xGA and allowed the most high-danger scoring chances per 60 minutes at 5-on-5. Though they were a tad batter in the early part of last year, the Blackhawks were still struggling to prevent scoring chances. Luckily, rookie goaltender Kevin Lankinen unexpectedly sparkled in his opening act. By the end of the season Chicago was allowing the most xGA and HDCA in the NHL and Lankinen came back down to earth.
The Blackhawks would finish the season 24-25-7 and miss the postseason by nine points. It was the third time in four years that Chicago missed the tournament and the season that they did make it was only because of the expanded field for The Bubble.
Chicago's offseason signaled that it fancies itself a playoff contender. The Blackhawks made a risky bet by trading and signing Seth Jones to a cap-eating extension. They traded for Marc-Andre Fleury. Tyler Johnson is also in town after back-to-back Cups with the Lightning.
Jones is a polarizing figure among in-the-weeds hockey fans. But to the Blackhawks he will need to be a minute-eating, all-three-zones defenseman ready to play against the best players in the NHL. It's a role that isn't foreign to Jones, but he won't have Zach Werenski next to him in the Windy City, nor will he have John Tortorella coaching him.
No matter if you think Jones is underrated, overrated or just right, the fact is that he has an enormous task ahead of him on the blueline. Jake McCabe, Calvin de Haan and Connor Murphy are all fine players but they don't make up a top four that would strike fear into opponents.
Chicago should be able to score enough to help provide cover for some of its defensive weaknesses, but the forward group is also a bit thin. Patrick Kane is still among the elite chance-creators in the league and Alex DeBrincat can finish those chances off with the best of 'em. But the Hawks will be relying on 20-year-old Kirby Dach and Jonathan Toews, who is returning after missing all of last season due to a health issue, as their top two centers. Both players have high upside, but they played a combined 18 games in 2021 and are at very different points in their careers.
And the depth behind Kane, DeBrincat, Toews and Dach is concerning. Dominik Kubalik is a bona fide top-six winger, but after him it's tough to see where the consistent points will come from. Kane, DeBrincat and Kubalik are the only players on Chicago that tallied more than 25 points last season.
It seems right now that Chicago's plan is simple. Rely on Kane and DeBrincat to score enough goals and Marc-Andre to steal enough games to provide cover for their significant flaws in the bottom-six and on defense. And while having a great goalie can lead to a team gate-crashing the playoffs and going on a run, it's hard to imagine Fleury doing that behind this defense.
Fleury was a dynamo last season, but down seasons aren't foreign to him (or any goalie). He's now 36 and playing for a bad team after spending his career playing behind two of the league's best squads. Like Jones, I think the Blackhawks are going to end up asking too much of Fleury and wouldn't be surprised if he's shopped at the deadline.
There are more than enough on-ice reasons to think the Blackhawks will struggle, but there's also their path to the postseason. The Central Division is pretty deep with Colorado at the top and Minnesota, Winnipeg, Dallas and St. Louis in the middle. Even though there's a pretty good chance we see five teams from the Central make the postseason, I still think it's an uphill battle for the Blackhawks. If they're better than Nashville, it's by a slim margin and I don't think they're in the same tier as Minnesota, Winnipeg, Dallas and St. Louis.
With the flashy additions of Jones and Fleury, plus the return of Jonathan Toews, I think a lot of hockey people will back Chicago for a bounce-back season. I disagree with that notion and even at 45/1 to win the Stanley Cup, I think Chicago is the most overrated team in the NHL right now.
Bet: Chicago to miss the playoffs (+100), Under 91.5 points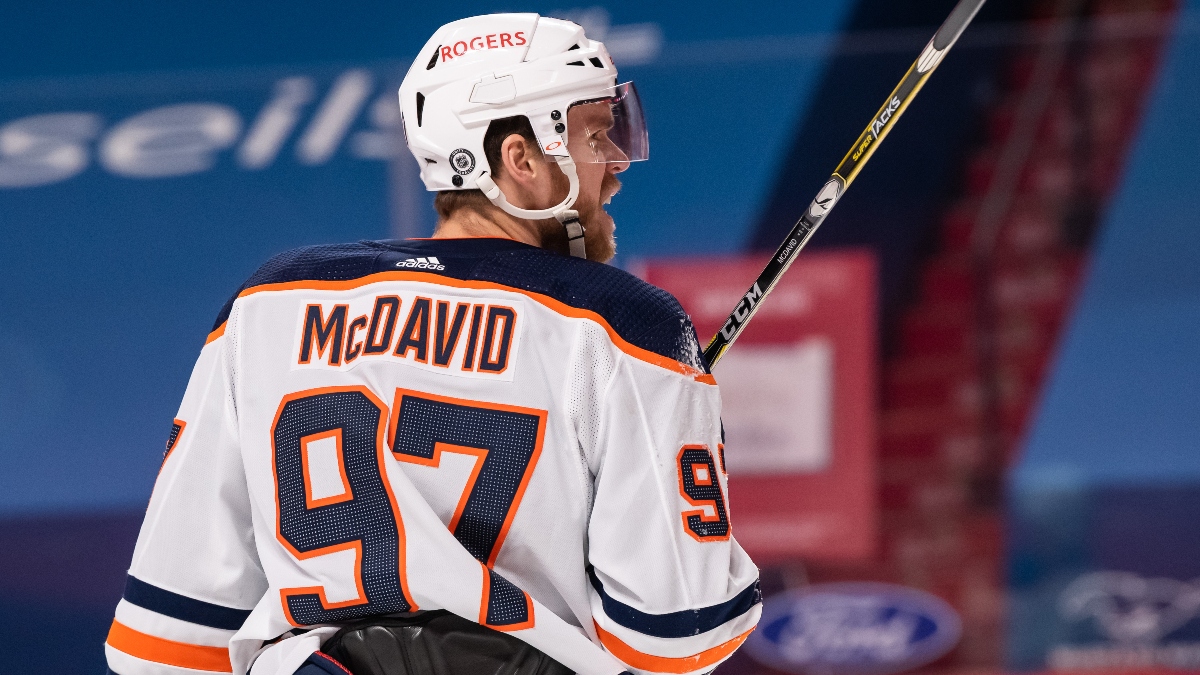 30. Edmonton Oilers 
| | |
| --- | --- |
| Stanley Cup Odds | +2000 |
| Division Odds | +380 |
| Make/Miss Playoffs | -400/+310 |
| Over/Under | 99.5 |
The Edmonton Oilers have a lot going for them. They have Connor McDavid, the best player in the world. He plays with Leon Draisaitl, a top-10 player in his own right. Edmonton addressed a lack of scoring depth in its middle six by signing Zach Hyman and trading for Warren Foegele. Derek Ryan could also be a shrewd signing as the No. 4 center. That trio joins a supporting cast that already featured Ryan Nugent-Hopkins, Jesse Puljujarvi and Kailer Yamamoto. It's a pretty strong forward group headlined by perhaps the best player the league's ever seen.
The Oilers also have the luxury of playing in the softest division in the NHL. At the time of writing, the Oilers are one of two teams in the Pacific Division with odds shorter than 40/1 (Vegas is the other). The team with the third-best odds is the expansion Seattle Kraken at +4000. Three teams (Los Angeles, San Jose, Anaheim) are in the triple-digits. It's no surprise that Edmonton is -400 to make the playoffs in this division. Missing the playoffs would be a calamity.
And I don't think the Oilers will miss the playoffs, however, I don't think they are as good as the market suggests and they will be a fade team for me in the early part of the season.
As good as Edmonton should be going forward, the defense and goaltending are far from a sure thing. Darnell Nurse is the team's best defensemen, but I think it's fair to say he's not a No. 1 rearguard on a Stanley Cup contender. Is Nurse a good player? Yes, but his role on Edmonton is asking a lot. The same can be said of Tyson Barrie, who is more of an offensive specialist on the blueline and a bit of a mess in his own zone. The other two members of the top-four, Duncan Keith and Cody Ceci, bring more question marks to a defense that finished 16th in high-danger chances allowed in 2021 and would have been a bigger issue had it not been repeatedly bailed out by 39-year-old goaltender Mike Smith.
Speaking of Smith, he's another question mark. He put together a renaissance season in 2021, but he will be 40 years old in March and posted a -14.59 Goals Saved Above Expected (GSAx) in the previous two seasons. Compounding that problem is the fact that the Oilers don't have a reliable safety net behind Smith in the blue crease. Mikko Koskinen had a promising campaign in 2019-20 with a +5.01 GSAx, but he bookended that performance with a pair of down years.
The Oilers are the second-best team in their division, but I think they are closer to the middle of the pack than they are to the top of the NHL. Unlike other contenders where you have to nitpick to find their flaws, the Oilers have some critical holes that could easily sink them. That makes Edmonton great fade material, especially when it is a big favorite.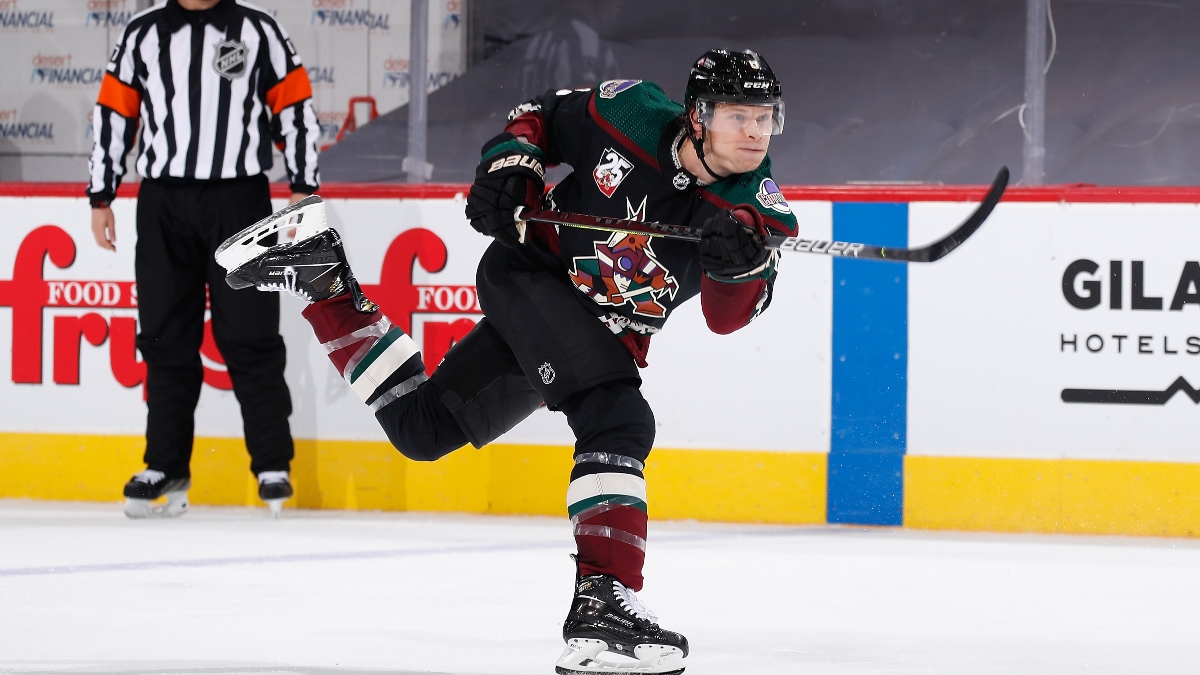 29. Arizona Coyotes 
| | |
| --- | --- |
| Stanley Cup Odds | +20000 |
| Division Odds | +30000 |
| Make/Miss Playoffs | +1700/-4000 |
| Over/Under | 67.5 |
I bet on bad hockey teams all the time. In fact, watching a terrible team blow a 3-1 lead in the third period to lose a bet and ruin my night is my happy place. I look forward to these things because I, like any seasoned bettor, am dead inside. That said, I am especially terrified of the 2021/22 Arizona Coyotes.
Staring down a long rebuild, the Coyotes spent the offseason taking on dead weight from other teams. Andrew Ladd, Jay Beagle, Loui Eriksson and Anton Stralman are all 35 and older and carry chunky cap hits. In return for taking these players on, the Coyotes landed an assortment of draft picks, future assets or cap relief for themselves. The Yotes are still very much tearing it down, which means there's still a season or two before they can even start building it back up.
Arizona's roster revamp makes a lot of its numbers from last season pretty much moot, but they weren't encouraging anyways. Arizona finished 20th in expected goals rate, 22nd in high-danger chance rate and was 20th in goal differential at 5-on-5. It's hard to imagine the Coyotes improving on those numbers, so a one-way trip to rock bottom seems on the cards, especially since they don't have Darcy Kuemper to bail them out in goal. Kuemper, who was traded to Colorado this summer, has saved 16.06 goals above expected over the past three seasons (101 games) for the Coyotes.
Rather than go after a reliable goaltender to at least raise their floor, Arizona signed journeyman Carter Hutton and traded for unproven 23-year-old Josef Korenar to man the blue paint this season. Goaltending is notoriously hard to project, but Hutton's -34.38 GSAx over the last three seasons doesn't encourage much confidence and it's way too early to make any sort of conclusion off of Korenar's 10-game stint with San Jose.
All of this is to say it's no wonder that the Coyotes have the lowest Over/Under in the NHL this season at 67.5 points. It may be a scary proposition to back a team to not reach the 68-point plateau, but I think there really is only way to look at this team for the upcoming campaign.
It's been a while since we finished an 82-game NHL marathon, but in the last six full seasons the worst team in the NHL finished with an average of 58.2 points and only one of them tallied more than 68 points.
2018-19: Ottawa Senators, 64 points
2017-18: Buffalo Sabres, 62 points
2016-17: Colorado Avalanche, 48 points
2015-16: Toronto Maple Leafs, 69 points
2014-15: Buffalo Sabres, 54 points
2013-14: Buffalo Sabres, 52 points
I'm hard-pressed to remember an NHL roster that looks this disheveled before a season. Even if you compare Arizona to Buffalo, another team hitting the reset button, you'll notice a big difference. The Sabres have a coherent core of young, talented players to build around and there seems to be a path forward. Arizona is not even at that stage yet.
The Bet: Under 67.5 Points (down to 63)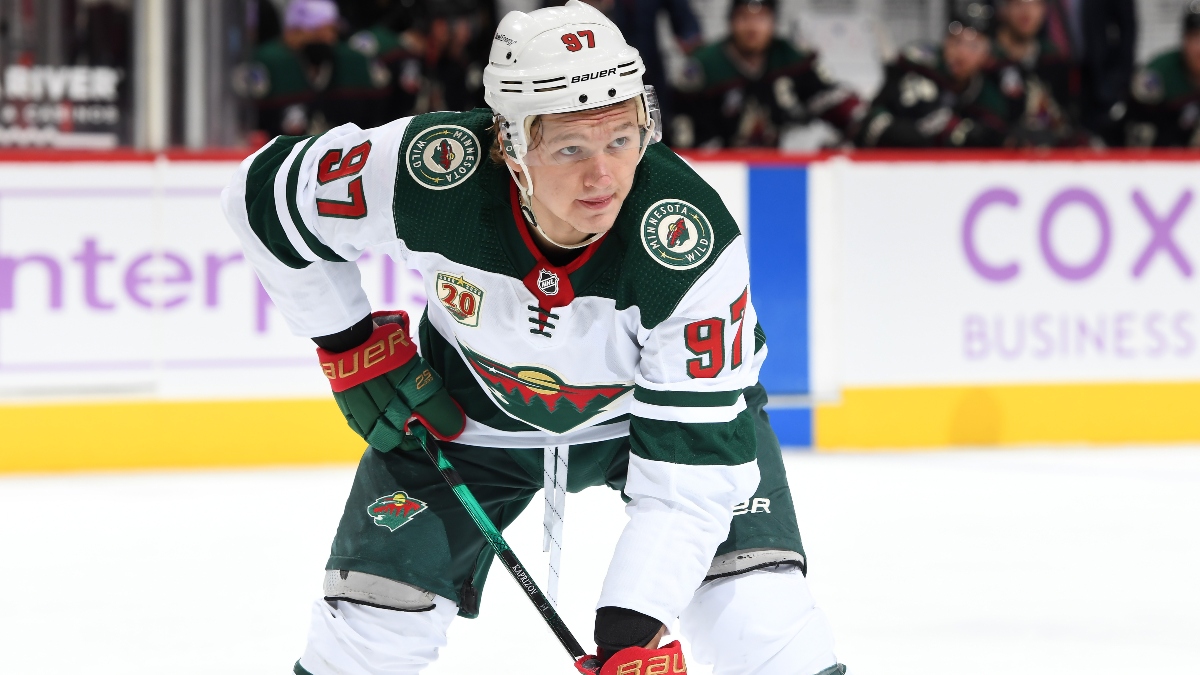 28. Minnesota Wild
| | |
| --- | --- |
| Stanley Cup Odds | +2500 |
| Division Odds | +650 |
| Make/Miss Playoffs | -320/+250 |
| Over/Under | 97.5 |
One of the surprises of the 2021 season, the Minnesota Wild came mightily close to upsetting the Vegas Golden Knights in Round 1 of the postseason. Playing in a weak division, the Wild were projected to be a playoff team in the West Division, but there weren't many folks out there that predicted that Minnesota's season would be as impressive as it was.
The betting community certainly took notice of the Wild's surge and Minnesota quickly became a "hipster team," if you will.
As is always the case when a team puts together a surprise season, the expectations surrounding the Wild have been raised. Minnesota comes into the 2021/22 season at 25/1 to win the Stanley Cup and as clear second-favorites behind the Avs in the Central Division. Minnesota is +650 to win the Central, a good ways ahead of Dallas (+1200), Winnipeg (+1400) and St. Louis (+1800).
I wouldn't be shocked if we see hockey pundits, insiders and casual fans back Minnesota this season. The Wild were legitimately good for a lot of 2021, but they also had a lot of things go their way, most notably they got to play a pretty soft schedule because they were put in the West Division.
This season, the Wild will need to navigate a much tougher division and I don't think there's all that much that separates Minnesota from the chasing pack of Dallas, Winnipeg and St. Louis.
Minnesota finished last season tied with the Lightning for the eighth-best points percentage. The Wild's underlying metrics were pretty much in line with that result as they finished ninth in 5-on-5 goal differential, 12th in expected goals rate and fifth in high-danger chance rate. Minnesota's defense did most of the heavy lifting, as the Wild tied the Avalanche for the fewest high-danger scoring chances allowed at 5-on-5 in 2021.
Defense has been Minnesota's calling card for years now, but this upcoming season could be a bit tricky as the Wild will be without Ryan Suter on the blueline. Suter's salad days are behind him, but he was still logging heavy minutes for the Wild last season.
The Wild's defense still projects really well with Jared Spurgeon, Matt Dumba, Jonas Brodin and Alex Goligoski leading the way, but even a slight step back puts more pressure on an offense that isn't very deep and is also due for some regression after leading the league with a 10.38 shooting percentage at 5-on-5 last season.
Minnesota does have a budding offensive star in Kirill Kaprizov, a 30-goal threat in Kevin Fiala and a great two-way center in Joel Eriksson Ek, but the forward group takes a bit of a nosedive after those three, though rookies Marco Rossi and Matthew Boldy could end up providing a spark to the middle-six. Neither of them have played in the NHL yet, though, and if they do take some time to adjust it could be a struggle for this team to create scoring chances.
Things aren't particularly great in goal, either. Minnesota's defensive prowess makes life easy on the netminders, but there are plenty of contenders who have a much better outlook in goal than a tandem featuring Cam Talbot and Kaapo Kahkonen. Talbot has posted some strong numbers in the past, but last year he skated to a -5.62 GSAx in 34 appearances, while Kahkonen ended the campaign with a -15.34 GSAx in 23 games.
While most folks will be looking for Minnesota to take another step forward with Kaprizov leading the way, I think this is a great time to sell high on a team that quietly looks worse on paper than it did before last season.
The Bet: Minnesota to miss the playoffs +250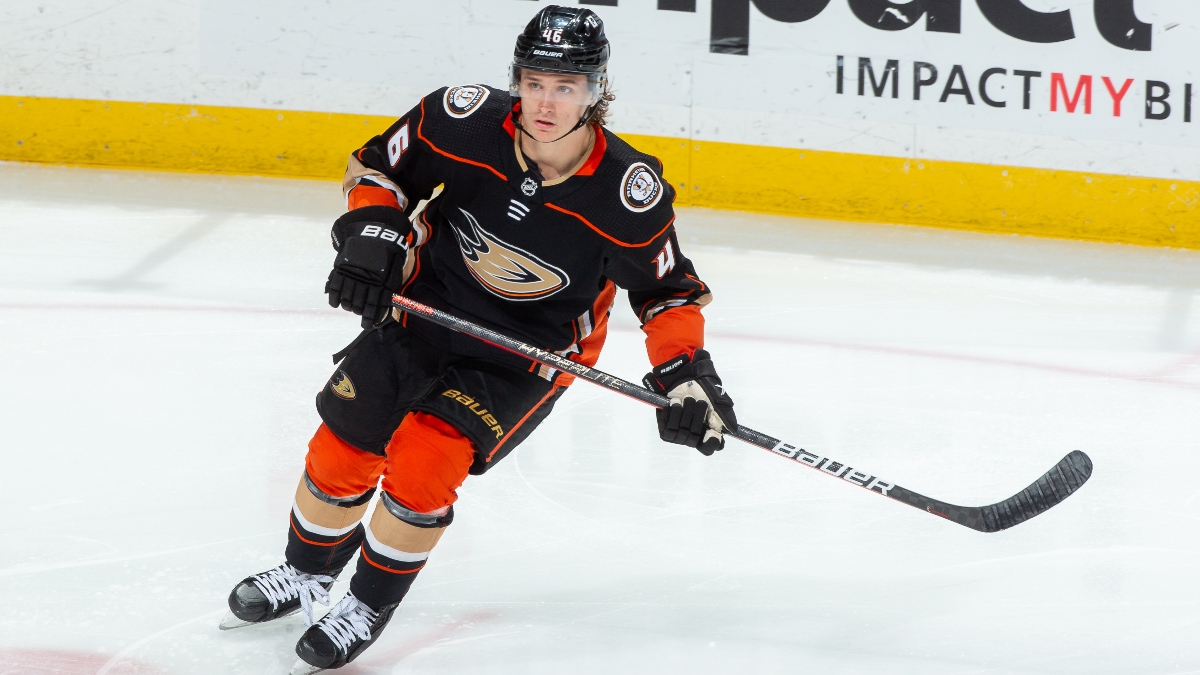 27. Anaheim Ducks
| | |
| --- | --- |
| Stanley Cup Odds | +20000 |
| Division Odds | +25000 |
| Make/Miss Playoffs | -4000/+1500 |
| Over/Under | 71.5 |
For the past two seasons I thought the Ducks had intriguing upside for a longshot. I didn't think they would win anything, but I thought, for one reason or another, that Anaheim had the potential to be good enough that some of their derivatives (like John Gibson to win the Hart Trophy or Dallas Eakins to win Coach of the Year) had some value. I was dead wrong and I am not going to get fooled again.
Most of my optimism in season's past had to do with goaltender John Gibson. From 2015-2019, Gibson was playing at a level where he could drag a mediocre team into the postseason. During that span, Gibson posted a +91.5 Goals Saved Above Expected (GSAx) in 210 games. It looked like the Pittsburgh native was on his way to becoming the undisputed best goalie in the NHL.
Unfortunately, Gibson's form has fallen off a cliff over the past two campaigns to the point that he's now a question mark going into the season rather than a player the Ducks could cling their hopes to. Perhaps part of Gibson's downturn has to do with the fact that Anaheim's fortunes have also evaporated over the past couple of years, but either way if Gibson doesn't regain his form from a few seasons ago, the Ducks will likely not be competitive, even in a soft division.
Anaheim's roster is a mish-mash of veterans who are likely to be traded at the deadline like Hampus Lindholm, Adam Henrique, Kevin Shattenkirk, Rickard Rakell, Jakob Silfverberg and Ryan Getzlaf, and young players who will be the core of Anaheim's rebuild. The two players leading the charge in the rebuild will be Trevor Zegras, who put up 13 points in 24 games last season, and defenseman Jamie Drysdale, who scored 3 goals and notched 5 assists in 24 games as an 18-year-old in 2021.
Zegras, who is one of the favorites for the Calder Trophy, and Drysdale, who is +1800 for the Calder, provide a path out of the doldrums (and Drysdale is a tempting bet to be the league's top rookie), but the rest of the roster just isn't good enough for the Ducks to be an intriguing longshot. Anaheim scored the fewest goals in the NHL last season, allowed the fourth-most high-danger scoring chances and had the fifth-worst expected goals rate.
With three triple-digit longshots and three other teams between +4000 and +6000 (including the expansion Seattle Kraken), the Pacific Division is the place to shop for longshots. Just not this one.
I like to bet the Under on teams that I think will be sellers at the Trade Deadline and Anaheim certainly fits that bill, but my favorite Anaheim-related bet is a punt on Jamie Drysdale to win the Calder at 18/1. Drysdale looked really solid in his first go-round as an 18-year-old last season and there's no reason he won't play a decent role in the upcoming campaign. That's half the battle with betting someone to win Rookie of the Year.
The Bet: Jamie Drysdale to win the Calder Trophy (+1800)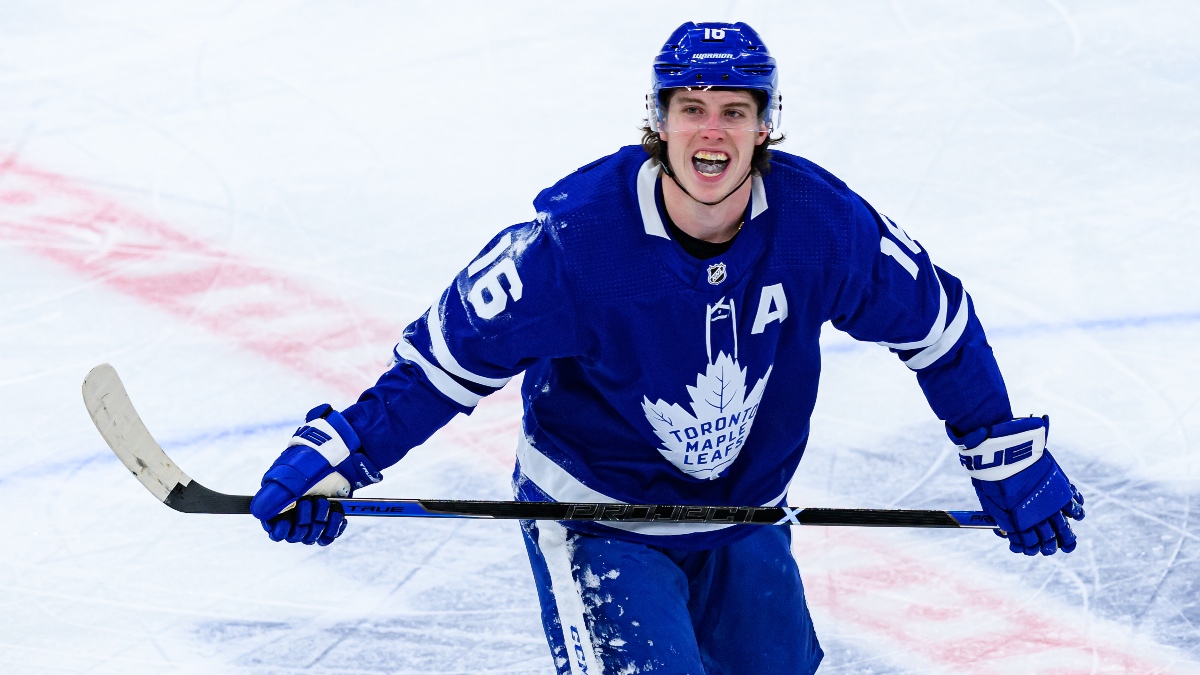 26. Toronto Maple Leafs
| | |
| --- | --- |
| Stanley Cup Odds | +900 |
| Division Odds | +195 |
| Make/Miss Playoffs | -1600/+850 |
| Over/Under | 106.5 |
The Toronto Maple Leafs are one of the best 10 teams in the NHL, but they are currently the fourth-choice on the oddsboard. Just because a team is great doesn't mean that it can't be overrated.
Like with Chicago, oddsmakers can afford to offer Toronto at shorter prices because they know the Leafs will attract action. No team in the NHL comes close to matching Toronto's media footprint and that has a ripple effect in the betting market.
Loaded with talent, the Maple Leafs once again look like a threat to make a run in the postseason. The only problem is that this team has fit that bill for the past four seasons, only to bow out in the opening round of the playoffs each year.
The Leafs have famously not won a playoff round since 2004 and their postseason collapses have become the stuff of legend. The hilarity continued last spring when heavily-favored Toronto blew a 3-1 series lead to the Montreal Canadiens. It was a stunning end to a season that saw Toronto win the ultra-soft North Division without much of a problem.
The Leafs finished third in goal differential, second in expected goals rate and second in high-danger chance percentage at 5-on-5 last season. Those numbers are perhaps a little inflated because the North Division was full of flawed teams — especially on defense — but it was still fair to call Toronto one of the league's elite teams in 2021. Both on the surface and below it, the Leafs looked legitimate.
But then Toronto made a parody of itself by collapsing against its biggest rival with all of Canada watching. It's best for bettors to avoid getting sucked into narratives, but it's hard with the Leafs given their media footprint and the pressure they will face in 2021/22. The mood outside of the team is that the regular season is worth a can of beans until they show up in the postseason, and you have to wonder if that can weigh on a team during an 82-game marathon. If Toronto gets off to a slow start, look out.
Toronto's strengths are well known at this point. The Leafs are an effective offensive team thanks to their starpower up front. Auston Matthews is one of the league's best players, Mitch Marner is one of the best playmakers in the NHL, while John Tavares and William Nylander are both pretty good bets for 30 goals themselves.
The rest of the lineup can go a number of different ways.
It feels pretty safe that Nick Ritchie will have a big year playing with either Matthews and Marner or Tavares and Nylander, but the bottom six is a lot harder to project.
David Kampf scored once in 56 games with the Blackhawks last season. Ondrej Kase hasn't been healthy in a long time. Michael Bunting broke out with 10 goals in 21 games in Arizona last season but he shot 26.3%. Jason Spezza and Wayne Simmonds are at the end of their careers, while Nick Robertson is at the beginning of his. Kyle Dubas often gets praise for taking fliers on intriguing players on cheap deals, but there are a lot of question marks on this roster relative to the other favorites and we haven't even discussed the defense or goaltending yet.
Prior to last season the narrative surrounding the Leafs was that we know the offense will produce, but their success will hinge on whether their defense and goaltending can hold up. Toronto's defense certainly did its part in the shortened 2021 season, finishing sixth in goals against and 10th in xGA over the 56-game campaign. Those numbers are encouraging and Toronto has three decent, if unspectacular, pairings on the blueline, but because of how much cap space the guys at the top of the roster suck up, the depth on defense could end up being an issue.
And then there's the goaltending. Jack Campbell's .919 SV% and a +5 GSAx last season are both encouraging signs for the Leafs, but he's never made more than 31 appearances in a season and only has 86 career games under his belt. Campbell's injury history is a bit concerning, especially since his batterymate, Petr Mrazek, was limited to just 12 games with Carolina last year.
It should be noted that Mrazek was fantastic in those 12 showings and was an above-average starter for Carolina the previous two seasons, but both he and Campbell will need to stay healthy for Toronto to meet expectations in '21-22 and that is an iffy bet over an 82-game season plus the postseason.
The biggest issue I have with this price has nothing to do with Toronto's roster, but rather the division it plays in. The Atlantic Division has four teams (Tampa Bay, Toronto, Boston and Florida) between +700 and +1800 to win the Stanley Cup and the team with the fifth-best odds (Montreal) just made it to the Cup Final in the summer. Missing the playoffs would be a shocker, but there's very little room for error with this type of competition.
Once again, there are a lot of reasons to believe that Toronto will be in the mix this season. But there are just too many red flags to invest at these prices.
Unless Toronto runs away with the Atlantic, which is unlikely, I don't think this number will shorten too much. Thus, if you really do think the Leafs are worthy of a bet, I'd advise waiting to see if they struggle and their number drifts.
The Bet: Under 106.5 points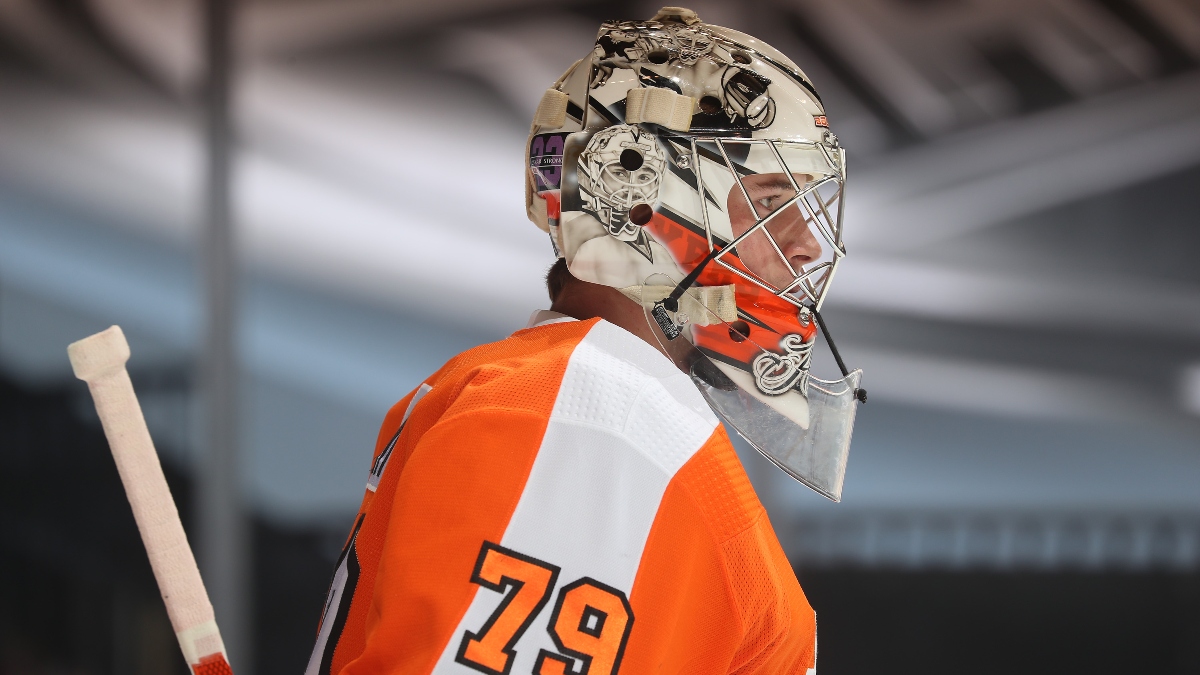 25. Philadelphia Flyers
| | |
| --- | --- |
| Stanley Cup Odds | +4000 |
| Division Odds | +900 |
| Make/Miss Playoffs | +105/-125 |
| Over/Under | 88.5 |
Prior to last season I would tell anybody who would listen to me that the Flyers were the most overrated team heading into the season. Not only did Philadelphia lack game-breaking talent, but the goaltending situation seemed precarious as everyone seemed to think that 22-year-old Carter Hart was the second-coming of Dominik Hasek.
While I thought that the Flyers would struggle to meet expectations in 2021, I didn't think things would go completely off the rails for just about every player on the roster.
No team in the NHL received worse goaltending than the Flyers did last season. Hart and his deputy, Brian Elliott, combined for an .880 save percentage and a -37.6 GSAx. Per MoneyPuck, Elliott's -19.3 GSAx was the worst mark in the NHL, while Hart's -18.3 GSAx was the third from the bottom.
It must be noted that this type of performance goes against everything we've seen so far from Hart's career trajectory prior to January, 2021. Hart was great in his rookie campaign and followed that up with a superb showing in The Bubble, so there were legitimate reasons that folks were ready to dub him the next Carey Price. Expecting some form of a bounce-back season is certainly within reason, but you'd think the Flyers would have gone out of their way to find him a stable battery mate for the upcoming season. Instead, they went ahead and signed Martin Jones.
Remember how I said that Elliott and Hart finished last and third-to-last among qualified goalies in GSAx last season? The only goalie to finish in between them was — you guessed it — Martin Jones.
Another way to protect a young goaltender would be to invest in the defense, which the Flyers did do this summer. Except, they did it in a very weird way. After trading for top-pair defenseman Ryan Ellis, the Flyers went out and traded for the polarizing Rasmus Ristolainen of the Buffalo Sabres.
So long as he stays healthy, Ellis seems a good bet to provide Philadelphia with something it hasn't had in a while — a legitimate No. 1 defenseman. Ellis' arrival should also be good news for Ivan Provorov, who at times in his career has looked like a top-pair defenseman in his own right. Provorov, like basically every other Flyer, struggled in 2021 but I think a resurgence playing with Ellis is a pretty agreeable take.
In addition to trading for Ellis, the Flyers also sent a sweetheart package to the Sabres in exchange for Rasmus Ristolainen. The 6-foot-4 Finn certainly has the tools to be a successful rearguard in the NHL, but his on-ice metrics for the Sabres leave a lot to be desired. Buffalo has been a disaster for Ristolainen's entire career, so who knows if this is a chicken-or-the-egg situation, but even so it was a weird gamble for the Flyers to make considering that they had just impressed just about everyone with their Ellis acquisition.
While the jury is still out on how good Philadelphia's defense and goaltending will be, I feel pretty safe in projecting the offense out as mediocre. The Flyers lack starpower and that showed in the numbers as Philadelphia finished 14th in 5-on-5 scoring, 17th in expected goals for and 26th in high-danger chances created last season. Without making much of an upgrade to this unit in the summer, the Flyers are instead relying on players to bounce back from a down year or for one of their youngsters to make a leap in 2021-22. That is certainly possible, but I wouldn't say it's probable.
There is reason to hope that Philadelphia, which played at an 88-point pace in a tough division despite terrible goaltending last season, can improve on that total with better goaltending (and it's almost impossible that it won't be better). Intelligent hockey pundits, statistical modelers and analytically-inclined fans are always on the lookout to bet on/back teams that had everything go wrong for them the season prior as those teams can often be undervalued in the market, but I still remain skeptical of this team's ceiling even if everything goes right. The Flyers strike me as a mediocre team in a division where mediocrity will be found out pretty quickly.
Firmly behind the Hurricanes, Islanders, Capitals, Rangers and Penguins, I think there's a good chance that the Flyers are a seller at the deadline as they try to rebuild on the fly (Claude Giroux, anyone?). I like to bet unders on teams that I project to be sellers, so I also think backing Philadelphia to stay under 92.5 points for the season is a fine bet.
The Bet: Under 92.5 points (down to 90.5)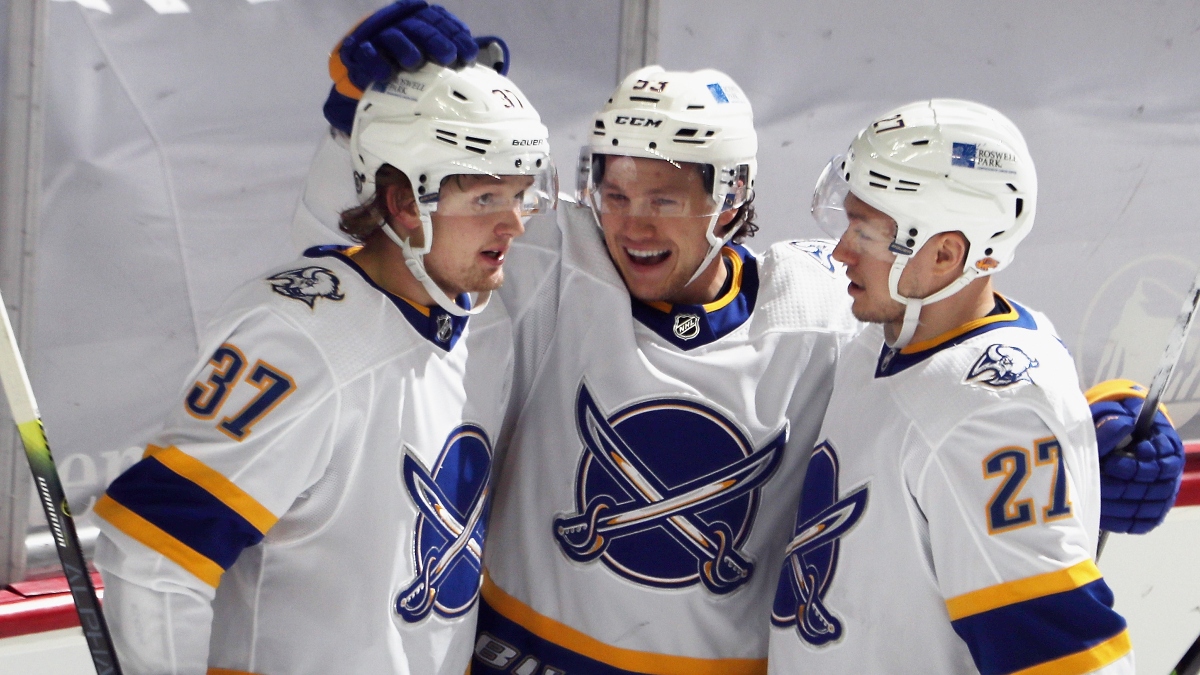 24. Buffalo Sabres
| | |
| --- | --- |
| Stanley Cup Odds | +20000 |
| Division Odds | +30000 |
| Make/Miss Playoffs | -4000/+1700 |
| Over/Under | 68.5 |
Ah, the Buffalo Sabres.
If you're reading this, you likely already know that the Sabres are going to be very bad this season. But since we've established that, let's try and figure out what the silver linings are in Western New York
What a bounce-back season is for the Sabres is certainly up for debate. Going by Over/Unders, Buffalo is projected to be the second-worst team in the NHL. No arguments here.
Buffalo's got issues all over the ice, starting in goal where 40-year-old Craig Anderson is expected to get the lion's share of the starts out of the gate. Anderson was the No. 3 goalie in Washington last season and was only brought into D.C. because Henrik Lundqvist was not able to play. Anderson has posted a -60.36 GSAx since 2017-18.
Anderson will split the duties with fellow journeyman Aaron Dell, who has been up and down in his career as a back-up and No. 3. Dell really struggled in a seven-game stint for the Devils in 2021, but he's had some decent seasons in his past so who knows.
The real wild card in the crease is 22-year-old Ukko-Pekka Luukkonen. The 6-foot-5 Finn hasn't set the world on fire in North America, but he did look like a legitimate prospect based off his numbers in the Finnish League, so perhaps there's something here.
Getting just-below-average goaltending from this tandem would be a pretty big win for this team, but they'll need all the help they can get because scoring goals figures to be a big issue.
The Sabres will be without Jack Eichel, meaning their best offensive asset is sophomore Dylan Cozens. The 20-year-old from Whitehorse, Yukon Territory notched four goals and nine assists in 41 games and struggled in his own zone during his rookie campaign, but coming into a team in disarray as a rookie is quite difficult.
For Buffalo to get any sort of respectable results, it will need Cozens and former eighth-overall pick Casey Mittelstadt to hold down the fort as the top two pivots. That isn't ideal with neither one of the first-round picks showing all that well just yet, but a breakout season(s) isn't without the question.
The rest of Buffalo's top six will leave you with a bitter taste in your mouth. Jeff Skinner and Victor Olofsson can both find the back of the net, but they need someone else to do the heavy lifting on their line to be effective. Rasmus Asplund, Anders Bjork, Vinnie Hinostroza and Arttu Ruotsalainen are all average players at best.
The defense isn't much better, but it can be if 2018 No. 1 overall pick Rasmus Dahlin can break out. The 21-year-old's surface-level stats may not look impressive from last season, but he got better as the year went on and was facing some stiff competition, so there are certainly some signals that a star-turn is coming for Dahlin.
What could hinder Dahlin's ascendancy is his supporting cast. Henri Jokiharju is a fellow first-round pick and had a pretty decent showing next to Dahlin in 2021, but he's probably not a top-pairing rearguard right now. That's kind of the theme with this entire blueline. Everybody is punching above their weight and without the ability to lean on a high-scoring offense or a great goaltending tandem to lean on, this unit will be unremarkable at best.
The Sabres did look an improved bunch when the club hired Don Granato and there are a lot of players on this roster with something to prove, so there may be a galvanizing force that has this team playing above its head, but this season
One of the beautiful but harsh realities of betting on sports is that if you're in it for the long haul, you need to get used to gambling your hard-earned money on bad teams. And for some ungodly reason, I am actually pretty excited to bet on the Sabres this season.
I know that's a pretty sick thing to say about a team that seems to be embracing the tank, but I actually think Buffalo can improve on its performance last season. That is not going out on a limb at all, as the Sabres endured an 18-game losing streak and played at a 54-point pace in 2021, but usually when everything that can go wrong does go wrong for a team one season, there is some value betting on a bounce-back season.
The Sabres will likely be sellers at the deadline and their schedule already isn't conducive to the over, but I think this team can get to 70 points over a full 82-game season, so I don't think there's much value on the under, either. The best preseason betting advice I can give for Buffalo is to not be afraid to bet this team when the number is right.
The Bet: Don't be afraid to bet the Sabres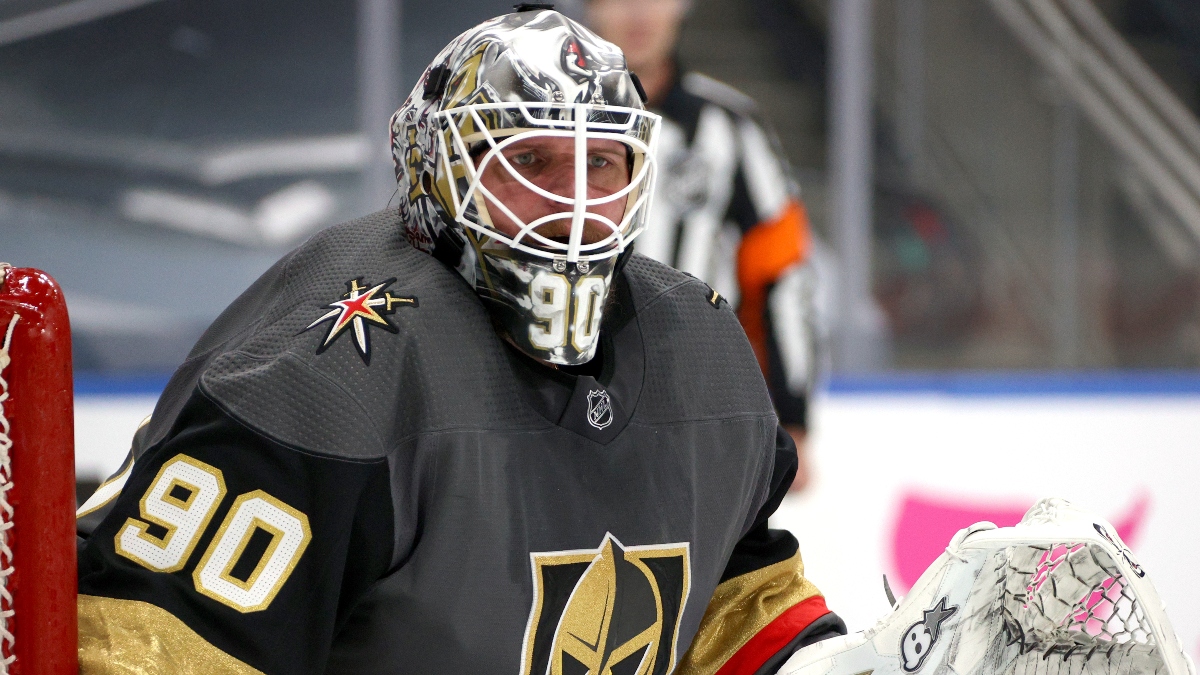 23. Vegas Golden Knights
| | |
| --- | --- |
| Stanley Cup Odds | +700 |
| Division Odds | -160 |
| Make/Miss Playoffs | -1600/+900 |
| Over/Under | 106.5 |
About to embark on their fifth NHL season, the Vegas Golden Knights are once again expected to be one of the heavyweights in the Western Conference. And boy, have the Knights caught another break with their schedule.
Playing in the Pacific Division, Vegas will get a sturdy dose of games against Anaheim, San Jose, Los Angeles, Vancouver and Seattle. Its main competition in the division, Edmonton and Calgary, both have some major flaws. It's no wonder that the Knights are odds-on to win the Pacific.
Vegas may not have elite depth down the middle, but it makes up for that in every other area of the ice. Mark Stone is one of the game's most dominant wingers. Max Pacioretty scores in buckets. The Reilly Smith-William Karlsson-Jonathan Marchessault line remains one of the league's most effective second units. Evgenii Dadonov was brought in to provide more goalscoring oomph in the middle six. Alex Pietrangelo and Shea Theodore are both interesting bets for the Norris Trophy and they've got plenty of help on a deep blueline. And Robin Lehner is a terrific goaltender. Vegas has a lot going for it, both on and off the ice, and should breeze to another playoff berth.
Vegas has been one of the league's most consistent teams at 5-on-5 since it came into existence and last year was more of the same as the Knights finished second in goal differential, fourth in xG rate and first in expected goals created. Perhaps those numbers were inflated by the quality of competition last season, but the Knights once again find themselves in the weakest division in the league.
Although I think the Knights will win the Pacific Division and are a contender, there is no value in backing them in the futures market. As expected for a popular team playing in the Sports Gambling Capital of the World, the Knights are rarely underpriced and this season is no different. I also don't see much sense going against Vegas with a bet on the under because this division should provide plenty of easy points.
The one bet I could get behind (once again) is a play on Shea Theodore to win the Norris Trophy. The secret has long been out about Theodore's skillset as one of the game's best offensive defensemen and he backed that up last season with 42 points in 53 games.
The Bet: Shea Theodore to win the Norris Trophy (+2000)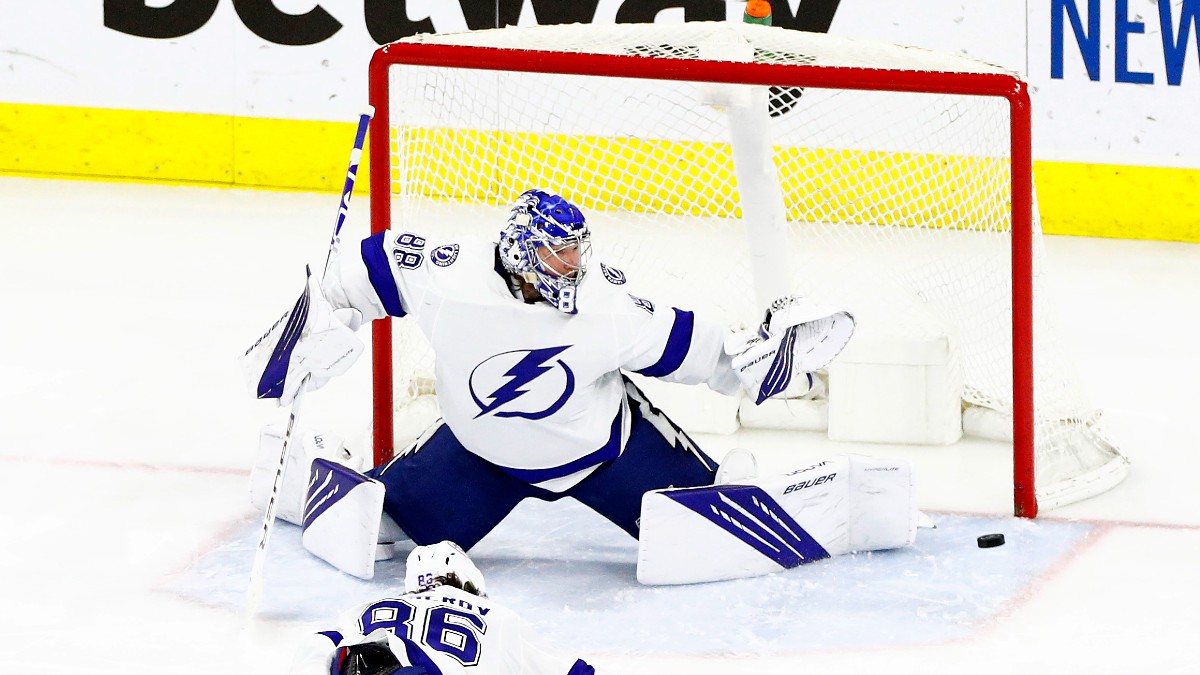 22. Tampa Bay Lightning
| | |
| --- | --- |
| Stanley Cup Odds | +700 |
| Division Odds | +210 |
| Make/Miss Playoffs | -1600/+850 |
| Over/Under | 106.5 |
The last team to win back-to-back-to-back Stanley Cups was the dynastic New York Islanders of the early 80's. The Tampa Bay Lightning can join the Islanders, Montreal Canadiens and Toronto Maple Leafs as the only franchises to three-peat with another ring this summer and bookmakers think they have a pretty good shot at it. The Bolts are currently sitting at +700, tied with Vegas as second-favorites behind the Colorado Avalanche, meaning that they have an implied probability of 12.5%.
We can get the easy stuff out of the way. The Lightning should be one of the best teams again in the NHL again this season. Nikita Kucherov, Brayden Point, Steven Stamkos, Andrei Vasilevskiy, Victor Hedman, Ryan McDonagh, Erik Cernak, Anthony Cirelli, Mikhail Sergachev and Ross Colton are all back to once again give the Lightning one of the league's best cores.
After winning the Stanley Cup last September, Tampa Bay understandably eased its way into the regular season when the NHL dropped the puck in January. The Lightning never really fell off the pace in the Central Division, but they also never looked like a consistently dominant team, either. At 5-on-5, Tampa Bay finished ninth in goal differential, ninth in expected goals rate and ninth in high-danger chances allowed. Those numbers will certainly play, especially when your team has the finishing talent and goaltending that Tampa has in its holster.
Once the playoffs started, however, the Bolts turned things up more than a few notches — no doubt aided by the return of Nikita Kucherov. With Kucherov back in the fold, the Bolts sparkled in every phase of the game and skated to a second consecutive Stanley Cup.
After some creative bookkeeping allowed them to keep nearly the entire roster from the 2020 run together, the Lightning are a changed team for 2021-22. Each member of their highly effective third line (Yanni Gourde, Barclay Goodrow and Blake Coleman) has moved on. Tyler Johnson and David Savard also found homes elsewhere. The Bolts will look to both internal options (like Colton and Mathieu Joseph) and free agents (Corey Perry, Zach Bogosian and Pierre-Edouard Bellemare) to replace their departed comrades.
With a gaggle of new faces in new roles, it could take some time for the Bolts to find their game in the regular season. That is nothing new for Tampa, who also didn't start all that hot in 2019/20, either. That makes backing the Lightning to go over their point total or win this gauntlet of a division unappealing. It also presents an opportunity for patient bettors, as the Lightning could drift into the +1200 or +1500 range if they get off to another pedestrian-by-their-standards start. Something to keep an eye out for.
But as it stands now, I think the best way to invest in the Lightning is to take the Under 106.5 points. Nothing like betting against the two-time defending champions, eh?
The Bet: Under 106.5 points (down to 103.5)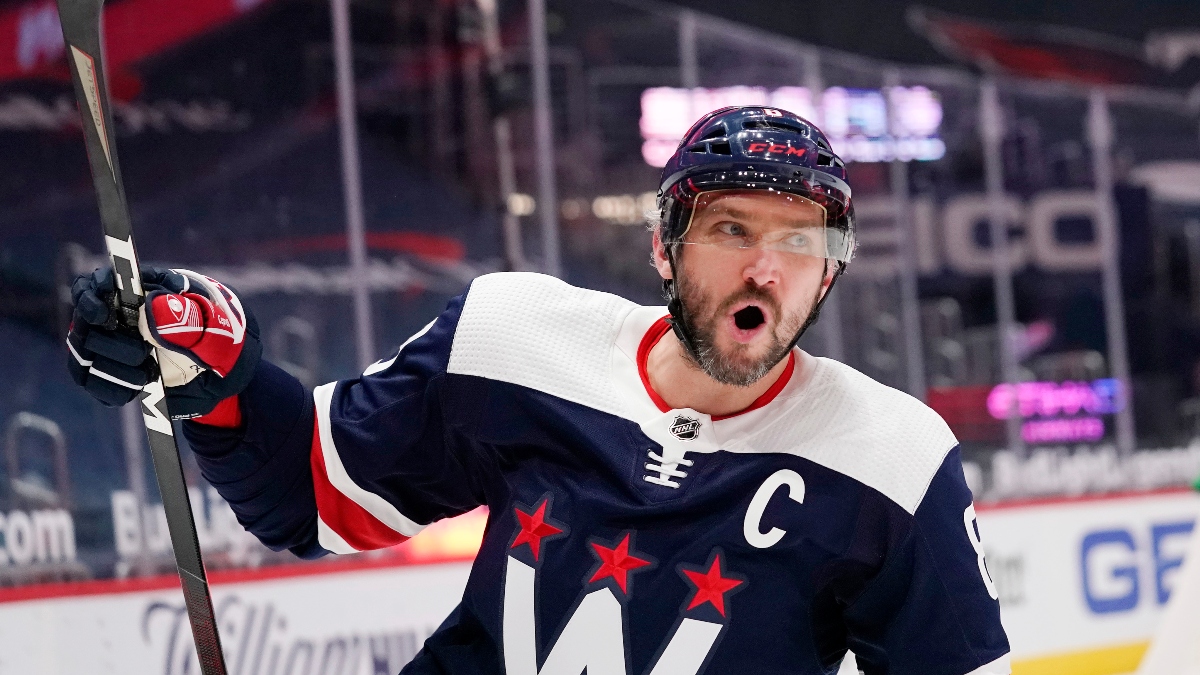 21. Washington Capitals
| | |
| --- | --- |
| Stanley Cup Odds | +3000 |
| Division Odds | +600 |
| Make/Miss Playoffs | -135/+115 |
| Over/Under | 95.5 |
The Washington Capitals enter the new season in unfamiliar territory. For about a decade, the Caps have been listed as one of the favorites to win the Stanley Cup. This season Washington is firmly in the mid-tier at +3000 and has longer odds than the Islanders, Rangers, Hurricanes and Penguins at DraftKings.
Seeing the Caps come in at 30/1 is a bit jarring at first, but the more you dig into it the more it makes sense. Not only does Washington have to navigate the turbulent Metropolitan Division, but its roster also has some potentially serious flaws.
Before we get to those, we can discuss what Washington has going for it. Stop me if you've heard this one before, but the Caps should be able to find the back of the net pretty regularly. Alex Ovechkin leads the line in his quest to topple Wayne Gretzky's record, but he's got plenty of support in the top-six with Nicklas Backstrom, T.J. Oshie, Anthony Mantha and Tom Wilson.
That brings us to our first question mark on this roster. What should we expect from Evgeny Kuznetsov? The 29-year-old Russian was a legitimate No. 1 center during the Capitals run to the Stanley Cup, but his game has dipped since then and last year it hit a new low as Kuznetsov was relatively ineffective on the ice and was suspended twice for breaching Covid protocols. A bounce-back from Kuznetsov would go a long way in helping Washington re-establish itself as an elite team, but that is far from a sure bet at this point.
Even if Kuznetsov doesn't get going, the Capitals should still have enough offense to keep them in contention in a tough division. And last season this team took some steps forward defensively, finishing inside the top-10 in expected goals and high-danger chances allowed at 5-on-5. The blueline still isn't particularly deep, but it seems like Peter Laviolette got the team to buy into a responsible defensive strategy.
That brings us to the biggest question mark for the Caps — the goaltending. Ilya Samsonov was handed the keys to the cage ahead of 2021 and he deserved the opportunity. The Russian looked like he was on his way to becoming one of the league's better young goaltenders. That isn't what happened however, as a breach of Covid protocols and injuries limited Samsonov to 19 appearances.
And when he did play, Samsonov didn't set the world on fire. The Russian posted a .902 save percentage and a -6.17 GSAx, firmly landing him in the doghouse. With Samsonov's season going the way it did, Washington turned to the unheralded Vitek Vanecek. The Czech netminder held his own in a tough situation but his numbers weren't very good, either.
There is reason to believe in a Samsonov bounce-back considering his pedigree and what we saw out of him 2019-20, but goaltending is so tough to project so there's no way of knowing what to expect out of this battery.
While I don't see much value in backing Washington at the current prices, I would never stand in the way of someone backing a team with this much talent at +3000. It's as good a number as we've seen on Washington in quite some time, so the temptation is certainly there — especially if you are a Caps fan and want to have some skin in the game. And heck, some respected modelers continue to believe that the Capitals are close to a 100-point team. 
For me, I think there are too many hurdles for this team to get back to the big stage. And thus, if you asked me my favorite Caps-related bet I would go for a stroll down narrative street and back Alex Ovechkin to win the Rocket Richard Trophy. Ovechkin is 164 goals behind Wayne Gretzky for No. 1 all-time in the NHL, so why not throw a few bucks on Ovi to lead the league in scoring and have some fun as he chases The Great One.
The Bet: Alex Ovechkin to win the Rocket Richard Trophy (+1000)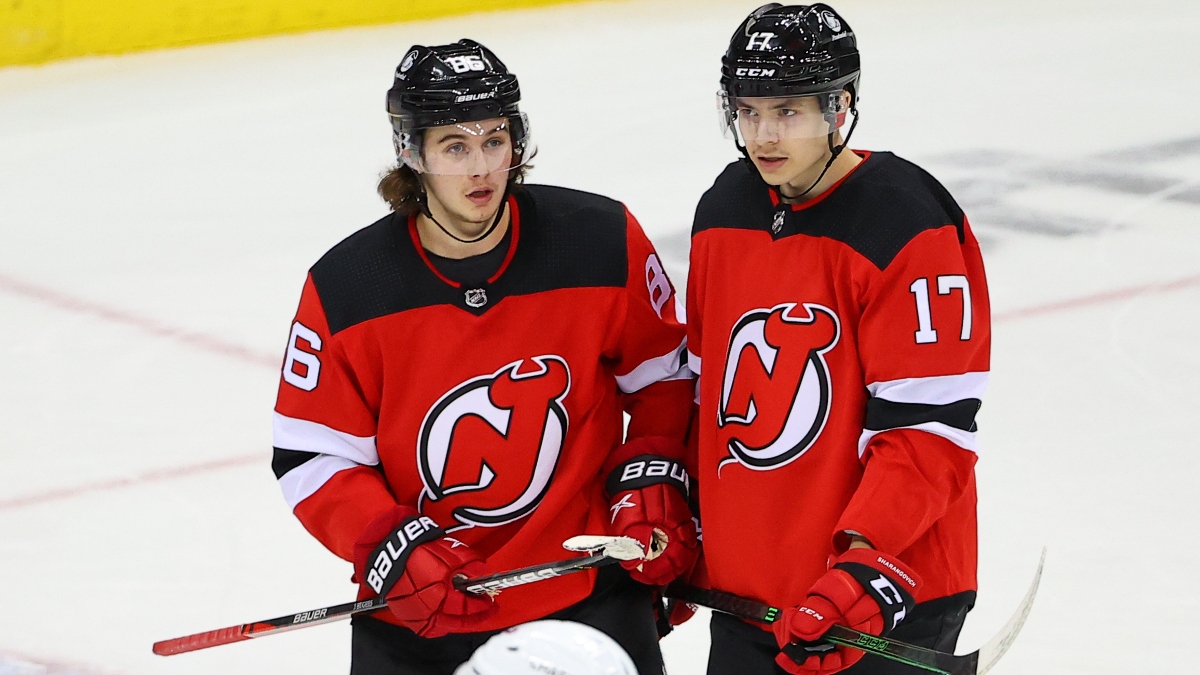 20. New Jersey Devils
| | |
| --- | --- |
| Stanley Cup Odds | +5000 |
| Division Odds | +1700 |
| Make/Miss Playoffs | +170/-200 |
| Over/Under | 90.5 |
I expect a lot of hockey reporters, writers, pundits and insiders to pick the Devils as their "surprise/sleeper/dark horse." That's usually how it goes when a former also-ran makes a few splashy — and well-regarded — offseason moves.
Not only did the Devils land superstar defenseman Dougie Hamilton, but they also made a couple of sharp, down-the-roster additions by bringing in Ryan Graves, Jonathan Bernier and Tomas Tatar. Add in that youngsters Jack Hughes, Nico Hischier, Ty Smith, Yegor Sharangovich and Jesper Bratt are all interesting break-out candidates in their own way, and you can start to see plenty of reasons for optimism in Newark.
The Devils may have won the offseason, but how often does the team that wins the summer actually win the real season?
The answer is not that often.
This isn't an argument against the Devils improving. I think they should be on the fringes in the wide-open Metro, but too often bettors/fans/pundits get caught up in the hype in these kinds of situations, and that causes the market to overreact on the surface. What I mean by that is perhaps bookmakers over-adjust the Devils in the Stanley Cup/Conference/Division markets, because that's the natural reaction for bettors when a team has a terrific offseason.
At the high-water price of 80/1, the Devils are a little interesting, but it's still not long enough for me to get involved considering their roster flaws, where they were last season and their path to the Cup. However, I do think there is a way to play the Devils at an even better price: Bet on Jack Hughes.
On the surface, Hughes' 18 goals and 34 assists may not suggest Hughes is off to the type of spellbinding start you expect out of a No. 1 overall pick, but his underlying numbers are terrific, and he's not really had all that much to work with in his first two seasons at Prudential Center. That will change this season as Hamilton gives the Devils one of the league's best offensive defensemen, while Tatar and a healthy Hischier should provide some scoring support for Hughes' line.
On paper, New Jersey's power play also projects out really well. Hamilton and Hughes are the focal points, but their supporting cast is not too shabby at all. Smith, Damon Severson and P.K. Subban can move and shoot the puck, while Bratt, Hischier and Tatar are all gifted offensive players with PP1 skillsets. Hughes has already shown he can be a nifty maestro on the power play, and now he gets to do it with a much, much improved supporting cast.
Hughes skated out of the gates hot in 2021 but, like the Devils, faltered after a COVID-19 hiatus. Still, Hughes' surface-level stats undersold the work he was doing on the ice. As a team, the Devils posted a 48.97% expected goals rate in 2021, but when Hughes was on the ice that number ballooned to 55.3%. And it's not like Hughes was playing with stars, either. Hughes showed he's capable of carrying a No. 1 line on a bad team, so if he can do the same with better players around him, logic would suggest his numbers will tick up big time and that he has a chance for a true breakout in 2021/22.
Hughes currently sits at 110/1 to win the Hart Trophy at FanDuel and is not even listed on the MVP board at a lot of sportsbooks right now.
If you believe that the Devils are going to make a gigantic leap this season and want to bet them to win the Stanley Cup, go right ahead, I'm not here to judge a fun bet like that. But if you are walking down that road, I'd also suggest you consider investing in Hughes since it's pretty hard to imagine that the Devils make the playoffs without Hughes posting some eye-popping numbers.
It is very unlikely that Hughes has a strong enough season to beat out Connor McDavid, Leon Draisaitl, Auston Matthews, Nathan MacKinnon and Nikita Kucherov to win MVP, but I am a sucker for a bet like this.
The Bet: Jack Hughes to win the Hart Trophy (+11000)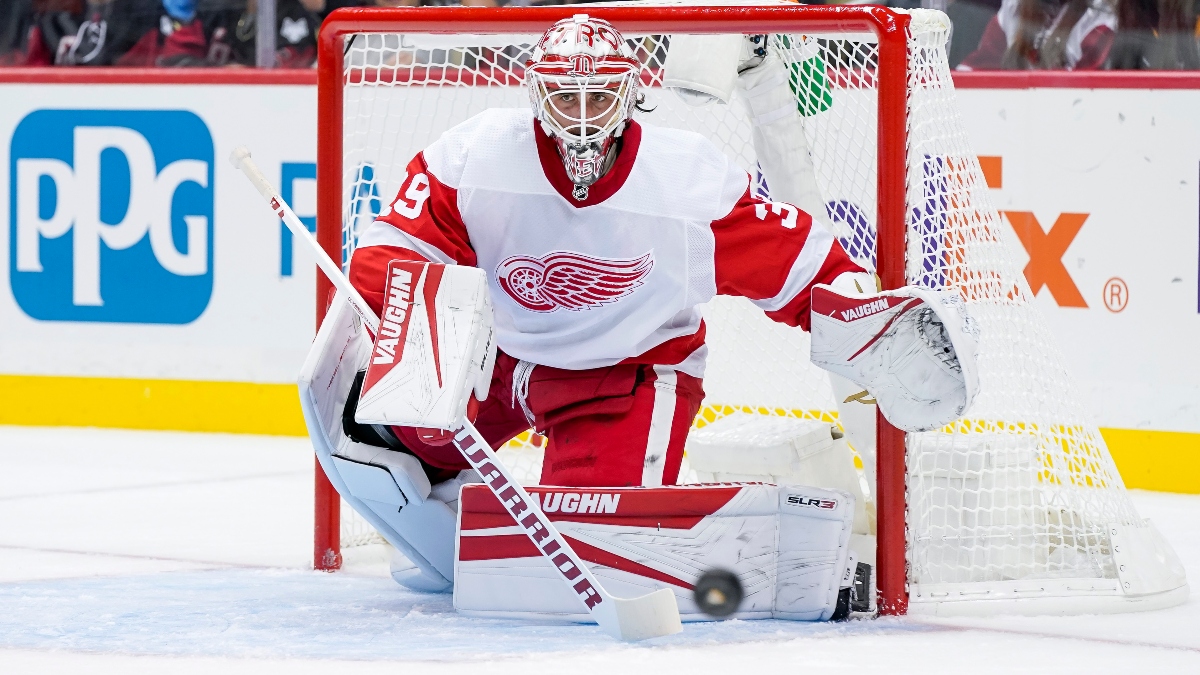 19. Detroit Red Wings
| | |
| --- | --- |
| Stanley Cup Odds | +15000 |
| Division Odds | +10000 |
| Make/Miss Playoffs | +800/-1400 |
| Over/Under | 77.5 |
Six seasons into their massive rebuild, the Detroit Red Wings should take a step forward in 2021-22. That step almost certainly won't be big enough to land Detroit in the postseason, but it should put the Wings back onto the path towards relevancy. That may not sound that exciting for a franchise that made the playoffs for 25 straight seasons from 1991 to 2016, but it will definitely be better than what Wings fans were dealing with over the past three campaigns.
After spending the past two offseasons tearing it down and recouping as many future assets as possible, Steve Yzerman shifted gears a bit this summer. He acquired veteran puck-mover Nick Leddy to stabilize the left side of his blueline, signed Pius Suter off a terrific rookie campaign in Chicago and traded for depth forward Mitchell Stephens from the Lightning. Leddy and Suter could be legitimate contributors for the Wings, while Stephens shores up their depth a bit, but none of those moves would be seen as potential franchise-changers.
Where Yzerman does hope he hit a home run was with the acquisition of goaltender Alex Nedeljkovic. The 25-year-old was sensational for Carolina last season, posting a +13.5 GSAx and a .932 save percentage, but the Hurricanes felt uncomfortable committing a chunk of cap space to a goaltender with just 23 games of NHL experience under his helmet.
With the Wings still in a rebuild, Yzerman was happy to make a high-upside bet that Nedeljkovic's rookie campaign was a sign of things to come, rather than just a fluke. Should Nedeljkovic come close to replicating his form from 2021, the Wings become a little bit more formidable. Nothing can take a team up (or down) a few tiers quite like good goaltending and the Wings are hoping that Nedeljkovic and veteran Thomas Greiss will be good enough to provide cover for a roster that will have some growing pains.
Detroit should also see some notable improvement offensively, as well. The Red Wings were perhaps the league's most feeble offense in 2021, finishing 30th in both goals scored and xG created at 5-on-5, and 29th in high-danger chances created. While nobody is expecting the Wings to grow into a top-10 offense overnight, it's hard to imagine they won't improve on their output from last season.
For one, the team should benefit from a full season of Jakub Vrana. The 25-year-old seems on the cusp of a breakout now that he's found a team that is committed to giving him the playing time his talent-level dictates. Vrana and Dylan Larkin are both incredibly quick and give the Red Wings a first line that they can build around.
And build around it they must, as the Wings depth is wanting. Pius Suter was terrific for Chicago last season, but asking him to drive a second line with Robby Fabbri and Filip Zadina is a bit too much. Detroit's bottom-six is also pretty pedestrian, though that's to be expected for a team in this phase of a rebuild.
It's unlikely that Detroit's offense is going to win it many games, but the defense showed some positive signs in 2021. The Red Wings finished 19th in 5-on-5 goals allowed, 15th in preventing high-danger chances and 18th in xGA per 60 minutes. Those aren't numbers to write home about, but considering what Detroit was working with last season, it was a modest success. It's also something that the Wings can build on thanks to a couple of additions on the blueline. The most important newcomer is rookie Moritz Seider, who Yzerman reached for at No. 6 overall in the 2019 draft.
Seider was lights out as a 19-year-old in the Swedish League in 2021 and seems ready to take on a notable role for the Wings this season. DraftKings has Seider as the fourth-favorite to win Rookie of the Year at +1200 and, barring something unforeseen, the German should have every chance to make a real run at it.
The rest of the blueline is a bit of a mish-mash. Leddy is fine as a second-pairing puck-mover who can chip in offensively, but the lack of NHL-caliber depth behind him means he'll likely be asked to play on the top pairing with either Seider or Filip Hronek. Like Leddy, asking Hronek to play first-pair minutes is a reach, but it's likely Jeff Blashill's best course of action so he can ease Seider into NHL waters.
The Red Wings have more talent in every area of the ice than they did the past two seasons. That may not be saying much considering where those previous iterations of the team finished in the standings, but it does make the Wings a lot more palatable as an underdog bet this season. Going up against the Goliaths of the Atlantic Division won't be fun, but at least this season this David has more than just a slingshot to bring to the battle.
And if you are a Red Wings fan looking for a reasonable bet to get behind, look no further than Seider to win the Calder. At +1200 he's probably priced about right, but considering his development is the top priority for the Wings right now, a bet on Seider to win Rookie of the Year is like a bet on Detroit to take another step towards being competitive again.
The Bet: Moritz Seider to win the Calder Trophy (+1200)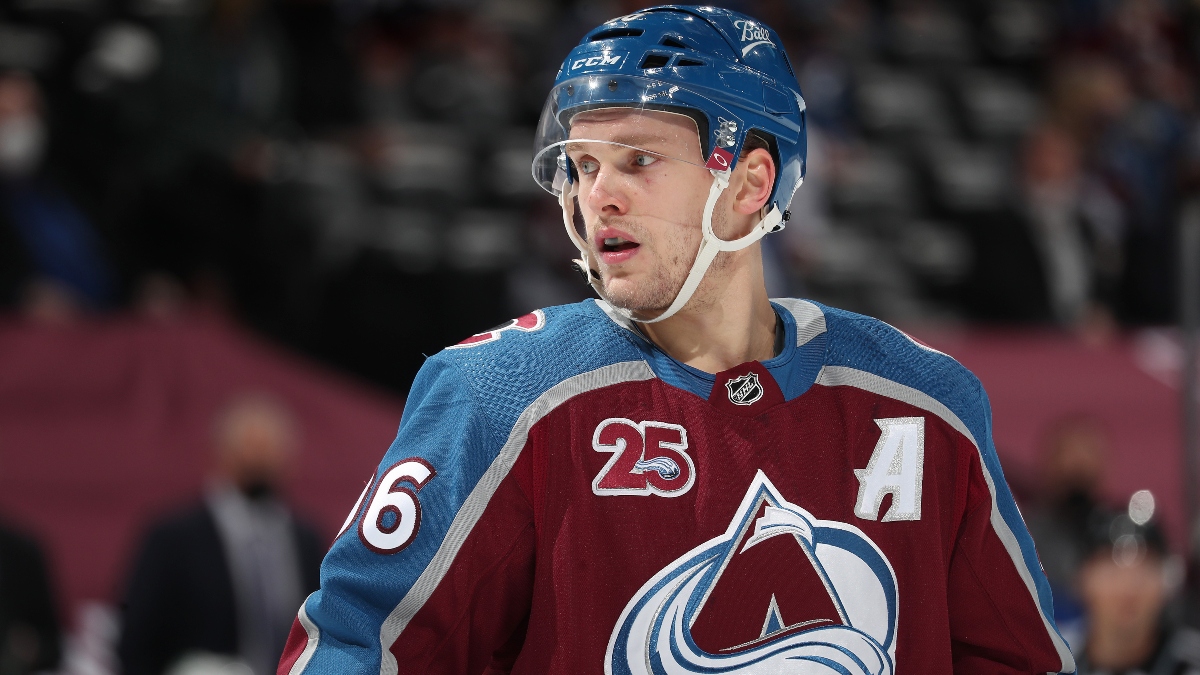 18. Colorado Avalanche
| | |
| --- | --- |
| Stanley Cup Odds | +475 |
| Division Odds | -250 |
| Make/Miss Playoffs | -4000/+1700 |
| Over/Under | 110.5 |
There's not that much I can say about the Colorado Avalanche that isn't already well known. The Avs are deserving of their status as Stanley Cup Favorites and it will take a lot to go wrong for this team not to blitz its way through the regular season.
But this is hockey and just because a team is the clear favorite doesn't mean it will be the one lifting the trophy in the end. At +475, the Avalanche have an implied win probability of 17.4%. That means that they don't win 82.6% of the time.
Similarly, the "best team" always doesn't win the Stanley Cup. The Avalanche led the NHL in points percentage, regulation wins, 5-on-5 goal differential, expected goals rate and high-danger scoring chance percentage in 2021. Colorado was the class of the circuit, but a dip in form against a rolling Golden Knights team led to an early end to a special season.
Most of Colorado's core is back for another spin with a few exceptions. Starting goaltender Philipp Grubauer is now in Seattle, but the team moved quickly to bring in Darcy Kuemper to fill the void. Ryan Graves was traded to New Jersey, but by signing Ryan Murray the team made a pretty like for like switch. Joonas Donskoi is also in Seattle now, but the Avs have enough depth on the wings that Donskoi shouldn't be a huge blow.This team is so loaded at the top of the roster that some moving parts in the middle won't be a huge deal.
For longshots, you try to handicap what could go right. For teams at the top of the board, it's all about trying to get a feel for how things can go wrong. And there are a few not-so-outlandish scenarios where Colorado does underwhelm relative to these lofty odds.
The most obvious scenario is an injury to one of Colorado's game-breakers. The Avs are one of the only teams in the NHL that could chug along despite an injury to a player like Makar or MacKinnon, but it does completely change who they are and how high their ceiling is. Similarly, if Darcy Kuemper can't stay healthy or struggles in goal, things could go a little south for the Avs. Kuemper was basically average for a bad Coyotes team last season and he was limited to just 27 games, so it's not out of the question that the Saskatchewan native stumbles.
It's nitpicking, but that's what you need to do when you're handicapping a team that is the clear favorite in a league with as much variance as the NHL. If you want to bet the Avalanche, by all means go right ahead. They are the best team in the world on paper, so who in their right mind would stop you. It's just not my betting philosophy to back favorites in season-long markets. I'd rather try to beat them with a few darts down the board.
Looking past the team markets, my favorite bet for the Avalanche this season is backing Mikko Rantanen to lead the league in goals. Rantanen is a deadly finisher in his own right, but he also has one of the best gigs in the league riding shotgun with Nathan MacKinnon and Gabriel Landeskog. After potting 30 goals in 52 games last season, I like Rantanen's chances of threatening the 50-goal mark in a full 82-game campaign. I think 22/1 is a pretty good number on someone who should be much closer to the top of the board.
The Bet: Mikko Rantanen to win the Rocket Richard Trophy (+2200)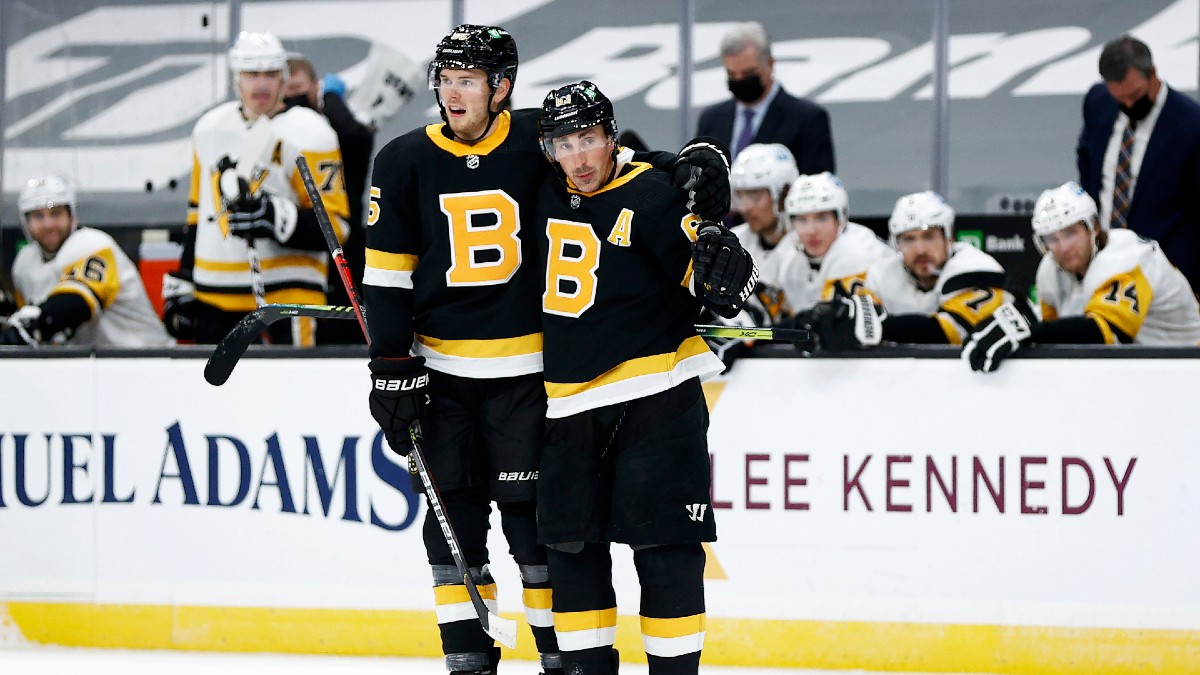 17. Boston Bruins
| | |
| --- | --- |
| Stanley Cup Odds | +1300 |
| Division Odds | +380 |
| Make/Miss Playoffs | -600/+425 |
| Over/Under | 103.5 |
It took a while for the Bruins to get their act together in 2021, but when they did they were a force to be reckoned with. Or, to put it in hockey lingo, "the Bruins were the Bruins."
For the Bruins to become "The Bruins" last season, they needed to acquire some reinforcements. The team was busy at the deadline, acquiring Taylor Hall and Curtis Lazar from Buffalo, along with Mike Reilly from Ottawa. While Reilly was an under-the-radar coup for Boston, Hall was the headliner and he paid off handsomely. Boston scored 65.8% of the 5-on-5 goals and posted a 61.04% expected goals rate in the 17 games after they acquired Hall. By the time the postseason started, the B's were considered the favorites to come out of the East Division.
Even though the B's did eventually find their dominant 5-on-5 game right before the playoffs, they did come up short in Round 2 against the New York Islanders. When Barry Trotz took over behind the Islanders' bench, the Islanders were looked at as a poor man's version of the Bruins.
But last spring, the Isles were the ones who exposed Boston's weaknesses — namely its lack of depth. Whereas the Islanders were well-balanced, the B's relied too heavily on the top of the roster and it ended up costing them another crack at the Stanley Cup with their current core.
It was clear the Bruins wanted to address the middle of their roster in the offseason. Erik Haula, Nick Foligno and Tomas Nosek were signed to fill out the bottom-six, while Derek Forbort will slot in on the left side of the defense. None of the moves were headline-grabbers, but Boston's summer business was shrewd and had a clear intention: Support their superstars.
And Boston has more than a couple of stars. Brad Marchand, David Pastrnak and Patrice Bergeron remain one of the most dominant lines in the world. Hall looked closer to his MVP salad days after his trade from Buffalo. Charlie McAvoy is the fifth-favorite to win the Norris Trophy.
There's very little doubt about the top of Boston's roster and the summer signings should provide quality depth, but for the first time in a decade, the B's will have some questions to answer in goal.
Tuukka Rask is not in the picture at the moment (the longtime Bruin said he will only play for Boston if he comes back), so the team will instead roll with Linus Ullmark and rookie Jeremy Swayman to start the season. Ullmark and Swayman could work out just fine, but Rask was a franchise cornerstone, posting a .921 save percentage in 560 games in Beantown. Rask has been an absolute rock for the B's and was the type of goalie where you basically knew what you were going to get from him over the course of a season.
The same can't be said of Swayman and Ullmark, who each come into October with different question marks hanging over their heads. Swayman, a 22-year-old rookie from Anchorage, Alaska, didn't look out of place during his first 10 games of NHL action, posting an unsustainable .945 save percentage to go along with a +4.83 GSAx. A more promising start is hard to imagine for a rookie netminder, but who knows what to expect from a player who has just 19 total games between the NHL and AHL.
Ullmark is the senior statesman so it's assumed he will be the No. 1 goalie going into the fall, and while he's shown flashes, it's hard to know what to expect from a goalie who has played behind terrible teams throughout his whole career. The numbers for Ullmark may not look pretty, overall but he's improved his numbers in each of the three seasons and his -1.9 GSAx in 2021 isn't that bad if you add the context of who he was playing behind.
And while we don't know exactly what to expect from the Ullmark-Swayman battery, we do have a pretty good idea of the type of defensive effort they'll get in front of them. No team has made life easier on its goalies than Boston. Since 2018-19, Boston leads the NHL in expected goals against and high-danger scoring chances allowed, so the B's should give their new tandem every chance to succeed.
Sitting at +1300, I think the Bruins are a shade overvalued in the futures market. The goaltending is a bit of a question mark and the Atlantic Division is going to be brutal in the postseason, so I've got no interest in backing a team that is priced this short. One bet I do like (and will play), is Swayman to win the Calder Trophy at 25/1.
As noted above, the Bruins have been the best defensive team in the NHL over the past few seasons, so I am happy to bet that Swayman is able to provide solid results for a team that is likely to contend for a division title. And since Ullmark isn't exactly Patrick Roy, I see no reason why Swayman won't get the playing time needed to earn the respect of the voters.
The Bet: Jeremy Swayman to win the Calder Trophy (+2500)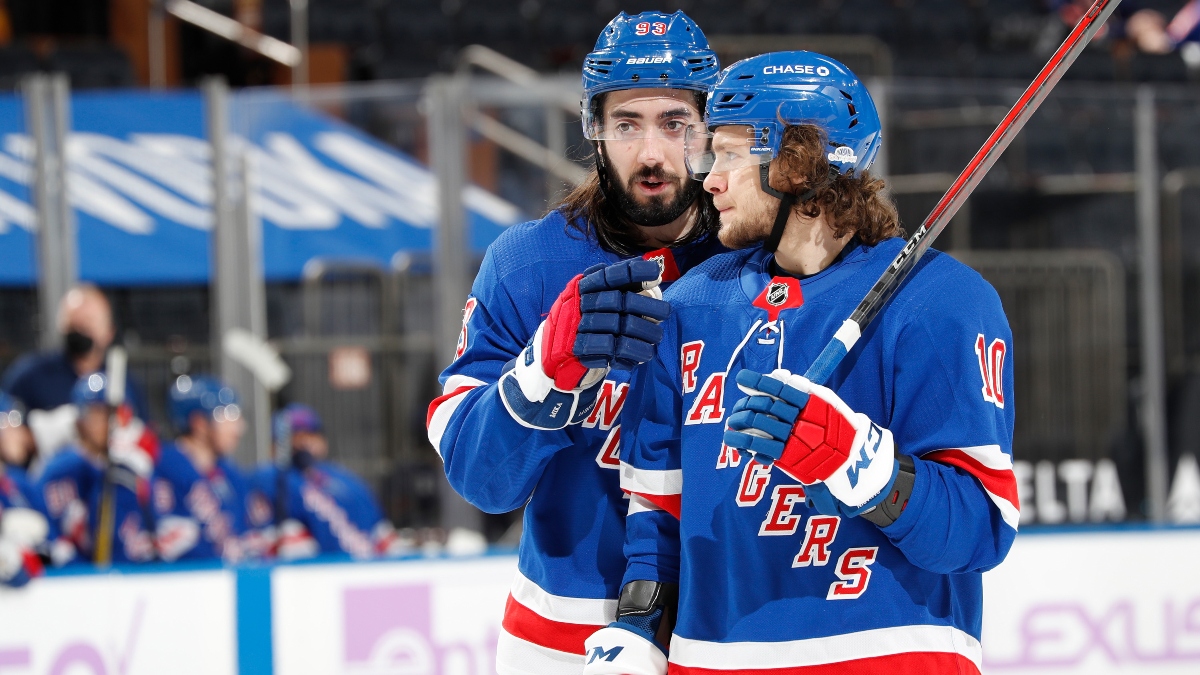 16. New York Rangers
| | |
| --- | --- |
| Stanley Cup Odds | +2200 |
| Division Odds | +425 |
| Make/Miss Playoffs | -190/+160 |
| Over/Under | 97.5 |
The Rangers had themselves an interesting offseason. After firing their general manager, head coach and the team president, the Blueshirts installed a new regime that seemed hellbent on building a team that would not be pushed around.
Already brimming with high-skilled players like Artemi Panarin, Adam Fox, Mika Zibanejad, Igor Shesterkin, Kaapo Kakko, Chris Kreider and Alex Lafreniere, the Rangers' brass decided to fill the edges of the roster with some oomph.
Pavel Buchnevich was deemed surplus to requirements and was traded for checking-line winger Sammy Blais. Barclay Goodrow was signed to a hefty contract. Ryan Reaves was acquired. All jokes about Tom Wilson or how the Islanders broke the Rangers aside, it was a bit jarring to see a team built on skill and speed shift course so suddenly.
That said, the Rangers' DNA is still all about skill.
With Panarin, Zibanejad and Fox leading the way, the Rangers won't have trouble finding the back of the net. The Blueshirts were actually a pretty ordinary offense in terms of creating scoring chances, but they were the eighth-best scoring offense at 5-on-5 with an average of 2.59 goals per 60 minutes. You don't need to create bushels and bushels of scoring chances when you have the type of talent that the Rangers possess.
Like the offense, the Rangers' goaltending situation also seems pretty much sorted. Igor Shesterkin is one of the game's better young netminders and is coming off a season where he posted a .916 SV% and a +3 GSAx. So long as Shesterkin stays healthy, the Blueshirts shouldn't have anything to worry about in goal.
Where the Rangers may run into problems is on defense. That may sound wonky since this is the same blueline that employs Norris Trophy winner Adam Fox, but after him there are question marks. K'Andre Miller showed some impressive flashes in 2021 but he's still only 21 years old. Jacob Trouba's career on Broadway has been up and down. Nils Lundkvist and Zac Jones are promising prospects, but they are both rookies. Patrik Nemeth, Anthony Bitetto, Libor Hajek and Jarred Tinordi have all shown to basically be replacement-level rearguards to this point in their respective careers.
Though they did improve from their defensive horror show in 2019/20, the Blueshirts still ranked inside the the bottom-10 in high-danger scoring chances allowed at 5-on-5 last season. Gerard Gallant should have the Blueshirts playing a better structured game, but I still have my doubts that this defense will be good enough to provide the consistency the Rangers will need to compete in this deep division.
The Rangers are a big-market team. They have plenty of starpower. They play in the beating heart of the World's Most Famous City. All of that is a recipe for a team to be a bit overrated in the betting market.
I think there are a couple of Rangers that could be fun bets to win some hardware, but if I had to pick one it would be Igor Shesterkin to win the Vezina at 20/1.
The Bet: Igor Shesterkin to win the Vezina Trophy (+2000)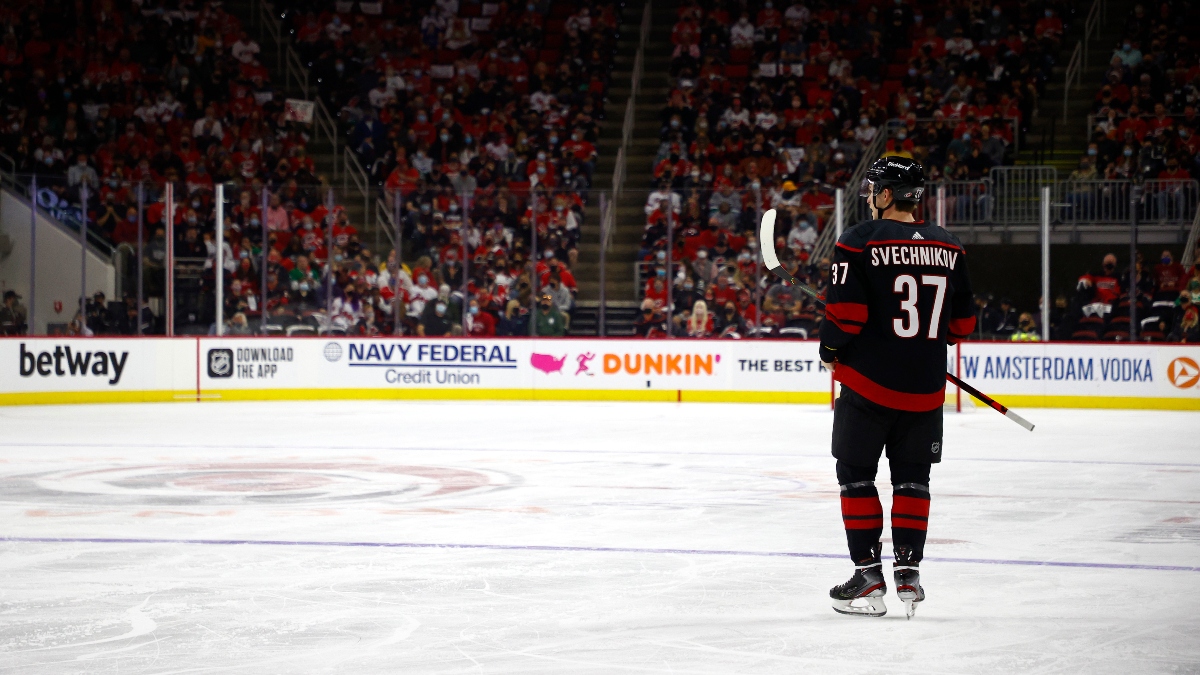 15. Carolina Hurricanes
| | |
| --- | --- |
| Stanley Cup Odds | +2500 |
| Division Odds | +475 |
| Make/Miss Playoffs | -180/+155 |
| Over/Under | 95.5 |
Long the darling of Hockey Twitter, the Carolina Hurricanes have been a popular dark horse for the past few seasons due to their talent, depth and strong statistical portfolio. But for small-market teams like the Hurricanes, building a core is just part of the battle. Keeping players in town is a whole other story.
As usual, the Hurricanes weren't afraid to make some interesting decisions this summer. They let Dougie Hamilton and all three of their goalies leave, brought in Jesperi Kotkaniemi on an offer sheet, signed the controversial Tony DeAngelo and brought in two goaltenders who played a combined 36 games last season.
The Hurricanes need to take risks because of their budget, but I'm not too sure this team got better over the offseason. That doesn't mean they aren't still good, though.
With Hamilton out of the picture, the Hurricanes will roll out a revamped blueline with Jaccob Slavin as its new headliner. With Hamilton as his partner, Slavin has developed into one of the NHL's best-rounded defensemen over the past three seasons or so. This year, we will find out which part of that sentence is the most important. Was Slavin a product of playing next to Hamilton? Or is he truly a No. 1 rearguard?
Slavin's supporting cast is still pretty strong, with Ethan Bear, Brett Pesce, Ian Cole, Brady Skjei and the aformentioned DeAngelo. While Skjei has been a bit down and up in his career, the group as a whole should be fine, especially since the Hurricanes should have no problem scoring for this defense.
Boasting plenty of starpower and terrific depth, Carolina has one of the best forward groups in the NHL. Down the middle, it's hard to find a weakness. Sebastian Aho is one of the game's best players, Vincent Trochek is a high-end No. 2 pivot and Jordan Staal has made a career out of being a shutdown center.
As deep as they are down the middle, things are even better on the wings with the likes of Teuvo Teravainen, Andrei Svechnikov, Martin Necas, Jesperi Kotkaniemi and Nino Niederreiter.
We have a pretty good idea what to expect from Teravainen and Niederreiter, but Svechnikov and Necas may be on the cusp of something special. The former could benefit from a better offensive role and if he gets it, I think he could be a 40-goal candidate.
Necas' ability was on full display last season and the former 12th-overall pick is now up to 79 points in 125 career games. The speedy winger is a trendy breakout candidate this season.
It seems that the question won't be whether or not the Hurricanes will score, but whether or not they will be able to get the stops they need to compete in the Metropolitan Division.
At one point, Frederik Andersen was considered one of the world's best goaltenders, but a pedestrian, injury-riddled season in Toronto has dampened his flame. Similarly, Antti Raanta was once considered one of the most underrated keepers in the league, but he too has been bit by the injury gods too often.
Andersen and Raanta are sort of like a microcosm of the Hurricanes as a whole. There's plenty of potential, but there's also plenty that can go wrong. Given their talent and depth, I can see a lot of folks going back to Carolina despite the departure of Hamilton and the goaltenders, but I think their true odds are closer to 40/1.
One bet I do think is worth a good ponder is Svechnikov to win the Rocket Richard Trophy at 50/1. It's a longshot for a reason and he almost certainly won't win, but Svechnikov is fabulous at creating scoring chances for himself, despite spending a lot of time playing on a defensive third line. A better role and an uptick in finishing are both needed for this bet to cash, but neither are out of the question for this budding star.
The Bet: Andrei Svechnikov to win Rocket Richard Trophy (+5000)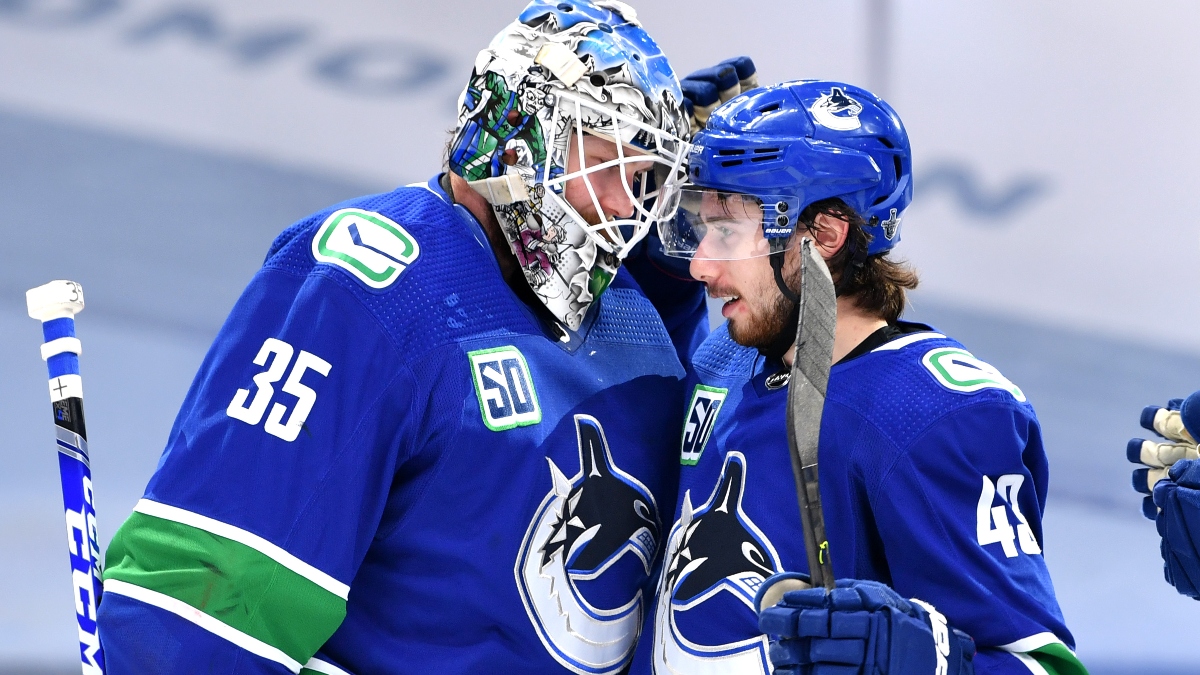 14. Vancouver Canucks
| | |
| --- | --- |
| Stanley Cup Odds | +6000 |
| Division Odds | +2000 |
| Make/Miss Playoffs | +170/-200 |
| Over/Under | 88.5 |
Things didn't come easy for the Vancouver Canucks in 2021. Playing in the All-Canada North Division, the Canucks were a polarizing team to project. They had a collection of very talented players and were playing in a wide-open division, but Vancouver also had some glaring flaws. Some folks thought the starpower on this roster would overpower its warts, but instead the opposite was true.
Fast forward nine months and once again the Canucks are a polarizing team for the same reasons. Vancouver still has plenty of talented players, but the flaws are still there and still very glaring.
Most folks start at the same place with the Canucks. Elias Pettersson is likely on his way to being one of the faces of the NHL, but he missed the last two months of 2021 through injury and (as of Sept. 27) is still working out his contract extension with the club. Assuming Pettersson puts ink to paper, he will be the pivot for a formidable top line featuring Brock Boeser and J.T. Miller. While not an elite top line on the whole, that unit has significant upside as long as Pettersson is able to stay healthy. They also have a strong second line behind them with Nils Hoglander, Connor Garland and Bo Horvat.
The rest of the forward corps is not going to get you ringing church bells, but there are some key pieces. Jason Dickinson is a terrific defensive center, Vasily Podkolzin has significant upside as the No. 10 overall pick in 2019 and there are enough serviceable checking-line players that the fourth line shouldn't be a huge issue, either.
Dickinson's arrival is noteworthy because the Canucks are a mess defensively. Vancouver finished 28th in goals allowed, 31st in xG allowed and 30th in high-danger chances conceded at 5-on-5 in 2021, meaning that their offense and goaltending need to perform at an exemplary level to make up for their transgressions in their own zone.
Unfortunately, this blueline doesn't look like it has the talent nor depth to significantly improve on what we saw last season. At the moment, the plan for Vancouver seems to be to roll out a top-four consisting of Quinn Hughes, Travis Hamonic (who is away from the team for personal reasons), Oliver Ekman-Larsson and Tucker Poolman.
Hughes is a Norris Trophy candidate and has a skillset that very few defensemen in the league can come close to matching, but the rest of this unit really leaves a lot to be desired. Ekman-Larsson is perhaps harshly judged against his contract and could find his form in a more suitable role, but that is a 50/50 bet. And that's the issue with the players behind Hughes. Poolman is big and can get around the ice, but he didn't find much on-ice success in Winnipeg. Who knows what kind of player Travis Hamonic will be at this stage of his career.
Brad Hunt and Jack Rathbone may end up moving up the depth chart when all is said and done and both players project out fine, but neither are good bets to deliver the goods in a top-four role, either. Add in the fact that Tyler Myers struggled mightily last season and you can see how this can all go pear-shaped pretty quickly.
The saving grace for this defense is that Thatcher Demko looks like the real deal in goal. The 25-year-old posted a .915 save percentage and +8.7 GSAx behind an incredibly generous defense. Demko and his partner, Jaroslav Halak, should provide stable netminding for the Canucks, but they'll both need to perform exceptionally well for Vancouver to contend for a playoff spot. 
The range of outcomes for the Canucks is all over the map. The team's offensive talent and goaltending gives it a high ceiling, but its defensive woes makes it unlikely it will come close to that level.
One of the themes of the upcoming season is that the Pacific Division offers a path to success for basically any team within its confines. Vegas is a pretty safe bet to capture the No. 1 seed, but every team underneath the Knights carries significant flaws. That's why if you're going to back a team like Vancouver, you may as well take a shot at a big price.
For me, the most intriguing bet related to the Canucks is backing their head coach to win the Jack Adams. Like with their season at large, there's a very wide range of outcomes for what happens to Travis Green this season. It's quite possible the team nosedives out of the gates and he's on the hot seat. But this team has quite a bit of talent, so if they sort out their defensive issues enough to get average results in their own end, they could hang with Edmonton, Calgary and Seattle (not exactly a murderers' row) in the race for the second and third spots in the Pacific. Should that happen, Green will be in the running for coach of the year.
The Bet: Travis Green to win the Jack Adams (+6500)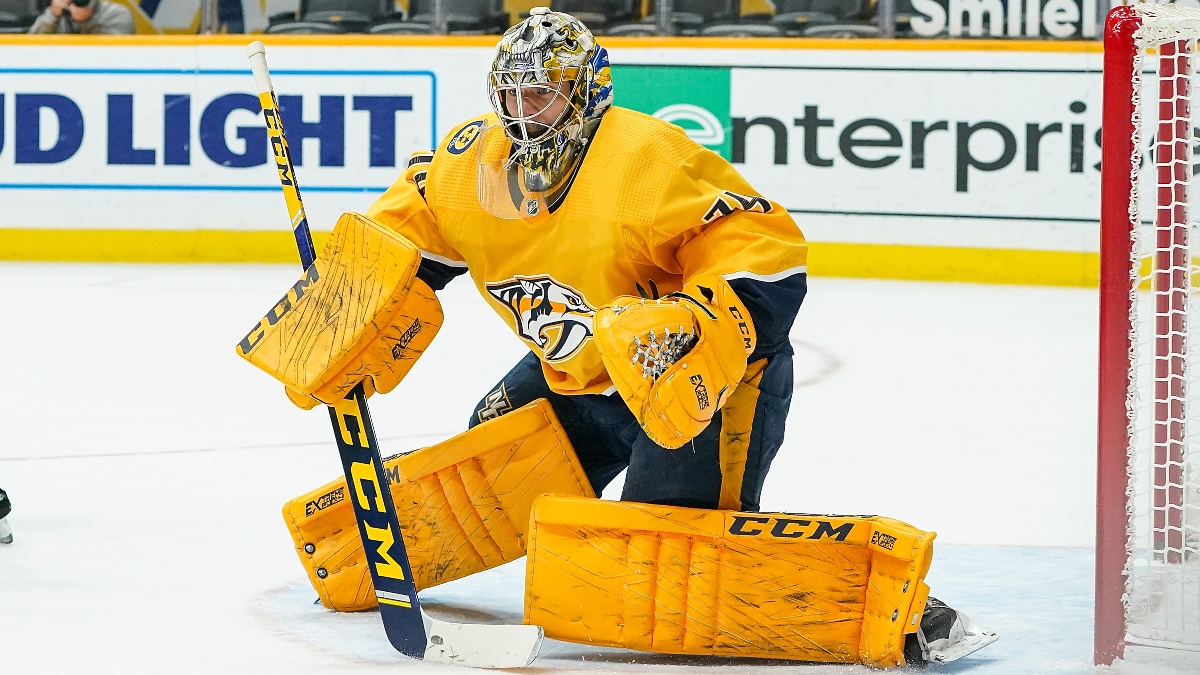 13. Nashville Predators
| | |
| --- | --- |
| Stanley Cup Odds | +10000 |
| Division Odds | +7500 |
| Make/Miss Playoffs | +250/-300 |
| Over/Under | 85.5 |
The Nashville Predators are a good case study of just how fleeting success can be in the NHL. After slowly building themselves into a perennial contender and reaching the Stanley Cup Final in 2016-17, it looked like it would be a matter of time before Lord Stanley was paraded past the Honky Tonks on Broadway.
Since their trip to the Final, the Predators have won one playoff series and, for the first time in nearly a decade, are viewed as outsiders when it comes to the playoff picture. Nashville is currently -300 to miss the postseason at DraftKings.
That number may seem a bit jarring since the Preds have made the postseason in every season since 2013-14 save for the Bubble tournament when the Preds were eliminated in the Qualifying Round, but oddsmakers know what they're doing and there's plenty of reasons to be bearish on this team getting into the tournament.
The most obvious red flag for this team is up front, where the Preds lack both starpower and depth. Ryan Johansen projects as the team's top center and he's had some great seasons in the past, but he's coming off back-to-back underwhelming seasons. Closing in on 30, it's probable that Johansen's days as a top-six pivot are behind him.
That's a problem since the Predators other options down the middle are Mikael Granlund, who is probably best suited as a No. 3 pivot, or Cody Glass, a former sixth-overall pick who has not shown much. Perhaps Johansen has an improbable resurgence, or maybe Glass comes good on his draft position, but the likeliest outcome is Nashville's centers have a tough time in the upcoming season.
Teams can get by with a less-than-stellar spine so long as the wingers are good enough to do the heavy lifting. While Nashville does have some good flank-players like Filip Forsberg and Matt Duchene, plus some intriguing youngsters like Eeli Tolvanen and Tanner Jeannot, but the team lost Viktor Arvidsson and Calle Jarnkrok in the offseason and that has significantly impacted the team's depth up front. Neither Jarnkrok nor Arvidsson were properly replaced and the players that are left are not going to break games open.
With an offense that is likely to sputter, the Predators will need to hold their own defensively to have a chance in a deep Central Division. Roman Josi is one of the game's best rearguards, Mattias Ekholm is still very effective and Alexandre Carrier looks like a capable top-four d-man, but the blueline thins out behind them with Ryan Ellis out of town.
That brings us to Nashville's best chance at upending the odds: Juuse Saros.
A team with a great goalie can always make a surprising run and few goaltenders have the potential to carry a team like Saros does.
Through his first 12 games in 2021, the yellow-padded Finn posted a .900 save percentage (SV%) and a -6.06 Goals Saved Above Expectation (GSAx), per Evolving Hockey. Saros would eventually turn those numbers around, and from March 1 onward he finished with a .939 SV% and a league-leading +13.8 GSAx.
If this sounds familiar, it's because it is (and if it sounds familiar to you, you probably love hockey a bit too much — which is okay). In 2020/21 Saros danced a similar dance, posting a -11.99 GSAx in his first 20 games and a league-best +13.19 GSAx over his last 20.
With Pekka Rinne retired and no real threat on the roster to take starts away from Saros, I expect him to shoulder one of the heaviest workloads in the NHL in '21/22. If he can avoid his annual autumnal stumble, Saros could make a real run at his first Vezina.
And he'll need to be that good if Nashville has a hope of qualifying for the playoffs.
The Bet: Juuse Saros to win the Vezina Trophy (+4000)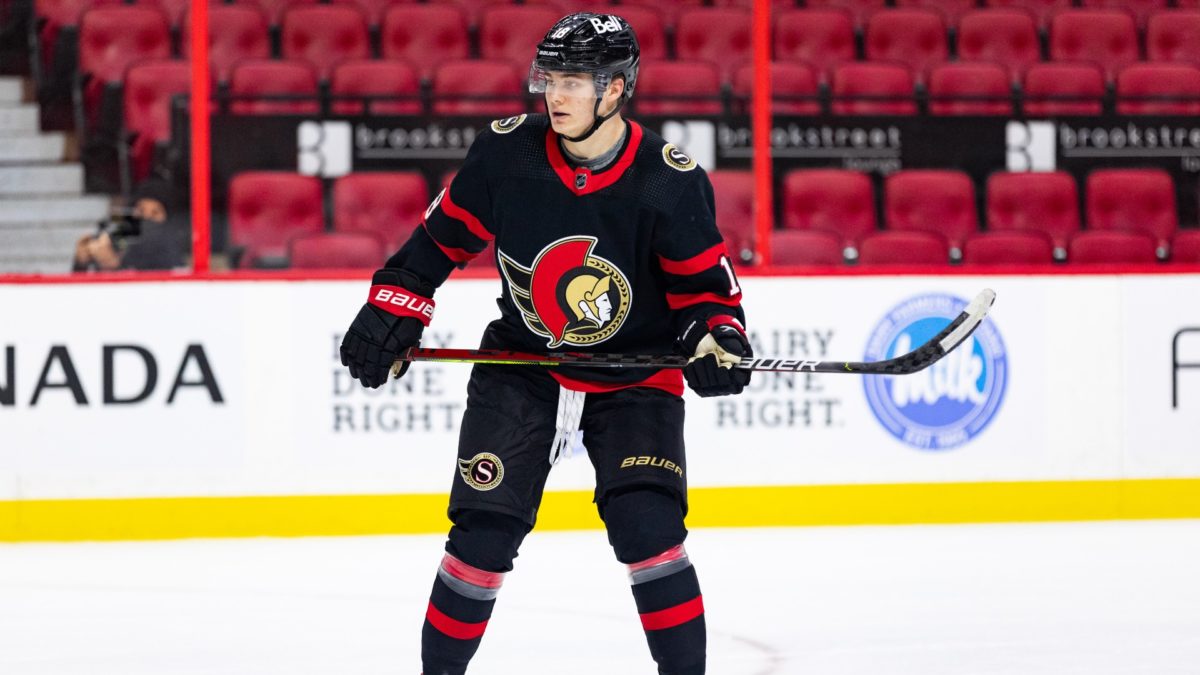 12. Ottawa Senators
| | |
| --- | --- |
| Stanley Cup Odds | +20000 |
| Division Odds | +15000 |
| Make/Miss Playoffs | +1200/-2500 |
| Over/Under | 77.5 |
A team near and dear to my betting heart, the Ottawa Senators enter this season with something they haven't had in a few years: Modest expectations. Nobody is picking the Sens to contend for a top-four spot in the Atlantic Division, but everybody is expecting to see this team, which is full of young talent, to take a meaningful step forward.
What that means is up for interpretation, but the bookmakers aren't convinced as only Arizona, Buffalo, Anaheim and Columbus have lower Over/Unders than Ottawa's 77.5-point total.
As someone who spends much of his winter betting NHL underdogs, there is a lot to like about this roster. Ottawa's clear strength is its young forward group. The Sens finished 17th in 5-on-5 scoring last season, 15th in expected goals for and 12th in high-danger scoring chances created. Nothing that will jump out at you but for one of the league's biggest longshots with an offense being led by kids, those are numbers to build upon.
Barring a setback, it's likely that Ottawa will do just that. Brady Tkachuk, Josh Norris, Tim Stutzle, Drake Batherson and Shane Pinto give the Sens an ultra-talented top-six and each one of them is 23 or younger. An improvement from this promising core could turn the Sens into a top-10 offense.
And they better score.
As promising as the offense is, the defense and goaltending is a bit of a disaster in the Canadian capital. Thomas Chabot leads the way on the blueline, but he's got his work cut out for him carrying a group that fails to impress on paper. There are some other promising players — Artem Zub was impressive in his first NHL season while Erik Brannstrom and Victor Mete have untapped potential — but it's hard to see this group not struggling after finishing 29th in goals allowed, 24th in xG allowed and 23rd in suppressing high-danger scoring chances in 2021.
Ottawa's defense was certainly leaky, but the goaltending was the main drag on the Sens during the 56-game campaign last winter and spring. Matt Murray continued his downward trajectory from his pinnacle in Pittsburgh and graded out as one of the NHL's worst starters last season. According to MoneyPuck, Murray allowed 15.9 goals more than expected and his -0.68 GSAx per 60 was the eighth-worst mark among goalies with at least 10 games played. Murray's main batterymate, Marcus Hogberg, was just as poor in limited duty.
Hogberg is out of the picture in Ottawa, but it is still Murray's crease. The well-traveled Anton Forsberg projects to be his deputy, meaning there isn't much of a safety net if Murray can't figure things out. Goaltending is such a roller coaster that the two-time Stanley Cup champion could piece his career back together but he's not had a positive GSAx since 2016-17 so he's running out of chances.
The Senators project to be a wild ride this season. They are a team with enough talent to beat anybody on their day, but their fatal flaws are glaring enough that they could easily lose to anybody, as well.
The Bet: Don't be afraid to back Ottawa against the big boys in the Atlantic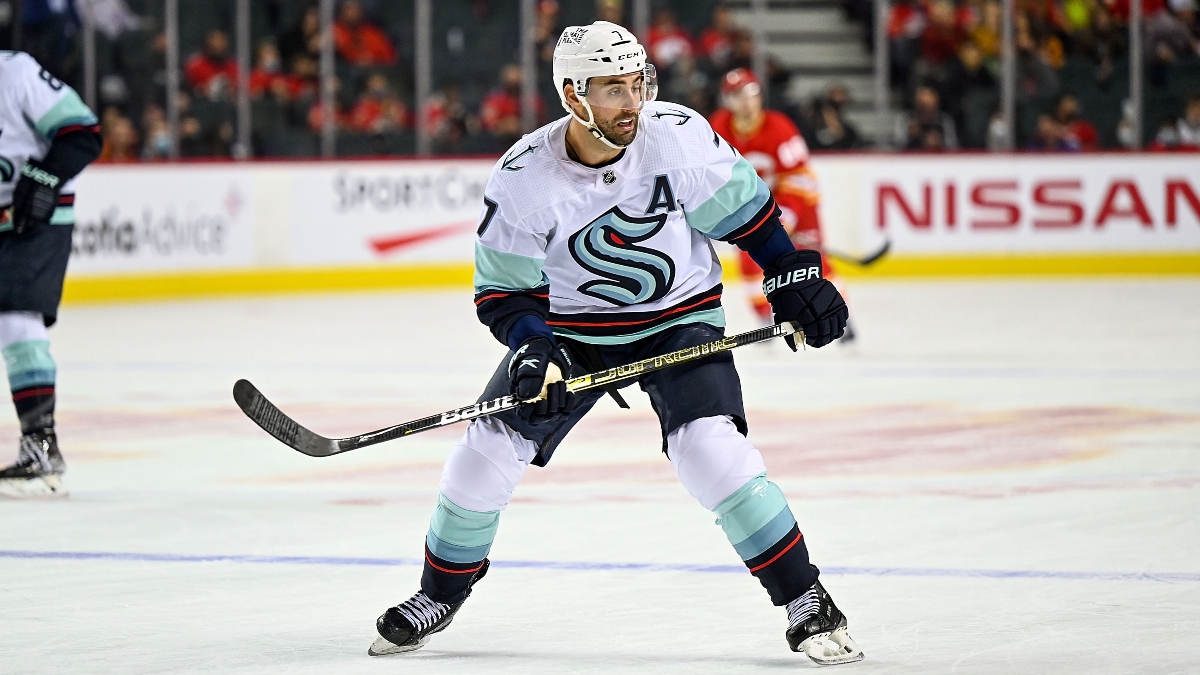 11. Seattle Kraken
| | |
| --- | --- |
| Stanley Cup Odds | +3000 |
| Division Odds | +195 |
| Make/Miss Playoffs | -130/+110 |
| Over/Under | 92.5 |
In a vacuum, expectations for an expansion franchise should be low. The Vegas Golden Knights changed all that with their unprecedented success since they joined the National Hockey League in 2017. It's not exactly apples to apples, but Vegas was listed as a triple-digit longshot to win the Stanley Cup for its inaugural season. The Kraken, meanwhile, check in at +4000, putting them ahead of teams like Winnipeg, St. Louis, Philadelphia, Montreal and Calgary.
The other factor that is raising the bar for the Kraken is that they could very well be the third or fourth-best team in the Pacific Division.
In all likelihood, Seattle will be battling with Calgary, Vancouver and maybe one of Los Angeles or San Jose for the third playoff spot in the Pacific Division. The Kraken's defense and goaltending makes them feel like the safest option of the four, but I don't know where the goals are going to come from for this team.
Now that we know the roster, it's pretty clear that Ron Francis' plan for Seattle was to build a winner from the back. The Kraken already have a strong goaltending partnership with Philipp Grubauer and Chris Driedger and their defense grades out decently, as well.
You never know how a season will shake out, but it seems that Seattle's season will come down to whether or not it can find the back of the net enough to make its defensive results stick. Former Islander Jordan Eberle is the Kraken's most reliable forward, but he's more of a 20-goal supporting scorer than a leading man. Same goes for Jaden Schwartz, Jared McCann and Joonas Donskoi.
Teams can succeed with a balanced scoring approach, and we saw Minnesota (and to some extent, Vegas) have success with limited options at center, but this type of roster-build puts a lot of pressure on the defense and goaltending to be consistently strong throughout the entire season.
Seattle's back-end seems like it will be able to withstand that pressure and bookmakers seem to agree as the Kraken sit at -130 to make the postseason in their first season.
Speaking of, there is one bet that I think is pretty savvy, though. Considering that the Kraken are -130 to make the postseason, I think a wager on head coach Dave Hakstol to win the Jack Adams Trophy holds considerable value. If the Kraken make the postseason, Hakstol will get a ton of votes as Coach of the Year.
The Bet: Dave Hakstol to win Jack Adams Trophy (+3000)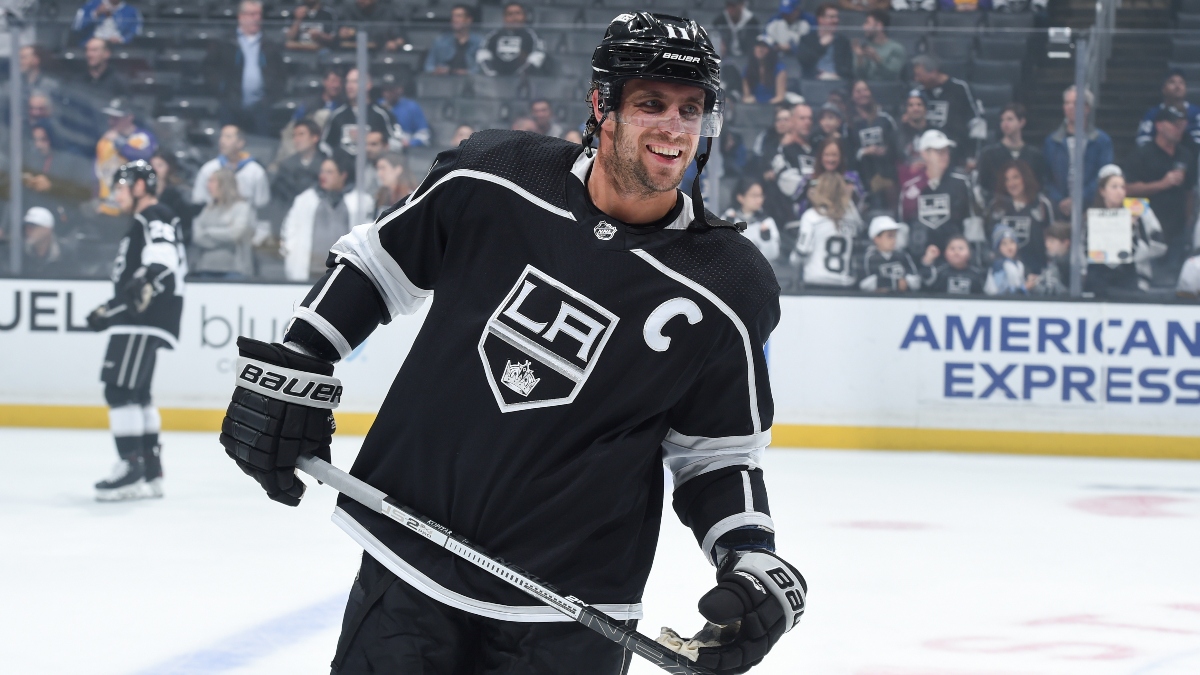 10. Los Angeles Kings
| | |
| --- | --- |
| Stanley Cup Odds | +10000 |
| Division Odds | +5000 |
| Make/Miss Playoffs | +250/-320 |
| Over/Under | 83.5 |
The Los Angeles Kings are saying all the right things ahead of the new season. After putting two banners in the rafters in the first half of last decade, the Kings have now missed the postseason three years in a row, five of the last seven and have not won a playoff series since defeating the Rangers in 2013-14 Stanley Cup Final. But the Kings feel their rebuilding days are over and that this roster, young as it may be, is ready to compete. They made a couple of big offseason additions that back up that notion, most importantly signing one of the league's best shutdown centers, Phillip Danault, to a five-year contract.
Danault, along with Anze Kopitar, gives Los Angeles a legitimate 1-2 punch down the middle, and both centers are good enough in all three zones that they should be ideal linemates for some of LA's prospects. And there are a lot of them.
In fact, the Kings' defining characteristic at the moment is youth movement. Not only do the Kings have a few blue-chip prospects like Quinton Byfield, Alex Turcotte, Arthur Kaliyev and Brandt Clarke, but they have a steady volume of young players who look like they could contribute in the right role in the NHL. If Los Angeles is on the receiving end of a couple of big seasons from a few of its youngsters, an unlikely playoff berth becomes a little more realistic.
The moves the Kings made in the offseason should at least help the up-and-coming core develop at an appropriate pace. With Viktor Arvidsson and Alex Edler in town there is less of a need to rush players up the ladder as the Kings have much more depth than they did the past few seasons.
Like any longshot, Los Angeles will need its goaltending to be terrific if it wants to be competitive and the situation in the blue paint for the Kings is not too shabby now that Calvin Petersen is the starter over Jonathan Quick. Petersen posted a .913 SV% and +4.88 GSAx in 35 games last season, showing that his terrific eight-game cameo in 2019-20, in which he posted a .921 SV% and a +6.65 GSAx, may not have been a fluke. Petersen will have his work cut out for him behind a defense that ranked third-to-last in preventing high-danger scoring chances in 2021.
In any other division, I would be skeptical of the optimism in Hollywood, but the Pacific Division is soft enough that a team like Los Angeles can sneak into the playoffs. It's still pretty unlikely, but it's been a few years since the Kings played meaningful games in the spring so just getting to that checkpoint would be a step in the right direction.
Similar to my strategy with Travis Green and Dave Hakstol, if you think the Kings can surprise and make the playoffs then it is worth taking a flier on Todd McLellan to win the Jack Adams Trophy. A playoff berth with this roster is definitely worthy of some votes for coach of the year, so why not take a chance at 75/1?
The Bet: Todd McLellan to win Jack Adams Trophy (+7500)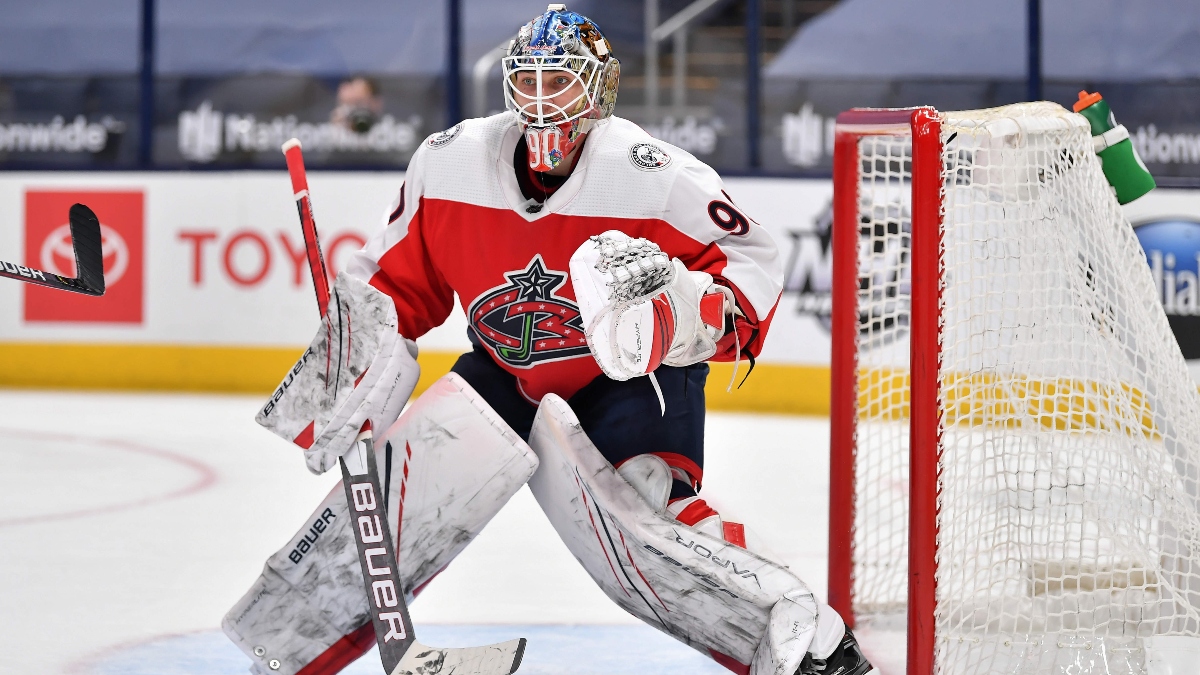 9. Columbus Blue Jackets
| | |
| --- | --- |
| Stanley Cup Odds | +20000 |
| Division Odds | +13000 |
| Make/Miss Playoffs | +1100/-2000 |
| Over/Under | 76.5 |
This season will kick off a new era for the Columbus Blue Jackets. John Tortorella is gone after six seasons at the helm of the squad, and longtime stalwarts Seth Jones and Cam Atkinson have departed. The team also added former executive John Davidson to serve as the president of hockey operations in an effort to help general manager Jarmo Kekalainen oversee an interesting rebuild in the Discovery City.
With the team in transition coming off of a disastrous season, it's no wonder that the market is very low on the Blue Jackets. Not only did they finish last in the Central Division, but the Jackets also posted the fourth-worst xG rate in 5-on-5 situations.
The biggest red flag is Columbus' defense, which ranked in the bottom 10 of goals allowed, xGA and high-danger chances conceded. The Jackets tasted some moderate success over the previous few seasons on the strength of their team defense, so to see it come undone in no time is cause for concern.
The first order of business for new head coach Brad Larsen will be to get the team back in sync in the defensive zone. Zach Werenski will be tasked with leading that transformation, and it won't be easy. The 24-year old will lead a young defense that includes 2018 eighth overall pick Adam Boqvist, 25-year old Vladislav Gavrikov and 23-year olds Jake Bean and Andrew Peeke.
There's a lot of promise on the blue line, particularly with Boqvist, but it's easy to see how things could go awry.
And if things do go awry, the Blue Jackets could be a disaster due to the status of their offense. Even when they were making the playoffs, the Jackets were never an offensive powerhouse, but the team took it to a new level in 2021 by finishing last in xG, 29th in 5-on-5 scoring and 29th in creating high-danger-scoring chances.
The season-long outlook for the Blue Jackets isn't pretty – especially in the deep Metropolitan Division – but I do think they'll be a team that will be underpriced quite a bit. With players like Oliver Bjorkstrand, Patrik Laine, Jakub Voracek and Max Domi, the Jackets have enough talent to stir up some big upsets.
I think this team could be like a poor man's version of the 2021 Ottawa Senators. That may not sound like a good thing, considering the Sens finished with the 23rd-best record in the NHL last season, but they actually had the third-best ROI of any team in the NHL last year, per Action Labs.
The Bet: Bet on Columbus as big underdogs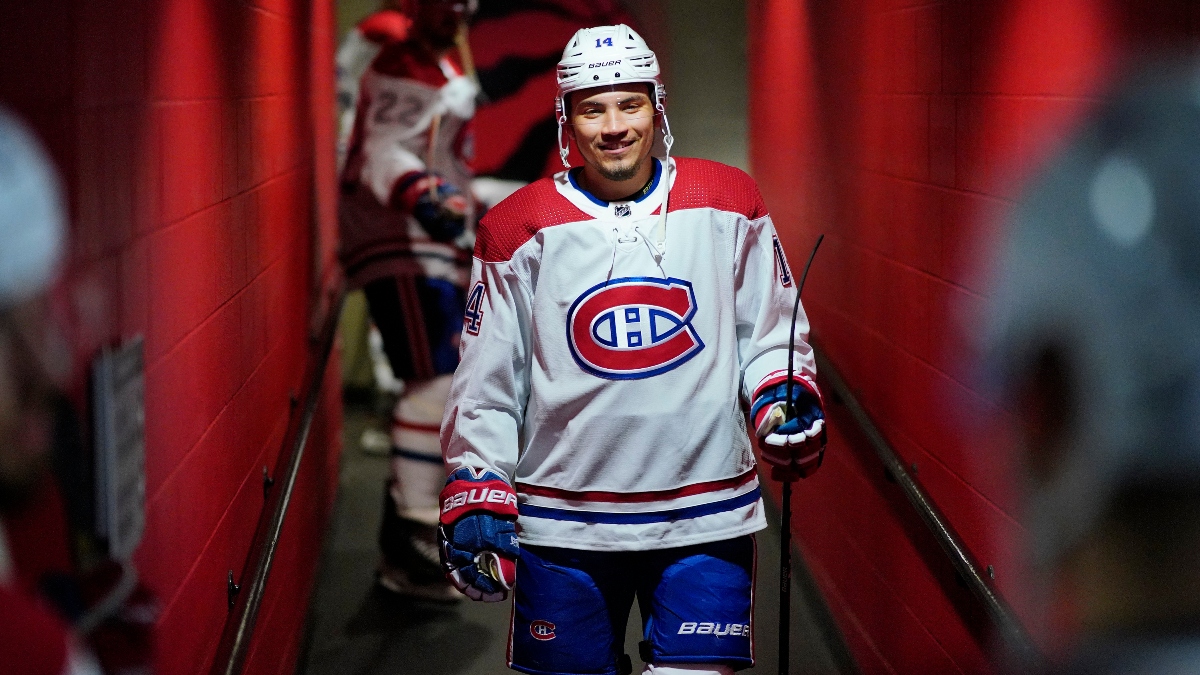 8. Montreal Canadiens
| | |
| --- | --- |
| Stanley Cup Odds | +5000 |
| Division Odds | +3500 |
| Make/Miss Playoffs | -190/+160 |
| Over/Under | 89.5 |
The Montreal Canadiens are in a funny spot. Usually a team coming off a magical run to the Stanley Cup Final would have "SELL HIGH" written all over it for the next season, but it only took about five seconds after the final whistle of Game 5 for people to start throwing cold water on Montreal's chances for 2021.
There are legitimate reasons to be skeptical of Montreal for 2021/22. Most notably, the Habs lost four key pieces, Shea Weber, Phillip Danault, Tomas Tatar and Jesperi Kotkaniemi, but they're also playing in a division with four terrific teams and will need to rely heavily on a 20-year-old and a 22-year-old to carry the offense.
Cole Caufield and Nick Suzuki aren't your typical youngsters, though. Suzuki, 22, has already proven he is capable of playing as a No. 1 center in the NHL, while Caufield is the Calder Trophy favorite after he potted eight goals in 30 games between the regular season and playoffs.
And even without Danault and Kotkaniemi, the Habs still have enough depth up front to be competitive. Brendan Gallagher is one of the league's most effective wingers, Tyler Toffoli and Josh Anderson can both fill it up and do great work below the red line, and Mike Hoffman may not be great in his own zone but he is lethal on the power play and a pretty safe bet to chip in 25 goals.
Montreal will need to score, because this defense is likely to take a step back and it's not just because Weber was a massive presence on the blueline. Danault was a fabulous shutdown center and Kotkaniemi was growing into one, so there could be an adjustment period for a Habs team that allowed the fifth-fewest xGA per 60 minutes last season.
Jeff Petry has looked like a No. 1 defenseman over the past few seasons, but his job will get harder without Weber around. Petry's supporting cast is characterized by its mediocrity, but there is a chance that Alexander Romanov breaks through that mold with a big step forward.
A defensive setback could also have ripple effects in goal, where once again everyone is debating about Carey Price. I see no value in arguing whether Price is overrated or not because he's got this way of underwhelming in the regular season just to dominate in the playoffs, but rather I think we can just accept that Price is likely to be up and down over the next six months and the ups will be elite, while the downs will be frustrating. Price's deputy, Jake Allen, was really solid during the 2021 regular season. (Update: Carey Price will miss the first portion of the season after entering the NHL's Player Assistance Program.)
On paper, Montreal got worse from last season. They were never going to replace Weber and Danault like for like, but they added enough to this roster that I think there is a chance the world has overreacted to Montreal's offseason. When a team makes a fairytale run to the Stanley Cup Final we often expect the magic won't carry over and that could cause an overcorrection.
A lot will have to go right for Montreal to contend in the Atlantic, but in betting everything comes down to price and I think with everyone zigging on the Habs, there's value on zagging. It's unlikely that lightning strikes twice, but I think this is a good price on a high-ceiling team.
The Bet: Montreal Canadiens to win the Stanley Cup (+5000)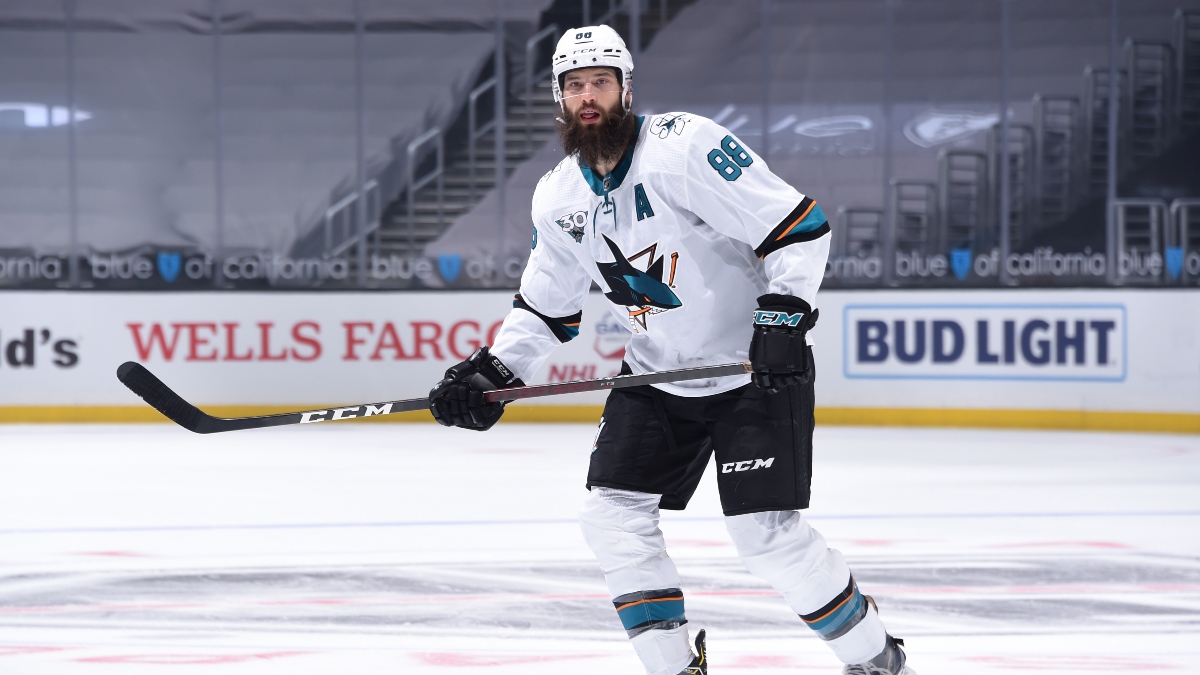 7. San Jose Sharks
| | |
| --- | --- |
| Stanley Cup Odds | +10000 |
| Division Odds | +5000 |
| Make/Miss Playoffs | +250/-320 |
| Over/Under | 83.5 |
The San Jose Sharks will enter the season in an interesting spot. The team is riddled with aging veterans on big tickets and a rebuild is on the horizon, but playing in the Pacific Division offers the Sharks a legitimate lifeline to give this group one more kick at a playoff push.
Even in a weak division, however, the Sharks have long odds at +280 to make the playoffs. It's a strange line considering the lack of quality in the division, but when you remember that San Jose finished second-last on the season with a -48 goal differential in a similarly soft division, the odds start to make sense.
The problem with the Sharks is that the squad's core takes up a big portion of the cap, and some shoddy drafting/development has prevented them from filling the edges of their roster effectively. That remains the case as the team will need leaders like Erik Karlsson, Brent Burns, Marc-Edouard Vlasic, Logan Couture, Timo Meier, Kevin Labanc and Tomas Hertl to carry the water without much help on the way.
Despite all the negative indications, there are some glimpses of hope for the season. San Jose wasn't a terrible 5-on-5 side last year, finishing around the league average with a -0.06 xG differential per 60 minutes and a positive high-danger-chance rate. Typically, teams with that kind of xG output contend for a playoff spot, but a lack of quality goaltending didn't allow that to be the case for the Sharks.
Martin Jones, Devan Dubnyk and Josef Korenar combined to post a -17.7 GSAx for San Jose last season, and the Sharks' -26.51 Goal Differential Above Average was good for third-worst in the NHL.
Some improvement can be expected, so long as the new goaltending tandem of Adin Hill and James Reimer can pitch in at a near-league average level.
Reimer has been up and down over the past 3 seasons between Carolina and Florida, while Hill has graded out as an average netminder throughout his first 49 NHL appearances, all with Arizona.
While the duo represents one of the most pedestrian goaltending partnerships in the league, they should provide a significant upgrade over the options that San Jose was working with over the past few seasons.
The Sharks will need to improve in their own zone to provide their goaltenders with the best chance of success. San Jose had no problem creating scoring chances, finishing sixth in xGF per 60 minutes, but preventing chances was a problem for the west coast team. The Sharks finished 26th in high-danger chances against and 27th in xG against.
As with any long-shot, there's more bad than good with San Jose and a fire sale of the team's best players could be in store in the near future. But, with improved play in the defensive zone, there is a very realistic path for the Sharks to play some meaningful hockey in the spring.
The Bet: Bob Boughner to win Jack Adams (+10000)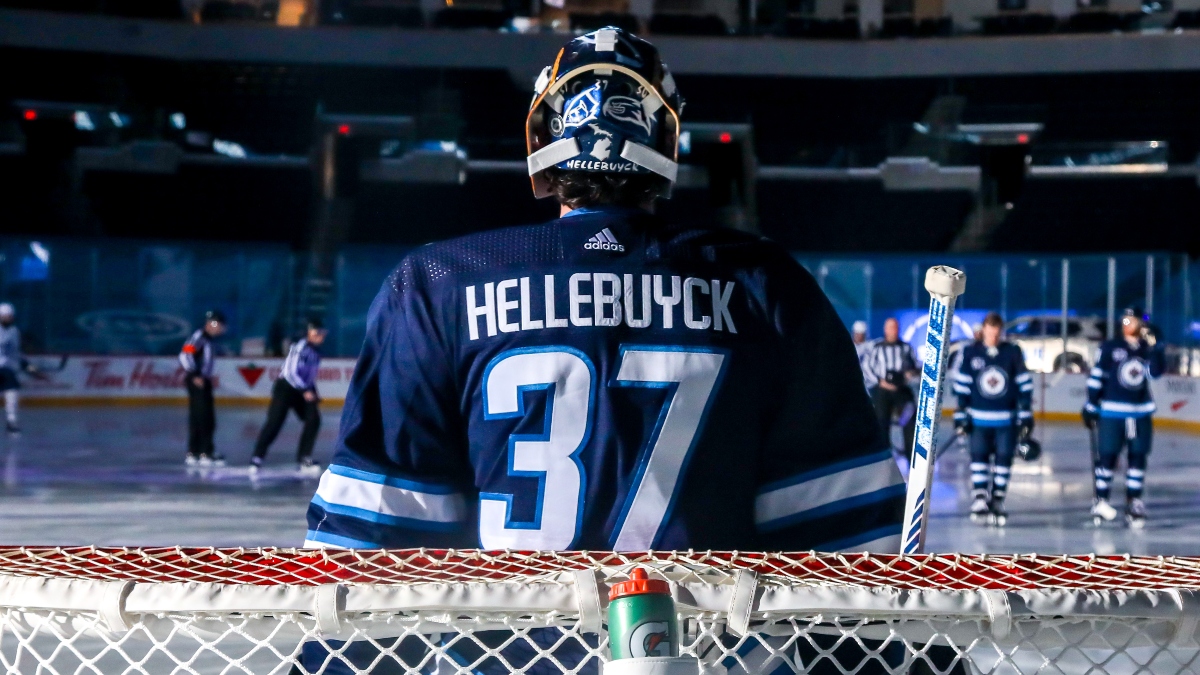 6. Winnipeg Jets
| | |
| --- | --- |
| Stanley Cup Odds | +4500 |
| Division Odds | +1400 |
| Make/Miss Playoffs | -150/+130 |
| Over/Under | 92.5 |
Ever since predictive metrics like expected goals broke into the mainstream, certain teams have become darlings in the betting/hockey analytics community. These teams usually meet a couple of different criteria. Either they have strong play-driving metrics, or their actual results are underwhelming compared to their underlying metrics.
While hockey nerds like to throw parades for these xG Champions, I find teams at the opposite end of the spectrum much more interesting.
For the past couple of seasons, the Winnipeg Jets have defied what we think we know about hockey stats. Usually, xG% and high-danger-chance rate are good indicators of future results, but for whatever reason, the Jets have been the exception to that rule for 2 consecutive seasons.
The Jets have gone 67-51-9 over the past two regular seasons, putting them 17th in the NHL by points percentage over that span. That's the definition of mediocre, but when you consider they rank dead last in expected goal rate and high-danger chance percentage over that same period it starts to get more interesting. The Jets are defying analytics, and while that seems to upset people in the statistics community, I'm looking to capitalize on it.
Of course, the main reason the Jets are able to outperform their underlying metrics is because of Connor Hellebuyck. No goaltender in the NHL has come close to matching his +43.5 GSAx over the past two seasons. Hellebuyck's thaumaturgic goaltending becomes even more impressive when you consider the defense he plays behind. The Jets have allowed the second-most high-danger scoring chances and third-most xG in 5-on-5 situations since the beginning of the 2019-20 season.
Improving that defense was a priority for Winnipeg this offseason as it acquired Nate Schmidt and Brenden Dillon to bolster a top-4 that desperately needed help. Schmidt struggled on a porous Vancouver blue line in 2021, but his work in Vegas suggests that season was an outlier more than anything else. Dillon is a steady defensive-defenseman who will not be out of place playing second-pair minutes for Paul Maurice.
More importantly, Dillon and Schmidt move Winnipeg's holdover rearguards from 2021 into more suitable roles.
We already know that Winnipeg should be able to score. The Jets have a potentially prolific top-six featuring Pierre-Luc Dubois, Mark Scheifele, Blake Wheeler, Nikolaj Ehlers and Kyle Connor, so this team's chances likely come down to its defensive improvements (or lack thereof). With Schmidt and Dillon in the fold, I like Winnipeg's chances.
The playoff chase in the Central Division figures to be pretty wide open. The Avalanche are a lock, but little separates the teams in the chasing pack. Winnipeg, Dallas, St. Louis, Minnesota, Chicago and even Nashville will consider themselves a playoff contender, but I think the Jets are pretty well-equipped for the fight.
I'd listen to anyone who suggests the Jets are an interesting sleeper for a play to win the Stanley Cup, but I don't think their odds will tank unless they really come out firing. Because of this, my favorite bet for the Jets is to back Hellebuyck to take home the Hart Trophy as the league's MVP.
If the Jets are a contender, it will almost certainly be because Hellebuyck is once again playing at an all-world level. And even though goaltenders don't win the Hart Trophy all that often (it's only happened 4 times since 1996-97), Hellebuyck is good enough to crack those ranks.
The Bet: Connor Hellebuyck to win the Hart Trophy (+6000)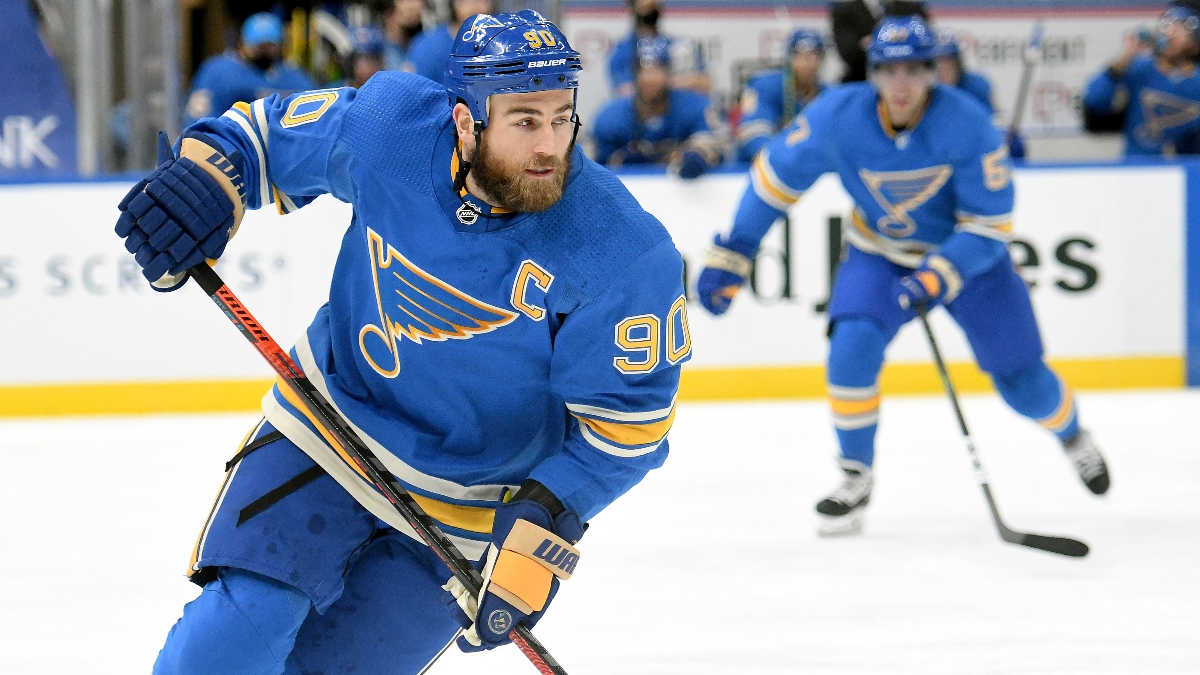 5. St. Louis Blues
| | |
| --- | --- |
| Stanley Cup Odds | +5000 |
| Division Odds | +1800 |
| Make/Miss Playoffs | -130/+110 |
| Over/Under | 92.5 |
I couldn't quit the Blues in 2021 and it burned me. Have I learned my lesson? Probably not.
I found myself going back to the Blues time and time again down the stretch of the 2021 season and during the playoffs. That was a poor decision. St. Louis was just two seasons removed from a Stanley Cup, led the Western Conference in points before the COVID-19 shutdown in 2020 and at its best, played a defensive style that allowed the Blues to consistently contend against more talented teams.
The Blues were swept by the Avalanche in some of the least competitive playoff games you'll ever watch. There's no shame in swearing off St. Louis after a performance like that, but where other folks see pain, I see an opportunity to buy low (and maybe some despair as well).
While their underlying numbers last season were atrocious, my confidence in the Blues resides in the talent and depth their roster has. Sometimes seasons just go off the rails and I'm willing to gamble that's what happened with St. Louis.
I believe the Blues significantly underperformed in 2021 when looking at the quality that the roster had. I know they lost Alex Pietrangelo to Vegas last offseason, but I figured Torey Krug's arrival and a top-4 led by Colton Parayko would be able to weather the departure and allow the team to compete. Parayko ended up missing a chunk of time, but nevertheless the Blues should have been a shoo-in for a playoff spot in a very soft division. That never came to fruition as the Notes had to scrap their way into the tournament before bowing out unceremoniously. That won't stop me from buying into the upside.
While most of Craig Berube's core will return for this season, the Blues made a couple of shrewd additions to their top-6 that should make them a tougher out in a division that is still not a group of death by any means. Colorado is the biggest divisional favorite on the board at -250, but I'm not sure there's all that much separating the group behind the Avs, with a few intriguing sleepers to look at.
With Ryan O'Reilly, Brayden Schenn and Robert Thomas down the middle, the Blues already had a decent spine, so getting better along the edges was paramount this offseason. Doug Armstrong did that by swapping fourth-liner Sammy Blais for a first-line winger in Pavel Buchnevich. He added on with a nice addition in Brandon Saad. We have a pretty good idea of what to expect from O'Reilly, Saad, Schenn, Buchnevich and David Perron, but there is serious potential with Thomas and Jordan Kyrou. This creates a chance for the Blues top-six to take a decent step forward, despite the loss of Jaden Schwartz.
The key, as it was in their Cup run, will be how well the Blues play in their own zone. St. Louis was third in xG against in 2018-19, eighth in '19-20 and 15th last season. If the Blues can reverse the trend and improve back towards where they used to be defensively, they should be a playoff team and a tough out in the postseason.
There is simply too much talent on this team to look away from 50/1.
The Bet: St. Louis Blues to win the Stanley Cup (+5000)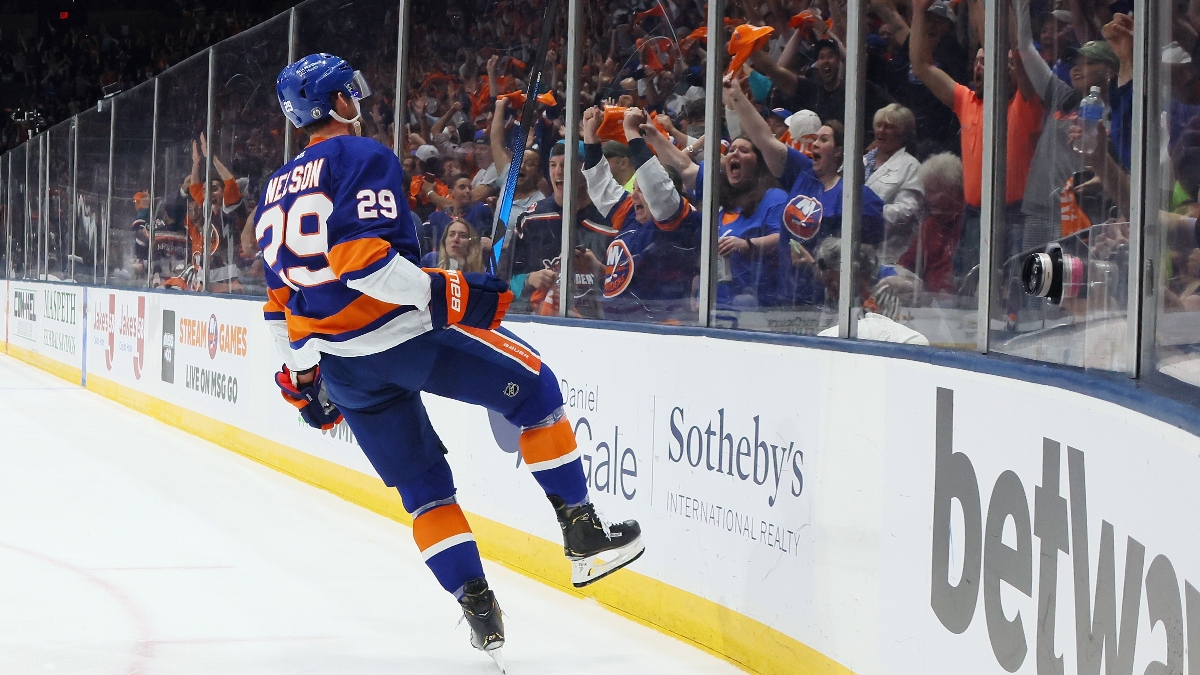 4. New York Islanders
| | |
| --- | --- |
| Stanley Cup Odds | +1500 |
| Division Odds | +275 |
| Make/Miss Playoffs | -350/+270 |
| Over/Under | 99.5 |
It took three terrific seasons and two trips to the Conference Finals, but the New York Islanders finally have seemed to earn the respect of bookmakers, bettors and pundits around the Hockeysphere. The Islanders are the sixth-favorite to win the Stanley Cup at 15/1 and top the board in the Metropolitan Division at +275.
The Islanders tick plenty of the boxes you look for in a Stanley Cup contender. They are well coached, deep, defensively sound and have great goaltending. What the Isles may lack in starpower, they make up for in balance. Every spot in this lineup is occupied by a competent player that is built for his specific role.
And for the first time in the last few seasons, the Islanders have some options behind their top 18 skaters.
Players like Kieffer Bellows, Richard Panik, Michael Dal Colle, Sebastian Aho, Robin Salo and Thomas Hickey likely won't break camp on the starting roster, but they'll be waiting in the wings should their number be called.
Barry Trotz's Islanders have developed quite a reputation during his tenure on Long Island. Built from the back, the Isles' success is contingent on a couple of things. First and foremost, they have two reliable goaltenders in Semyon Varlamov and Ilya Sorokin. Varlamov had the starting gig last season and skated to a .929 SV% and a +2.7 GSAx. His understudy, Ilya Sorokin, was also impressive in his first NHL season. The 26-year-old Russian came into the season with a lot of hype after dominating the KHL and was as advertised, posting a .918 SV% and a +2.5 GSAx. Both netminders were solid when called upon in the playoffs, as well.
Projecting goaltenders, even those that are believed to be among the best at their position, is really tough but the Islanders are so well-drilled in their own zone that you can feel a little more comfortable backing goalies in Blue and Orange than you would for other teams.
The Islanders allowed just 8.63 high-danger scoring chances per 60 minutes, ranking fourth in the NHL, and were also a top-10 team in expected goals allowed at 5-on-5. The defense that put up those numbers is slightly changed, with longtime second-pair LHD Nick Leddy now in Detroit. Leddy, a smooth-skating puckmover, was not replaced like for like, but the Isles were able to bring back Zdeno Chara to help fill the void that Leddy left.
Chara will likely play with Noah Dobson, a young defenseman who has shown really well in his first two seasons. Dobson has size, speed and his wits about him and should pair well with Chara, who has never been the fleetest of foot.
Those two will play behind Ryan Pulock and Adam Pelech, who have blossomed into one of the best pairings in the league. Pulock and Pelech are good enough to take on the best players in the league every night and that's imperative since they play in a division with Artemi Panarin, Mika Zibanejad, Sidney Crosby, Evgeni Malkin, Alex Ovechkin, Nicklas Backstrom, Sebastian Aho and Jack Hughes.
The Islanders other two options on defense, Scott Mayfield and Andy Greene, may be limited in their upside, but they both are good at what they need to do — which is win battles and make smart, responsible plays.
With the goaltending and defense projecting to be among the best in the NHL, the Islanders don't need their offense to be lights out to get results. A team that thrives in low-event games, the Islanders employ a ruthless counter-attack that is terrific at generating chances off the rush.
The Islanders are deep down the middle with Mat Barzal, Brock Nelson, J-G Pageau and Casey Cizikas, but they have plenty of help on the wings, as well. Anders Lee is back after missing the stretch and postseason with a torn ACL, Kyle Palmieri will replace Jordan Eberle on the top line, and Anthony Beauvillier, Josh Bailey, Oliver Wahlstrom and Zach Parise are all good bets to chip in between 10-20 goals this season.
The Islanders' fourth line also does great work getting pucks deep, forechecking like hell and wearing out the opposition so that the next line up has an opportunity against a tiring group. The Islanders just keep coming at you the only way they know how: hard, heavy and effectively.
The Metropolitan Division is deep, but without another elite team to deal with I think the Islanders are deserving of their status as favorites. I think they are a true Cup contender and, barring injuries, should be a thorn in the side of any team in a playoff series. This team was just one goal away from upsetting the Tampa Bay Lightning in the semifinals last season and that was after they flipped the script against the Penguins and Bruins in Rounds 1 and 2.
The Islanders were underdogs in every postseason game they played last season. They were masters at proving people wrong. Now, the Isles will need to prove them right.
There's a couple of different ways I like to play my Islanders. First of all, they've been terrific as underdogs under Barry Trotz. The Isles have been underdogs 133 times (including playoffs) since Trotz took over and have won 69 times. Because of their well-structured style, the Islanders are masters at turning games into coin flips and giving themselves a chance to win. The Isles won't be underdogs all that often in 2021/22, but definitely give them a hard look when they are.
A lot of folks around the NHL are picking the Isles to make another deep run in 2021/22. It's hard to argue against that notion, but I do think the best course of action is to be patient. The Islanders will open the season with an unprecedented 13-game road trip while their new home arena gets ready. If they get out of the gates a little shaky or a few other teams get off to hot starts, we could see their odds drift. Then it will be time to strike.
The Bet: Back the Isles as Underdogs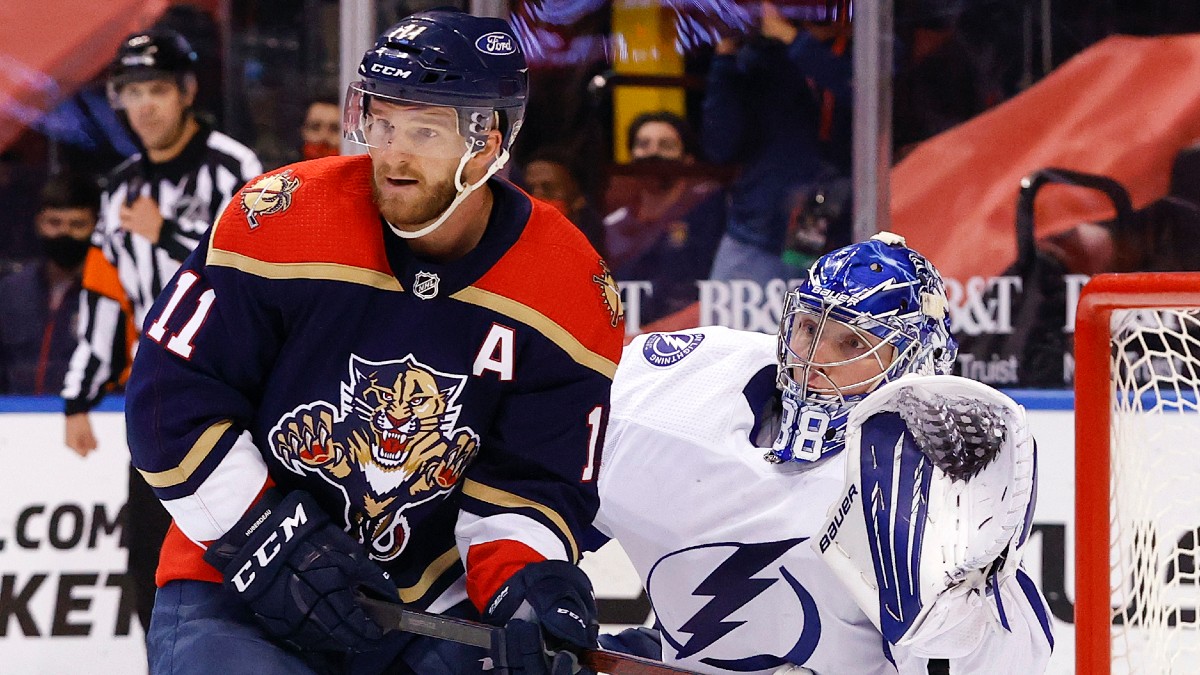 3. Florida Panthers
| | |
| --- | --- |
| Stanley Cup Odds | +1800 |
| Division Odds | +425 |
| Make/Miss Playoffs | -425/+320 |
| Over/Under | 101.5 |
After surprising the hockey world in 2021, the Florida Panthers won't sneak up on anyone this season. The Panthers are currently sitting at +1800, making them the seventh-favorite at DraftKings.
The Panthers' position among oddsmakers despite playing in a division with the Lightning, Leafs and Bruins tells you what you need to know about this team. Every bit of the Panthers' success last season was legitimate.
Florida was good in just about every phase of the game in 2021, but the offense drove the bus. Led by Aleksander Barkov and Jonathan Huberdeau, the Cats finished sixth in 5-on-5 scoring, fifth in xGF/60 and sixth in high-danger chances created per 60 minutes in 2021. Further, their offseason maneuvers indicate that they were not content with those numbers.
Rather than stand pat and fill in the fringes of the roster, the Panthers went out and acquired Sam Reinhart from Buffalo, signed free agent center Joe Thornton and then re-signed Carter Verhaeghe and Anthony Duclair. The signings put Joel Quenneville in the enviable position of being able to roll four lines, all of which should be able to create scoring chances.
Quenneville's defense is neither as deep nor as talented as his forward corps but it still ticks plenty of boxes. Aaron Ekblad was in the midst of a career year before he got hurt, his partner Mackenzie Weegar is a breakout candidate and the rest of the unit all grade out decently for their roles.
Florida was the 13th-best team at suppressing high-danger scoring chances last season and that is fine for a team that should have no problem filling the net.
Florida's biggest question mark is in goal with the odd-couple pairing of Calder Trophy favorite Spencer Knight and the $10 million man, Sergei Bobrovsky. Knight's pedigree is well known and he looked terrific in his cameo during the postseason, but you can never count chickens with young goaltenders. Just ask Carter Hart.
Bobrovsky was once the best goalie in the world, but now he is the most overpaid one. Bobrovsky has allowed 21 goals above expected in his two seasons in Sunrise, so who knows if he will ever come close to re-capturing his all-world form, but even average goaltending from the Russian would go a long way in helping Florida slug it out with the big boys in the Atlantic.
The Atlantic Division will be a bear to get through, but I think the Panthers are the only team in the division worth a second look in the current market. In fact, I really don't see much difference between the Panthers, Maple Leafs and Bruins, so I'm not entirely sure why Florida is being offered at a much higher price than its peers. Neither Toronto nor Boston have surefire goaltending to rely on either.
Florida is going to be a trendy pick to win the Stanley Cup, but teams are trendy for a reason. I like the Panthers at 18/1 or better, but like with the Islanders, you can probably afford to wait on Florida's odds since the Atlantic is going to be such a bear. Whether it be in a few weeks or right before the playoffs, there's a decent chance you can get this team at a bigger number. That's what I'm going to do at least.
The Bet: Florida Panthers to win the Stanley Cup (+2200 @ FanDuel)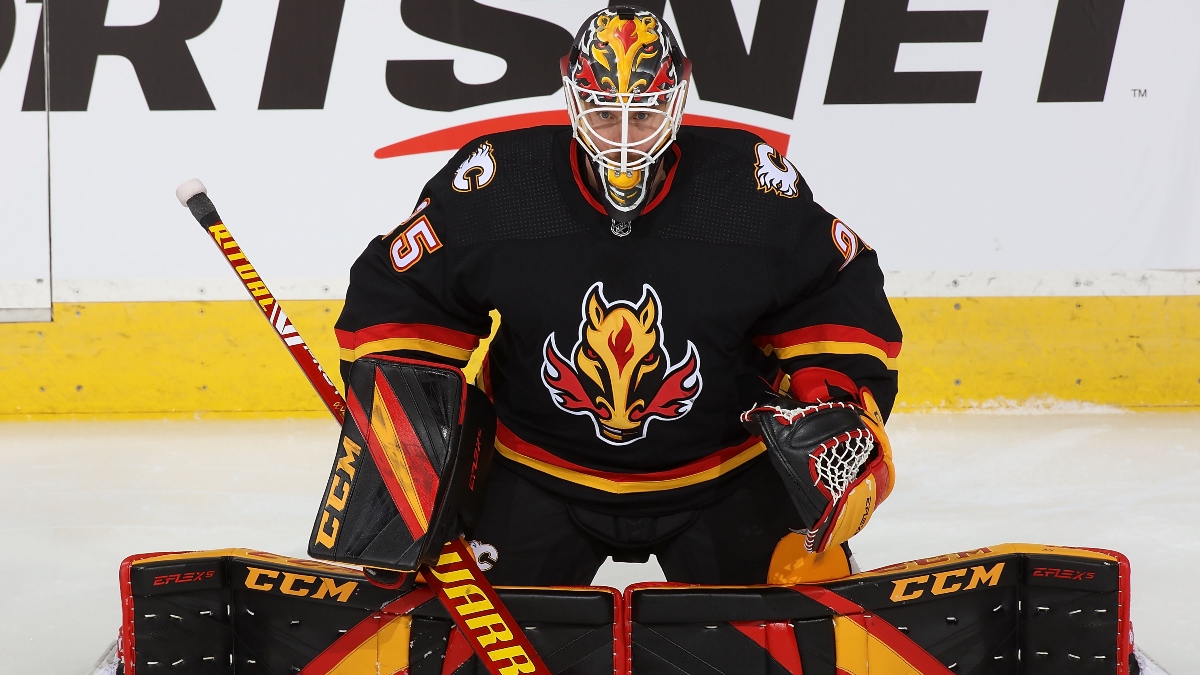 2. Calgary Flames
| | |
| --- | --- |
| Stanley Cup Odds | +4500 |
| Division Odds | +1000 |
| Make/Miss Playoffs | -125/+105 |
| Over/Under | 92.5 |
Where most of the hockey world sees a distinctly average team, I see opportunity.
The Calgary Flames are flying under the radar quite a bit heading into the postseason. They are 45-1 to win the Stanley Cup, have an over/under of 92.5 points and are -135 to make the postseason. In other words, oddsmakers also see Darryl Sutter's Flames as a team on the playoff bubble.
After missing the playoffs in a wide-open North Division last season and bowing out meekly in the bubble the previous summer, it's easy to see why folks aren't paying much attention to the Flames. However, there are a few reasons to take a deeper dive into this team, starting with how they finished under new (old) head coach Darryl Sutter.
The Flames went 15-16-1 under Sutter and were firmly out of the playoff picture down the stretch, but their underlying metrics improved with the 2-time Stanley Cup winner behind the bench. Calgary maintained a 56% expected goals rate and a 57.1% high-danger chance rate in Sutter's 32-game stint, putting them third-best in both metrics during that period.
Sutter seemed to get the team on the same page, especially on defense as the Flames went from allowing 2.14 xG and 10.43 high-danger chances per 60 minutes in their first 24 games to conceding just 1.77 xG and 7.57 high-danger chances per hour under Sutter.
Playing a rigid defensive style may not be en vogue or easy on the eye, but it could suit the Flames since they should be able to produce enough offense to make good defensive numbers stick. That's because Sutter has a deep top-9 that has a couple of potential headliners in Johnny Gaudreau, Matthew Tkachuk, Elias Lindholm and Andrew Mangiapane.
I say potential headliners because nearly everyone in the Flames' top-6 had a roller-coaster season in 2021. There were flashes, especially when Gaudreau played with Tkachuk and Lindholm, but there were also some struggles.
There's solid promise for a unit that features Blake Coleman as a middle-6 winger and Sean Monahan and Mikael Backlund as middle-6 pivots, so a high-quality season from Calgary may not feel like that much of a surprise when push comes to shove.
While the forward group is deep and has high-end talent, Calgary's defense is murkier. Noah Hanifin and Chris Tanev each had breakout seasons in 2021, but with Mark Giordano gone both players will face tougher roles as more will be demanded of them. If they click in a top-pairing role, the Flames should be in good shape as it will take some pressure off the middle-pairing, which features two slick puck-movers in Rasmus Andersson and Juuso Valimaki.
When betting on a long-shot you're banking on potential to be fulfilled and both Andersson and Valimaki have the chance to be productive second-line defensemen right now. The problem is that Valimaki is only 22 and Andersson struggled mightily last season, so there's a plausible scenario where this pairing goes downhill fast. Considering that Andersson was well on his way to being a surefire top-4 defenseman prior to last season, I am happy to bet on a bounce-back and hope for the best. That will be a common theme with this team.
Like every team in the NHL, Calgary will only go as far as its goaltending takes it. After years of putting together rag-tag goaltending tandems with stop-gap measures like Mike Smith, Cam Talbot and Jonas Hiller, the Flames invested pretty heavily in the position before last season by signing Jacob Markstrom to a hefty contract.
Stop me if you've heard this before, but Markstrom was a bit Jekyll-and-Hyde in his first season with the Flames, so it's hard to tell what kind of goalie Calgary should expect over the next six months. Markstrom's ceiling is quite high, but he can be quite ordinary at times. With the inexperienced Dan Vladar behind him, there are some questions to be asked of this duo.
However, there are also reasons to be confident. Markstrom was one of the best in the NHL at the position not too long ago and Vladar's AHL numbers sparkle. Once again, this situation can play out in a number of different ways.
Perhaps a middle-of-the-pack season from Calgary is the most likely scenario,  but Calgary's ceiling is seriously tempting. A lot has to go right for any team in this price range to have a chance, but if things do turn green for the Flames in the goaltending department, the potential is a lot higher than it would be for many clubs in this price range.
I'll be betting on Calgary to win the Stanley Cup at 45/1, but I also really like a punt on Sutter to win the Jack Adams at 50/1.
Awards are voted on by media members and there are few coaches in the league who get tongues waggin' like Sutter does. If the Flames have a surprising season, the future Hall-of-Fame coach will be on a lot of ballots come the end of the season.
The Bet: Darryl Sutter to win Jack Adams Trophy (+5000)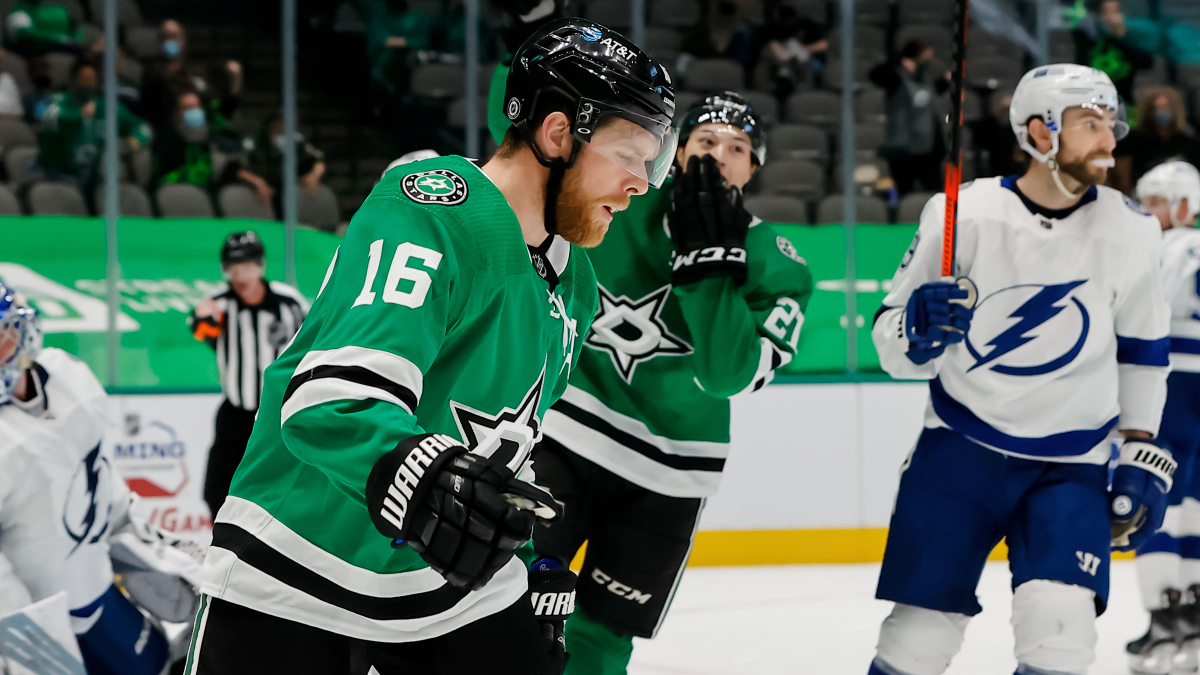 1. Dallas Stars
| | |
| --- | --- |
| Stanley Cup Odds | +3500 |
| Division Odds | +1200 |
| Make/Miss Playoffs | -165/+145 |
| Over/Under | 95.5 |
The Dallas Stars had a season from hell in 2021. Prior to the season the team learned that Tyler Seguin and Ben Bishop were going to miss significant time.  Then they had a COVID-19 outbreak. Then Jamie Benn got injured in their season opener. Then a winter storm hit Texas and cost them another week. The hits just kept coming, and the result was a jam-packed schedule with a shorthanded lineup.
Considering all that went wrong, the fact that Dallas was in the mix for a playoff spot was impressive in and of itself.
Even more encouraging was the fact that the Stars posted some of the best underlying metrics in the NHL in spite of all the adversity they dealt with.
Dallas was the third-best team at preventing high-danger chances, finished seventh in expected goals rate and allowed the third-fewest goals in 5-on-5 spots. Those numbers should have seen Dallas qualify for a postseason berth, but some atypically porous goaltending doomed the Stars to a lost season.
Rather than shake up a team that didn't need much shaking, the Stars brought back the bulk of their roster from 2021. Ryan Suter was also signed as a replacement for Jamie Oleksiak, while Braden Holtby was added to provide more stability in goal.
The Suter move certainly fits with what the Stars are trying to do, but the Holtby acquisition was a bit of a head-scratcher since Dallas already had Anton Khudobin, Ben Bishop and Jake Oettinger in the goalie room. Bishop has barely played over the past two years, so Holtby does provide Rick Bowness with some more insurance in goal should Bishop get hurt or Khudobin struggle as he did last season.
Dallas' defensive stability is pretty well known at this point, but its offense could be underrated heading into the season. The Stars finished in the bottom 10 in goals scored and expected goals for, but they did manage to finish seventh in high-danger chances created. The Stars' struggles to score could also be chalked up to the fact that their two best playmakers – Tyler Seguin and Alex Radulov – were limited to a combined 14 games.
Despite the injury issues, several players on the Stars produced at impressive clips. Jason Robertson took the league by storm in his rookie campaign, Joe Pavelski notched 25 goals, Denis Gurianov continued his upward trajectory and Roope Hintz tallied 43 points in 41 games.
Add in a full season of Seguin and Radulov to that group and there's reason to believe that Dallas' offense should be a strength for the team in this campaign.
The Stars are like the Islanders to an extent in that they likely won't dominate during the regular season, but they will be an absolute pain to play against in the playoffs, should they get there. That's why I think the best way to bet Dallas is to go big and chase Lord Stanley.
The Bet: Dallas Stars to win the Stanley Cup +3500
---
My 2021-22 NHL Futures:
Minnesota Wild to miss the playoffs (+250 @ DraftKings)
Pittsburgh Penguins to miss the playoffs (+175 @ DraftKings)
Jeremy Swayman to win the Calder Trophy (+2500 @ BetMGM)
Dave Hakstol to win the Jack Adams Trophy (+3000 @ BetMGM)
Darryl Sutter to win the Jack Adams Trophy (+5000 @ DraftKings)
Travis Green to win the Jack Adams Trophy (+6600 @ BetMGM)
Juuse Saros to win the Vezina Trophy (+4000 @ PointsBet)
Jack Hughes to win the Hart Trophy (+11000 @ FanDuel)
Connor Hellebuyck to win the Hart Trophy (+6000 @ FanDuel)
St. Louis Blues to win the Stanley Cup (+5000 @ DraftKings)
Calgary Flames to win the Stanley Cup (+4500 @ DraftKings)
Dallas Stars to win the Stanley Cup (+3500 @ DraftKings)
How would you rate this article?
This site contains commercial content. We may be compensated for the links provided on this page. The content on this page is for informational purposes only. Action Network makes no representation or warranty as to the accuracy of the information given or the outcome of any game or event.