NHL Odds & Pick for Flames vs. Canadiens: Calgary is in Tough Schedule Spot at Montreal (Wednesday, April 14)
Credit:
Francois Lacasse/NHLI via Getty Images. Pictured: Eric Staal
The Flames are playing on consecutive nights in different cities, after playing Toronto on Tuesday.
Montreal last took the ice on Monday at home against the Maple Leafs in a 4-2 victory.
Matt Russell thinks there's just too much going against Calgary to pull an upset.
Flames vs. Canadiens Odds
Flames Odds
+134
Canadiens Odds
-157
Over/Under
6
Time
Wednesday, 6 p.m. ET
TV
Sportsnet
Odds as of Tuesday and via DraftKings
"The juice is worth the squeeze."
It's a key line from 2004's underrated teen comedy-drama The Girl Next Door. The movie didn't get enough credit, given it's sense of humor, various plot twists, and a cast that included Emile Hirsch (right before Into The Wild), Paul Dano (pre-There Will Be Blood), Timothy Olyphant (on this way to Deadwood) and Elisha Cuthbert (avant Dion Phaneuf).
When it comes to betting on the NHL, and the result-randomness of hockey, you better be sure the juice you're paying on a moneyline is worth the squeeze. Is backing a significant favourite worth paying the big price? Do you have more than enough reason to bet on a team knowing that if they lose you're going to have to dig yourself out of a self-made predicament? Not unlike main character Matthew Kidman, as he vies for a crucial college scholarship.
Calgary Flames
The Flames had the "lying in wait" schedule spot in Toronto. This seasons' special angle, where teams (most often in the North Division) have had to play a different team, in a different city, on back-to-back nights while their opponent waits for them.
The Flames were able to watch the Leafs play on Monday in Montreal, while they rested in Toronto. This left the desperate Flames with no excuses, as they came into the game 8 points back of a playoff spot, with 15 games to play. The must-win game also came against a goaltender that they were incredibly familiar with. A day after being traded from Calgary, David Rittich got the start between the pipes for the Leafs.
Who knows whether that made a difference, but the Flames managed a 3-2 overtime win thanks to Johnny Gaudreau making a deke for the game-winner that no goaltender was going to stop.
While no one is getting overly excited about the Flames winning two games in a row, if they are, it would be foolish given the two wins have come in large part due to a brutal schedule spot for the Leafs, and prior to that, for the Oilers. Connor McDavid went out of his way to excuse the Oilers 5-0 loss to Calgary on Saturday as a result of not being able to get up for a hockey game on the same day they memorialized former teammate Colby Cave, who died suddenly last year.
Going into the game in Toronto, the betting market certainly had belief that even the Flames would be a good bet given the circumstances. The Flames' morning moneyline was +167, and by the time puck dropped on Tuesday night, it was down to +135. A full 5% increase in projected win probability. Those willing to back the scheduling trend were paid off for it.
The Flames are now being asked to buck the schedule trend, which would be hard enough if they hadn't just traded their backup goalie. If Markstrom gets the call again, for all the pomp surrounding his big contract signed before the season, the Flames would be relying on a goaltender that has a woeful -6.17 Goals Saved Above Average (GSAA) this year.
Having an experienced goaltender to lean on would be helpful on the second game of a back-to-back. Instead, they have journeyman back-up Louis Domingue or Artyom Zagidulin, who has yet to start a game this season and has seen just 11 shots of NHL action and surrendered two goals, as the alternative options. This cameo appearance occurred earlier this season, when the Flames got blown out early in Ottawa, the night after they had to play a different team in a different city in a game that went to overtime. You guessed it – it was also against the Maple Leafs, in Toronto.
According to my Let's Do That Hockey" Model, as heard on THE WINDOW: Sports Betting Podcast, the Flames have deteriorated since getting an initial bump from Darryl Sutter's arrival behind the bench. In their last 12 games since winning their first three games in an attempt to impress, the Flames rate at 10% below average at even-strength.
---
Expected goals (also known as xG) is a predictive statistic that gives an indication of whether results are based on sustainable factors like a steady creation of scoring chances, or whether it is down to aspects such as shooting luck or outstanding goaltending.
Simply put, an expected goals rate (xGF%) above 50% is considered good because it means a team is creating the majority of the scoring chances. Anything below 50% is usually a sign that a team is struggling to control play.
xG numbers and advanced stats cited from Evolving Hockey, MoneyPuck and Natural Stat Trick.
---
Montreal Canadiens
The Montreal Canadiens are in a similar way, having a far better even-strength rating over the course of the season than they do since firing the head coach  they started with.
According to my model, the Habs rate almost 13% above-average for the season, but since firing Claude Julien, they're merely 6% above the mean. The Canadiens are coming off a win that they probably felt like they needed to have against the Toronto Maple Leafs. After a pair of lifeless performances, the Habs know this two-game visit from the Flames is their chance to all-but seal a playoff spot.
One of the reasons the Habs don't have as big of a stranglehold on a top-4 position in the North Division, is they've lost 3 of 4 to the Flames so far this season. However, a closer look at their 3-game losing streak to Calgary certainly excuses that record, and denounces any idea that the Flames are a matchup problem for the Habs.
Early in the season, after Montreal won the first meeting at home, the Flames committed armed robbery in the back-end of the two-game series. Their weapon? Jacob Markstrom, who earned a shutout victory despite the Habs racking up 17 High-Danger Chances at even strength, and earning almost 70% of the Expected Goals during 5-on-5 play. From an XG and High-Danger Chance standpoint, this game was the best it's been for Montreal.
More recently, the Canadiens only visit to Calgary just happened to come right after the Flames fired their head coach, Geoff Ward and replaced him with reputed no-nonsense coach Darryl Sutter. Like anyone with a new boss, the Flames got the 'new coach bump' and played some of their most responsible hockey of the year, allowing just over one xG per game.
This is particularly frustrating timing for the Habs, as the Flames haven't kept up that same energy since.
In the net, the Habs have had to rely on Jake Allen in the past week, as Carey Price has been on the shelf with a minor injury. This hasn't been much of an issue as Allen (+1.78 Goals Saved Above Average) has been better than Price (-3.42 GSAA) this season anyway.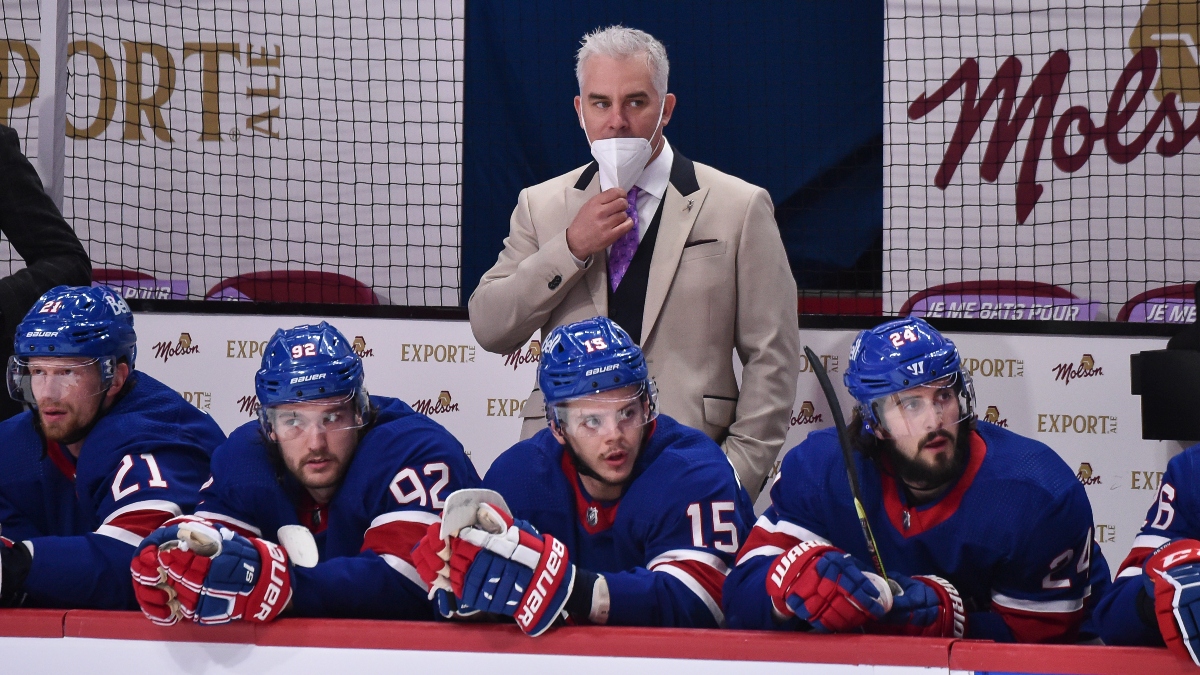 Betting Analysis & Pick
My model makes the Habs a -138 favourite, so there isn't much in the way of true value if all things are equal. However, there's nothing equal about the setup for this game. The Flames are in a travel/rest situation that has teams losing at a greater than 90% clip, and are either going with Jacob Markstrom for a second straight night, or a human being that you've never heard of. Given the teams, the motivations and the situation, when it comes to laying the big price on Montreal and fading the former team of Elisha Cuthbert's husband, I think the juice is worth the squeeze.
If the Canadiens lose, we'll find ourselves needing to win our next two bets to get back in the black. That won't take the same level of planning or deception needed in the final scenes of The Girl Next Door, but we rather not have to come up with a plan to make up for mistakes that are beyond our control.
Pick: Montreal Canadiens -160 or better
How would you rate this article?
This site contains commercial content. We may be compensated for the links provided on this page. The content on this page is for informational purposes only. Action Network makes no representation or warranty as to the accuracy of the information given or the outcome of any game or event.