NHL Odds & Pick for Canadiens vs. Jets: A change in Net Should Benefit Habs (Feb. 27)
Credit:
Jonathan Kozub/Getty Images. Pictured: Nick Suzuki (14) of the Montreal Canadiens follows the play up the ice.
Montreal is winless in its last four games but has a new lease on life following a coaching change.
Winnipeg scored six goals on the Habs on Thursday and is a winner of three straight.
Matt Russell breaks down why the Canadiens may put a stop to the Jets' streak.
Canadiens vs. Jets Odds
---
Canadiens Odds
-130
Jets Odds
+110
Moneyline
-125/+105
Over/Under
6.0
Time | TV
Saturday, 10 p.m. ET
Odds as of Friday night and via PointsBet.
---
The "coaching carousel" is one of the more appropriate cliche terms used in the NHL. In no sport are head coaches more expendable than in hockey.
Given the nature of the sport — a 60-minute series of high-speed physical battles — coaches are often fired for the sole purpose of sparking the motivation needed for players to willfully dive in front of a super-sized rubber bullet, or to take a face full of plexiglass in order to advance that rubber puck into the next zone with no promises of a goal as the result. 
Rarely is a head coach removed for strategic reasons, but that was the situation this week for the Montreal Canadiens. They were still playing with great effort as their early season successes had turned to losses. Unfortunately for Claude Julien, the pieces didn't seem to fit his expectations as a defensive-minded head coach and thus, he had to go before it was too late. 
---
Montreal Canadiens
Things get late quickly when you're playing a 56-game season, so the Canadiens made a pair of changes behind their bench with an eye on letting their young talent blossom with a less constraining style of play. Their first game with a new lease on life provided a look at both the pros and the cons of opening things up a little more. 
The Habs scored the first two goals in Winnipeg as former Jet, Joel Armia, scored twice early on, and it felt like the new strategy was already a rousing success. Those of us who bet on the Habs that night, and who are high on them from before the season, were feeling pretty good about the blinders being pulled off this team. Those good vibes went away awfully quickly, when trailing 3-1, the Jets scored five unanswered goals in the second half of the game to shock the Habs as much as they shocked the hockey world on Wednesday. 
Julien was reportedly going to be fired regardless of what happened early in the week, but the first three of now four straight losses, couldn't have helped. While Julien takes the brunt of the Habs falling in danger of being outside of a playoff spot, what the faithful of the 'blue, blanc et rouge' are having trouble admitting is that their future Hall-of-Fame goaltender may be doing more harm than good.
Carey Price sits with a -6.91 Goals Saved Above Average (GSAA), 54th in the NHL, between Juuse Saros and Joonas Korpisalo. Meanwhile, back-up netminder Jake Allen has excelled in limited opportunity, with a 5.14 GSAA (11th overall). 
---
Expected goals (also known as xG) is a predictive statistic that gives an indication of whether results are based on sustainable factors like a steady creation of scoring chances, or whether it is down to aspects such as shooting luck or outstanding goaltending.
Simply put, an expected goals rate (xGF%) above 50% is considered good because it means a team is creating the majority of the scoring chances. Anything below 50% is usually a sign that a team is struggling to control play.
xG numbers cited from Evolving Hockey.
---
Winnipeg Jets
The reason we use a statistically analytical model is because it's easy to get fooled by a team's record. The Winnipeg Jets are pulling the wool over many eyes so far this season, as they sit third in the North Division. Meanwhile, in 5-on-5 play, their Expected Goal For (XGF) rate sits at 1.67 per game, while their opponents have been good for an XGF of 2.10. Jets' opponents have created 196 High-Danger Chances (HDC) at even-strength, to just 140 for the Jets themselves. If you think the Jets are good, I'd like to hear you explain how.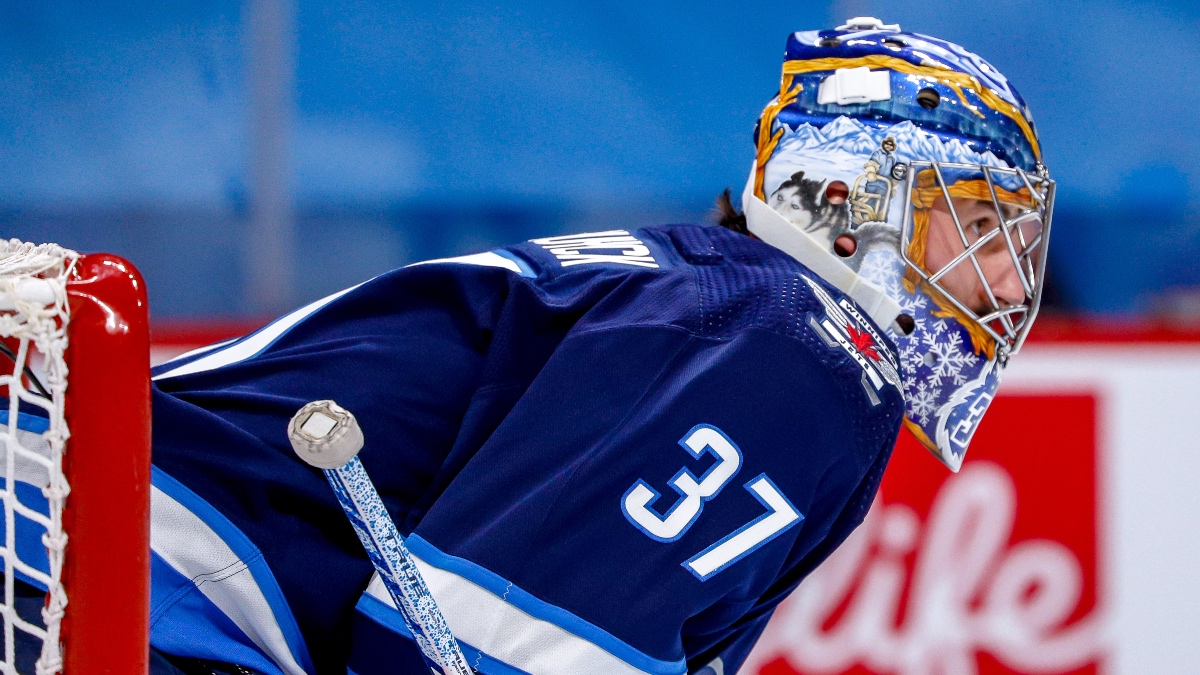 This isn't new for Jets fans though, as they had similarly atrocious metrics last season, but Connor Hellebuyck saved the season for them on the way to winning the Vezina Trophy for goaltender of the year. Hellebuyck hasn't been bad, but he hasn't matched the epic season that won him the hardware either. 
Offensively, the Jets have been hit or miss, with five games of 10 or more even-strength HDC, and five games of four or less. The outlier though, has come when the Jets find themselves in the middle ground. In the nine games when they accumulated between five and nine HDC, they're somehow 8-1. In five of those eight wins, they had less than half of the Expected Goal Share. One of those games was Thursday's comeback win over the Habs.
---
Betting Analysis & Pick
My "Let's Do That Hockey" model, as heard on THE WINDOW: Sports Betting Podcast, looks at the Winnipeg Jets with an unbiased eye, and squints hard at what it sees. Despite mediocre special teams, the Jets get by with an unusually high rate of conversion when it comes to the relatively few chances they get at even-strength. While they've given up 56 more HDC this season, their opponent only has 2 more goals from those chances. 
The model makes the Jets 10% below average at even-strength this season, while for all their strife, the Canadiens are still 18% above average while 5-on-5. Given these numbers, the model spits out a fair moneyline price of MTL -134/WPG +134 in this game. 
I expect Jake Allen to get the call for the Habs, and unfortunately for Montreal's beloved Price, that's an upgrade in net at this point in the season. We'll see where this price opens up, but there's going to be value on the road favourite in Winnipeg. Now if only the Habs can deploy their new style of play with just the right amount of their strategy of old.
Pick: Canadiens (-130 or better)
How would you rate this article?