NHL Betting Odds and Picks: How To Bet Rangers vs. Blue Jackets, Devils vs. Hurricanes (Friday, Feb. 14)
Credit:
Darcy Finley/NHLI via Getty Images.
Rangers at Blue Jackets Odds
The Columbus Blue Jackets and New York Rangers play two very different styles of hockey.
The Blue Jackets are known for the defensive acumen, allowing just 2.1 expected goals and 8.4 high-danger scoring chances against per 60 minutes at 5-on-5 this season.
As good as the Jackets are in their own zone, they are challenged offensively, creating just 2.24 expected goals and 8.9 high-danger chances for per 60 minutes.
---
Odds via PointsBet, where Action Network users can access an exclusive promotion to get a 200% deposit match (deposit $50, bet with $150). No strings attached. No rollover required.
---
The Rangers, on the other hand, create 2.45 expected goals and 11.3 high-danger chances for per 60 minutes while allowing 2.77 expected goals and 12.4 high-danger scoring opportunities against. It goes without saying that a large part of New York's offensive success is because the Rangers have Artemi Panarin, a former Blue Jacket and one of the league's best offensive creators.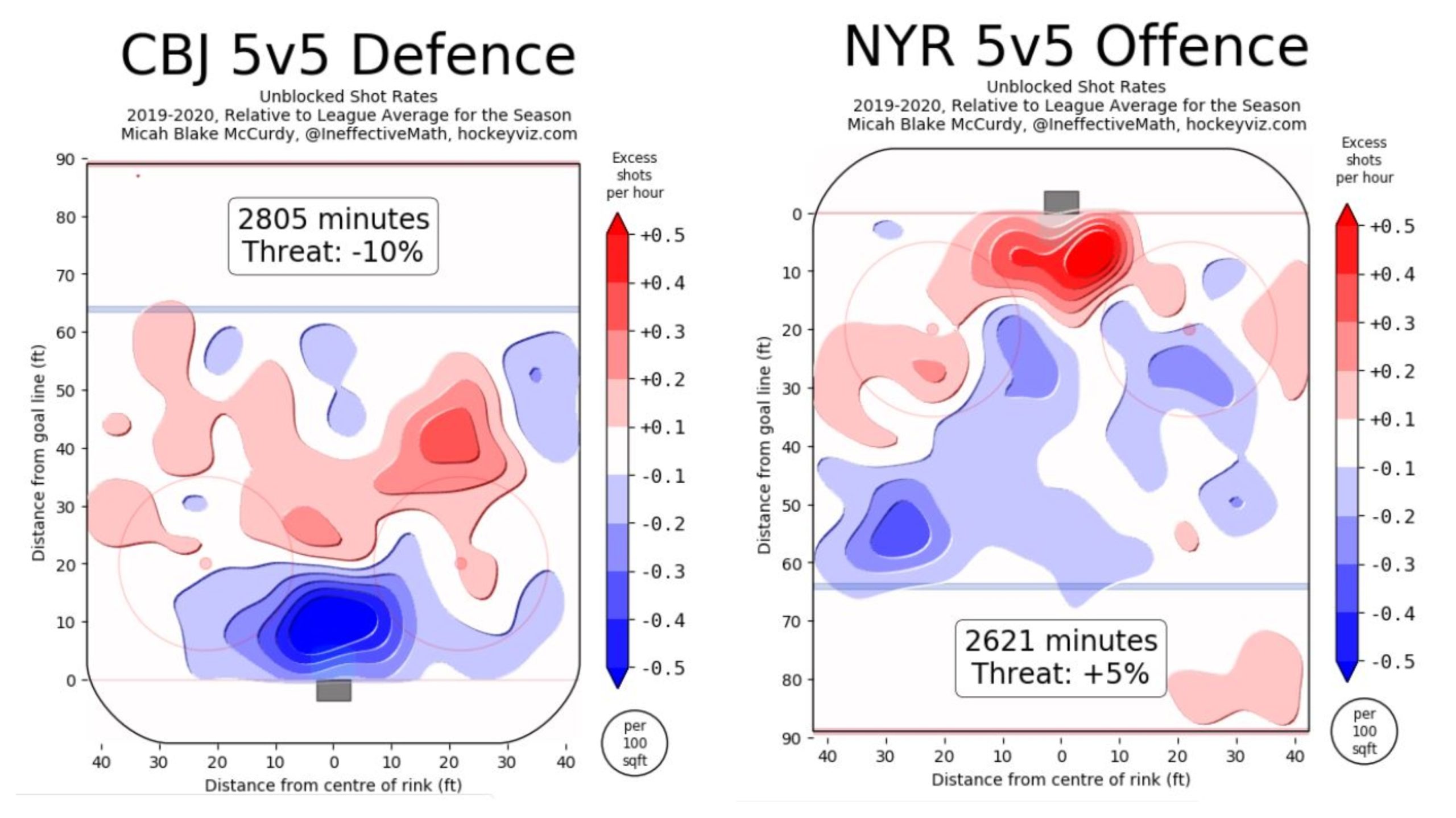 As great as Columbus has been defensively, there feels like a bit of a regression reckoning could be headed the Blue Jackets' way. Not only are they without No. 1 defenseman Seth Jones, but it's also really hard to imagine that rookie goaltender Elvis Merzliklins will continue to post a .930 save percentage the rest of the way.
Additionally, the Blue Jackets' lack of offense means that they can't score their way out of trouble if their goaltending or defense isn't up to their lofty standards.
Columbus has been fantastic this season and has the better record between these two teams, but in reality there probably isn't that much separate these squads and, if you're going on talent alone, there's an argument to be made that the Rangers are the better team — at least on paper.
The listed odds imply that the Blue Jackets win this game 58% of the time and I think that underrates New York's chances on Friday night.
[Bet now at PointsBet. NJ only.]
---
New Jersey Devils vs. Carolina Hurricanes Odds
Devils odds: +230
Hurricanes odds: -280
Over/Under: 6.5
Time: 7 p.m. ET
As you can tell by the odds, the Carolina Hurricanes are a much better hockey team than the New Jersey Devils. Not only is Carolina 15 points ahead of New Jersey in the Metropolitan Division, but the Canes are also 64 goals to the good compared to the Devs this season.
If you are trying to pick a winner, it's pretty obvious that the Hurricanes are very likely to win this game. But everything in betting comes down to price and +230 is a big number in a one-game sample, especially in a sport as volatile and luck-driven as hockey.
There really isn't much you could say about the Devils that would make you feel better about betting them tonight. Their 46.5% expected goals rate means they are one of the worst 5-on-5 teams in the NHL. They are a mess defensively, allowing 2.55 expected goals against per 60 minutes (xGA/60), but so the Hurricanes aren't much better.
Carolina is still clicking offensively, but the Canes are struggling to protect the house this season and they've been trending down as of late, allowing 2.72 xGA/60 over their last 10 games.
If I'm being honest, I was relieved when I saw this line open with the Devils between +180 and +200. I thought I would be able to go about my night without investing in New Jersey. Unfortunately, some money came in on Carolina and pushed this line to the point where the Devils have some value. It's not fun, but given the way Carolina is trending, I'd take a shot on New Jersey at +220 or better.
How would you rate this article?