NHL Betting Odds & Picks: Blues vs. Golden Knights, Oilers vs. Lightning (Thursday, Feb. 13)
Credit:
Codie McLachlan/Getty Images. Pictured: Leon Draisatl
It's funny how betting changes the way you look at sports. If I wasn't a bettor and I saw that Edmonton Oilers were scheduled to play in Tampa against the never-gonna-lose-again Lightning without Connor McDavid, my first thought would be, "they're screwed."
But as a bettor, all I could think when I saw these circumstances was "there's going to be a lot of value on Edmonton on Thursday night."
Is that the case? Let's dive in.
Thursday NHL Odds & Picks
---
Odds via DraftKings, where Action Network users get a risk-free bet up to $500.
---
Edmonton Oilers vs. Tampa Bay Lightning
Oilers odds: +180
Lightning odds: -215
Over/Under: 6.5
Time: 7 p.m. ET
When a quarterback goes down in the NFL, the first question bettors ask is "how much is he worth to the spread?" For a couple of elite QBs, the answer could be as high as six points, but the truth is that even the loss of the best player in the NHL will not come close to that kind of impact.
Connor McDavid may be the best player in the NHL, but even the best player in the NHL shouldn't skew the line more than 1-2%. Individual talent matters a lot in hockey, but it is still ultimately a team game and one player's impact is not as pronounced as it is in other sports — no matter how good he is.
This isn't to downplay McDavid's ability or how important he is to Edmonton in the big picture, but in a one-game sample it's not as big a deal as it will be made out to be.
That being said, the Oilers were already a top-heavy team with McDavid and his loss puts a huge burden on the shoulders of his running mate Leon Draisatl. The defense will also feel some added pressure as Edmonton's margin for error becomes much slimmer without its best source of offense.
The Oilers defensive numbers won't blow you away — they allow 2.5 expected goals against per 60 minutes at 5-on-5 — but according to Micah Blake McCurdy's "Threat" metric, they grade out as slightly above average in their own zone. Needless to say, Edmonton will need to be a lot better than that if it has a chance against the Lightning.
Tampa Bay is 31-10-3 with a league-best 56.4% expected goals rate and 57.2% high-danger scoring chance share over its last 44 games. Whether you want to look at surface-level stats or go deep under the hood, the Lightning look elite and they have shown no signs of slowing down, winning eight games on the bounce heading into Thursday night.
Tampa Bay's offense is prolific, but its defense deserves some serious accolades for vaulting this team up the ladder.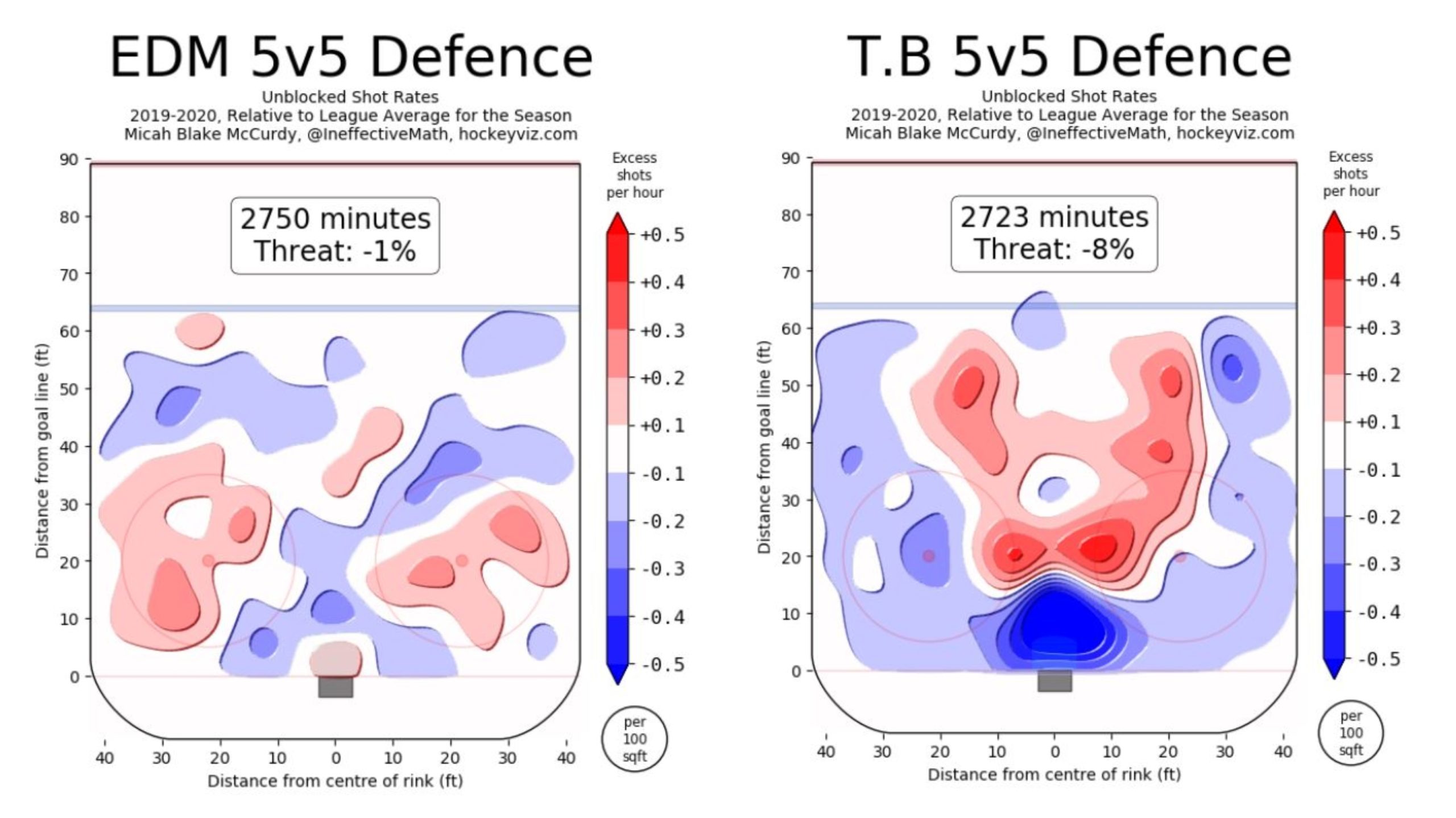 A team with this much talent that plays this sound defensively will always be a bear, but I'm hoping that the price on Edmonton continues to climb as puck drop approaches.
The listed odds right now give Edmonton a 34.4% chance of winning in Tampa tonight, and while I think that is a tad low — especially since the Lightning are playing their fourth game in six nights — I am hoping to get the Oilers at +190 or higher.
Around the League
I think the Dallas Stars (+120) are in range for a play against the Toronto Maple Leafs (-140). The Maple Leafs are an offensive powerhouse but the Stars grade out as one of the best defensive teams in the NHL with a 2.12 expected goals against per 60 minutes at 5-on-5.
These odds imply that Dallas would be a slight underdog on neutral ice, but I would make the Stars a slight favorite over the Leafs if all things were equal.
Similarly, the price on the St. Louis Blues (+130) would indicate that they would be underdogs against the Vegas Golden Knights (-150) in a vacuum. The Blues are 3-5-2 in their last 10 games but their under-the-hood numbers remain strong, so this could be a good spot to buy low on a very good team.
And finally, as bad as the Detroit Red Wings (+155) are, I don't think the gap between them and the New Jersey Devils (-185) is as wide as these odds imply.
How would you rate this article?