2019 NFL Point Spread Values: Vegas's Most and Least Valuable Quarterbacks
Credit:
Joe Nicholson-USA TODAY Sports. Pictured: Patrick Mahomes and Russell Wilson.
Quarterbacks are the most valuable players towards the point spread in the NFL and all of sports betting in general.
We spoke with William Bernanke of CG Technology in Las Vegas to determine how valuable all 32 NFL starting quarterbacks are towards the point spread.
The NFL season is finally here! In other words, the dog days of summer are over and prime betting season has begun.
Something that even the most casual of football fans realize is that the quarterback is a pretty important guy. If your QB stinks, you're probably not going to have a good team.
Bettors know that quarterbacks are of vital importance, too. In fact, elite quarterbacks are the most valuable players in the betting world. To find out just how many points each starting QB is worth, I spoke with William Bernanke — Risk Analyst at Las Vegas's CG Technology — who has helped me with similar projects in the past.
Things to keep in mind:
These values are not set in stone. They could vary depending on the matchup and whether or not the spread would move through a key number or not.
Other oddsmakers may have varying opinions.
The QB's backup is quite important. For example, Carson Wentz is worth much more this year with Josh McCown backing him up than he was last year with Nick Foles.
Coaching staffs, play-calling tendencies and a team's overall system also play a role.
Tier 1 (6+ Points)
Aaron Rodgers
Career ATS Record: 88-66-4 (57.1%)
Backup QB: Tim Boyle
2018 Tier: 1
Though the past couple of seasons have been ugly for Green Bay, I think I can say with certainty that the only people who say Aaron Rodgers is not among the league's best QBs are looking for clicks. Rodgers is among the league's best, and when it comes to gambling, there's not one player in any sport who can move a spread more than he can.
The Packers do have some questions surrounding them this year, though. They have their first new full-time head coach since Rodgers took over as starter in 2008. Randall Cobb is out of town, marking the second straight season in which Rodgers has lost a trusted wideout. Heck, Rodgers himself is getting kind of old, set to turn 36 in December.
Oddsmakers expect the Packers to contend for the NFC North title along with the Bears and Vikings, but one thing is for sure — they are absolutely porked if Aaron Rodgers gets hurt.
Patrick Mahomes
Career ATS Record: 10-6-1 (62.5%)
Backup QB: Matt Moore
2018 Tier: 6
I would say Patrick Mahomes' first full season was a success.
50 TD passes, 5097 yards, 113.8 QB rating
NFL MVP, Offensive Player of the Year
Division title, No. 1 seed in the AFC
Can't get much better than that, can you? The Chiefs defense was quite porous last year, but Mahomes and his offense were able to outduel the competition week in and week out.
Though backup extraordinaire Matt Moore (not the one who works for us) has come out of retirement to join the Chiefs, the drop-off from Mahomes to any backup caliber QB would be immense.
Russell Wilson
Career ATS Record: 61-45-6 (58.1%)
Backup QB: Geno Smith
2018 Tier: 1
The Seahawks have had a lot of doubters over the past couple of seasons given the dissipation of the Legion of Boom. While they may not be a Super Bowl frontrunner like they used to be, one thing has remained a constant: Russell Wilson.
He hasn't won an MVP like the other two Tier-1 play-callers, but he's coming off perhaps the best passing season of his career. With a 9-5-2 record against the spread last year, Wilson boosts his career cover rate even closer to 60%. He's one of just five quarterbacks we have on file dating back to 2003 who's started more than 100 games and yielded a return on investment north of 10%. The other four are among the greatest of all time — Rodgers, Tom Brady, Peyton Manning and uh … Andy Dalton.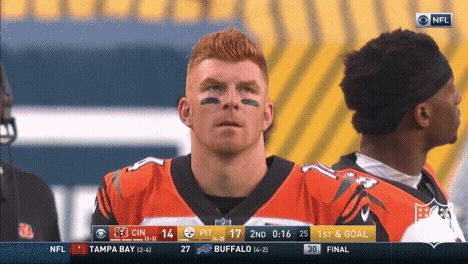 Tier 2 (5 Points)
Tom Brady
Career ATS Record (since 2003): 141-88-8 (61.6%)
Backup QB: Jarrett Stidham
2018 Tier: 1
Say it ain't so! The GOAT has dropped from Tier 1 to Tier 2 despite adding another ring to his collection. When asked why, Bernanke cited Bill Belichick's coaching prowess and ability to win with backup quarterbacks. The Pats are 13-6 straight up and 12-7 ATS in non-Brady starts since '03 so I guess he has a point.
After winning his third MVP in 2017, I suppose you could say Brady looked a tad worse last year. Perhaps he will look a tad worse in 2019 at age 42 — an age at which no quarterback has ever started more than 10 games (Warren Moon), let alone played at an elite level.
One thing to watch for this year is how he connects with unfamiliar receivers. Rob Gronkowski's retirement has left Brady with Julian Edelman, Josh Gordon (for now) and many new faces, including first rounder N'Keal Harry. Becoming part of Brady's circle of trust is not something easily accomplished and it's possible he struggles making new friends as he inches closer toward senior citizenship.
Ben Roethlisberger
Career ATS Record: 109-102-3 (51.7%)
Backup QB: Mason Rudolph
2018 Tier: 2
Big Ben is getting older, too, but that didn't stop him from throwing the ball a whopping 675 times last year — the fourth highest total in history.
Last year, his stud RB Le'Veon Bell watched from home, but James Conner proved to be a more-than-capable replacement. This year, Roethlisberger's favorite target Antonio Brown is gone, too. Many believe JuJu Smith-Schuster can step right up and fill his shoes, but it's not a guarantee.
Can Roethlisberger remain one of the league's elite gunslingers or will this be the beginning of his downfall?
Matt Ryan
Career ATS Record: 88-83-3 (51.5%)
Backup QB: Matt Schaub
2018 Tier: 2
Speaking of gunslingers, Matty Ice has been known to put up some big numbers. The 2016 MVP fell off a bit in 2017 (probably depressed about that Super Bowl collapse), but was still toward the top of most key passing stats last year.
With Matt Schaub, a 38-year-old with 10 pass attempts over the past three seasons, backing him up, I think it's safe to say Ryan is of vital importance to the Falcons' success.
Carson Wentz
Career ATS Record: 21-19 (52.5%)
Backup QB: Josh McCown
2018 Tier: N/A
Something you may have noticed is that Carson Wentz was not even listed in a tier last year. Why? Well, quite frankly Nick Foles had shown that he was just as good in the Eagles' system as Wentz was.
Last season didn't help Wentz's case, either, as he went 5-6 as a starter while Foles went 4-1 and won another playoff game.
With Foles gone and Josh McCown set to backup Wentz, a man who was well on his way to an MVP before tearing his ACL in 2017, Bernanke is confident enough in Wentz to place him in Tier 2. In fact, he listed Wentz as one of a few QBs he thinks could jump up to Tier 1 by next year.
On the flip side, he could fall down a rung or two if he struggles or fails to stay healthy for a third consecutive season.
Drew Brees
Career ATS Record: 135-106-6 (56.0%)
Backup QB: Teddy Bridgewater
2018 Tier: 2
Tom Brady is the ageless wonder, but Drew Brees is no slouch himself. At age 39, Brees had one of his best seasons and would have won his first MVP if it weren't for that meddling Mahomes.
Though he historically hasn't been shy of turning the ball over, posting double-digit interception totals in 14 of 16 seasons entering 2018, Brees was as stingy as ever and threw a career-low five picks. He was also incredibly efficient, completing an NFL record 74.4% of his passes (topping his own mark from 2017).
If he didn't have a very competent backup in Teddy Bridgewater, I think many folks would have no problem placing Brees in the top tier.
Philip Rivers
Career ATS Record: 104-98-5 (51.5%)
Backup QB: Tyrod Taylor
2018 Tier: 2
All of the Tier One and Tier 2 QBs have either a Super Bowl ring, MVP, Super Bowl MVP or some combination of all three of those. Philip Rivers has nine kids, ranging from 17-year-old Halle to little baby Anna.
Though his lengthy career is not full of accolades, you know what you're going to get from Rivers. Since taking over as the Chargers' starter in 2006, his spread value has never even come into play because he's started every single game. Talk about reliable.
Last year was one of his better campaigns and he nearly led the Chargers to a division title thanks to a miraculous comeback vs. the Chiefs in Kansas City.
It's possible Rivers might be worth slightly less than five points if he were to miss a game, as Tyrod Taylor is a solid backup option. However, the two quarterbacks play wildly different styles and we may never know just how well Taylor would fit in their system due to Rivers' durability.
Tier 3 (4 Points)
Andrew Luck
Career ATS Record: 49-34-3 (59.0%)
Backup QB: Jacoby Brissett
2018 Tier: 3
When Colts fans realize just how much worse they're going to be this year …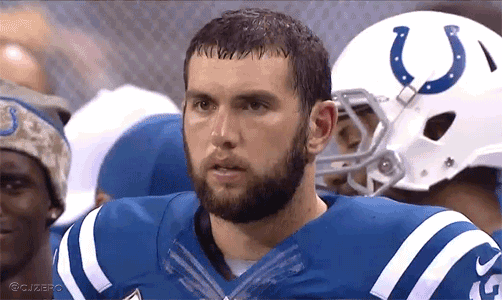 Jared Goff
Career ATS Record: 16-21-1 (43.2%)
Backup QB: Blake Bortles
2018 Tier: 3
Jared Goff looked pretty terrible during his rookie season, but has since made big strides in his two full seasons as full-time starter. The only problem is that he was not good at all during the playoffs, posting a combined:
59 of 106 (55.7%), 712 yards, 1 TD, 2 INT, 71.7 rating
Perhaps he'd be bumped up a tier if he had performed better when it counted most, but then again he has a strong coach in Sean McVay and good backup in Blake Bortles.
Matthew Stafford
Career ATS Record: 63-74-4 (46.0%)
Backup QB: Josh Johnson
2018 Tier: 3
Like Phillip Rivers, we have never truly been able to see what Matthew Stafford is worth to the spread, as he's started every game since 2011. Stafford being placed in Tier 3 is one of my personal head-scratchers, but it's relatively impossible for there to be a list like this that everyone agrees on.
The Lions struggled under Matt Patricia last year and Stafford's play did, too. After a few straight strong seasons, he posted poor numbers across the board in most major stats. We'll see if he can bounce back in Patricia's second year at the helm.
Tier 4 (3 Points)
Dak Prescott
Career ATS Record: 27-19-2 (58.7%)
Backup QB: Cooper Rush
2018 Tier: 4
Is Dak Prescott worth $40 million a year? According to Bernanke, the answer is a resounding no. "Great defense, great O line — another QB can be serviceable and at least be within 3 points of him (probably the reason JJ is lowballing him with his contract)."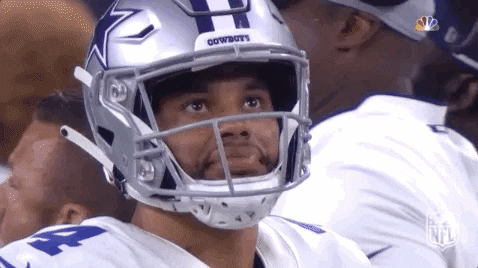 As you can see, Prescott's career cover rate is excellent, but then again, it's tough to attribute all of that success to him. We'll see if that regresses a bit in 2019, a season that Bernanke believes could result in Dak falling down a tier.
Kirk Cousins
Career ATS Record: 38-34-1 (52.8%)
Backup QB: Sean Mannion
2018 Tier: 4
The Vikings had high hopes in their first season of the Kirk Cousins era, but missing the playoffs was not the result they'd hoped for. Cousins was solid, but scoring 10 or fewer points in three of their final five games with weapons like Stefon Diggs and Adam Thielen is unacceptable.
Considering their backup is Sean Mannion, I think it's fair to say the Vikings would be screwed if Cousins gets hurt. If they can prevail out of a tough NFC North division and Cousins puts together a strong season, I think we could find him a tier or two higher next year.
Deshaun Watson
Career ATS Record: 12-9-1 (57.1%)
Backup QB: AJ McCarron
2018 Tier: 4/5
Though he's expected to be a fantasy stud, Watson is not yet a "spread stud." It's not really his fault, either, as Bernanke believes he is not properly utilized, saying "Watson I feel is not given the best chance to succeed by Bill O'Brien, who is archaic with his use of him. I would consider moving Watson up with better play calling but the Texans are just too predictable."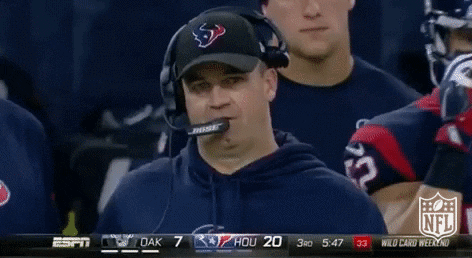 Shots fired.
Perhaps with Laremy Tunsil protecting him Watson, who has been known to hold onto the ball for a wee bit too long, will be able to flourish in his third season.
Baker Mayfield
Career ATS Record: 7-6 (53.8%)
Backup QB: Drew Stanton
2018 Tier: N/A
All the folks who have already hopped on the Browns bandwagon are probably upset to see Baker down here, but let's not get ahead of ourselves. He looked good in his rookie season, especially towards the end, but you don't go from being worth nothing to being worth six points in a 13 game span.
Bernanke does believe Mayfield is capable of making another jump this year, but he will need to live up to the high expectations set by the public. When you acquire Odell Beckham Jr., you can't just have a so-so sophomore season. The bar is set high, Baker. Don't screw it up.
Nick Foles
Career ATS Record: 21-23 (47.7%)
Backup QB: Gardner Minshew
2018 Tier: N/A
So … is Super Bowl MVP Nick Foles the real deal or is he just a product of the Eagles' system? This is probably the year we will find out and possibly the year Nick Foles has his first 16-game season.
On one hand, you see his Super Bowl victory and other strong games with the Eagles over the past couple of years and think, "Hey, the Jags could be pretty damn good with Foles." On the other hand, you realize that we're talking about a guy who's nearly 31 and has essentially been a lifelong backup. Just how good can he possibly be?
Bernanke slots him in Tier 4 for now, but lists him as a guy who he could see falling down the ranks this year. Jacksonville isn't exactly a place where a new QB would excel and I don't think tons of people expect him to, but his status on this list will suffer if he goes in and puts up Bortles-esque numbers.
Mitch Trubisky
Career ATS Record: 17-8-1 (68%)
Backup QB: Chase Daniel
2018 Tier: 6
At an insane 17-8-1 ATS, young Trubisky is a covering prodigy. He's not among the league's best true passers, but took a big step forward last year in that department. Solid passing plus very good scrambling abilities equals great potential, which is what Trubisky has. He made the move from Tier 6 to Tier 4 over the past year and Bernanke thinks he has the chance to move up again with a strong 2019 season.
Jimmy Garoppolo
Career ATS Record: 6-4 (60%)
Backup QB: Nick Mullens / C.J. Beathard
2018 Tier: 2
Jimmy G had high hopes in his first full year with the 49ers. He had been Tom Brady's Padawan learner and looked legit in his 2017 San Fran debut — winning all five starts. The hopes were so high, in fact, that even Bernanke pegged him as a Tier 2 QB despite his inexperience.
However, we all know what happened last year. Now, San Francisco has a QB with 10 career starts coming off a torn ACL who turns 28 in November. Could he be great? Absolutely, but there's still plenty left unknown about him.
Sam Darnold
Career ATS Record: 4-8-1 (33.3%)
Backup QB: Trevor Siemian
2018 Tier: N/A
The last Tier 4 QB is one whose inclusion among these names surprised me. Sam Darnold struggled in his rookie season in essentially all facets, going 4-9 straight up, 4-8-1 ATS and posting poor stats.
Bernanke is high on the young gun, though. He thinks Darnold has the potential to make a major jump this year, citing the Jets' QB-friendly coaches that they've brought in.
I'm still slightly skeptical of Darnold's ability to move the line three points for now, at least, but could see his value being this high if he starts the season strong.
Tier 5 (2 Points)
JOE FLACCO
MARCUS MARIOTA
DEREK CARR
CAM NEWTON
JOSH ALLEN
KYLER MURRAY
LAMAR JACKSON
JAMEIS WINSTON
Tier 5 contains a ragtag bunch of quarterbacks, ranging from former MVPs in Cam Newton to the top overall pick this past year in Kyler Murray.
Let's start off by talking about Newton, whose stock has fallen quite a ways since February 6th, 2016. He hasn't been the same MVP-caliber QB since 2015, but I think he's better than what we saw towards the end of last year — when he was dealing with a troublesome shoulder injury. Bernanke did say it's possible he moves back up the list with improved play early in the year, saying he'll be taking a "wait and see" approach.
Meanwhile, Mr. Number One, Kyler Murray, has the potential to make a major jump in Bernanke's eyes. He thinks Murray is one of just a few QBs who is capable of excelling in Kliff Kingsbury's system, which benefits his value in two ways. The first is the more obvious, in that Murray could put up some monster numbers and help the Cardinals to an overachieving season. The second is that Murray's backup, who happens to be Brett Hundley at the moment, may not be able to succeed whatsoever in Kingsbury's system, making Murray that much more valuable.
This tier also contains one fella Bernanke pegs as a 2019 riser and another who he believes may drop.
The  potential riser? Jameis Winston, who is getting to the point of his career where he kind of needs to make a jump if he's ever going to live up to expectations. Heck, he was outplayed by Ryan Fitzpatrick last year — generally not a great sign.
The potential faller? Marcus Mariota, who now has a backup QB in Ryan Tannehill that some probably believe is better than Mariota himself. At just 23-30-2 ATS, Mariota has one of the worst records against the spread among quarterbacks with at least 50 starts.
Tier 6 (1+ Points)
RYAN FITZPATRICK
ANDY DALTON
JACOBY BRISSETT
Hey wait a minute, doesn't Andy Dalton have one of the best ATS records of all time? What's he doing all the way down here?
Well, Andy and his Bengals have had a few straight subpar seasons. Last year's campaign ended early for Dalton, who missed the final five games with a thumb injury. When asked which quarterback Bernanke was the most undecided about, though, the answer was Dalton. With Zac Taylor, Jared Goff's former QB coach, taking over as Cincy's skipper, Dalton should see some improvement.
Hey Colts fans, take a look at that! From one of the best QB situations to one of the worst just like that. What a shame. Bernanke technically told me Brissett would be worth a point, "if that," before the Colts signed Brian Hoyer so it's possible Brissett is leaning more towards Tier 7 than Tier 6 at this point.
Meanwhile in Miami, Bernanke believes Fitzpatrick is still a full point more valuable than Josh Rosen, whose career path has taken an unfortunate turn.
Tier 7 (<1 Point)
Oh boy …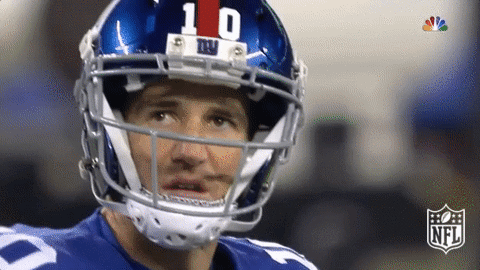 Bernanke believes Manning is worth literally nothing at this point, saying Daniel Jones may already be better than him. Manning did look a bit better last year than he did in the previous two seasons, but he may soon be handing the keys to the car over to Jones.
How would you rate this article?
This site contains commercial content. We may be compensated for the links provided on this page. The content on this page is for informational purposes only. Action Network makes no representation or warranty as to the accuracy of the information given or the outcome of any game or event.