2018-19 Premier League Betting Update: Title, Trends and Relegation
Credit:
Getty Images. Pictured: Man City's Leroy Sane taking a shot against Liverpool
The 2018-19 Premier League season has completed 21 of 38 weeks and futures have been on the move.
Liverpool (-125) are now odds-on favorites to win the EPL title but Man City (+125) are right on their heels.
We break down all the title odds, relegation chances, season trends and more.
We're more than halftway through the 2018-19 Premier League season, so let's re-group and take a look at updated futures and trends.
League Standings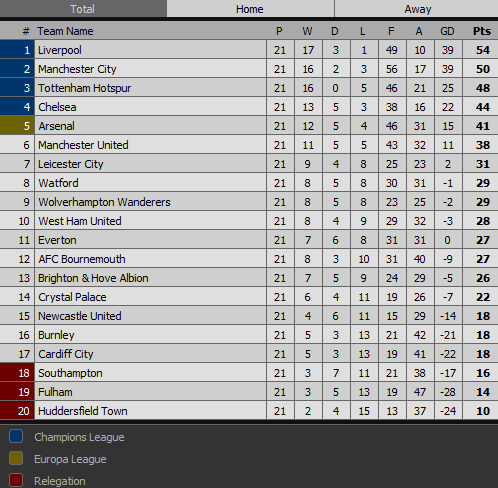 Liverpool holds a four-point lead over Manchester City after 21 games. The two title contenders don't play each other again after City's 2-1 victory last week. Tottenham are six points off the pace and still have a game against both Liverpool and City.
Title Odds
Manchester City were massive -350 favorites in mid-November, but a couple shock losses in December made the title race very interesting.
Liverpool were +400 in the preseason and +425 in November, but are now the odds-on favorites (-125) to win the title.
Liverpool did reach as high as -175 before losing at Manchester City, 2-1, on January 3rd. That loss dropped Liverpool's odds from -175 to -125 as they could have gone 10 points clear at the top of the league table.
I grabbed Man City (+175) to win the league at their highest odds, and will consider betting Liverpool if they happen to be plus-money again.
Relegation Odds
Huddersfield (-1200) are nearly a lock to be relegated as they're eight points away from the safety zone.
Fulham are four points from safety, although oddsmakers feel a lot better about their chances to stay in the EPL.
Burnley (-130) and Cardiff (-125) have >50% chance of being relegated, but both are currently safe in the standings. I have a preseason wager on Burnley (+400), so I'll be rooting for Cardiff the remainder of the season.
Season Trends
Road teams have been hot since the beginning of December and are now +7.58 units on the season.
Betting on every draw has resulted in a loss of 51.73 units.
Home teams have won 93 of 210 matches for -9.64 units overall.
In 2017-18, home teams earned +12 units while road teams were historically bad (-60 units).
Most/Least Profitable Clubs
Leicester City +18.12 units
Crystal Palace +11.84 units
Tottenham +8.6 units
Fulham -13.89 units
Huddersfield -11.15 units
Southampton -10.50 units
Leicester City and Crystal Palace have both picked up multiple victories as big underdogs to skew these results.
Tottenham are almost always favored so their units earned will naturally be smaller.
Fulham, Huddersfield and Southampton have combined to lose bettors more than 35 units on the season (8 wins in 63 matches).