Chelsea vs. Manchester City Champions League Tactical Preview: Man City's Defense The Difference
Credit:
Dave Thompson – Pool/Getty Images. Pictured: Manager Pep Guardiola of Manchester City.
Manchester City is a big favorite over Chelsea in the 2021 UEFA Champions League final.
Below we break down how Man City got here, and how the Cityzens defense has been the difference this season, which is new under Pep Guardiola.
After more than a decade of being one of the world's richest soccer clubs, Manchester City has finally reached the Champions League final.
After years of a dynamic, possession-based game under manager Pep Guardiola, Manchester City has changed things up a bit this season. The Cityzens have become a defensive powerhouse, which is the primary reason for their success en route to winning the Premier League and Carabao Cup.
Manchester City faces another defensive stalwart in Saturday's title match at Estádio do Dragão in Portugal. League rival Chelsea has been rejuvenated defensively under manager Thomas Tuchel, who took over for Frank Lampard in January.
I'll break down a few things for bettors here, including how Manchester City is different, what the club looks like going forward and how it defends.
New Year, New City: How They'll Line Up
Offense: Guardiola's Vast Changes Led To Success
After losing out to Liverpool last season in the Premier League, Guardiola clearly felt like something had to change.
Guardiola opted for a new approach, with the focus shifting to defense for the current campaign. The thought coming in for Manchester City was that the center-back pairing of the left-footed Aymeric Laporte and new signing Ruben Dias would play the majority of games.
The left-footed Nathan Ake was also signed, likely due to Laporte's extensive injury history, and promising Eric Garcia finished last season filling a prominent role.
No one saw the re-emergence of John Stones coming, though. He played a key role in the England team that made a semifinal run in the 2018 World Cup, but quickly lost confidence after that tournament and fell out of Guardiola's favor. No one ever doubted Stones' physical tools, which were evident from his early days at Everton. His consistency was lacking, though.
Injuries gave Stones a chance early in the season and he took it. He has filled the right-center-back role very well, while Dias has slid into the left-sided role. Dias has been a dominant force — and best player in England's top flight this season — while Stones has given England's Gareth Southgate something to think about.
The fullbacks offer something different. Right back Kyle Walker has more pace to get at a team's left side, while Oleksandr Zinchenko on the left is a midfielder-turned-fullback who's more comfortable in possession and looking for a pass than on the dribble.
As for Manchester City's midfield and attack, it's different this season. There is unlikely to be a target man with Sergio Aguero and Gabriel Jesus likely starting on the bench.
Expect Manchester City's midfield to be made up of Rodri as the holding player in front of the defense, with Kevin De Bruyne and İlkay Gündoğan on either side of him as the box-to-box players. The front three will likely see Phil Foden on the left, Riyad Mahrez out right and Bernardo Silva filling a "false nine" role.
This is an idea of how the Cityzens will attack, although Gündoğan is the most advanced player in the middle of this image below. Foden is out of picture, tucked in tight on the left touchline.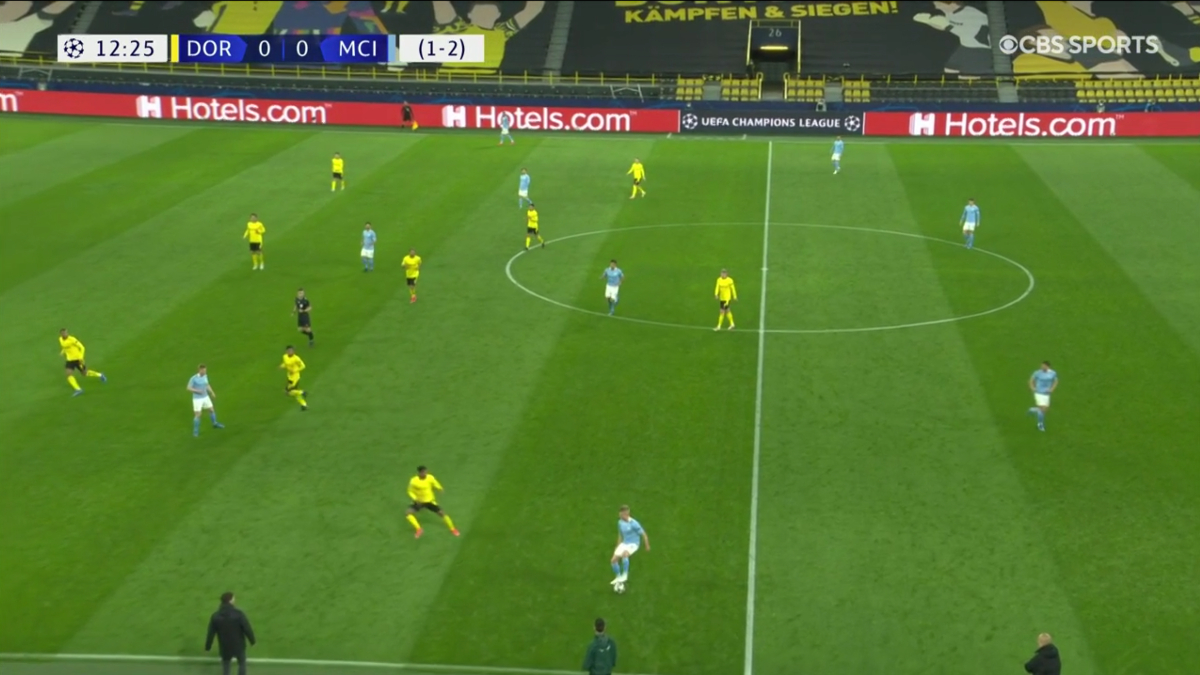 Silva will barely be the most advanced player in the middle of the field. Instead of playing like a normal center forward or target man, he'll be deeper and more in between De Bruyne and Gündoğan, pretty much at the same level of attack.
The Guardiola philosophy is to stretch the field as much as possible by keeping the wingers as wide as they can be until the ball reaches the final third. Then the goal is to get in the best possible scoring positions. Foden and Mahrez will have Zinchenko and Walker overlapping them early and often, so a lack of width won't be a concern. Expect both Manchester City wingers to be crashing the box once the ball is within 30 yards of goal.
Gündoğan was the Cityzens' leading scorer in the Premier League this season, because while De Bruyne got on the ball and dictated where it went in attack, the German was picking his spots when to break into the penalty area.
This Gündoğan goal against Southampton is an example of how Manchester City will attack, with De Bruyne dictating play, wingers cutting in and Gündoğan finding room in the box to get into a scoring position as seen below:
Rodri's role as a defensive midfielder gives Gündoğan and De Bruyne license to go forward. He, along with the two center backs, rarely enter into the Manchester City attack. The trio is athletic, talented and organized, making it difficult for teams to hit them on the counter.
About that…
Defense: Stellar Back Line Susceptible to Counterattack
Manchester City might have blown out Everton on the final day of the Premier League season in a 5-0 rout, but a penalty it conceded could give Chelsea hope that its attacking plan will work in the final.
The Cityzens dominated the game. Before Everton had a chance to breath, it was 2-0 in the less than 14 minutes. In the 35th minute, Zinchenko played an errant pass toward the Manchester City defense that went between Stones and Dias right into Richarlson's path, as seen below.
Manchester City was caught out because as the ball progresses, its defense moves up the field. The Cityzens apply attacking pressure not just by getting the ball into dangerous positions, but by playing a high defensive line.
Teams who can counter quickly could potentially get at Manchester City. One of those clubs able to do just that is Chelsea.
We know who two of Chelsea's attacking three will be for the final: Mason Mount and Timo Werner. Mount is the playmaker, while Werner provides the pace. Expect the Blues to look for Werner quickly after winning possession early and often.
The third player is up in the air. Christian Pulisic would make sense, but a more technical option — either Kai Havertz or Hakim Ziyech — could make sense in helping the Blues keep the ball a bit more in a match the Cityzens should have the majority of it.
When Chelsea does maintain possession and play out of its defense, Manchester City could use its tactical flexibility to defend out of a 4-4-2 formation, as it did against Paris Saint-Germain, with De Bruyne joining Bernardo as the front two, and Rodri and Gündoğan occupying the center-midfield roles.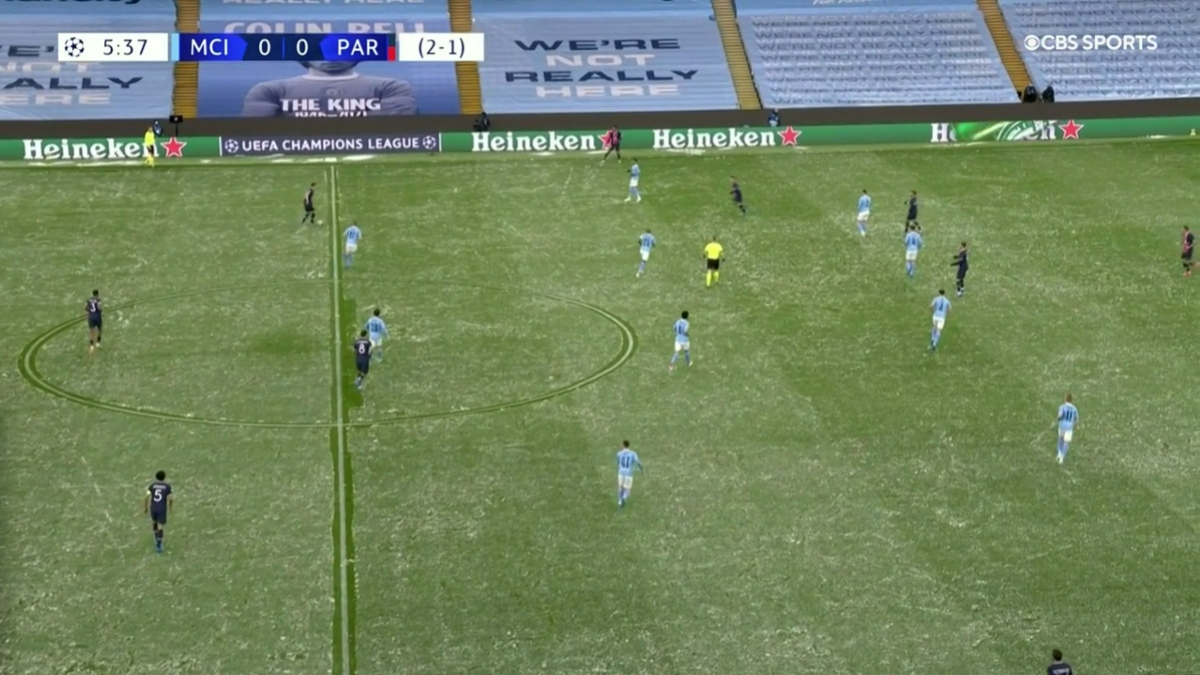 Keys to the Match
Obviously, not conceding an early goal is very important, although Manchester City is better equipped to handle that happening than Chelsea.
The Blues have shown little ability to play from behind this season, aside from a 2-1 win over the Cityzens earlier this month that saw the losing side play a totally different formation and personnel group than it will in the final.
Also, defending the Chelsea counter will be crucial. It was a break that saw the Blues score the only goal in a 1-0 win over the Cityzens in an FA Cup semifinal in April, and Guardiola will no doubt be sure his team is prepared to avoid that happening again.
How would you rate this article?
This site contains commercial content. We may be compensated for the links provided on this page. The content on this page is for informational purposes only. Action Network makes no representation or warranty as to the accuracy of the information given or the outcome of any game or event.