2017-18 Premier League Relegation Watch
As the Premier League heads into the final third of the season, nearly half of the clubs are in serious danger of being relegated. With 12 matches remaining on each team's schedule, nine of the 20 teams are within just THREE points of the relegation zone. To expand it a little more, 12 of the 20 teams are within just seven points. That means both Everton and Bournemouth still find themselves in trouble despite being in the top half of the league table.
For anyone unfamiliar with the relegation process, the three clubs with the fewest points will be demoted from the Premier League and placed into the league below, the English Championship. The three best teams from the Championship division will then be promoted into the Premier League next season. The new clubs that entered the Premier League before this season were Huddersfield, Newcastle and Brighton.
Here's a look at where each team stands, their current relegation odds, and their preseason relegation odds.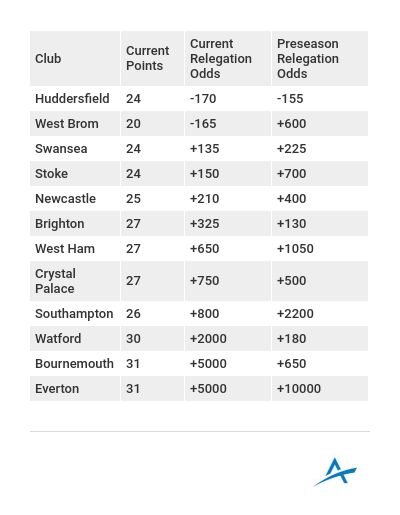 Huddersfield got off to a really quick start this season by beating Crystal Palace and Newcastle in their first two matches. However, they've dropped five consecutive league matches and have earned only three points since December 16th. They were the biggest favorites to be relegated before the season at -155, and they're still the biggest favorites at -170.
West Brom are rock bottom of the league with just 20 points, five away from safety. They've drawn 11 times this season, tied for most in the league, and have just three victories, the fewest in the league. They actually do have some decent results this month including a win over Brighton and draws against both Everton and Arsenal, but they haven't been able to keep pace with everyone else. Before the season they were +600 to be relegated, but are now one of the odds-on favorites at -135.
Before the season, I pegged Swansea at +220 to be relegated from the Premier League and things were looking great until January rolled around. Then Swansea pulled off huge upset wins over Liverpool and Arsenal in the same week, and came back to draw against Leicester City in their most recent outing. Despite still being stuck in the relegation zone, they're up to 24 points with momentum going forward.
Stoke City were +700 longshots before the season to be relegated but they haven't been able to put back-to-back wins yet this season, and now sit at +150.
The next two matches for each club…
Rather than delve into the entire remaining schedule for each club, let's focus on the next two matches since there are odds available. Below shows the current moneylines from Pinnacle:
Huddersfield
+230 vs. Bournemouth
+421 at West Brom
West Brom
+805 at Chelsea
-115 vs. Huddersfield
Swansea
+150 vs. Burnley
+297 at Brighton
Stoke
+120 vs. Brighton
+393 at Leicester City
Newcastle
+480 vs. Manchester United
+284 at Bournemouth
Southampton
+383 vs. Liverpool
+199 at Burnley
Crystal Palace
+275 at Everton
+533 vs. Tottenham
Brighton
+285 at Stoke City
+120 vs. Swansea
West Ham
+153 vs. Watford
+1195 at Liverpool
Watford
+207 at West Ham
+139 vs. Everton
Everton
+124 vs. Crystal Palace
+231 at Everton
Bournemouth
+146 at Huddersfield
+110 vs. Newcastle
Swansea, Brighton, Watford, Everton and Bournemouth all have favorable matches to finish February. Keep in mind that some are playing each other (Everton/Watford and Swansea/Brighton), so you may be better off betting on those specific matches instead.
Oddly enough, West Brom are the only team that has an upcoming match where they're the odds-on favorite to win (-115 vs. Huddersfield). Too bad for them that they have Chelsea standing in the way prior.
If you think Newcastle will be relegated this season, you may want to grab their odds now at +210. They have a tough match vs. Manchester United coming up, followed by a road game at Bournemouth.
I still feel pretty good about Swansea getting relegated, and will continue to root against them for the rest of the season. Unfortunately it doesn't look like Huddersfield is turning a corner soon, so I'd expect them to be relegated as well. Who will be the third and final team to join them? I'm still high on West Brom and think they'll find a way out of the relegation zone, so my prediction is it'll be either Stoke City or Brighton joining them.