Finding Betting Value in Champions League Round of 16
The 2017-18 Champions League has reached the Round of 16, and there are some incredible matchups including PSG/Real Madrid, Juventus/Tottenham and Barcelona/Chelsea. For those unfamiliar with this tournament, each matchup consists of a home-and-home series with the best goal differential advancing (based on away goals). Odds have been on the move since opening and we've looked into each matchup to pick out where the value lies.
Manchester City vs. Basel
Open: Man City -1400, Basel +925
Current: Man City -1200, Basel +700
Manchester City's unbeaten run in the Premier League recently ended at 22 matches which may take some pressure off the rest of their season across all competitions. They're the biggest favorites to advance to the quarterfinals (-1200) after getting a fortunate opponent of Basel in the Round of 16, and they're the title favorites at +350. It's been an incredible run for Pep Guardiola's squad so far but there's lots of work left. If Man City don't at least get through to the semifinals, this tournament will be considered a failure.
In the opening leg at Basel, Man City are -270 favorites to win, with the draw listed at +400 and Basel at +742. Public betting has been relatively even so far with a good number of tickets taking a shot on Basel's big moneyline payout. If you like Man City to advance, you should probably bet them to win the opening leg at -270 instead. If they happen to draw/lose the opening match, their odds to advance will be much lower than -1200. I do recommend checking to make sure your sportsbook will offer odds before the second leg, as you don't want to be in the position of waiting for lines that will never show up.
Opening Leg on February 13th at Man City: Man City -270, Basel +742, Draw +400
Juventus vs. Tottenham
Open: Juventus -135, Tottenham +115
Current: Juventus -150, Tottenham +125
This is one of the better matchups in the Round of 16, and Juventus are now -150 favorites to advance. When odds first opened I assumed we'd see bets on Tottenham to bring the line down, but it's actually gone the other way with some early sharp money on Juventus. If you like Tottenham to advance, you're better off taking them in the first leg at Juventus or waiting until they play at home. Tottenham are +300 to win at Juventus and +250 to Draw at Juventus, so it's smarter to take one of those options at a higher payout rather than the +125 odds to advance. If Tottenham do indeed lose the opening leg at Juventus, you'll get far better than +125 odds to advance.
The same can be said if you like Juventus to advance. Instead of taking them at -150, you're better off betting them at -104 to win the opening leg. If Juventus happen to lose/draw the first match at home, then you'll get a much better price than -150 to advance.
I really wish I had a solid recommendation for this matchup but I don't. I think both clubs are capable of winning their road match and I'd lean toward taking the underdog after the opening leg.
Opening Leg on February 13th at Juventus: Juventus -104, Tottenham +313, Draw +234
Liverpool vs. Porto
Open: Liverpool -237, Porto +195
Current: Liverpool -250, Porto +200
Liverpool opened -237 to advance and are now up to -250. It's a small line move and one that we expected to see, especially with so many public bettors gravitating toward Liverpool. In the opening leg at Porto, nearly 60% of bettors are taking Liverpool (+131) to win, so they're a trendy underdog I would avoid. I'm considering taking Porto in some capacity for the opening leg and then potentially betting Liverpool at a better price heading into the second leg.
Opening Leg on February 14th at Porto: Porto +206, Liverpool +131, Draw +245
PSG vs. Real Madrid
Open: PSG -130, Real Madrid +110
Current: PSG -125, Real Madrid +105
PSG and Real Madrid unfortunately meet (or fortunately, for some) in the Round of 16, meaning one of the tournament favorites will already be eliminated before the quarterfinals. This is great news for other contenders like Man City, Bayern Munich and Barcelona whose paths automatically become a bit easier. PSG are small favorites to advance despite being +204 to win the opening match at Real Madrid and public bettors are swarming. PSG have received more than 60% of tickets in the opener, something that certainly worries me. At home, Real Madrid (+119) are attracting less than 30% of wagers but that's where I'm putting my money. I also like the fact there's a high total of 3 goals, and you may be able to wait for a better price on Real Madrid with the amount of bettors on PSG so far.
Opening Leg on February 14th at Real Madrid: Real Madrid +119, PSG +204, Draw +278
Barcelona vs. Chelsea
Open: Barcelona -300, Chelsea +240
Current: Barcelona -300, Chelsea +240
Despite a difficult matchup for Barcelona, they have the third-highest odds at to advance at -300. The greatest player ever, Leo Messi, has actually never scored a goal against Chelsea in eight matches (29 total shots). In his career he has more than 500 goals in over 600 appearances, and I'd bet on him scoring at least once against Chelsea over the course of two matches. I haven't seen that prop bet available yet, but would take it if you can find plus-money.
This is oddly the only matchup with no line movement off the opener, but public bettors have been hammering Barcelona in the opening leg at +119 odds. I'd be a little nervous being on the same side as a very trendy road underdog.
Opening Leg on February 20th at Chelsea: Chelsea +232, Barcelona +119, Draw +243
Bayern Munich vs. Besiktas
Open: Bayern Munich -795, Besiktas +500
Current: Bayern Munich -900, Besiktas +550
Bayern Munich's odds to advance have increased from -795 to -900 since opening and they've got the second-best chance to advance (behind only Man City). I don't see Bayern having too much difficulty over the course of two legs, and you could potentially parlay Bayern and Man City to both advance if that's an option for you.
Opening Leg on February 20th at Bayern Munich: Bayern -589, Besiktas +1582, Draw +622
Manchester United vs. Sevilla
Open: Man Utd -275, Sevilla +235
Current: Man Utd -250, Sevilla +190
The opening odds of -275 already seemed too low on Manchester United, and since that time they've been roaring through the Premier League. They've also acquired Alexis Sanchez to boost their offensive attack, yet their odds to advance have dropped to -250. I'm surprised to see the line move this way, especially since Sevilla haven't been great in La Liga over the last six weeks. One thing I'm not surprised about is the amount of support on United in the opening match. More than 80% of tickets are taking them at +141 odds to win on the road. Those numbers frighten me, and I'd steer clear of betting on Manchester United to advance before the opening leg. I'd prefer to bet on Sevilla +0.5 goals in the opening leg, then grabbing a better price on Manchester United to advance heading into the second leg.
Opening Leg on February 21st at Sevilla: Sevilla +208, Man Utd +141, Draw +222
Roma vs. Shaktar Donetsk
Open: Roma -240, Shaktar +200
Current: Roma -220, Shaktar +180
Bettors have liked the Ukrainian Premier League leaders, moving their odds to advance from +200 to +180. They also opened as the slight +175 'favorites' to win the opening leg at home, and that first match will be crucial for them. They've been very difficult to beat at home in European competition in recent years with wins over Napoli and Man City (this season), draws with Bayern Munich, Man United, and Dortmund, and a narrow 4-3 defeat to Real Madrid. Even if you put Roma in that echelon of competition, it's going to be a brutal first game. I'm taking Shaktar Donetsk +165 to take the opening leg.
Opening Leg on February 21st at Shaktar: Shaktar +165, Roma +172, Draw +227
Who will make it to the Champions League Final?
The Premier League has been very impressive in this year's tournament and account for five of the 16 remaining teams. There are no matchups between EPL teams in the Round of 16 which means they could get all five through to the quarterfinals. The odds of that happening are currently 14/1 ($100 to make $1,400). Here's a look at the odds on how many Premier League teams will qualify for each round (via BetOnline):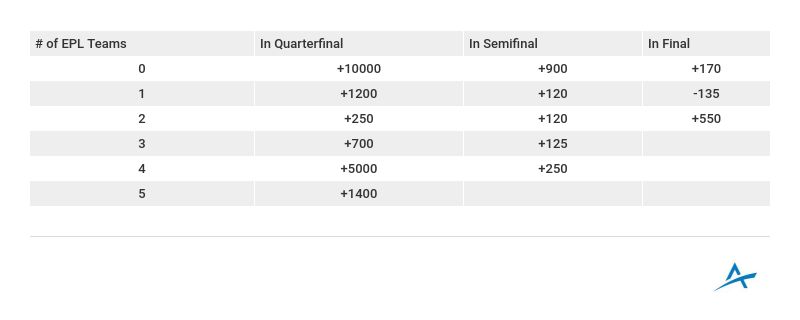 At -135 odds, there's a 57.4% chance that the Premier League gets at least one club into the final. The odds of an all-Premier League final are +550, while the odds of no EPL teams reaching the final are at +170. Each of the five Premier League teams have individual odds of +3000 or better to win the title.
It's incredibly difficult for a longshot to win the Champions League which I personally think makes the tournament better. Fans want to see the best teams progress as far as possible, and there's already a bit of luck and randomness when teams get selected into groups and matchups. To prove that, there are only four remaining clubs with considerably better odds now than before the tournament: Manchester City, PSG, Liverpool and Roma.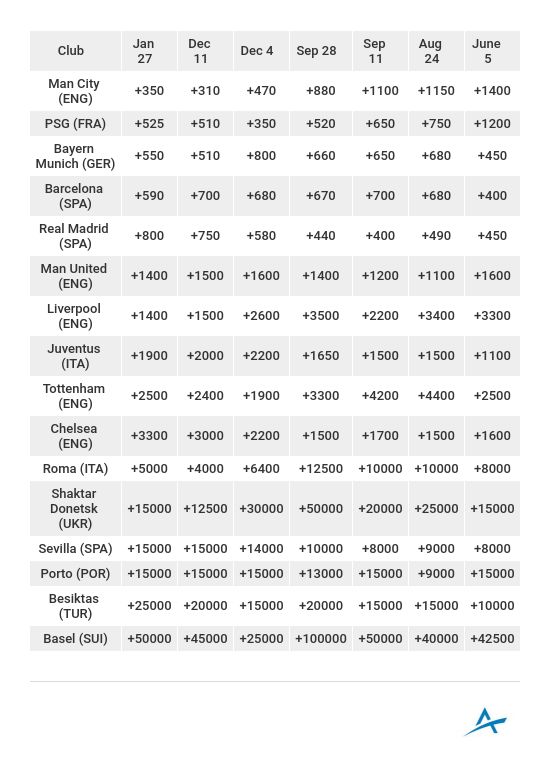 Manchester City were a nice darkhorse pick before the tournament at +1400 and are now the favorites at +350. PSG were available at +1200 over the summer prior to acquiring Neymar, and bettors were in a great position as they rolled through the group stage. But then the Round of 16 matchups were announced and PSG found themselves having to face Real Madrid, which alone moved their title odds from +350 to +525.
For the other 12 teams, odds either got worse or stayed just about the same. The most notable were the two big Spanish clubs of Barcelona and Real Madrid. Barcelona were +400 before the tourney but are now +590, and Real Madrid were +450 but now +800. While those may not look like massive odds changes, they amount to about a 4-7% probability drop for each.
How would you rate this article?