Champions League Soccer Betting Preview: Projected Odds, Totals for Round of 16 Second Leg Matches (March 16-17)
Credit:
Chris Lee – Chelsea FC/Chelsea FC via Getty Images. Pictured: Chelsea manager Thomas Tuchel encourages Jorginho during a match with Everton.
The set of Champions League matches in the Round of 16 takes place this week, featuring a lot of intrigue in two games and not a lot in the other two affairs. Chelsea and Real Madrid will try to hold onto slender advantages, while Bayern Munich and Manchester City look to cruise to the quarterfinal round.
When betting second legs of competitions like the Champions League, it is vitally important to: 1) know the first leg result; and, 2) know what score the teams that are behind need to advance to the quarterfinals. The team with the most goals between the two legs advances to next round and if there is a tie on aggregate, the team that scored more away goals moves on.
For example, Chelsea is up 1-0 on Atlético Madrid. All the Blues need is a draw to advance to the quarterfinals. That means teams who already have a lead are likely to play more defensive than they did in the first leg.
On the flip side of the example, Atlético Madrid has to play very aggressive since they need to make up that one-goal deficit.
Now, without further ado, lets get into the projections.
You can use these projections to identify betting value on the current lines, and follow me in The Action Network App to see any bets I make throughout the week. 
Note: These projections do not take injuries into account. The injury news highlighted below is for players who would regularly be in each team's starting XI.
Tuesday's Matches
Manchester City vs. Borussia Mönchengladbach
Manchester City suffered their first loss in 2021 against their rivals Manchester United a few weeks ago, but that doesn't take away how dominant the Cityzens have been. Since the start of 2021, the Cityzens are 15-0-1 in the Premier League and have outscored their opponents 43-9.
The reason for Manchester City's run is their defensive dominance. Pep Guardiola made a change at both center back positions back in December, putting John Stones and Rúben Dias beside one another.
The two have now played together for 16 matches, combining to allow an absurd 0.62 xG per match. They shut down Gladbach in the first leg, allowing them to create just 0.51 xG. Manchester City's 2-0 win was a well-deserved result (map via Infogol)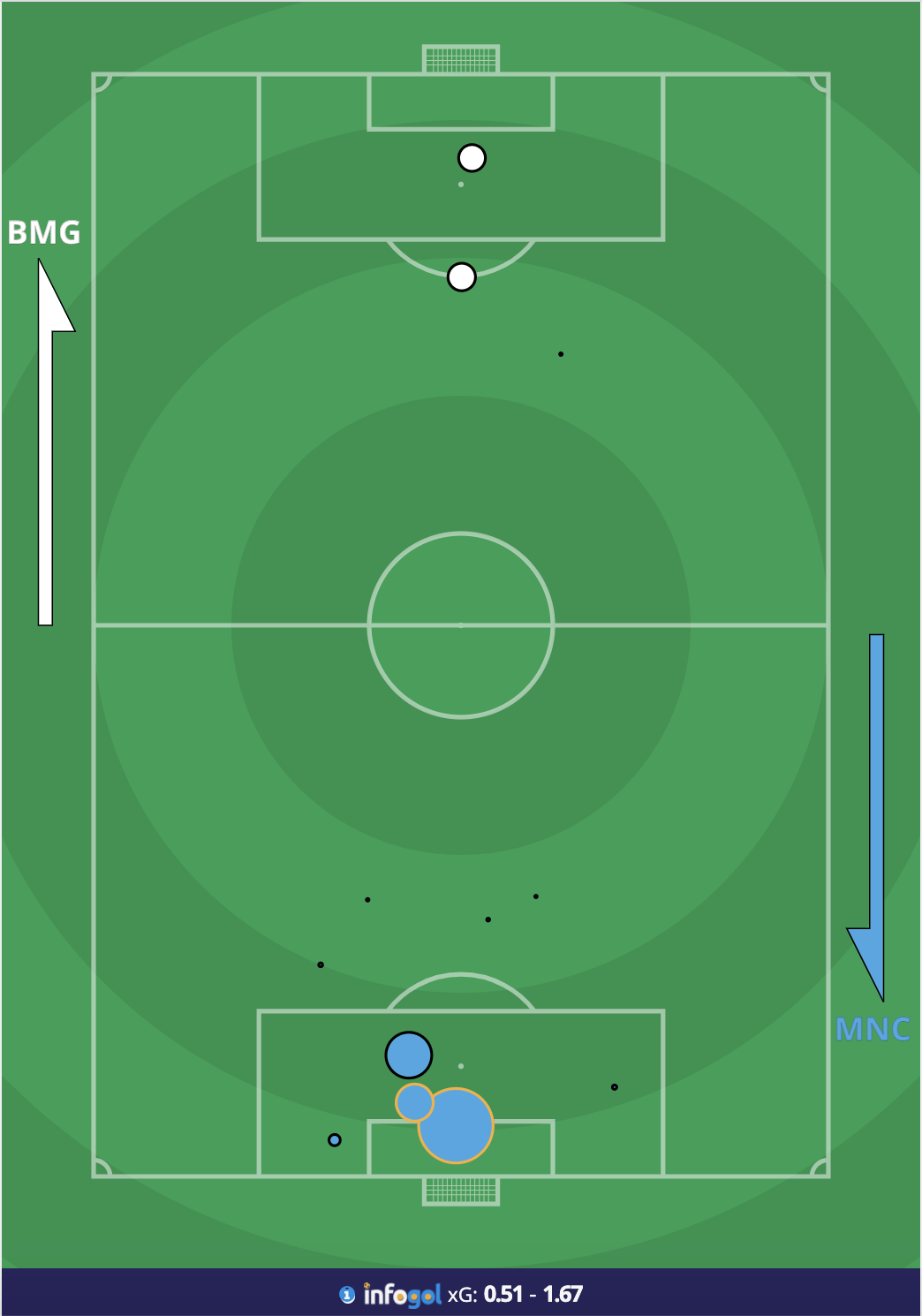 Things have gone from bad to worse for Borussia Mönchengladbach, as they're winless in their last 10 matches in all competitions and have lost their last six matches. They have now dropped all the way down to 10th place in the Bundesliga.
To make matters worse, manager Marco Rose has one foot out the door, having already agreed to manage Borussia Dortmund next season.
The reason they've been struggling this season is because their offense is nowhere close to what it was last season. During the 2019-20 campaign, Gladbach averaged a whopping 2.16 xG per match and were the second-best attack in the Bundesliga behind Bayern.
Now, they're only averaging 1.53 xG per match for the season and 1.02 xG per match over their 10-match winless streak.
Borussia Mönchengladbach will have to do a much better job building up their attack in the second meeting because Manchester City basically spent the entire match in Gladbach's end of the pitch.
Gladbach was only able to muster three shots total, which is not going to get it done against the hottest team on the planet right now.
Note: This match is being played at a neutral site in Budapest due to COVID-19 restrictions.
Injury News
Gladbach: Christoph Kramer (CDM) is out 
Manchester City: None
Real Madrid vs. Atalanta
Real Madrid escaped Italy with a 1-0 win the first leg, but it was not without controversy. In the 23rd minute, Remo Freuler committed a foul outside the box and the referee immediately sent him off, which seemed very harsh.
After the red card, Real Madrid controlled the entire match and finally got the breakthrough goal on this stunner by Ferland Mendy.
Real Madrid has been on a great run in La Liga, winning 12 of their last 17 matches and putting up a +14.22 xGD. Zinedine Zidane's 4-3-3 system has been completely overwhelming teams this season, as Los Blancos are scoring 1.81 xG per 90 minutes and only allowing 1.00 xG per 90 minutes when playing out of that formation.
The good news for Real Madrid is they will have several key players back in the lineup who missed the first leg. Leading goal scorer Karim Benzema and captain Sergio Ramos are healthy enough to play, which makes a huge difference for Los Blancos.
If there is a team that would be able to erase a 1-0 deficit quickly, it would be Atalanta.
Atalanta is known for their explosive offense, which guided them to the quarterfinals in the Champions League last season. This season has been no different, as they are putting up 2.10 xG per match.
Atalanta was only able to create 0.15 xG in the first leg, so I'd expect a much better performance in the second leg.
Injury News
Real Madrid: Marcelo (LB), Dani Carvajal (RB), Eden Hazard (LW), and Casemiro (CM) are out.
Atalanta: Remo Freuler (CB) is out.
Wednesday's Matches
Atlético Madrid vs. Chelsea
Chelsea narrowly escaped with a 1-0 victory in the first leg behind this stunning bicycle kick from Olivier Giroud.
Both teams played very defensive for the entire game, as only a total of 2.03 xG were created in the match and 1.14 of those expected goals came on two shots.
Atlético Madrid is going to be in a difficult position going into the second leg because they're going to have to come out of their ultra-defensive 4-4-2 and try to erase the one-goal disadvantage.
You saw it a lot in this match, but Atlético keeps eight players behind the ball to create a defensive wall that works in unison to deny the opposing team space to play through the center or between the lines. This forces opponents to play through the wide areas to access the penalty area. Take a look at how they were lining up for most of the game:
Offensively, Atlético is somewhat struggling in La Liga over the past month, as they've only created 11.57 xG over their last eight matches. It will be interesting to see how Diego Simeone lines his team up tactically while needing an equalizer, because Chelsea under Thomas Tuchel are almost impossible to score on.
Chelsea is allowing only 0.44 xG per match under Tuchel, which is an insanely low number considering they've played Liverpool, Manchester United, Tottenham, and Everton since he took over.
Tactically, Tuchel changed the system to a 3-4-2-1 from the 4-3-3 used by former manager Frank Lampard, which has allowed Chelsea to be more unpredictable.
The main objective of the 3-4-2-1 and 4-3-3 is to overwhelm opposing defenses by outnumbering them on the counter attack. The proof is in the numbers, too, as Chelsea is averaging 1.75 xGF per match and only allowing 0.41 xG per match when playing out of the 3-4-2-1.
However, the 3-4-2-1 allows you to very easily transition into a number of different formations based on how the match is going. That has allowed Chelsea to dominate possession and confuse their opponents throughout a match. This will allow Chelsea to easily adapt to whatever Atlético throws at them tactically.
Injury News
Chelsea: Mason Mount (CAM), Jorginho (CM), Thiago Silva (CB), and Tammy Abraham (ST) are out.
Atletico Madrid: None
Bayern Munich vs. Lazio
Bayern Munich came into the first leg banged up as they were missing Thomas Müller, Serge Gnarby and Benjamin Pavard. However, it didn't matter because the defending champs destroyed Lazio in every aspect of the game on their way to a 4-1 victory.
Bayern Munich has been on cruise control since beating Lazio, winning three straight matches, including a 4-2 come-from-behind win over Dortmund. The Bundesliga champions likely won't play too aggressive in this match since all they need is to lose by two goals to move on.
So, of all the Champions League matches this week, this is the one that has the least intrigue.
Lazio doesn't have much hope heading to Germany on Wednesday because trying to erase a three-goal deficit on the road against a team like Bayern Munich is pretty much impossible.
Lazio has struggled versus a lot of the top teams in Italy this season, as they've gone 1-2-4 versus the current top four. The underlying metrics for Lazio also show a team destined for a mid-table finish in Serie A because they only have a +3.33 xGD for the season.
Lazio typically plays out of 3-5-2, which can be a dream come true for most managers because it allows teams to put two strikers on the field while still fielding three central midfielders who can outnumber or match the opponents, and getting width from two wingbacks.
However, Lazio hasn't had much success playing the 3-5-2 this season with a +4.13 xGD in over 2,000 minutes playing out of the formation.
Injury News
Bayern Munich: David Alaba (LB) is questionable. Douglas Costa (LW) is out.
Lazio: Luiz Felipe (CB) is questionable. Manuel Lazzari (RM) is out.
How would you rate this article?
This site contains commercial content. We may be compensated for the links provided on this page. The content on this page is for informational purposes only. Action Network makes no representation or warranty as to the accuracy of the information given or the outcome of any game or event.