European Betting Soccer Preview: Positive & Negative Regression Clubs for 2022-2023 Season
Credit:
James Williamson – AMA/Getty Images. Pictured: Brentford standouts Ivan Toney, left, and Frank Onyeka.
The European club soccer season begins this week for most featured leagues, which means it's time to dissect the data from last season and overreact about the transfers surrounding each squad.
If you're new to The Action Network soccer coverage, you probably see us mention advanced metrics ad nauseam, like expected goals and expected points. There's a reason we use them as often as we do since the xG metric is the best when telling how well a team "should" be playing.
Here are the textbook definitions of Expected Goals and Expected Points:
Expected Goals (or xG) measures the quality of a chance by calculating the likelihood it will be scored from a particular position on the pitch during a particular phase of play. This value is based on several factors from before the shot was taken. Expected goals is measured on a scale between zero and one, where zero represents a chance that is impossible to score and one represents a chance a player would be expected to score every single time.
Expected Points (or xP) is similar to xG attempts to put context on how likely certain events are to happen based on the quality of the chances created. Expected points takes xG and moves to the next level from goals scored to look at how the results of the match would play out in the long run.
Based on numerous studies, including this one from American Soccer Analysis, expected goal differential and xP are still the best metrics to predict future success. Using both xG and xP not only gives us which team should have won a certain match based on the number and quality of chances created, but it can also help us determine how many spots higher or lower in the table a certain club should have finished.
What I've done is gone through understat.com, fbref.com and infogol.net to find the clubs in the Europe's top five leagues due for the largest positive or negative regression heading into this season, with the transfers in and out during the summer being incorporated into my projections.
Premier League
Postitive Regression Club
Brentford 
Last season, Brentford finished with 56 xP and 46 actual points, which was the third biggest discrepancy behind only Crystal Palace and Watford. The Bees' 56 xP were the seventh-best mark in the Premier League, plus they finished better than Manchester United, West Ham United and Leicester City.
Brentford had a -8 actual goal differential and -1.3 xGDiff as well. Now, in terms of transfer activity, the club did lose a key piece in Christian Eriksen, which it signed in the second half of the season. Now, the new Manchester United man obviously improved the Bees, but not by as much as I expected:
We also have to account the fact Brentford went through a large stretch in the middle of last season where starting goalkeeper David Raya was injured, along with Ivan Toney and Sergi Canos.
So, given the fact the side has kept its main core together, added young talent and is due to positively regress based xGDiff and xP means it will be a team I'm buying in on to begin the season.
Notable Transfers In
Keane Lewis-Potter (age 21) — Left Winger from Hull City for $19 million 
Brentford has made some moves in the transfer market, which I believe are going to have a positive effect on its squad.
The Bees brought in Keane Lewis-Potter, who was the top goal scorer at Hull City last season and most importantly a left winger. He will work perfectly alongside Toney and Bryan Mbuemo. Lewis-Potter scored 12 goals off 12.6 xG for the 19th-place Tigers and should be a better option than Yoane Wissa.
Aaron Hickey (age 20) — Left back from Bologna for $16.5 million
Brentford also acquired highly touted Scottish left back Aaron Hickey, who I assume manager Thomas Frank will try playing at right back considering he's almost a carbon copy of current left back Rico Henry. 
Hickey is a fantastic goal-scoring threat from the wing back position — he recorded five goals for Serie A side Bologna — but is still pretty raw on the defensive part of the pitch. However, there is a load of potential there.
Negative Regression Club
Wolves
Wolverhampton was one of the biggest over-performers in EPL history since it started tracking xG during the 2014-15 season. Wolves finished the season in 10th place on 51 points, plus it had a -5 actual goal differential. However, they had a -24.4 xGDiff and 40.54 xP, so they should have finished in 17th place. That was right above the relegation zone.
The club's success was mainly due to its defense, which conceded 43 goals off 60.9 xG overall. There are a couple reasons why that happened, though. Manager Bruno Lage's side played ultra compact, but allowed 7.53 shots per 90 minutes from inside its own penalty area. That was fourth most in the English top flight, per whoscored.com.

*(Graphic via understat.com)
Additionally, goalkeeper José Sá drastically over-performed, racking up a +9.6 post shot xG +/-, which lead the Premier League (per fbref.com) overall. Going back the past few years, Łukasz Fabiański had a +11.4 PSxG +/- in the 2018-19 season, but his stat dropped to -1.7  the next season. Martin Dubrevka was at +10 in the 2019-20 campaign, but his fell to +1.8 next season. So, he might statistically regress toward the number of post-shot xG they allowed.
Now, for the Wolverhampton attack, nobody averaged over 0.25 xG per 90 minutes from Jan. 1 and beyond. The side was 19th out of 20 teams in xG (0.95 per 90 minutes) and only accumulated more than 1 xG six times in 20 matches.
Wolves get a healthy Pedro Neto back to go along with Adama Traoré, who returns from his Barcelona loan, so you can make an argument the attack should improve. However, given the outfit's defensive regression, it's destined for a likely relegation battle.
Bundesliga
Positive Regression Club
Vfb Stuttgart
It took a miracle on the final day of the season for VfB Stuttgart to avoid relegation and, boy, did it pull off the miracle in the German first division.
The side's defense ran incredibly cold, giving up 59 goals on 51.5 xG overall. The main reason for that was because Florida Muller, the main goalkeeper, was quite terrible after posted a -10.2 post xG +/-, which was by far the worst mark in the Bundesliga.
In the previous season before last campaign's debacle, Mueller had a +3.1 PSxG +/- with Freiburg, so he's clearly not as bad as he showed.
Offensively, VfB Stuttgart slightly under-performed, but its biggest problem was it was without its best striker, Sasa Kalajdzic, for a large stretch of the season. The on/off splits for Kalajdzic show just how vital he is to Stuttgart if he can play a full season instead of just 15 matches.
So, if the talisman can play a full season and the defense gets some of the positive regression it's due for, Stuttgart is going to fly up the table.
Notable Transfers In
Konstantinos Mavropanos (age 24) — Loan move from Arsenal/made permanent for $3 million
One of the best pieces of business that Stuttgart did this summer is making Konstantinos Mavropanos a permanent signing. Last season in the Bundesliga, he was third in tackles plus interceptions, first in blocked shots and eighth in clearances, while only making one defensive error, per fbref.com.
Not only that, but he's a big-time, goal-scoring threat on corner kicks.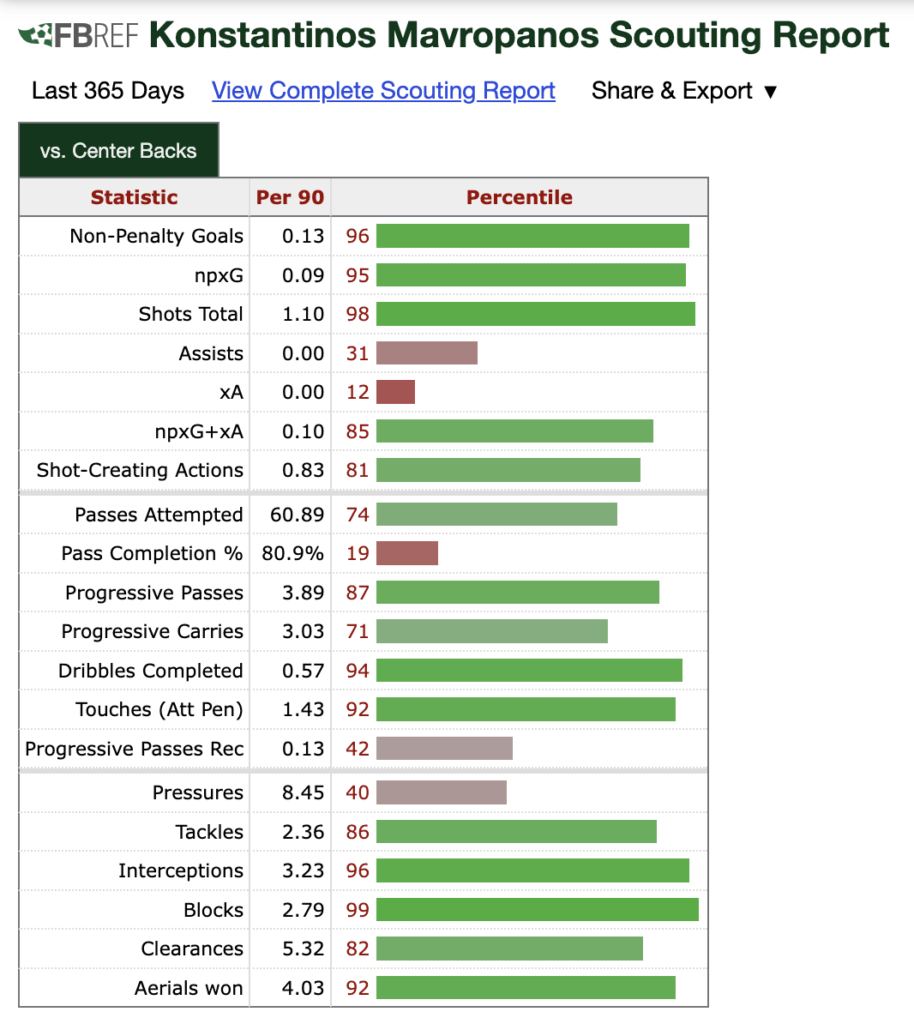 *(Graphic via fbref.com)
That said, if Stuttgart makes its way into the top half of the table, he will be a big reason why that happens.
Negative Regression Club
Freiburg
I'll be honest. There are too many glaring negative-regression teams in the Bundesliga, but if I had to pick one it would be Freiburg. It's a team heavily reliant on set pieces, leading the Bundesliga with 20 goals and 19.19 xG off them a season ago.
While that's great, set pieces aren't a consistent shot you are going to get throughout a match. Freiburg only averaged 0.95 xG per game from open play, which was 14th in the German top flight.
The club is losing Nico Schlotterbeck, its best defender, to Borussia Dortmund and replaced him with Matthias Ginter, who had by far his worst season as a pro for Borussia Mönchengladbach last season. Additionally, Freiburg was 11th in big scoring chances allowed, so I don't expect those issues to be fixed with Schlotterbeck having left the club.
Notable Transfers In
Matthias Ginter (age 28) — Center back from Gladbach via free transfer
At one point in his career ,Ginter was starting for Germany at the European Championships last year. Then everything fell apart at Gladbach. He was out of contract, and instead of getting a dream move to Dortmund or Bayern Munich, he left on a free transfer to Freiburg.
Listen, if you are looking for a ball-controlling center back who can progress the ball up the pitch and be goal-scoring threat on set pieces, Ginter is not a bad option. However, if you are looking for a center back that's — you know — actually good at defending, Ginter is not the answer.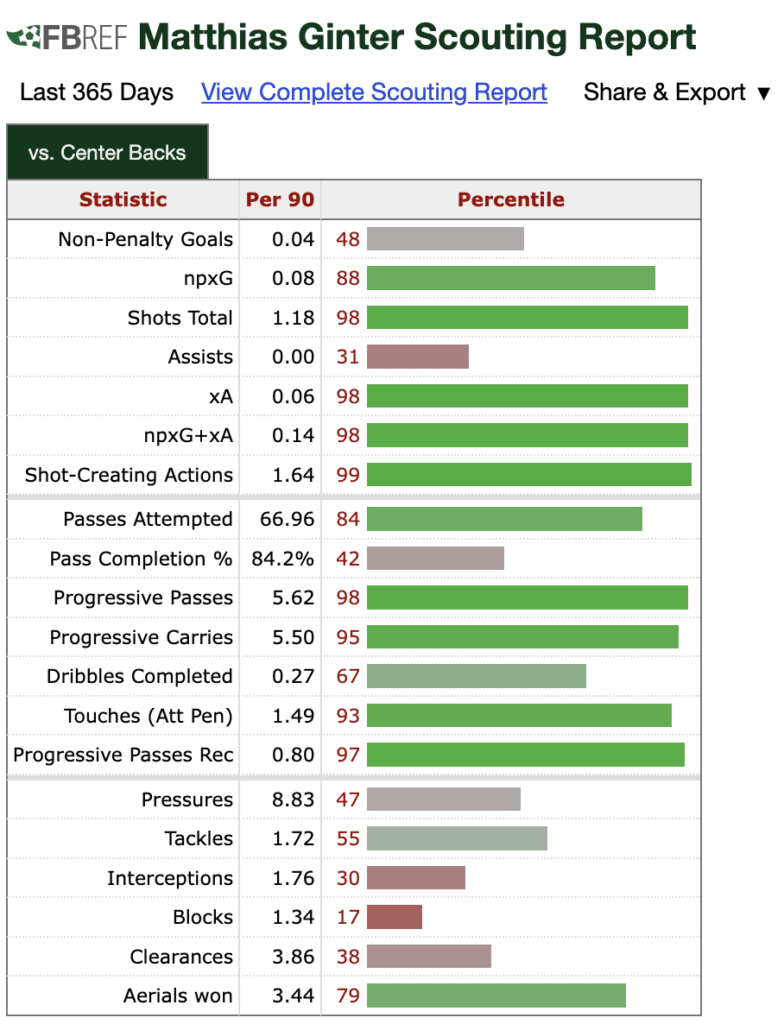 *(Graphic via fbref.com)
Notable Transfers Out
Nico Schlotterbeck (age 22) — Center back to Borussia Dortmund – $20 million
Needless to say, this is going to be a big loss for Freiburg.
It's rare that a center back leads your team in categories like passes into the final third of the pitch and progressive passes, but that's exactly what he did. Schlotterbeck led the club in tackles plus interception, pressure success rate and percentage of aerial duals won.
On top of that, Freiburg was +4.7 xGDiff better than when he wasn't on the pitch, per fbref.com.
*(Graphic via fbref.com)
---
La Liga
Positive Regression Club
Real Sociedad
Real Sociedad was one of the biggest under-performers in La Liga last season. The club had a +3 goal differential, scored only 40 goals and wound up with 62 points. However, its expected metrics tell a different story. Sociedad amassed 53.9 xG, a +14.1 xGDiff and 64.2 xP overall. Essentially, Sociedad had the fifth-best xGDiff and xP in the Spanish top flight.
Not only did the side keep its entire core together, but it added depth to its attack to address those offensive issues. Sociedad brought in a bunch of attacking depth and still has Alexander Isak & Mikel Oyarzabal, who both racked up more than 0.60 xG +xA rate last season, per fbref.com.
Sociedad did add a couple of nice pieces to its attack during the transfer window, so don't be surprised to see it gate-crash the top four this season.
Negative Regression Club
Elche
It has been two consecutive seasons now where Elche has had the worst xGDiff in La Liga and somehow survived relegation. That said, I don't think it's going to happen for a third time. The side conceded the second-most xG (61), but only allowed 52 goals. Its offense scored 40 goals off 34.8 xG and was dead last in shots per 90 minutes.
Elche plays ultra conservative out of a 4-4-2 formation, which a lot of teams in Spain implement, but when utilizing it the outfit had a -0.74 xGDiff. It was one of the worst pressing team in La Liga, ranking at the bottom of the statistical standings in high turnovers, 18th PPDA and 19th in pressure success rate. 
I don't know how a team that won the xG battle in just nine of its 38 matches a season ago survives relegation without making any significant moves in the transfer market.
Serie A
Positive Regression Club
Atalanta
Atalanta had the fourth-best xGDiff (+20.2) and ended up finishing in eighth place last season, which means it will not be playing in Europe competition this season outside of the Italian top flight.
That could create a huge advantage with the jam-packed schedule for everyone else. The club can simply focus all of its attention on Serie A, which is good considering the fact that a lot its main players are 30 or older.
However, it still has one of the best offenses in all of Italy. It was second in xG and shots per 90 minutes, as well as first in box entries and progressive passes plus carries last season. And guess what? Everyone is back.
The only thing Atalanta has to shore up is its defense, as it was ninth in big scoring chances allowed, which put it seventh in xGA overall. The club was second in shots allowed per 90 minutes, plus first in pressure success rate and ball recoveries.
So, while its xG numbers were pretty close to its actual performance last season, Atalanta should have been higher up the table than eighth place. That said, the Italian club will be a team I'm looking to buy into this season.
Notable Transfers In
Jérémie Boga (age 25) — Left winger on loan from Sassuolo made permanent for $22 million
Jérémie Boga gives Atalanta another fantastic attacking option in their 3-4-3 system, playing the left-wing position. He doesn't provide much in terms of goal scoring, but he's one the best dribblers in Italy, as he led Serie A in dribbles completed and progressive carries per 90 minutes last season.
Negative Regression Club
Lazio
I feel like I could re-write this about Lazio every single season. We are going on three consecutive campaigns where the club has drastically over-performed its xG, especially on the offensive side of things.
There's one culprit responsible for this situation and it's the man who has singlehandedly cost me more money than anyone in Europe over the past three seasons. And that's striker Ciro Immobile.
Every season I say Immobile can't keep up this type of over-performance and now that he's on the wrong side of 30 years of age, I'd say his day of negative regression is coming.
Offensively, Lazio is very reliant on getting big scoring chances, which it created the second most of in Serie A last season. That's great, but the side was 13th in shots per 90 minutes and 19th in box entries. That's usually a recipe for the house of cards to finally fall.
Additionally, Joaquín Correa — one of Immobile's striking partners in manager Maurizio Sarri's 4-3-3 system — has been sold to league stalwart Inter Milan.
Defensively, Lazio is making a change at goalkeeper, with Thomas Strakosh leaving for Premier League side Brentford. Lazio did bring in Luís Maximiano from La Liga outfit Granada, but he didn't post great numbers last season.
Lazio's defensive ranks also left a lot to be desired a campaign ago, so if negative regression catches up with the offense, this team could fall off a cliff.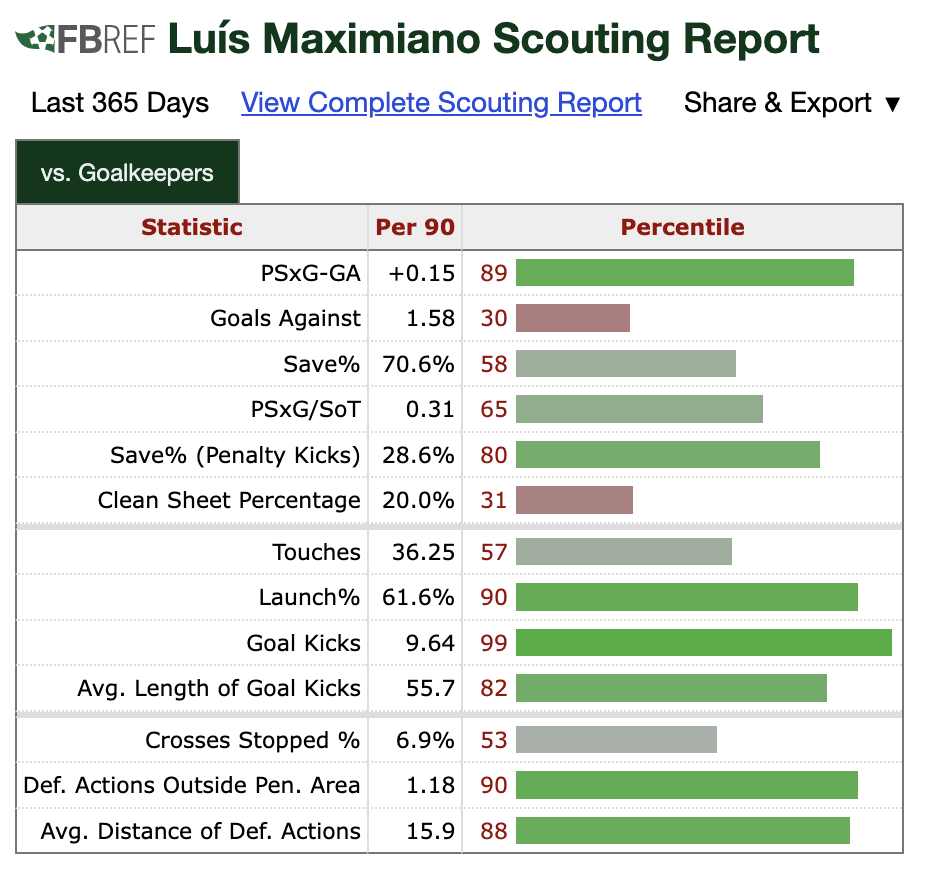 *(Graphic via fbref.com)
---
Ligue 1
Positive Regression Club
Lille
Now, I will admit there are a lot of changes happening at Lille and it did lose a lot of its key players from a season ago. Yet, in terms of regression, Les Dogues should positively regress to finish higher than 10th in the table like they did last season.
Sven Botman, the team's best defender last season, is gone. So is starting right back Zeki Çelik, plus it look like RenatoSanches is departing this transfer window as well. The French side also has a new manager in Paulo Fonseca, who was previously the boss at Serie A power Roma before Jose Mourinho took the reins.
And it's more than likely Les Dogues are going to switch from a 4-4-2 tactical formation to his preferred 3-4-2-1 setup Fonseca likes to use.
So, I don't expect Lille to be the defensive juggernaut it was last season when it led Ligue 1 in xGA and big scoring chances conceded, but it should still be a top-five defense in France.
Offensively, Canada international Jonathan David, who scored 15 goals last season, is still there and Les Dogues signed Clermont Foot leading goalscorer Mohamed Bayo.
That said, even though a lot of changes are happening at Lille, this club won't be fighting in the middle of the standings. Les Dogues isn't playing in Europe either, which will allow them to focus on the French top flight and that's that proved to be helpful two years ago when it won the title at +5000 odds.
Notable Transfers In
Mohamed Bayo (Age 24) — Striker from Clermont Foot for $14 million
Bayo will be a fantastic replacement for club legend Burak Yılmaz to play alongside David. He's a big, physical striker (6-2 and 183 pounds) and will help Les Dogues this season.
Paired with David up top, Bayo should be a solid addition since he also boasted a 0.52 xG per 90 minutes scoring rate and Clermont Foot was +0.75 xG better with him on the pitch versus off it, per fbref.com.
Notable Transfers Out
Sven Botman (Age 22) — Center back to Newcastle for $37 million 
Botman was the promising center back Lille had on its roster, but I'm not sure his loss is going to be as big of a deal as people are making it out to be.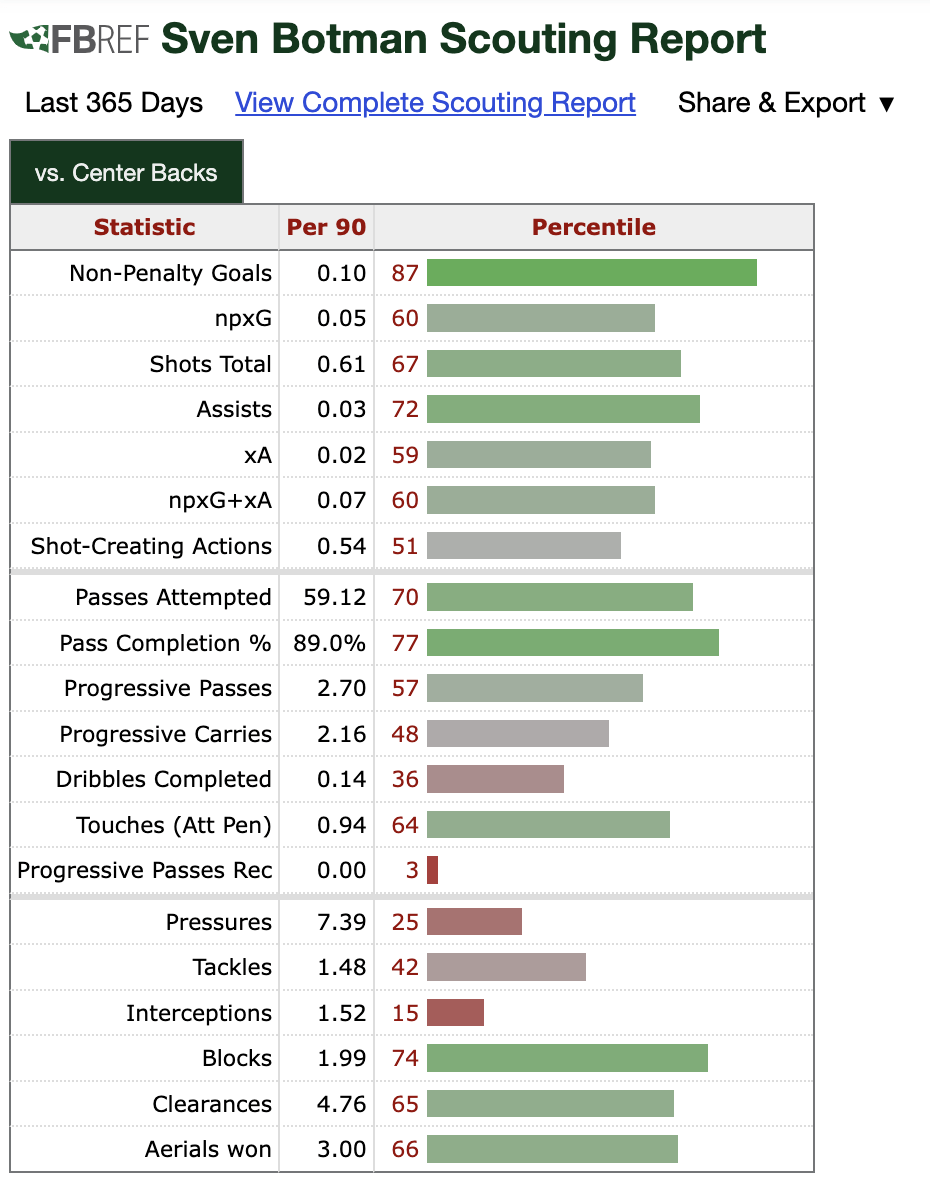 Botman played and started in only 25 matches for Lille last season, plus he actually had a -0.53 xG +/- when he was on the pitch versus on the sideline.
His tackling and interception numbers leave a lot to be desired, so I'm not so sure Les Dogues is going to drastically decline because he's no longer there.
*(Graphic via fbref.com)
Negative Regression Club
Nantes
Nantes cracking into the top 10 with a -11.5 xGDiff and 45.5 xP was pretty insane last season. On top of that, it won the Coupe de France (French Cup), which means it will be playing in the Europa League this season. And I think that will have a dramatic effect on its Ligue 1 season.
Taking a look at where Nantes ranked in the French first division a season ago in a lot advanced metrics offensively and defensively, it's easy to see why this club is going to regress toward the bottom half of the table.
How would you rate this article?
This site contains commercial content. We may be compensated for the links provided on this page. The content on this page is for informational purposes only. Action Network makes no representation or warranty as to the accuracy of the information given or the outcome of any game or event.