European Soccer Best Bets, Projected Odds & Forecast for Bundesliga, Serie A, La Liga, More (Feb. 18-21)
Credit:
Nicolò Campo/LightRocket via Getty Images. Pictured: Juventus standout Paulo Dybala.
This past weekend on the European soccer landscape showed us even the most unlikely of upsets can happen, with newly promoted Bundesliga side Bochum stunning Bayern Munich as huge +1100 moneyline underdogs.
There were a couple other shocking results, like Atlético Madrid losing to last-place Levante on home soil and Barcelona needing a 96th-minute goal from Luuk De Jong to draw with their inner city rival Espanyol.
If you'd like to read more about how I determine my projections, you can check it all out here.
You can use these projections to identify betting value on current lines, plus follow me in The Action Network App to see any bets I make during the week.
Bundesliga Projections
Best Bets
Mainz vs. Bayer Leverkusen
Mainz Odds
+210
Leverkusen Odds
+120
Draw
+280
Over/Under
2.5 (-155 / +130)
Day | Time
Friday | 2:30 p.m. ET
How To Watch
ESPN+
Odds via DraftKings. Get up-to-the-minute Soccer odds here.
This is an outstanding sell-high spot for Bayer Leverkusen, which has won four consecutive matches, while scoring 16 goals along the way.
Now, the club did only create 12 expected goals in those four matches, but that type of over-performance is nothing new to them. Leverkusen has now scored 58 goals off 41.2 xG, which is an insane showing over a long period of time.
So, negative regression is going to hit Leverkusen at some point and could very happen Friday against Mainz, which is one of the best defensive teams in the German top flight.
Mainz is third in the Bundesliga in NPxG allowed, only conceding 1.21 NPxG per match. They've also yielded the fewest big scoring chances in the league. Mainz is very active in terms of the pressing, with the second-most pressures per 90 minutes and boast the sixth-most high turnovers.
That will come in handy against Leverkusen, which is eighth in Offensive PPDA and 11th in pressure success rate allowed, per fbref.com.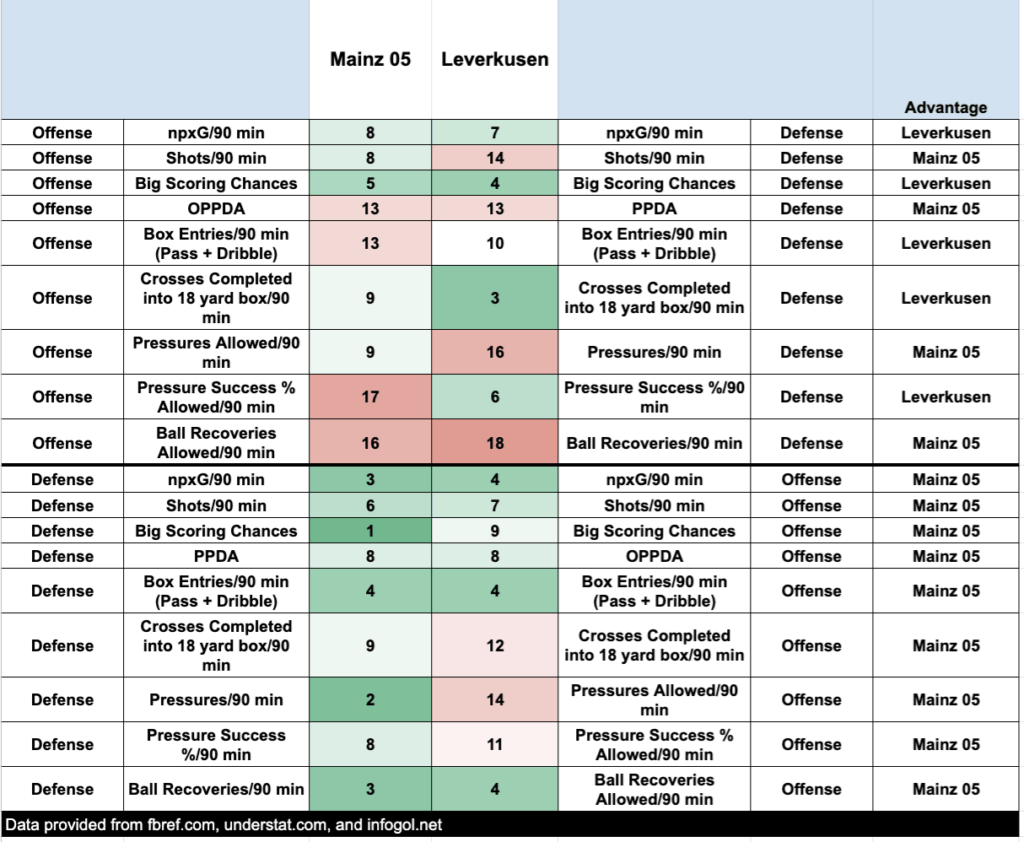 Where Mainz tends to struggle is against teams that can press them successfully, Leverkusen is not that side. In fact, Leverkusen is 13th in PPDA and have the second-fewest high turnovers in the Bundesliga, per Opta.
Finally, Mainz plays so much better at home than it does on the road, putting up a +6.7 xGDiff at home versus a -3.5 xGDif on the road.
I have Mainz projected as a small favorite, so I love them getting +0.5 on the spread line at -135 odds and will make it my top pick.
Pick: Mainz +0.5 (-135)
---
Köln vs. Eintracht Frankfurt
Köln Odds
+135
Eintracht Frankfurt Odds
+195
Draw
+270
Over/Under
2.5 (-160 / +135)
Day | Time
Saturday | 12:30 p.m. ET
How To Watch
ESPN+
Odds via DraftKings. Get up-to-the-minute Soccer odds here.
Köln has really been trending in the right direction the past few months and finds itself in a heated race for one of the top six spots in Germany. The main reason is the amount of pressure they're able to put on their opponents.
Koln is No. 1 in the league in terms of PPDA and forced the second-most high turnovers, which is a problem for Eintracht Frankfurt, which is allowing the fifth-highest pressure success rate in the league.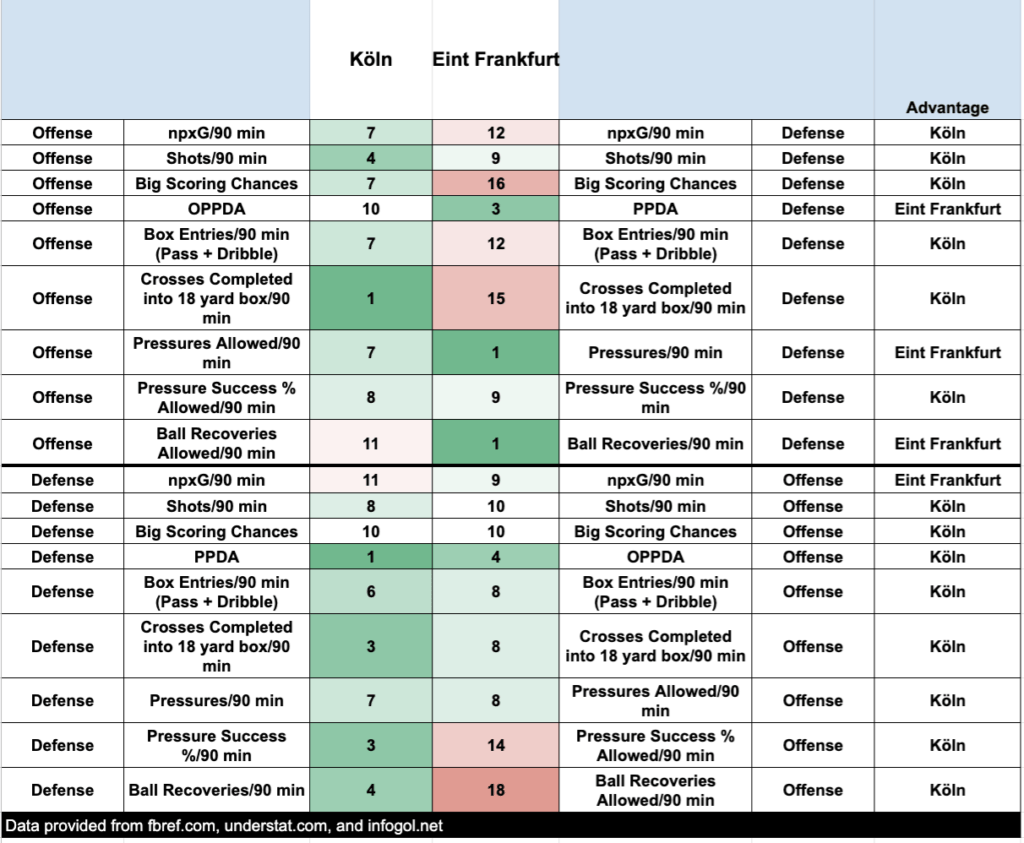 A lot of where Köln creates its chances on offense is getting the ball out wide and swinging crosses into the penalty area. They lead the Bundesliga with 79 crosses completed into the box, while Frankfurt has allowed the fourth-most crosses into their own penalty area and sits 14th in terms of percentage of aerial duals won.
Frankfurt's performances away from home have also been pretty bad, putting up a -4.1 xGDiff and allowing 1.84 xG per match, per fbref.com.
I have Koln projected as a -108 favorite, so I like the club on the Draw No Bet line at -135 odds.
Pick: Koln — Draw No Bet (-135)
---
Serie A Projections
Best Bets
Juventus vs. Torino
Juventus Odds
-175
Torino Odds
+500
Draw
+300
Over/Under
2.5 (+100 / -120)
Day | Time
Friday | 2:45 p.m. ET
How To Watch
Paramount+
Odds via DraftKings. Get up-to-the-minute Soccer odds here.
Yes, Juventus has Serie A leading-goal scorer Dusan Vlahovic on its squad now, but that's not going to have a drastic effect on its offense. Remember, The Old Lady is going to be without their best player — Federico Chiesa — for an extended period of time.
What's crazy is the underlying performances of these rivals are essentially even up to this point. Juventus is sitting with a +10 xGDiff, while Torino has a +8.3 xGDiff so far. So, it's a little crazy Juventus is this significant of a favorite with one eye on Tuesday's Champions League match against Villarreal.
Torino is one of the best defensive outfits in Italy, allowing only 0.93 xG per match, which is the second-best mark behind only Napoli. The reason for that is because due to the fact they hardly allow any big scoring chances (15 on the season), plus they're the No. 1 pressing team (by PPDA) in the Italian top flight.
Juventus is decent at playing through the press, but is certainly not one of Italy's elite, ranking seventh in offensive PPDA, per understat.com.
Torino has performed really well against the top sides in Italy this year. In seven matches versus the top seven teams in the table, Torino has a +0.3 xGDiff. Even when they faced Juventus earlier this year, they lost on an 86th-minute goal, but the match was essentially even on shot-creating actions, touches in the penalty area and progressive passes. 
I only have Juventus projected at +124, so I love Torino getting +1 at -125 on the spread line and would play it up to -135 odds as my featured choice.
Pick: Torino +1 (-125)
---
La Liga Projections
Best Bets
Granada vs. Villarreal
Granada Odds
+300
Villarreal Odds
+100
Draw
+245
Over/Under
2.5 (+100 / -120)
Day | Time
Saturday | 8 a.m. ET
How To Watch
ESPN+
Odds via DraftKings. Get up-to-the-minute Soccer odds here.
This is a lookahead spot for Villarreal, but this number is too good to pass up.
The Yellow Submarine has been the most impressive team in Spain over the past two months, putting up a +1.29 xGDiff per 90 minutes, which is by far the best mark in La Liga during that time span. The club's offensive numbers are out of this world, as it has averaged 2.24 xG per game in their last 10 fixtures.
That said, the Yellow Submarine should have no trouble creating chances against a very poor Granada defense.
Granada has been trending in the wrong direction as of late, picking up only two points in their last six matches. The problem has been at the offensive end of the pitch where they've only created 6.4 expected goals in those six matches. 
The defensive end of the pitch isn't much better for Granada, though. They're allowing the second-most non-penalty expected goals per match (1.40), the most shots per 90 minutes (15.5) and second-most big scoring chances with 38 conceded on the season, per fbref.com. They've also really struggled defending against the top sides in the Spanish top flight.
In 10 matches versus the top seven teams in La Liga, Granada has allowed a whopping 18.1 xG thus far. So, I have a hard time seeing how they're going to slow down the league's hottest offense.
Villarreal is still very much alive in the race for the top four in La Liga and need all three points here to keep pace, so I expect them to play their normal starters in this meeting.
I have Villarreal projected at -156, so I like the value on them at +100 to grab all three points and would play it up to -125 odds.
Pick: Villarreal ML (+100)
Athletic Bilbao vs. Real Sociedad
Bilbao Odds
+145
Real Sociedad Odds
+225
Draw
+205
Over/Under
2.5 (+135 / -165)
Day | Time
Sunday | 3 p.m. ET
How To Watch
ESPN+
Odds via DraftKings. Get up-to-the-minute Soccer odds here.
This is a big-time rivalry called the "Basque Derby," which has been dominated by Real Sociedad lately. Athletic Bilbao has only one win their last seven meetings between these clubs.
However, this is a good "get-right" spot for Bilbao coming off a bad loss to Mallorca this past Monday. Bilbao is a very good defensive outfit, allowing only 0.94 NPxG per match and sit second in terms of big scoring chances yielded.
Their home performances have been much better than on the road this season, as they have a +0.64 xGDiff at the San Mamés Stadium than on the road, where they have a negative xGDiff, per fbref.com.
Real Sociedad has put up some impressive numbers, but a lot of their success has come against the bottom half of the table. In seven matches versus the top eight teams in Spain, Real Sociedad has -5 xGDiff overall. Real Sociedad also is coming off a trip to Germany, where it played RB Leipzig during Thursday's Europa League action, so Bilbao will have the rest advantage.
I have Athletic Bilbao projected at +120, so I like the price on them at +145 odds to grab the victory and all three points.
Pick: Athletic Bilbao ML (+145)
---
Ligue 1 Projections
Best Bets
Lens vs. Lyon
Lens Odds
+185
Lyon Odds
+145
Draw
+245
Over/Under
2.5 (-125 / +105)
Day | Time
Saturday | 11 a.m. ET
How To Watch
beIN SPORTS
Odds via DraftKings. Get up-to-the-minute Soccer odds here.
What an outstanding sell-high spot for Lyon, which has been running hot in Ligue 1 and won three of its last four matches. However, the club still has one of the worst defenses in France, allowing 34.5 xG in 24 matches.
Lyon has the biggest discrepancy between their performances at home versus on the road as well. They lead the French top flight with a +14 xGDiff at home, but have a -7 xGDiff on the road in only 11 matches. In fact, they're conceding 2.05 xG per game on the road domestically, which is quite concerning.
Lens has been in a bit of weird run of form. The side  lost back-to-back matches to Marseille and Lorient, but rebounded to beat Bordeaux this past weekend. Lens boasts one of the more solid defensive outfits in France, yielding just 1.13 per contest and sits top five in both shots allowed per 90 minutes and big scoring chances conceded.
Lens is a team that profiles very well against some of the top sides in France. The reason is not only is its rock-solid defense, but it has a top-five offense in almost every single advanced metric. They also play through pressure incredibly well, ranking fourth in Offensive PPDA, which is huge against Lyon who is one of the best pressing teams in France.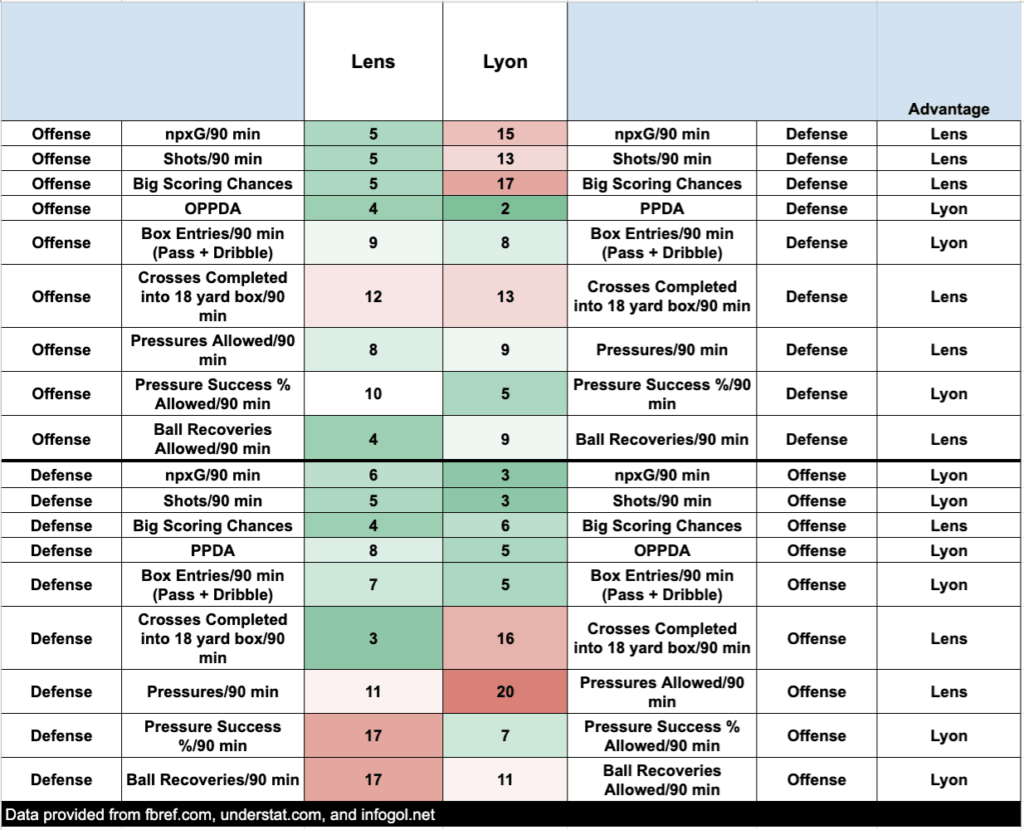 When Lens faces teams above them in the table, it has a +2.2 xGDiff and has only lost the xG battle twice in nine games against the top seven teams.
I have Lens projected as a +125 favorite, so I love its Draw No Bet line at +110 and would play it up to -120 odds.
Pick: Lens — Draw No Bet (+110)
How would you rate this article?
This site contains commercial content. We may be compensated for the links provided on this page. The content on this page is for informational purposes only. Action Network makes no representation or warranty as to the accuracy of the information given or the outcome of any game or event.