Premier League Week 27 Betting Preview: Liverpool Will be Tested at Old Trafford
Credit:
Getty Images. Pictured: Manchester United's home stadium Old Trafford
Premier League Week 27 action gets underway Friday with two matches on the slate at 3 p.m. ET (Fulham at West Ham, Watford at Cardiff City).
Manchester City play Chelsea in the EFL Cup final on Sunday, so there will only be six EPL games played on Saturday and Sunday, headlined by Manchester United-Liverpool (Sun, 9 a.m. ET on NBC Sports).
I've analyzed the biggest line moves and lopsided wagers around the betting market to find where the value lies.
Manchester City are once again tied for the top spot in the Premier League after thrashing Chelsea, 6-0, in Week 26.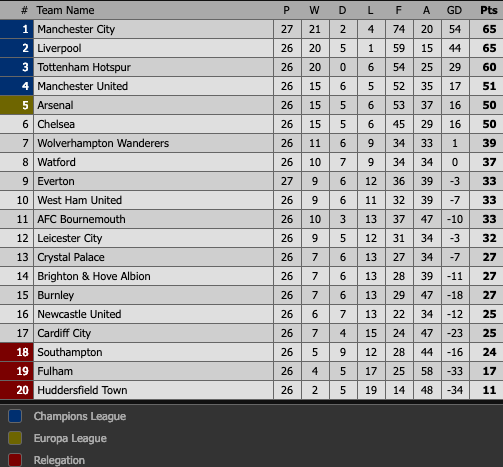 The rest of the top-six was victorious as Liverpool beat Bournemouth, 3-0, Manchester United rolled over Fulham, 3-0, Arsenal edged Huddersfield, 2-1, and Spurs squeaked by Leicester City, 3-1.
The entire top-six was also busy the past couple weeks with Champions League and Europa League action amid FA Cup fifth round games.
There are only eight games on the Premier League slate this weekend since Manchester City play Chelsea in the EFL Cup final on Sunday at 11:30 a.m. ET. It'll be a quick turnaround for all clubs as Week 28's matches are set for Tuesday and Wednesday.
2018-19 Season Trends
Home teams have continued their success while draws have bit the dust.
Leicester City remain the top moneyline bet at +13.12 units. Oddly enough, Tottenham and Wolves are tied for next on the list with exactly +10.1 units apiece.
Another oddity this season has been the fact the favorites (+0.37 units) and underdogs (+3.39 units) have both been profitable, proving just how bad draws have been.
Overs have earned +4.44 units while Unders are -16.44 units.
For Week 27, I've analyzed the betting market and provided six value plays (33-59-1 season record, -13.49 units).
(Odds are always on the move until kickoff, so be sure to follow all the latest lines and betting percentages here)
---
Line Moves
Bettors have been eyeing Burnley (+460) and the draw (+270) in Saturday's early match despite the vast majority of tickets on Tottenham. The public will continue to pound Spurs until kickoff so there was some clearly some sharp action on the Clarets over the past week.
There have been two notable shifts for Friday's matches, one on the home side and one on the away side.
Cardiff's odds have come down from +225 to +210 against Watford, and a win would keep them out of the relegation zone for another week. The Bluebirds have fared much better at home this season, earning 17 points there compared to just 8 on the road. I agree with this line move and like Cardiff to win, but you can probably wait to see if odds increase before kickoff.
In Friday's other game, West Ham have moved from -110 to -120 against Fulham but this is hardly a surprise. Fulham have yet to win on the road and have drawn just two of 13 matches, a big reason why they're stuck in the relegation zone. Three points could turn their season around, but early bettors are taking the safe route with West Ham.
The marquee match of the weekend has also seen one of the biggest line shifts as Liverpool have improved from +150 to +135 at Manchester United.
Bettors seemed to jump off the United bandwagon following their 2-0 loss to PSG in the Champions League, but they did defeat Chelsea convincingly in the FA Cup. I've got my eyes on the home side to pull off the mini upset at Old Trafford, which would greatly help pave a path for Man City's title run.
Lopsided Wagers
Tottenham are one of the most profitable clubs in the Premier League this season and are coming off an impressive 3-0 victory over Dortmund in the Champions League, so it's no wonder to see the public loading up on them against Burnley.
Matches involving big home underdogs tend to go over when the total closes below 3 goals, and Burnley-Tottenham is set up perfectly for the Over (2.5).
In other lopsided action. bettors are fading Fulham again as they've failed to score in two straight EPL matches. This may bode well for a bounceback, though, since teams in this position have earned more than +30 units and 8% ROI historically.
West Ham (-120), Arsenal (-190) and Leicester City (+120) are all home favorites getting the bulk of action but at different prices. I'm fading both West Ham and Leicester City, and wouldn't be surprised to see Arsenal slip up against Southampton.
Value Plays
Fulham (+335) at West Ham
Cardiff City (+215) vs. Watford
Crystal Palace (+255) at Leicester City
Bournemouth-Wolves Draw (+240)
Burnley/Tottenham Over 2.5 (-110)
Manchester United (+210) vs. Liverpool