UEFA Euro 2020 Odds, Format, Dates & Betting Preview: Projections for Every Group-Stage Match (June 11 to July 11)
Credit:
Mike Kireev/NurPhoto via Getty Images. Pictured: The UEFA 2020 European Championships trophy.
We might have had to wait an extra year, but the 2020 UEFA European Championships are finally here, as 24 countries will vie for the opportunity to lift the trophy.
It's been five years since the last Euros and three years since the World Cup, so the European soccer landscape might look pretty different from what we saw in the back half of the 2010s. Most notably, the Euro 2020 field looks to be wide open. You could make a legitimate argument for a third of the teams to win this tournament, plus there are plenty of potential dark horses.
Before we get to my projected odds, let's first set the stage for Euro 2020 by discussing the odds, format and how I came up with my projections:
Euro 2020 Odds
Odds via DraftKings
| TEAM | ODDS |
| --- | --- |
| France | +500 |
| England | +550 |
| Belgium | +600 |
| Portugal | +800 |
| Germany | +900 |
| Spain | +900 |
| Italy | +1100 |
| Netherlands | +1400 |
| Denmark | +2500 |
| Croatia | +4000 |
| Turkey | +5000 |
| Switzerland | +7000 |
| Sweden | +7500 |
| Poland | +8000 |
| Austria | +10000 |
| Russia | +10000 |
| Ukraine | +10000 |
| Wales | +10000 |
| Czech Republic | +15000 |
| Finland | +30000 |
| Scotland | +30000 |
| Slovakia | +30000 |
| Hungary | +30000 |
| North Macedonia | +50000 |
As you can see from the odds, bookmakers believe there are eight legitimate contenders. France and England are the consensus favorites, but they have plenty of stiff competition from usual powers like Belgium, Portugal, Germany, Spain, Italy and the Netherlands. There is a drop-off after those teams, with Denmark serving as the bridge between the contenders and the dark horses.
Because the top of the tournament is so prolific, the mid-tier is pretty thin. There are only six teams listed between +2500 and +10000 odds. That means the bottom of the board is pretty robust, with 10 teams at 100/1 or longer. In fact, there are five teams sitting at +30000 or higher, with North Macedonia priced as the biggest longshot at +50000 odds.
It is worth noting that there have been some major shocks at the Euros in the past. In 1992, Denmark won the tournament only after getting into the field because Yugoslavia had to pull out due to a civil war. In 2004, the infamous Piratiko Greek team shocked the world to win the tournament as 80/1 outsiders.
Euro 2020 Dates
Group Stage: June 11-23
Round of 16: June 25-29
Quarterfinals: July 2-3
Semifinals: July 6-7
Final: July 11
Euro 2020 Groups
Group A

Group B

Group C

Group D

Group E 

Group F

As you can see, there is a clear "Group of Death" in this tournament. Group F features the three most recent major tournament champions: Germany (World Cup 2014); Portugal (Euro 2016); and, France (World Cup 2018). The reason all three of these heavyweights are in the same set is because Portugal finished second in its qualifying group behind Ukraine, so that put it at the mercy of being drawn with two group winners.
Group F is the only quartet without a clear favorite, so we either have the potential for some historic upsets or the real drama will start once we reach the knockout stage.
Euro 2020 Format
The top two teams from each group advance to the knockout stage, along with the four best third-place teams. For example, this is how the third-place teams finished at France '16.

Since each team plays only three matches in the group stage, ties should be expected. However it's important to note that we have two different sets of tiebreakers, one for the individual group finishing positions and another set for the ranking of third-place teams.
Tiebreakers for Group Finishing Positions (via UEFA.com)
1) Higher number of points obtained in the matches played between the teams in question
2) Superior goal difference resulting from the matches played between the teams in question
3) Higher number of goals scored in the matches played between the teams in question
4) If, after having applied criteria 1 to 3, teams still have an equal ranking, criteria 1 to 3 are reapplied exclusively to the matches between the teams who are still level to determine their final rankings. If this procedure does not lead to a decision, criteria 5 to 10 apply
5) Superior goal difference in all group matches
6) Higher number of goals scored in all group matches
7) Higher number of wins in all group matches
8) If on the last round of the group stage, two teams are facing each other and each has the same number of points, as well as the same number of goals scored and conceded, and the score finishes level in their match, their ranking is determined by a penalty shoot-out. (This criterion is not used if more than two teams have the same number of points.);
9) Lower disciplinary points total in all group matches (1 point for a single yellow card, 3 points for a red card as a consequence of two yellow cards, 3 points for a direct red card, 4 points for a yellow card followed by a direct red card);
10) Higher position in the European Qualifiers overall ranking.
Tiebreakers for Third-Place Finishing Teams
1) Points
2) Goal difference
3) Goals scored
4) Wins
5) Lower disciplinary points total
6) European Qualifiers overall ranking
Knockout Stage
After group play has decided all of the finishing positions, the knockout stage is a single-elimination tournament to determine the winner. Below is the knockout-stage bracket and path for every team to the final in London.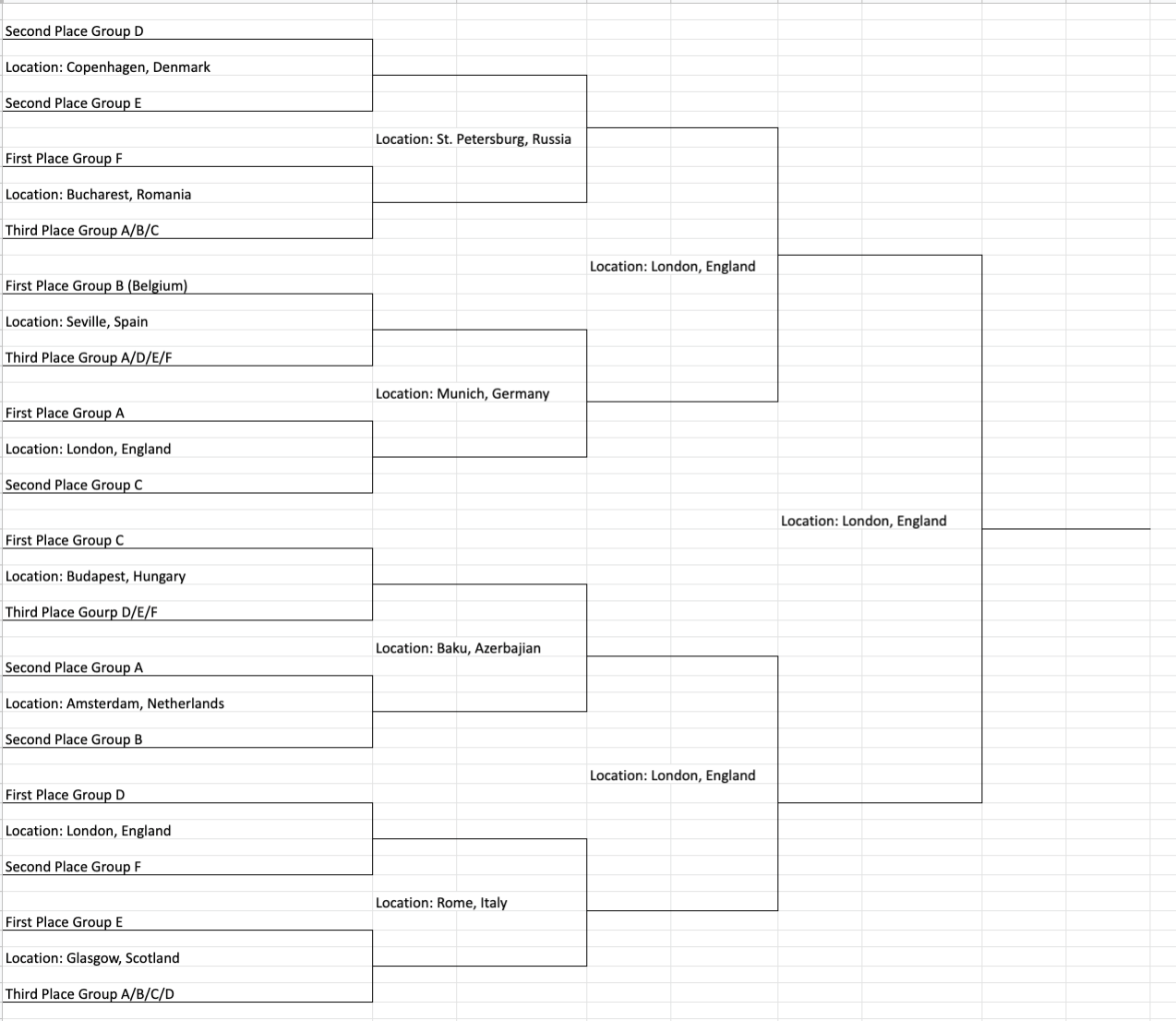 Tournament Locations
Typically, the Euros would take place in one host country, but due to COVID-19 restrictions and UEFA's desire to have fans in the stands, there are now 11 locations that will be hosting games during both the group and knockout stages. That means during the group stage, some teams will play two or three matches in their home country.
1) Wembley Stadium (London, England — Group D)
2) Stadio Olimpico (Rome, Italy — Group A)
3) Allianz Arena (Munich, Germany — Group F)
4) Olympic Stadium (Baku, Azerbaijan — Group A)
5) Krestovsky Stadium (St. Petersburg, Russia — Group B & E)
6) Puskás Aréna (Budapest, Hungary — Group F)
7) Estadio La Cartuja (Seville, Spain — Group E)
8) Arena Națională (Bucharest, Romania — Group C)
9) Johan Cruyff Arena (Amsterdam, Netherlands — Group C)
10) Hampden Park (Glasgow, Scotland — Group D)
11) Parken Stadium (Copenhagen, Denmark — Group B)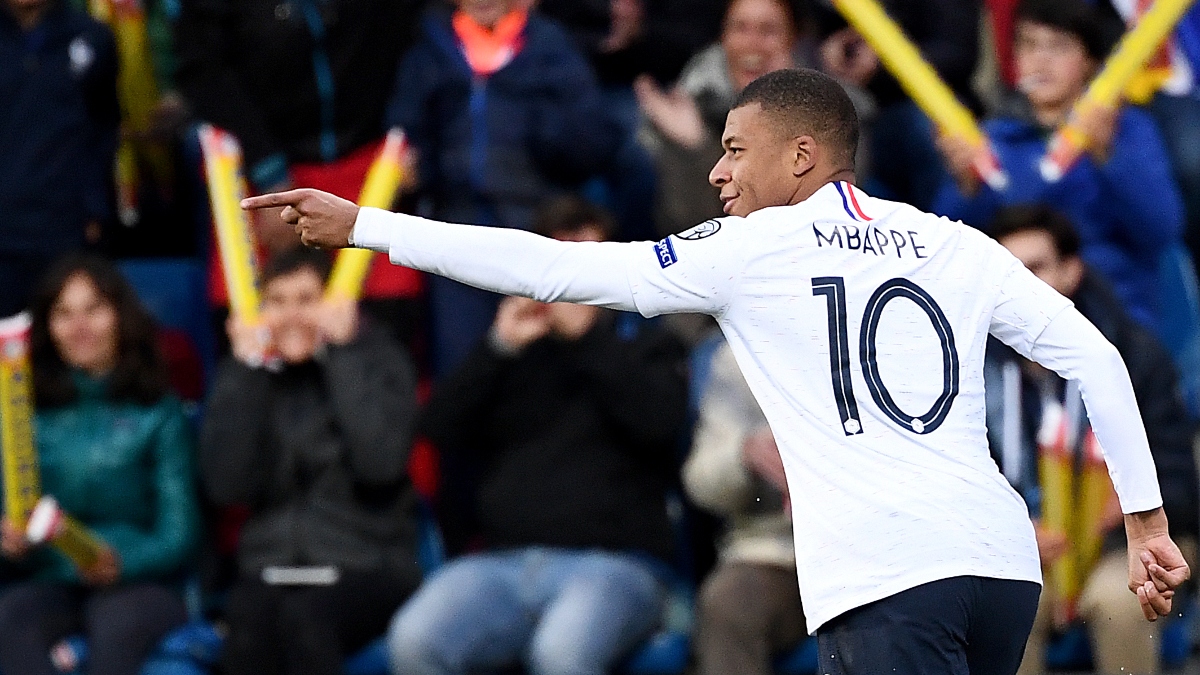 Euro 2020 Projections: The Formula
Projecting an international tournament like this is very difficult for a few reasons:
1) We have a limited data due to a smaller amount of matches.
If you count the 2018 World Cup, the max amount of "competitive" matches over that span is 20. It's even less if you are a team like Wales, which didn't qualify for the World Cup and played only eight Euro qualifiers and two World Cup qualifiers since 2018.
The reason I put competitive in quotations is because I don't include friendlies or UEFA Nations League matches in the data. Friendlies are not competitive and nobody really cares about them, plus the UEFA Nations League features glorified friendlies. In fact, when they created the Nations League, they put in their description that they wanted to "make friendlies more interesting."
On top of that, a lot of those Nations League matches took place during the fall, when there were a number of different COVID-19 restrictions by country, so I personally will not be including them in my projections.
2) The European qualifiers were completed in the fall of 2019.
The group stage of the qualification process for Euro 2020 finished more than two years ago. Since COVID-19 delayed the tournament, we're relying mostly on data that is two years old, but we have to use what is available to us. Luckily, most of these teams played three World Cup qualifiers back in late March, so a least we have some recent data at our disposal.
Sorry, I'll stop complaining and get into the projections.
I'll be using a expected-goals model, similar to that of the one use for club soccer, but with a few variations.
First, what are Expected Goals?
The idea behind expected goals is they give an indication of whether results are based on sustainable factors like a steady creation of scoring chances or whether it's down to aspects such as luck or outstanding goalkeeping.
Therefore, we can project what "should" happen based on the chances being created and allowed by either side.
Expected Goals models can be different based on the data available. For mine, I will be going with a per-match average, dating back to the 2018 World Cup. Below are the total expected goals and expected goals per match for each team I'll be using for the projections (data from infogol & footystats.org):
From there, it's a four-step process to determine the amount of expected goals per match for each team:
1) Once I have the number of expected goals per match, I take each team's xGF times the opponent's xGA divided by 1.85 (the average goals per match I have individually determined based on a number of different factors).
Example: (Italy xGF/Match x Turkey xGA/Match)/1.85 = Italy's xG
2) I use Michael Caley's method of using a team's overall transfer value to account for the talent level of each country. Using Transfermarkt data and running a few different calculations, I will be adding the following weights for each team.
3) Next, we have to factor in strength of schedule. Below are the average rankings of each country's opponents dating back to the 2018 World Cup, based on the current FIFA Rankings:
For strength of schedule, I take the number in the third column, which represents the amount above or below the average strength of schedule of 1.00 for each team, subtracted from each other and divided by two:
Italy: (0.77 Italy SOS – 0.81 Turkey SOS)/2 = -0.02
Turkey: (0.81 Turkey SOS – 0.77 Italy SOS)/2 = 0.02
4) Finally, we have to factor in home-field advantage. That's because there are multiple locations, with a lot of teams playing group-stage matches in their home countries. Typical home-field advantage with fans in the stands during the club season is around 0.34 xG on average. However, due to either limited capacity or no fans, I reduced home-field advantage to 0.26 xG for this event.
So, once we have determined each team's expected goals for the match, I then use a poisson distribution formula to determine the probability of each team winning and probability of a draw. If you would like to read more about poisson distribution, this article gives a fantastic explantation.
Once we have the win probability, draw probability and probability of the match going over or under the total, we can compare that to the implied odds of each line to determine the amount of expected value on the match.
Euro 2020 Group-Stage Match Projected Odds
Group A
Group B
Group C
Group D
Group E
Group F
How would you rate this article?
This site contains commercial content. We may be compensated for the links provided on this page. The content on this page is for informational purposes only. Action Network makes no representation or warranty as to the accuracy of the information given or the outcome of any game or event.