Joffe's World Cup Challenge, Day 12: The Grand Russian Conspiracy Continues
Credit:
Tim Groothuis/Witters Sport via USA TODAY Sports.
Four days and 16 matches to go in the group stage and ya girl is still alive! And you know who I'm giving the bulk of the credit (besides myself)?
Harry Kaaaaaaannnnneeeee!
The English striker is quickly becoming my modern-day version of Luc Robitaille. My "bet on England because I have ancestors from there" theory worked out Sunday — at least for that game. I'm VERY proud to be English and super excited to be Harry's wife soon.
Senegal-Japan was a decent game, though I missed part of it to go see some baby deer. It was worth it. The game ended in a draw, meaning my bet half-pushed. Yawn.
I've officially denounced my Polish heritage, thanks to their abysmal performance against Colombia. It wasn't just the loss. It was the THREE-GOAL LOSS. Seriously, guys? I don't know how to say bye in Polish because I never learned and now I don't care. The good news is I finally got to find out what happened to Randy Watson of the legendary group "Sexual Chocolate."
On to Monday …
Current balance: $456.57
---
Uruguay vs. Russia
10 a.m. ET, FOX
These two teams have already advanced to the knockout round. Russia will win Group A with a victory or draw; Uruguay need an outright victory to take down the group. Uruguay are favored, but my Russia conspiracy theories haven't failed me yet, so why would I stop betting them now? Russia draws or wins. Da?
The pick: $15 to win $17.25 on Russia PK (+115)
Download The Action Network App to track all of your World Cup bets.
Saudi Arabia vs. Egypt
10 a.m. ET, FS1
The Saudis haven't scored a goal all tournament, and I don't expect they'll suddenly be MORE motivated to play well in a worthless match between the two eliminated teams in Group A. I'm rollin' with the Pharaohs, even as controversy swirls around their star Mo Salah.
The pick: $15 to win $13.04 on Egypt ML (-115)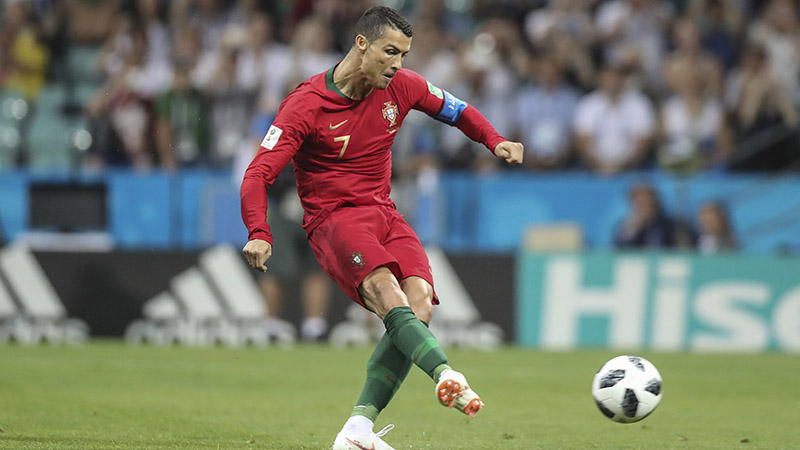 Pictured: Cristiano Ronaldo. Credit: Leonel de Castro/Global Images/Sipa USA via USA TODAY Sports
Spain vs. Morocco
2 p.m. ET, FS1
This game and Iran-Portugal will be played simultaneously. Three teams — Spain, Iran and Portugal — will battle it out for two spots in the knockout round. OH THE DRAMA!
Here are all the scenarios. (Bear with me while I drop some knowledge. … This took me a long time to figure out, and I'm 84% sure it's correct):
If Spain get a win or draw, they advance, but first or second remains up in the air.
If they lose and Portugal draw, they're in and finish second.
If they lose and Portugal win, they're in and finish second.
If they lose and Portugal lose, then it's going to come down to the goal differential between Spain and Portugal for who takes second place and advances.
If Spain and Portugal win, then the number of goals scored in this game will determine the team that finishes first and second.
Here's the bottom line and why I wasted more of my Sunday trying to figure this out than you want to know: Spain need to win … and they need to win by lots of goals.
They're playing the worst team in the group and are huge faves. The moneyline is way too steep (-286) for me, so I'm splitting my money between two bets (and upping the stakes).
The pick: $10 to win $10.50 on Spain -1.5 (+105)
The pick: $10 to win $8.70 on Over 2.5 (-115)
Iran vs. Portugal
2 p.m. ET, FOX
Translating my bullet points above for this game: Only one of these teams can advance for sure to the knockout round, and it will require a win. Well, I guess Iran could still advance with a Portugal draw and a Spain loss, but that's not gonna happen … right?!
OK, I'm actually losing my mind and making this way more complicated than it needs to be. I couldn't choose between the two bets I sorta kinda liked, so I did what any reasonable person would do: I YOLO'd and bet them both. RIPRIPRIP.
The pick: $10 to win $6.58 on Portugal ML (-152)
The pick: $10 to win $8 on Over 2 (-125)
(P.S. I'm only 60% sure I got all my bets in correctly, thanks to how fast the lines were moving. OK, I'm 95% sure, but toward the end of writing this, I legitimately wanted to throw my computer out a window. I settled for more wine.)
How would you rate this article?