World Cup Wednesday: Bettors Believing in Germany and Brazil
Credit:
Tim Groothuis/Witters Sport via USA TODAY Sports. Pictured: Germany celebrating a wins
There's a lot on the line in Wednesday's World Cup action, starting with the early matches in Group F between Germany-South Korea and Mexico-Sweden, followed by Brazil-Serbia and Switzerland-Costa Rica in Group E.
Download The Action Network App to track all of your World Cup bets.
Here's a breakdown of the market for each match and which sides the sharps/public are betting.
Mexico vs. Sweden, Group F
10 a.m. ET
Mexico will advance and top the group with a draw, while Sweden likely need a victory to advance. However, bettors don't have much faith in the European side, with just 18% of tickets on Sweden (+223) to win. Mexico are listed at +141 and attracting more than 60% of bets.
Similar to Sweden's last match against Germany, the majority of bettors believe the total will go under (2.5). With lopsided action on the under, I think there's plenty of contrarian value on the over (2.5) at +125.
Germany vs. South Korea, Group F
10 a.m. ET
Public bettors are not forecasting any trouble for Germany as they're receiving more than 80% of bets both on the moneyline (-465) and goal-line (-2). Only 7% of bettors are taking a chance on South Korea despite the potential — albeit unlikely — 15-1 payout.
Even with a high total of three goals, the majority of tickets have come in on the over.
Serbia vs. Brazil, Group E
2 p.m. ET
Brazil are sizable favorites to beat Serbia, but a draw would be enough for them to advance. Depending on the early results in Group F, their opponent could be Germany, so it's not a given they'd want to win this match. Even so, more than 70% of bets are on both the Brazil moneyline (-187) and goal-line (-1).
Switzerland vs. Costa Rica, Group E
2 p.m. ET
Switzerland will advance with a win (-154) or draw (+250) against Costa Rica, although they can still advance with a loss (+600). Seven out of every 10 bets have come in on the Swiss to be victorious, and all the recent line movement has gone their way as well.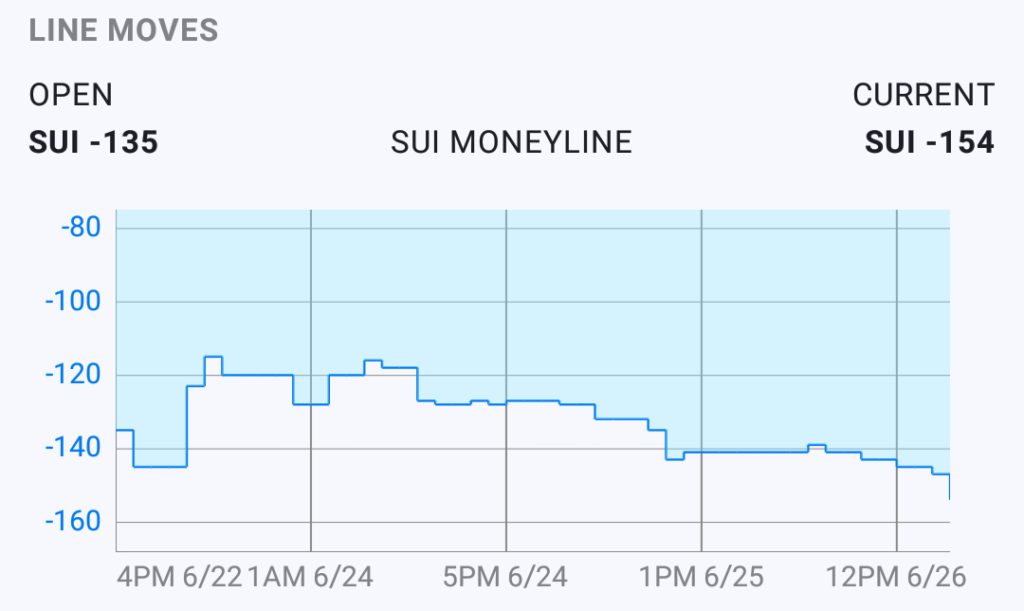 A low total of 2 goals hasn't led bettors off the under, which is being offered at +125 odds.