Saturday Australian Open WTA Betting Odds & Picks: Time to Fade Coco?
Credit:
Hannah Peters/Getty Images. Pictured: Coco Gauff
What looked like a very chalky Australian Open early on has turned into a bit of chaos on the women's side. For today's WTA betting action, I will be rooting a red-hot Petra Kvitova in for future purposes, but that line looks about right against a very confident Sakkari.
The night will be capped off at 3 a.m. ET with a Wimbledon rematch of Ash Barty against Ali Riske. I played a half unit on Ali Riske at +320 here. It's actually a pretty decent matchup for the American, who has won both career meetings, including a match in this same round last year at Wimbledon on arguably both players' best surface.
The Aussie is clearly the superior player, especially on hard courts, and should advance, but Riske comes in with a ton of form and confidence and simply isn't getting enough respect in the market.
But my favorite bet of the night comes at 10:30 p.m. ET in the following All-American clash which I will detail below
Coco Gauff vs. Sofia Kenin (10:30 p.m. ET)
---
Bet the Australian Open at FanDuel, where Action Network users get a risk-free bet up to $500.
---
Sofia Kenin -145 vs. Coco Gauff
Coco Gauff is clearly a future star on Tour. Not only does she have all of the tools but she will fight until the very last point as evidenced by a number of her three-set wins we have seen in her young career on the biggest stages.
That said, I think she's clearly overvalued in the market right now as a result of some of the hype out there surrounding the teenage American phenom. Gauff started off the tourney with a win over Venus Williams, who played as poorly as one can possibly play, hitting 41 unforced errors to just 25 winners.
Gauff was then significantly overvalued earlier in this tournament when I faded her against Sorana Cirstea in a match the Romanian led 3-0 in the third set before getting a little tight on a number of key points. That match was basically a coin flip and Kenin is in a different class than Cirstea.
Gauff then followed up that victory by pulling off a huge upset of Naomi Osaka. However, that match was more about Osaka spraying unforced errors all over the court more than anything Coco did. I do give credit to Gauff for playing intelligently by keeping the ball in play and not going for too much after seeing how erratic Osaka was that day.
But she only hit six winners for the entire match (to 13 unforced errors) while Osaka hit a putrid 30 unforced errors. Naomi just didn't have it on Thursday, hitting either an unforced error or double fault on 30% of her points. You're not going to beat many players on Tour with that output.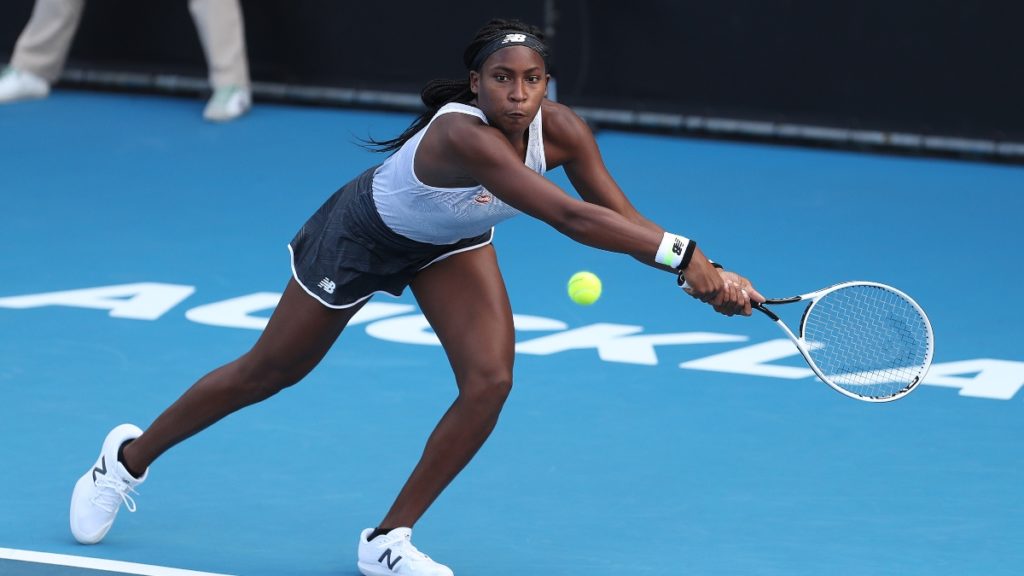 That brings us to this match in which I think Gauff once again is getting too much love from the market, partly as a result of the hype and partly due to that monumental upset over Osaka, who she lost to in blowout fashion recently at the US Open. Kenin is simply the better player as of this moment and won't gift the match away since she plays with much more margin than some of the opponents Gauff has upset in the past.
If you look through Gauff's incredible run from Wimbledon on, she's mainly feasted on ball bashers. Her best wins came against Venus (x2), Kiki Bertens, Jelena Ostapenko and Naomi Osaka. Those are four women who play with power and try to hit their opponents off the court. Bertens has the most variety of the bunch, but she simply tried to blow Gauff away on the indoor court in Linz.
Kenin offers a much different style of play. She doesn't have the most powerful game on Tour but makes up for it with a wide variety of shots. She also has some of the best movement on Tour and can match the speedy Gauff in that department. She never quits on points and she will relentlessly move Coco all over the court.
Five of Gauff's 10 losses on hard courts since the beginning of 2019 have come against craftier opponents who aren't looking to end points early. Gauff's first loss of this season came in Auckland against Laura Siegemund, whose game has many similarities to Kenin's.
Gauff's second serve also remains a huge liability. It's something she will likely improve upon as she gets older and it will likely take her to the next level of the elite WTA players but it's still a huge area of weakness as of now.
For the season, she's only getting in 41.2% of second serves, which ranks 80th on Tour. And that number was only slightly better in 16 matches in 2019 at 42.8% (177th). Kenin doesn't have the strongest second serve in the game but she was up around 48% last year. That discrepancy alone could prove to be the difference by swinging the most critical points.
Look, Gauff can certainly win this match. It's still women's tennis and these two aren't that far apart.  As I said above, Coco has incredible talent and her mental game far exceeds her age. But again, Kenin will not gift this match away.
Plus, it's not like Coco has brought her best game to Melbourne. She's hit just 53 total winners to 86 unforced errors in her first three matches while Kenin is at a much more respectable 60-73 ratio.
And while Gauff is mature beyond her years, her inexperience is still a factor. This is only her third career Grand Slam compared to the 12th for Kenin. She's still amazingly only 15 years old!
Kenin is the least-heralded and most-accomplished of the young crop of American talent. I personally think she doesn't get enough respect in the betting market.
Her all-around game and bulldog-like mentality on every point should give her a major edge  in this match.
I have Kenin priced as a -210 favorite, so -145/-150 is certainly a play in this All-American fourth-round battle.
Pick: Sofia Kenin -145
How would you rate this article?