What We Learned From Week 1 of XFL Betting: Over/Unders Are Inflated, Home Field Is An Advantage, More
Credit:
Michael Owens/Getty Images. Pictured: Aaron Murray
With one week in the books, what lessons can we apply to Week 2 of the XFL?
Our panel of experts run through key betting takeaways from Week 1, from what to expect of over/unders to which teams have notable edges and more.
The totals are inflated.
I generally expected higher-scoring games because I expected to see around 75 offensive plays per team, based upon calculations I'd done and reports I'd read about the preseason scrimmages. But in Week 1, most of the teams played at a slower pace than I'd expected and ran fewer offensive plays.
Offensive Plays Per Team (via Pro Football Focus)
DC Defenders: 61
Dallas Renegades: 62
Houston Roughnecks: 62
Los Angeles Wildcats: 78
New York Guardians: 51
Seattle Dragons: 69
St. Louis BattleHawks: 75
Tampa Bay Vipers: 72
As a result, the under was 3-1 in Week 1. Last year, the under was a profitable bet for the first month of the Alliance of American Football because books were too slow to adjust their totals, and we might see a similar situation in the XFL.
Unless bookmakers are aggressive in moving the totals down, I imagine that I will lean to the under in most Week 2 games whenever lines are released.
---
>> Our experts projected spreads and over/unders for every Week 2 XFL games
---
My plan entering Week 1 of a brand new league was to have very few firm beliefs. Until we were able to see every team play at least one game, we were able to make only educated guesses as to how each team would look and what the average scores would be.
It will be critical to not overreact to Week 1 results heading into Week 2 — finding the balance between the two will be vital to unlocking success.
Teams converted red-zone drives at a lower rate than the NFL.
Heading into Week 1, I projected the average total around 47.5. Books opened theirs in the 44-45 range, and the market quickly bet them up to close in the 49-51 range.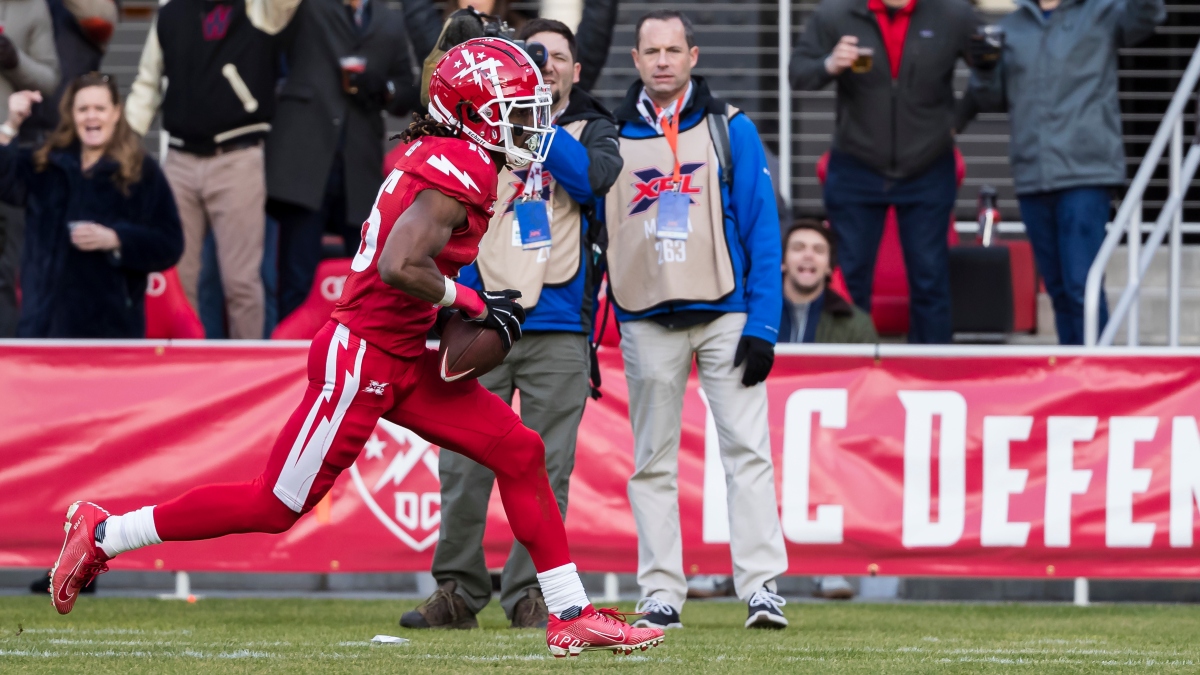 The first game ended up totaling 50 points, which appeared to indicate the market was pretty accurate. But the next three games ended up totaling 54, 26 and 24, which sent the average total down to 38.5 the opening weekend.
The league converted 41.7% of red-zone drives into touchdowns — for context, the NFL average was 56.5% in 2019. I'm not expecting the XFL to regress to 56.5%, but I do expect teams to become more efficient in the red zone as they have more time to build chemistry and figure out the right personnel to have in certain situations.
I'm interested to see how much lower the market is on totals this week.
The Tampa Bay Vipers looked worse than expected.
The Vipers had the highest season win total at 7.5 heading into the season. Despite having the Vipers No. 1 in my initial power ratings, I said on our Preview podcast that the 'under' 7.5 wins was my favorite futures bet. It made very little sense to have any team with a win total that high until we see them play. And in Week 1, the Vipers were clobbered in a 3-23 loss to the Guardians.
The Vipers failed to score a touchdown despite having a league-high four red-zone drives. They even out-gained the Guardians in yards per play 5.5 to 5.0 — you rarely see a team lead in yards per play and lose by 20 or more points.
I'm expecting the market to overreact to the Vipers' miserable performance and will look to buy low on them this week against the Seattle Dragons, who are arguably the league's worst team.
The Roughnecks are going to throw the ball no matter what.
If this wasn't already obvious after Houston left zero tight ends on its active roster coming out of the preseason, it sure is obvious now. Despite playing with a comfortable lead, Houston continued to throw the ball late into the fourth quarter. The Roughnecks called pass 71% of the time in Week 1, the second-highest mark behind only Dallas.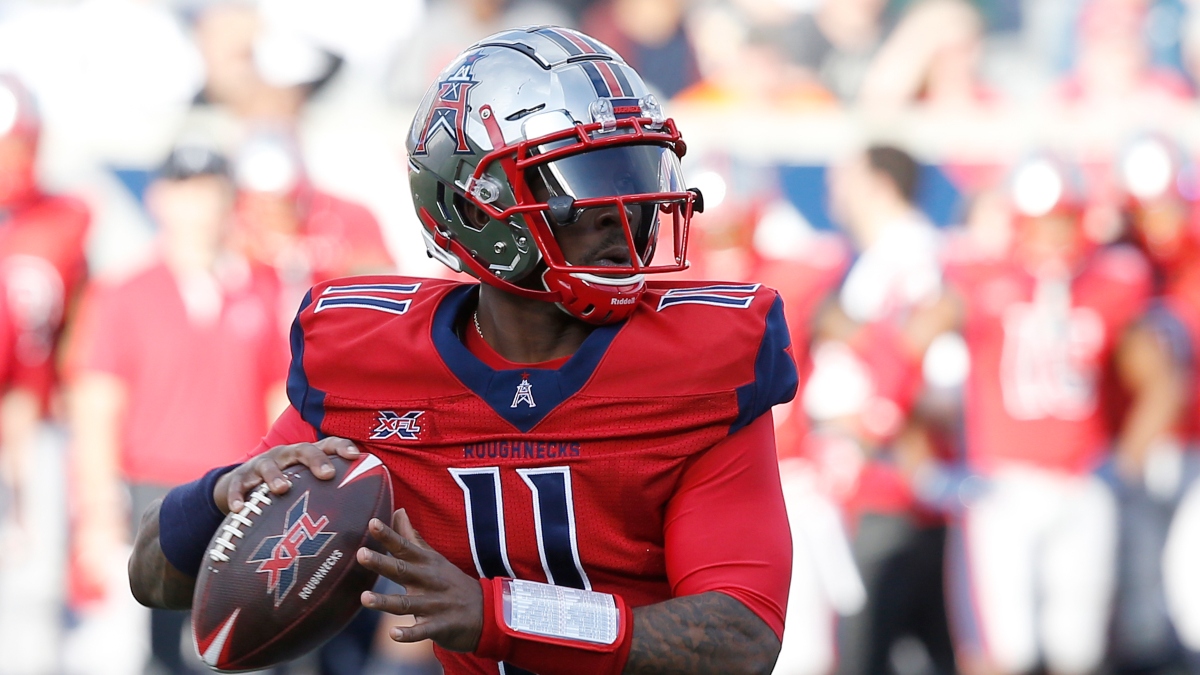 Houston also kept its foot on the gas in the point-after-touchdown game, attempting two-point conversions at a higher rate than any other team in Week 1.
It's lower-scoring than expected.
The combined scores for the four games were 54, 50, 26, and 24 for an average of 38.5. Five of the eight teams were held to fewer than 20 points.
Some of this could be due to Los Angeles (17 points) and Dallas (nine) missing their starting quarterbacks. Teams also generally tended toward conservative decision-making on fourth downs and conversions, which could change as teams review the tape.
Nevertheless, initial results suggest over/unders of 50-plus were unwarranted and should be more in line with NFL totals going forward.
Home field was an advantage.
Home teams went 3-1 against the spread, with only the Dallas Renegades failing to cover at home. Even with their 15-9 loss to St. Louis factored in, the average scoring margin for home teams was +11.5.
Passing is the differentiator.
The analytics are pointedly in favor of passing rather than running in the NFL, and Week 1 of the XFL was no different.
Winning teams in Week 1 had a touchdown-to-interception ratio of 8-to-1, while losing teams combined for only four touchdown passes against six interceptions. Six of the eight teams had at least one 40-yard passing play, while only three teams broke off a run play of 20-plus yards — and the longest run of the day was by a quarterback, Jordan Ta'amu of St. Louis, who finished with nine carries for 77 yards.
This was all done without teams making much use of the double forward pass. Early returns suggest that passing — and stopping the pass — will be the key to victory.
The futures market is volatile.
Despite beating the worst team in the league, the DC Defenders are now the favorites to win the championship at +350 (via FanDuel). Meanwhile, Dallas and Tampa Bay — two of the favorites to win it all heading into Week 1 — dropped to +600 after losing their inaugural contests.
While notching an early win is important in a regular season that spans only 10 weeks, this could be a good time to buy in on the under-performers. Tampa Bay, in particular, will finish the season with three of its last five games at home.
How would you rate this article?