PBC Boxing Betting Picks: Our Favorite Prop Bets for Errol Spence vs. Danny Garcia
Credit:
Bill Tompkins/Getty Images. Pictured: Danny Garcia.
One massive fight. Three ways to bet it.
See how our staff is handicapping Saturday's matchup between welterweight champ Errol Spence and Danny Garcia.
The eyes of the boxing world will be on AT&T Stadium Saturday when undefeated WBC and IBF welterweight champion Errol Spence Jr. defends his titles against former champion Danny Garcia on FOX pay-per-view (9 p.m. ET).
This will be the first fight for either man since the start of the pandemic and Spence's first since being involved in a 2019 car accident.
So, where's the betting value in Saturday's action? Our staff is here to break down their favorite boxing bets for the PBC main event.
Spence vs. Danny Garcia Odds
Odds as of Friday and via DraftKings. Get up to a $1,000 sign-up bonus at DraftKings today or see more offers and reviews for the best online sportsbooks.
---
Spence vs. Garcia Betting Picks
With Spence opening as the heavy minus-500 betting favorite, the odds for this fight paint an interesting picture — but I'm not buying it.
If this fight happened 14 months ago, it would likely be seen as a foregone conclusion Spence would successfully defend his WBC and IBF welterweight titles against Garcia.
Spence (26-0, 21 KO) is the cream of the crop in the welterweight division and after his 2019 split decision win over Shawn Porter in their unification match, the boxing world appeared to be his oyster.
Things may have changed since then.
Just three weeks after Spence's win over Porter, he was involved in a horrific single-car accident in which his Ferrari flipped multiple times and ejected through the windshield. Although Spence survived and suffered no broken bones, he ended up with broken teeth, facial lacerations, a twisted ankle and a bruised knee.
Many were left wondering if he'd ever fight again let alone be the same fighter.
Nonetheless, Spence returns to the ring against two-division world champion, who is the exact opposite of a tune-up opponent. Garcia (38-2, 21 KOs) has seen his stock take a hit in recent years, with gifted decisions over Lamont Peterson, and close losses against Keith Thurman in 2017 and Porter in 2018.
If you're like me, you believe boxers lose a piece of themselves in every fight. So what will a car wreck do to a fighter's reflexes, strength, ability to take a punch, mobility and overall well-being (among other things)? Spence spoke at length about wanting to quit boxing because the road back from his injuries was so challenging. This has to weigh heavily when handicapping this fight.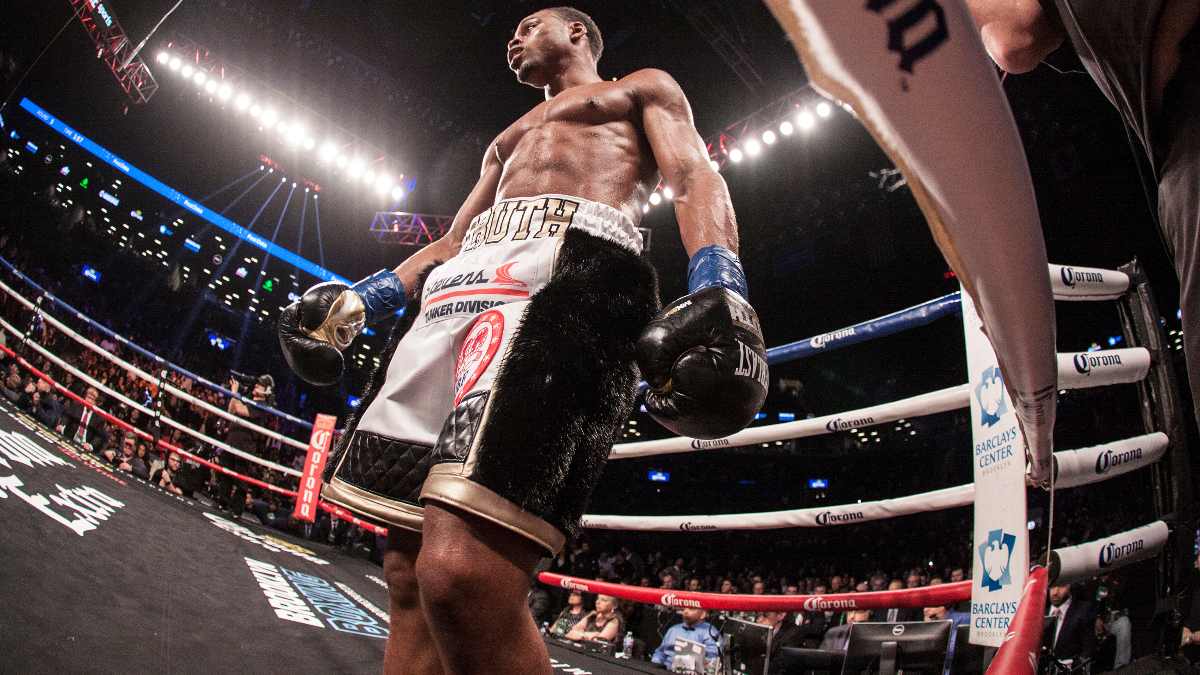 The closest historical comparison for Spence is lightweight prospect Felix Verdejo, who was in a motorcycle accident in 2016 and suffered injuries to his head, hand and leg that kept him out of the ring for two years before suffering a 10th-round TKO to Antonio Lozada Jr.
Garcia has a history of rising to the occasion in big fights. He won bouts as a sizable underdog, stopping Amir Khan in four rounds in 2012 and triumphing via unanimous decision over Lucas Matthysse in 2013. He's proven to have a sturdy chin and devastating left hook that can stop anyone in their tracks.
His one-punch knockout power hasn't been as effective at 147 pounds as it was at 140 pounds, but Thurman has said Garcia is the biggest puncher he's faced throughout his career.
If there's an Achilles' heel for Garcia in this matchup, it's his lack of work rate. In his last two fights against Ivan Redkach and Adrian Granados, he averaged 47 and 47.1 punches per round — well below the welterweight average of 56.8.
Spence, on the other hand, has averaged 62 and 90.1 punches per round in fights against Shawn Porter and Mikey Garcia. There's real danger in Garcia being outworked, as Spence could control this fight with his jab, but he's also the more technical fighter and one of the best body punchers in the sport.
Spence leaves himself open at times, though, and with Garcia's great timing and counterpunching ability, this is an intriguing matchup that feels like a closer fight than the odds suggest. I personally see this as a 50-50 fight, which makes +350 on Danny Garcia a positive, expected value proposition.
I'll be looking to play Garcia at +350 or better (William Hill currently has the best line), however, with these odds, there is an opportunity to hedge this play.
If Spence is able to overcome the accident as well as the 14-month layoff, his most likely path to winning is a 12-round decision, as Garcia's chin and lack of punishment in previous fights makes a stoppage unlikely. If you're interested in hedging this, you can play Spence by decision at -138 and still maintain a plus money wager on Garcia +350 or better.
The Pick: Garcia ML (+350)
---
I am treading very carefully with this fight. Spence is still just 14 months removed from that horrific car crash and Garcia, while not in the same "elite tier" as Spence when both are operating at their best, is no pushover.
So with all the variance, I'm going to bet small on a couple of bigger prices.
If you truly believe Spence will be himself, the -400 money line at BetMGM is actually a fine price, as I think Spence beats Garcia more than 80% of the time under normal circumstances. That said, I have no interest in laying that kind of juice on Spence in his first fight back in the ring.
This isn't a tune-up fight. Spence is fighting one of the best boxers in this division.
Garcia may not be in the same class as Spence or Bud Crawford, but he's certainly capable of pulling the upset and his skill-set plays into this funky fight.
Garcia's best quality is his counter-punching. "Swift" has a punishing left-hook and if Spence's timing is off — which it may be considering the circumstances — Garcia could end this fight in a split second. Is it likely to happen? No, but that doesn't make it an interesting way to approach this fight.
If you're skeptical of Spence's form, this is the path I would explore, rather than backing Garcia to win via decision, as I have a hard time believing Danny can out-box Spence if this fight drags on. At +1600 or better, Garcia to win in Rounds 1-6 is an intriguing option.
If Spence senses danger or that his timing is off, he can stay behind his jab and use his reach to dictate the terms of this fight and bank enough rounds to win. Against the technically flawless-but-undersized Mikey Garcia (no relation), Spence used his size and reach in a one-sided decision.
He's a smart fighter with a lot to lose if this fight goes awry, so I don't expect him to try and stop Garcia if he doesn't have to — especially since his opponent on Saturday night has an incredible chin.
Just watch the first round of this fight against Keith Thurman and you'll see what I'm talking about:
If it does take some time for Spence to get going, I think the draw is also very live at +2000. The longer the fight goes on the better I expect Spence will be as he shakes off potential rust and rhythm issues.
If Garcia takes some early rounds and Spence finds his legs later in the fight, we could be headed for some drama on the cards and I am curious to see how the judges will score this given Spence's situation. I could see them being a little more lenient toward Errol, considering his circumstances, and the fact he is the A-Side of this fight.
The Pick: Garcia to win in Rounds 1-6 (+1800) | Draw (+2000)
---
Malik Smith: Errol Spence Decision Prop
I broke this fight down in greater detail, but here's a quick summary of my analysis.
The odds suggest this bout is headed for a decision (-250 odds to go the distance) with good reason. Garcia has never been knocked down in a professional fight and should be able to avoid some of Spence's most dangerous blows with his tactical defense. Garcia just isn't the type of fighter who stops his opponents, especially at the top level (he hasn't scored a KO victory in a world title fight since moving up from junior welterweight).
The Philly native has a habit of making his fights against top competition close on the scorecards, most notably his split-decision loss to Thurman in 2017 and majority decision win over Lamont Peterson in 2015. However, I expect Spence to outlast Garcia and have his hand raised at the end of the night.
I think Spence by decision is the best value on the board at -139 (58.1% implied odds), but I'm also going to place a small bet on the draw because boxing judges can't be trusted.
The Pick: Spence by Decision (-139) | Draw (+2000)
How would you rate this article?