Gennadiy Golovkin vs. Sergiy Derevyanchenko Odds, Betting Picks: Can GGG Reclaim the IBF Title?
Credit:
DAZN Twitter. Pictured: Gennadiy "GGG" Golovkin.
Gennadiy Golovkin vs. Sergiy Derevyanchenko Odds
Golovkin odds: -500
Derevyanchenko odds: +333
Over/Under: 10.5 Rounds (-167/+125)
Time: Approx. 11 p.m. ET
TV: DAZN
Location: Madison Square Garden, New York
---
All odds above as of Saturday. Check out PointsBet, where Action Network users get an exclusive 200% deposit match (deposit $50, bet with $150).
---
Former middleweight champion Gennadiy "GGG" Golovkin (39-1-1, 35 KO) returns to Madison Square Garden to face Sergiy Derevyanchenko (13-1, 10 KO) for the IBF middleweight belt.
At this point in GGG' career, belts don't mean quite a much as a third scrap with Canelo Álvarez would (or a bout with fellow DAZN fighter
Demetrius Andrade). Still, reclaiming the belt he lost in the lone defeat of his career should be plenty of motivation.
His opponent, Derevyanchenko, suffered his lone defeat fighting for this same belt last year against Daniel Jacobs in a close fight that proved he belongs in the ring with heavy hitters.
GGG vs. Derevyanchenko Odds Movement
Golovkin has been the favorite since the opening odds came out and has held steady in around the market at about -500. Both fighters are coming off bouts in which they were heavily favored, but the market is showing some respect for Derevyanchenko who is in the +300 range at some books.
GGG vs. Derevyanchenko Picks
Golovkin has really made Madison Square Garden his home away from home throughout his career. GGG brought his Big Drama Show back to the Garden for the sixth time in an exciting KO win and one could argue he's had more dominant wins in that building than the Knicks since he first fought there in 2013.
Ironically enough, this is the second time that GGG will be in the ring after a potential Fight of the Year bout took place just seven days prior. First it was the upset of the decade between Andy Ruiz Jr. in June and now he has to fight in the shadow of Spence-Porter from last Saturday. But I think that will, in some ways, fuel GGG even more.
People forget that he was arguably the most dominant force in boxing for a while despite not getting much recognition — his 23-fight KO streak pushed many champions to duck him and his 19 title defenses at middleweight rank second-most all time behind Bernard Hopkins.
His strategy hasn't changed much even with his controversial bouts with Álvarez. He still pressures his opponents with his jab and still possesses one-punch knockout power.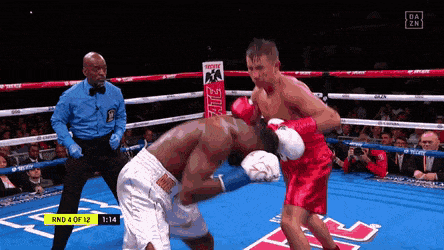 All that said, the number that stick out most to me is 10.5 rounds. Sure Derevyanchenko belongs in the ring with heavy hitters, as was stated above, but I can't see him weathering the storm that GGG inevitably brings into every fight.
Few fighters actually improve as they get older, but Golovkin looked especially sharp his last time out. He was throwing from awkward angles and smothering Steve Rolls like he had eight arms. Derevyanchenko was dropped early in his lone title fight with Jacobs by a similarly awkward punch and that proved to be the deciding points on an otherwise close bout.
I like GGG to close this one out in style well before the 10.5 round mark. — Malik Smith
Bets: Golovkin by KO/TKO +105 | Under 10.5 +125
---
It's pretty staggering to see the Over/Under for a Triple-G fight listed at 10.5 Rounds, but that's where we are in late 2019. The public perception of Golovkin has changed from Boxing's Boogeyman, to past-his-prime. It's hard to argue that GGG's powers have lost some luster, but his peak was so high that we really have no great idea for his level right now.
What we can say with certainty is that Golovkin is still motivated and is hell-bent on avenging his controversial loss against Alvarez.
Golovkin has only had one fight since changing trainers, and it came against a nobody, so we haven't seen the "new" Kazakh Thunder yet. Even though Golovkin ended that fight early with a stupendous knockout, it took Triple-G a couple of rounds to settle in against Rolls.
It will likely take longer for Golovkin to figure out Deveryanchenko, a technically-gifted fighter who gave a good account of himself against Jacobs, even after a first-round knockdown.
A good boxer-mover, Deveryanchenko will likely try to elude Golovkin and weather the early storm. Triple-G is not in the ring to out-score his opponent, so Triple-G will be hunting down the difficult-to-find Ukrainian from the opening bell.
It's hard to imagine that Deveryanchenko can get-in-and-out against Golovkin for 36 minutes. And even if he's successful in the early going, Triple-G won't take his foot off the gas. Even when he's not in rhythm, GGG is a pressure-fighter, opting to keep his opponent under siege. He'll make adjustments, but he's going to be throwing hands while he's doing it.
Golovkin's legendary chin allows him to keep stalking. Deveryanchenko's got pop, but GGG has seen much cleaner, more powerful fighters in his career.
Against a mover like Deveryanchenko, I'd suspect GGG will be targeting the body early and often, trying to slow down "The Technician" so he can start to land with real power. It would take something really special for Deveryanchenko to come into MSG and take down Triple-G. At some point, the underdog will need to take some risks and that should leave him open.
Fair or not, Golovkin needs to put on a trademark "Big Drama Show" to have a chance at negotiating his way into a third fight against Canelo in 2020. It could take some time to unlock Deveryanchenko, who is a top-class middleweight, but Golovkin's power will make up for any technical edges that the Ukrainian possesses.
I think the market is too sour on Golovkin going into this fight and will look for him to close the show inside the distance. Depending on what you have available and what odds are better, I'd take either the Fight to Not Go the Distance or GGG by stoppage. — Michael Leboff
The Pick: Golovkin by KO/TKO +105
How would you rate this article?