Gennadiy Golovkin vs. Steve Rolls Betting Preview, Odds, Schedule: Is Another Upset Brewing at MSG?
Credit:
Credit: DAZN. Pictured: Gennadiy "GGG" Golovkin.
Gennadiy Golovkin (GGG) vs. Steve Rolls Betting Odds
Golovkin Odds: -6000
Rolls Odds: +1600
Over/Under: 5.5 Rounds (+115/-135)
Time: Approx. 10:45 p.m. ET
How to Watch: DAZN
Boxing returns to Madison Square for the second consecutive week with a card headlined by a feared knockout puncher and an underdog who has about a 5% chance of winning.
Gennadiy "GGG" Golovkin (38-1-1, 34 KO) was actually in the building for the upset heard 'round the world and will look to emerge victorious against Canadian Steve Rolls (19-0, 10 KO).
Golovkin's price to win is much too high to even bother looking at, so we'll see where the value is in the over/under for Saturday's action.
Michael Leboff
The betting market for this fight will be peculiar because there's a chance that a lot of casual bettors toss a few bucks on Rolls at massive odds after seeing Andy Ruiz pull off a stunner last weekend in this very venue.
Nobody should expect a similar result here as Ruiz had a few impressive fights under his belt before his sport-changing result. Rolls' resume is as unimpressive as it gets and it's clear this is a tune-up fight for GGG before a possible trilogy showdown with Canelo in September.
It's also Golovkin's first fight with Jonathon Banks as his trainer, so taking on an also-ran makes sense so that Triple-G and Banks can work through a real fight before what comes next.
Banks is preaching that he's not changing Golovkin's seek-and-destroy style but will look to help GGG improve his head movement, which won't be a big deal against Rolls but will definitely pay dividends against Canelo or Demetrius Andrade in a few months.
Golovkin and Rolls will be fighting at a catch-weight of 164 pounds (Golovkin has been fighting at 160 for the prime of his career) so the weight-cut should be easier and GGG should have even more power than usual.
I don't think Golovkin or Banks will want to see Rolls make it out of the early rounds as they are here to make a statement. Triple-G isn't done, he's just been re-booted and should be more motivated than ever after two highly controversial decisions (Draw, Loss) against Canelo.
I don't expect this fight to last long and think there's better than a 65% chance it ends before the midway point of the sixtth round.
The Bet: Under 5.5 Rounds (-150)
Malik Smith
Last week's upset was great for the sport of boxing regardless of what some writers and talking heads have been saying throughout the week. It was not great for betting on tune-up fights (which is exactly what this matchup is as Michael pointed out), but that's good for boxing, too.
When Golovkin fought to a draw in his first scrap with Canelo Álvarez, his next fight was against a man who was nowhere close to his level. It was a fight that was so short, you can fit all the relevant details into this GIF: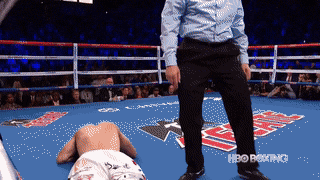 The last time we saw Golovkin he lost a very close majority decision to Álvarez and again he's facing a man who, despite his undefeated record, is not on GGG's level. I expect him to take out that frustration of the first loss of career on Rolls and send a message to Canelo that he's ready for Part III.
There's only one logical bet to make in this fight.
The Bet: Under 5.5 Rounds (-150)
How would you rate this article?