Manny Pacquiao vs. Keith Thurman Fight Odds, Preview: Should Pac Man Be the Favorite?
Credit:
Joe Camporeale-USA TODAY Sports. Pictured: Manny Pacquiao (left) and Keith Thurman face off after weighing in at the MGM Grand Garden Arena.
Boxing legend and WBA World Welterweight champion Manny Pacquiao will face off with WBA "Super" World Welterweight champion Keith Thurman in Las Vegas.
We preview the best bets to make in this exciting summer bout.
Betting Odds: Manny Pacquiao vs. Keith Thurman
Pacquiao odds: -170
Thurman odds: +145
Over/Under: 11.5 Rounds (-330/+260)
Time: Approx. 11 p.m. ET
Location: MGM Garden Arena, Las Vegas, Nevada
TV: FOX PPV
After about six months of chatter, Manny "Pac Man" Pacquiao (61-7-2, 39 KO) and Keith "One Time" Thurman (29-0, 22 KO) will meet in Las Vegas at the MGM Grand in Las Vegas for the WBA Super World Welterweight title.
Pacquiao, the 40-year-old elder statesman, is coming off a phenomenal performance in January against Adrien Broner, while Thurman has some question marks after fighting to a majority decision against Josesito Lopez six months ago. This fight should be the most exciting fight of the summer with two champions capable of putting on a show with their punching power.
Thurman has already tried to make this fight more interesting, vowing to bet $10,000 on himself to knock Pac Man out within three rounds and retire the future Hall-of-Famer. Our boxing experts discuss if Thurman can make good on that promise.
Michael Leboff
If you take away the names and just focus on the numbers in front of you — most importantly the 10-year age gap between the fighters — I think you'd be hard-pressed to come up with a reason to make Pacquiao the favorite in this fight.
This is the type of bet that may not feel great to make, going against an extremely popular fighter in front of what will be a raucous crowd, but that doesn't mean it isn't the right bet.
I'm not saying Pacquiao can't win, but Thurman should be around a -150 favorite in this fight, which means you are getting great value on "One Time."
Even though Thurman didn't look great his last time out and has been plagued by injury and inactivity in his career, he's still the better fighter right now. He has already earned victories against two of the division's best talents in Danny Garcia and Shawn Porter.
After an incredibly controversial loss against Jeff Horn, Pacquiao's last two victories look great on paper but they need context.
Last summer, Pacquiao earned his first KO since 2009 in a win over Lucas Matthysse in a fight that can be described only as a farce. Matthysse traveled to Southeast Asia to collect a paycheck and then retire, so you can pretty much toss that fight out the window.
I was all over Pac Man in his unanimous decision victory over Broner, but in that fight AB's strategy — which was basically to shell up and run away from Pacquiao for 12 rounds — definitely made Manny's life easy. Pacquiao was all over AB in that bout but Thurman will not let the Filipino have his way like Broner did.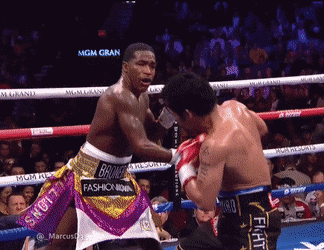 Thurman's ability to time-and-counter should work well against an aggressive Pacquiao. Keith should be able to catch Pacquiao coming in with his left hook, and I also expect him to keep the Senator at bay behind his jab.
I know Pacquiao will be heavily supported by public bettors and bookmakers need to adjust for that, but I'm having a hard time finding a sound reason to make Pacquiao a favorite in this fight. Thurman is a terrific bet at any number above +100, but with the way the market is heading it may make sense to let Pacquiao continue to get bet up.
The one thing that does concern me is Pacquiao's home-ring advantage. Even though Thurman is the American, he will be the Black Hat in the ring on Saturday night.
And as is the case with other sports, boxing has a home-field advantage, and it belongs to the Pac Man in this fight. Pacquiao is an all-action fighter so the crowd will go nuts every time he throws, and that will give him an edge if this fight hits the cards, which the odds suggest it will.
For that reason I am throwing a little bit of money on the draw. I think this fight will be really tough to judge. Pacquiao will be the more active fighter, but Thurman is a risk-averse counter-puncher with a high boxing IQ, so he could land the more powerful, cleaner shots.
We've seen some high-profile fights end in draws before so I put a quarter unit on the tie at 16-1.
*Note: The draw is falling fast around the market, but still available at 14-1 at some books. I probably wouldn't bet it below that number.
Bets: Thurman +140 | Draw: +1600 (quarter unit)
---
Malik Smith
When famed promoter Al Haymon started Premier Boxing Champions in 2015, he chose Thurman to headline the first ever card on NBC. For about two years, Thurman's rising star power was undeniable and he was arguably the next man up behind guys like Floyd Mayweather and Pacquiao in the welterweight division.
But the narrative around Thurman has changed drastically over the years. Despite holding a title longer than any of his fellow belt holders in the division — Errol Spence (IBF), Terence Crawford (WBO), Shawn Porter (WBC) — Thurman seems like the B-side to all of his contemporaries.
As Michael points out, Thurman's recent resume is much better than Pacquiao's even if he didn't look spectacular in his last outing. It's hard to imagine a fighter looking stellar after not being in the ring for nearly two years.
I get the feeling that Pacquiao will match up with Thurman the same way he did with Porter in 2016: He'll crowd Thurman's air space and try to get short punches inside should the opportunity be there.
Still, Thurman feels like the right side, likely by a close decision, which Pac Man is all too familiar with. Thurman is younger and certainly on Pacquiao's level (especially at 40 years old). As for the knockout props, I wouldn't put too much stock into Thurman betting on himself.
Boxers are supposed to be confident, and Thurman is set to make at least $2.5 million on this fight win or lose. He could put $10,000 on every round if he wanted to and still come out ahead. But if you're feeling really lucky and want to hedge, throw something on a group round prop between Rounds 7-12.
Bet: Thurman wins by decision +225
How would you rate this article?