2021 U.S. Open: 10 Takeaways From Torrey Pines, Including Jon Rahm's Win & Bryson DeChambeau
Credit:
Keyur Khamar/PGA TOUR via Getty Images. Pictured: Jon Rahm.
SAN DIEGO — Forget about taking a walk down Narrative Street. Jon Rahm just bought the biggest mansion on the block.
Playing on Father's Day two months after becoming a father for the first time and two weeks after a positive COVID-19 diagnosis knocked him out of the Memorial Tournament with a six-stroke lead, Rahm dragged all of these storylines across the finish line, closing birdie-birdie to win the 121st U.S. Open at Torrey Pines.
Let's get to my 10 takeaways from what was another drama-fueled and entertainment packed major championship.
1. "I'm a big believer in karma."
Those were the words of Rahm when I spoke with him early in the week, in regard to that withdrawal at the Memorial Tournament and what it could mean moving forward. He echoed that sentiment after the victory, a paean to whatever golf gods might've taken away one victory and given him another.
I knowingly didn't post that quote to my social media feed, which is still trying to recover from the political crossfire in the replies from two weeks ago, but I found it significant that he'd suggest it.
Whether you agree with Rahm's assessment or not, you still have to acknowledge that this was a serious story of redemption, even if it came from a self-inflicted wound. One could even argue that Rahm did as much to win this tournament before it ever started as during the four rounds of competition.
Rather than air some grievances and let this story linger, he spoke reasonably about the entire situation and provided some important perspective.
"I was a little bit scared because even though I was feeling fine, I didn't want to give the virus to anybody in my house," Rahm said. "I didn't want to possibly give it to our young son. Yeah, I think the hardest part out of all this was for just over 10 days not being able to even spend any time with my little one.
"Adding to that, my parents came into town, couldn't be around them. My mom is fully vaccinated, so I spent a little bit of time [with her]. My dad is in the process. I wasn't there when my parents met my son, and I hadn't seen my parents in over a year, almost a year and a half. Those are the hard parts about this virus in life. Whatever happens on the golf course was absolutely secondary in my mind."
He could've focused on the frustration over not being able to continue in that event or what it meant to him financially, but he opted for the high road. In doing so, he buried the story and was able to move on from it.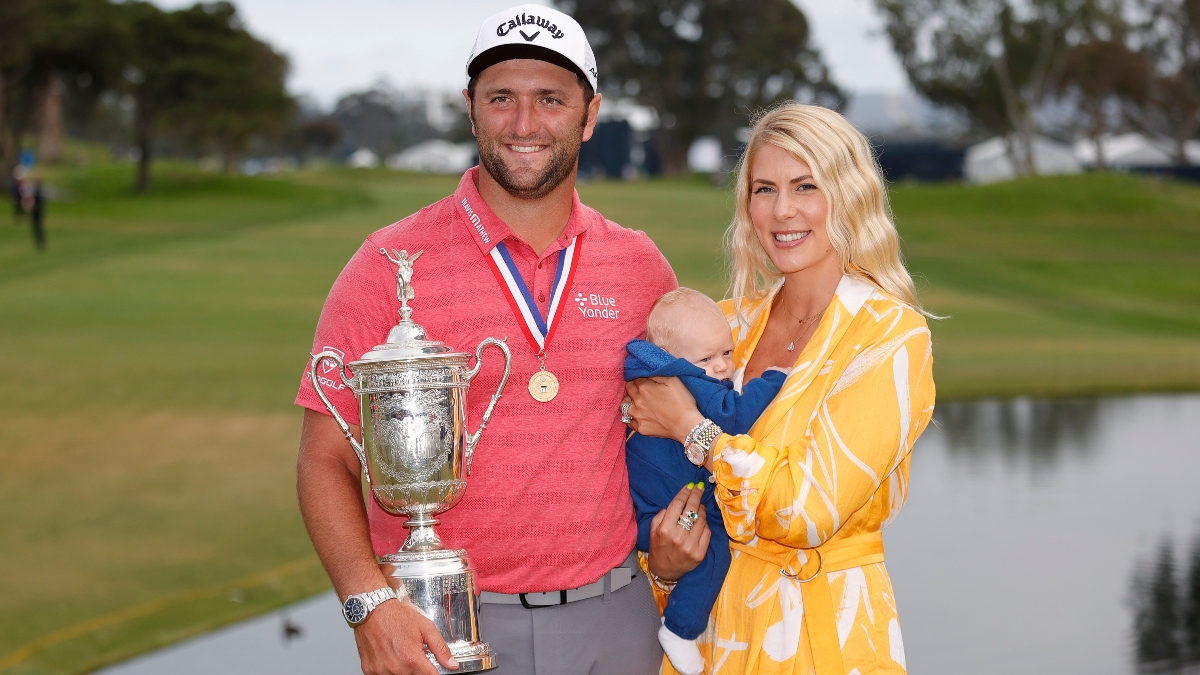 2. The biggest lesson this week? Always hammer the favorite.
No, no, no, no. I refuse to ever take that stance, but backing the pre-tourney fave in this circumstance paid off for bettors. Closing at anywhere between +900 and +1100, Rahm was widely regarded as having the highest ticket percentage and highest handle of any outright in the field.
According to The Action Network's Darren Rovell, Rahm's win caused a seven-figure loss at BetMGM.
Even the non-bettors liked him. I conducted a little informal poll of media colleagues prior to the first round and nearly every single one of 'em picked Rahm. When I chided them for taking the guy with the shortest odds, the usual reply was, "Yeah, because he's going to win."
Chalk up another win for chalk and score a few points for Occam's Razor, the problem-solving principle which essentially states that the simplest explanation is often the best one.
There have now been two editions of the U.S. Open played at Torrey and the pre-tourney favorite has won 'em both. Something to keep in mind for 2029 or whenever the next one gets scheduled here.
3. And yes, there will indeed be more editions of this event at this course. There was plenty of #GolfTwitter chatter this week about the South Course as a U.S. Open venue. Or more specifically, the South Course as an undeserving U.S. Open venue.
I understand the take. From an architectural standpoint, Torrey is an Oakland-Alameda County Coliseum in a world of Fenway Parks and Wrigley Fields. There's not much creativity, there's plenty of repetition and there aren't many memorable, distinguishable holes. It doesn't take a woke golfer to realize that's a poor combination.
What I think plenty have missed in this debate, though, is that being architecturally unimpressive and being a deserving U.S. Open venue aren't mutually exclusive. In particular, Torrey Pines had two things going for it this weekend.
The first is that this course produced yet another great leaderboard, as it so often does for the Farmers Insurance Open, too.
The second is that unlike so many other U.S. Open courses, where players simply try to grind out par after par, this one yielded a steady diet of birdies and bogeys, as well, offering plenty of movement on that leaderboard.
4. One of the big questions entering this week was whether success at the Farmers Insurance Open would translate to success at the U.S. Open. Now that the week is over, we can say that the answer to this question is decisively … inconclusive.
Sure, many will point to Rahm's victory and instantly insist that there's a correlation, since he owns arguably the best record at the January-based Torrey Pines tourney in recent years, with a victory in 2017 and three other top-10 finishes since then.
That correlation didn't exactly carry over to others, though.
Patrick Reed and Marc Leishman are the past two champions of that event and they finished 19th and 64th. Then there's Justin Rose, who won the Farmers two years ago, and Tony Finau, who owns a terrific track record in that event. Neither got anything going over the first two rounds, leading to a pair of unceremonious missed cuts.
5. I really like Bryson DeChambeau. There, I said it — and no, that doesn't have to mean that I'm #TeamBryson over #TeamBrooks or any of that nonsense.
The truth is, I've never had an interaction with DeChambeau during which he was anything less than genuine and courteous. There are those who might, um, roll their eyes at what he has to say sometimes, but that shouldn't be misconstrued into thoughts that he's some sort of villain within the game.
Thursday was an excellent microcosm. Following his round — and unlike most other top players who finished late into the gloaming — Bryson came to the interview area to speak with a few of us reporters. He spoke about how disappointed he was in his own performance and what he needed to improve upon.
Then I asked him about a video clip which was already going viral. Earlier in the day, as Golf Channel's Todd Lewis was about to interview Koepka — in very much the same scenario that fueled this whole thing last month at Kiawah — DeChambeau walked through the background and playfully showed off his vertical, as he'd later tell us, waving to the camera from behind them.
Bryson photobombing Brooks' interview with Todd Lewis (again) is amazing😂

— Zephyr Melton (@zephyrmelton) June 18, 2021
When I asked him about it, he laughed and said, "People were thinking that I was doing something at the PGA Championship; I wasn't doing anything. [Today], I saw the opportunity and I just had fun with it."
Some 45 minutes later, as the gloaming became darkness and every other player had already left, DeChambeau was still banging driver on the practice range. It was the exact sort of thing that would cause other players (not to mention fans, as well) to roll their eyes, but the truth of the matter is that he was still working to find something for the next day. If that was, well, just about any other competitor, our collective eye rolls would've instead been approving nods, thankful that a world-class player was still willing to put in the time and effort needed to better himself within the confines of a tournament.
That work ethic should be celebrated, not ridiculed. Maybe those who don't understand this notion are deserving of an eye-roll themselves.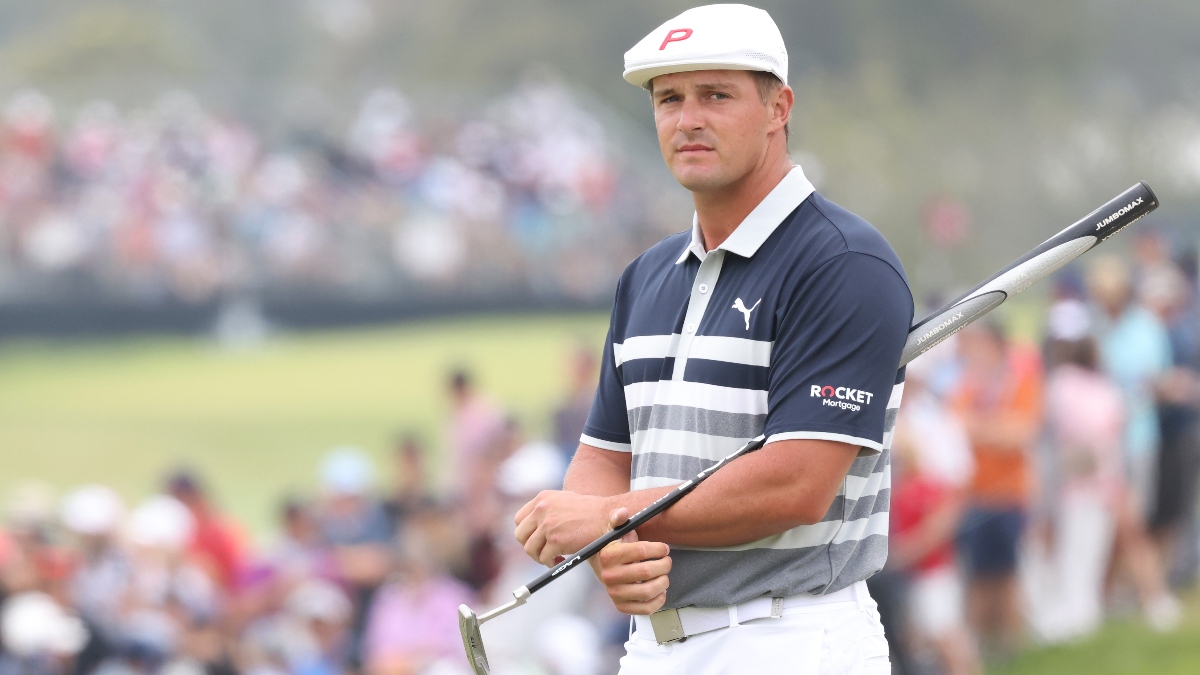 6. I spent much of the week conducting post-round player interviews for the U.S. Open Radio coverage on SiriusXM and had a front-row seat to some unique insight from many of the game's best.
Perhaps my favorite quote came from Rory McIlroy after the second round, when I asked him about Richard Bland, who was leading the event at that point, one month after winning for the first time on the European circuit.
"You've got him winning his first event at 48, you've got Phil winning the PGA at 50," said the 32-year-old McIlroy. "That's the great thing about golf. It bodes well for the next 18 years for me. When I turned pro, I thought I'd give up by 40. Guess I've still got another 18 years left."
McIlroy said those words with some levity and a smile on his face but the message is clear, for him and every other world-class player: As pros are now staying in better shape physically, career longevity owns more potential than ever before, essentially letting these players remain a little more patient.
For a guy like McIlroy, now seven years past his most recent of four major wins, that could be an important takeaway.
7. Speaking of Rory, his Wikipedia entry will forever show another top-10 at a major, the 23rd of his career, finishing in a share of seventh place at Torrey Pines, but that doesn't underscore his discouragement after this one.
McIlroy was in a share of the lead heading to the back nine on Sunday, only to post a double and two bogeys on his way in.
While working on tweaks to his game, I still maintain that his win last month at Quail Hollow was an outlier, rather than a major step in the right direction. Speaking with him after the final round, though, he offset his disappointment with some optimism about his game moving forward, specifically suggesting that he believes he could have everything in place for another title contention at Royal St. Georges for next month's Open Championship.
That remains to be seen, of course, but it's undeniable that majors are simply more exciting when one of the game's biggest drawing cards is getting himself into the mix.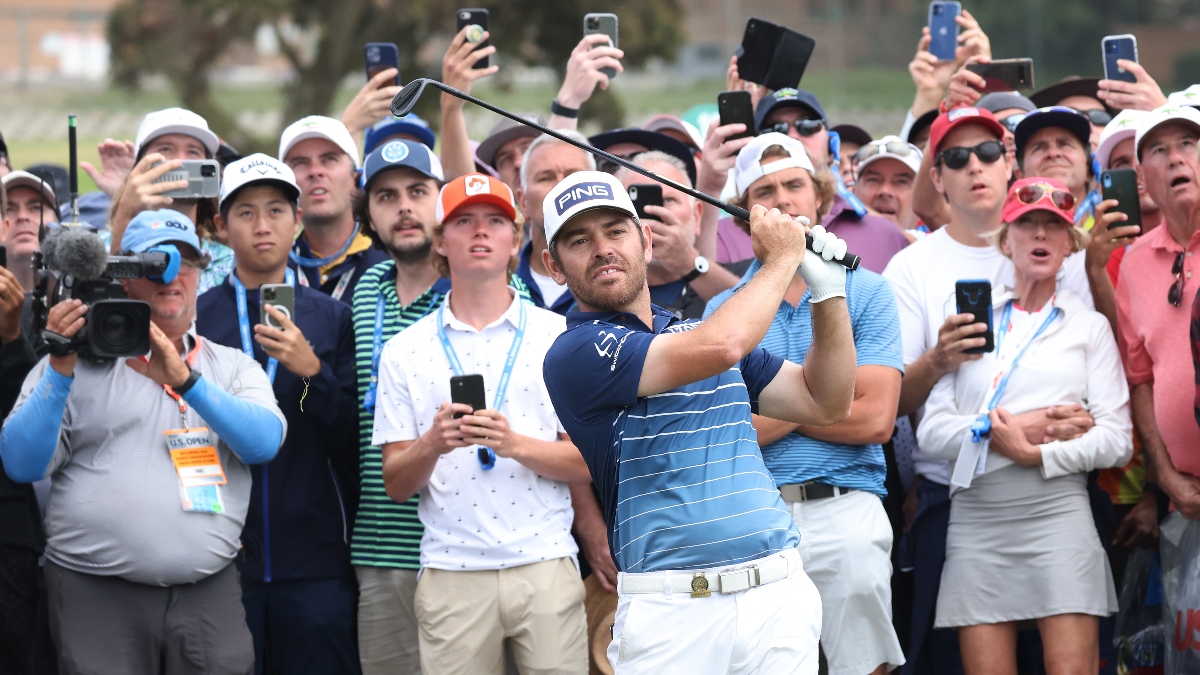 8. Poor Louis Oosthuizen.
Since winning the Open Championship in 2010, he's now compiled a half-dozen runner-up finishes at major championships, including each of the last two. There's certainly a takeaway that Oosthuizen struggles to close out tournaments and might lack the innate tools which some players own in the heat of the moment.
For a player with the sweetest swing in the game who also leads the PGA TOUR in putting this season, we have to question how and why that's never equated to a victory on U.S. soil. But it's also a whole lot of bad luck.
Just as I believe Phil Mickelson has long been an excellent U.S. Open player based on his many close calls, we're not talking about Oosthuizen right now if he doesn't continually get himself into these situations.
And there's one more thing I'd like to note about him: Minutes after another heartbreaking defeat, he handled every media request and answered every question, then endured a USGA ceremony and photoshoot, during which he was given the second-place medal. Many other players would have balked at such pomp and circumstance in the wake of this type of loss, but he handled it with class and a forlorn smile.
9. I wrote about a certain U.S. Open narrative before this week started, spoke about it many times during the tournament and will point it out once again in the aftermath: This tournament is no longer the domain of the champion plodders.
Once upon a time, guys who could hit fairways and greens and grind out pars often had the best chance of winning this event, but the recent winner's list suggests a stark contrast.
Entering this week, the past half-decade had given us Brooks Koepka (twice), Dustin Johnson, Gary Woodland and DeChambeau.
What do they all have in common? Each is a big, strong, powerful, athletic player who is able to gouge balls from the thick rough when necessary. Rahm, of course, fits this profile perfectly, too.
One or two can be a coincidence, but six in a row is a definitive pattern.
10. Two years ago, those who lord over the game's major championships and its highest level tours implemented a new schedule which aligned the four major championships within a four-month span. That was obviously disrupted due to COVID-19 last year, but we've witnessed the full impact of this change so far this year. The game now carries more momentum from one major to the next, essentially creating more of a sprint than a marathon.
There are some who still balk at accepting this move, believing that the biggest events should be more spread out throughout the spring and summer months, but I'm fully on board with it. We're now just three weeks away from The Open Championship, already chock full of storylines coming off this one. In a world where so many decisions are based solely on the benefits to those who are running it, this decision has created a better platform for those fans who can build support off of this momentum.
How would you rate this article?
This site contains commercial content. We may be compensated for the links provided on this page. The content on this page is for informational purposes only. Action Network makes no representation or warranty as to the accuracy of the information given or the outcome of any game or event.