2021 Wells Fargo Championship Picks: Outrights, Sleepers, Matchups & Prop Bets at Quail Hollow
Credit:
David Rosenblum/Icon Sportswire via Getty Images. Pictured: Brendan Steele
The PGA TOUR will head north to Charlotte, N.C. this week for the 2021 Wells Fargo Championship at Quail Hollow. If last week's field at the Valspar was light on depth, this one certainly makes up for it as 10 of the top 15 players in the world will be in the field with the PGA Championship on the horizon.
Justin Thomas is the betting favorite once again, but there are plenty of players who could challenge JT this week. Below you'll find our favorite outright bets for the 2021 Wells Fargo Championship.
Harold Varner III (+9000)
I could've simply gone with my first thought here: After a monster ball-striking week, just play the favorite in Justin Thomas, who won his lone major here in 2017. I could've pushed Varner to my favorite FRL bet, writing something to the effect of: With a history of fading on Sunday afternoon when in contention, he owns more Thursday value than anything on the weekend. Instead, I'm going with a (sort of) longshot as my favorite play here, sort of an ode to a combination of Sam Burns and Max Homa vibes.
Following his first victory on Sunday, Burns said, "Those moments in the past, they test you and you learn a lot from them." I've often preached over the years that while the public largely sees close calls as disappointments, players almost universally view them through a prism of promise; they understand exactly what Burns articulated about learning from those moments. Here's to the belief that HV3, fresh off a T-2 in his most recent start at the RBC Heritage that was admittedly hardly a heartbreaker, is ready for similar validation of this belief.
As for the correlation to Homa, who happens to be the defending champion of this event, which was canceled last year, Varner is a North Carolina native and Quail Hollow member, which in a way mirrors Homa's allegiance to his hometown Genesis Invitational, which he won earlier this year.
We've long known that Varner has the game to compete with the world's best players. While he doesn't own a great record at this tourney, he has finished 21st-or-better in four of his last eight starts, which suggests he might finally be ready for that long-awaited first victory this week.
Sungjae Im (+4500)
I am going with a bit of a gut play this week as I believe Sungjae is close to breaking through for another win, and Quail Hollow is a course that could be a great fit.
Ideally I wish he was a bit longer off the tee, but the way he gains strokes in that department despite not being one of the longest in the field, eases that concern for me. The part that really has me excited is that Im has gained more than a stroke on the field with his irons in each of his past two events, and seems to be getting back his ball-striking prowess from tee to green.
He will also benefit from his preferred bermudagrass throughout the course, all of which adds up to a great value on the South Korean heading into the Wells Fargo Championship.
Bryson DeChambeau (+1400)
I rarely go to the top of the board for outright picks, but DeChambeau feels like the right play this week. He ranks first in my model and does everything I am looking for in a golfer to win at Quail Hollow.
With many of the approach shots coming from further than 200 yards, it cannot be overstated how much of an advantage that gives DeChambeau. He ranks first in this field in proximity from 200-plus yards because he is coming into the green with a long iron, which can be said about very few other players. DeChambeau also ranks 13th in Strokes Gained: Par-4 450-500, and plays those long holes very well.
The last time we saw DeChambeau, he really struggled at Augusta National, but it seems like that is just a course that has his number and is an outlier considering how well he was playing going into Masters week. With a fourth-place finish here in 2018, we already know Bryson has an eye for Quail Hollow.
When betting the top of the board, the first thing I look for is win equity; which is something DeChambeau has plenty of. He has six wins since August 2018 and being such a historian of the game, you can be sure he has his sights set on a victory at Quail Hollow.
Xander Schauffele (+1900)
After a very brief stretch of subpar play, the X man turned back into his usual dominant self over his past two starts. He turned in a T-3 at the Masters before he and Patrick Cantlay shot up the leaderboard on Sunday of the Zurich Classic to finish in a tie for 11th.
Schauffele has only made one start at Quail Hollow, finishing 72nd in 2018. However, he's shown and even discussed himself how he feels more comfortable on tougher tracks where par is a good score. He had poor history at Torrey Pines before finishing in tie for second this past January. Torrey is one of the comp courses I'm using for this week, as is Riviera where he tied for 15th in February.
It feels like Schauffele's going somewhat under the radar with Jon Rahm, JT and DeChambeau all in the field this week. Being that we don't have strokes gained data for both the Master's and Zurich, Schauffele's recent rolling numbers won't look great. That should not deter us however, and getting close to 20/1 on the No. 4 player in the world at a major-style course is a pretty good deal to me.
Will Zalatoris (+2900)
Quail Hollow has hosted the coronations of Anthony Kim (2008), Rory McIlroy (2010), Rickie Fowler (2012) and Max Homa (2019), as well as Justin Thomas' lone major victory at the 2017 PGA Championship. It's an equal-opportunity stage with a knack for pushing the brightest stars out front.
Zalatoris is playing the role of Polaris these days, and his strengths from tee to green are ideal to join the club.
Patrick Cantlay (+3000)
All week my gut has been pointing me to Patrick Cantlay. Many may scoff at this pick considering he has missed his last three cuts, but I choose to see this as an excellent opportunity to buy low.
Seeing Cantlay's name next to odds that begin with a three is rare, and for good reason. Cantlay is one of the most consistent and complete players on TOUR. In the last 100 tracked rounds, Cantlay ranks top-15 in this field in the following strokes gained categories: Approach, Around the Green, Off the Tee, Birdie or Better, and Bogey Avoidance. No other player in this field carries that kind of resume in those statistics over that big of a sample size.
Quail Hollow demands players to be sharp in every aspect of their game to compete. Playing over 7,500 yards, the winner will need to be long off the tee, accurate into greens, and display touch around the greens that they miss. Cantlay is the complete player that can win here, and we are getting an inflated price due to the recent struggles.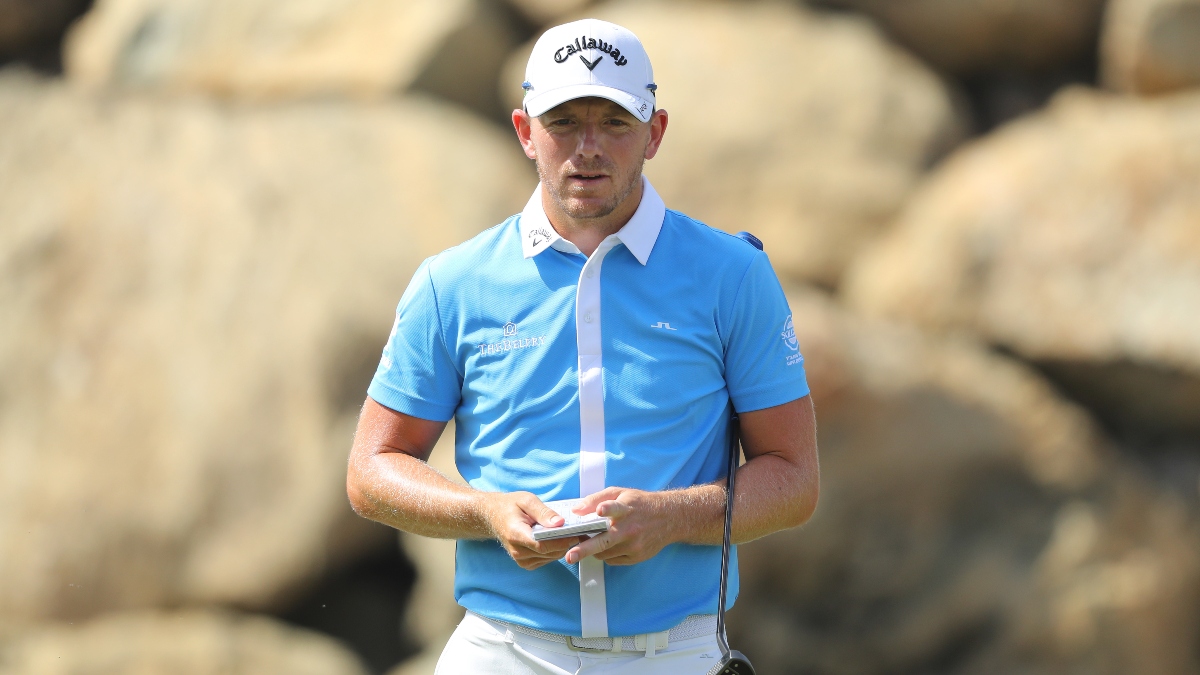 Longshots
Jason Sobel
Doc Redman (+20000)
Just when I thought I was out, they pull me back in.
I haven't been able to quit the good doctor since becoming enamored with his ball-striking numbers last summer, but an opening-round 81 at Harbour Town three weeks ago sure helped. That was the wake-up call I needed to stop betting Redman – or so I thought. Then he closed with a 3-under 68 at Innisbrook, a round which featured the best tee-to-green numbers of anyone in the field. That was enough to pull me back in.
I think Redman is ready to replicate a performance which saw him finish top-30 in eight of 12 events at one point last year.
Chris Murphy
Matt Wallace (+8000)
Matt Wallace stands out as a player who has really turned his game around in recent weeks. It is very clear he has found something in his game, and we know the talent is in there for the multi-time winner on the European Tour.
Wallace has gained over 21 strokes tee to green in his last two measured events, and in the two tournaments in between he had a respectable top-35 finish at The Masters and a good showing in the team event at the Zurich.
I think he is overpriced for his talent and form coming into this week, and I'll happily bite on the chance this could be the week for his first win stateside.
Matt Vincenzi
Charl Schwartzel (+15000)
Charl is playing some great golf of late. After a narrow playoff defeat while paired with Louis Oosthuizen at the Zurich Classic, the South African put together another nice finish with a 21st-place finish last week at The Valspar Championship. Charl gained an impressive 4.6 strokes on approach on the week and seems to be rounding into good form.
The former Masters winner also has some good recent history at Quail Hollow, as he finished 9th there in his most recent appearance (2018). This season we have seen players like Stewart Cink and Martin Laird break years-long winless streaks; Schwartzel fits the mold of another veteran who could join the club.
Landon Silinsky
Carlos Ortiz (+13000)
Ortiz has missed four of his past five cuts, but prior to that was playing the best golf of his young career. He bagged his first of what will likely be multiple PGA TOUR victories at the Vivint Houston Open, and then proceeded to contend at Mayakoba and at the Waste Management. He also posted a T-29 at Torrey Pines.
Even during this poor stretch he's been really strong off-the-tee, which is one of the more prominent stats this week. He ranks 19th in that department across his past 24 rounds and has now gained strokes OTT in 20 of his past 24 measured rounds. We know he's one of the better putters on TOUR and if he can find some semblance of an approach game this week he could rebound quite nicely.
He's played Quail Hollow three times, making the cut twice while posting a T-19 back in 2015. He should be familiar enough with the course and at 130/1 I'll gladly take my chances.
Rob Bolton
Brendan Steele (+12500)
Francesco Molinari is on the board at FanDuel for +13000, so he's tempting. (Also gotta love odds-based context as the Italian wouldn't qualify as a Sleeper at my day job.) Only a click shorter at DK (where Molinari has the same line), Steele is coming in exponentially hotter. He's also familiar with and has had success at Quail Hollow.
All you want is a chance out of your longshot, but if he's balanced throughout his bag with an emphasis on keeping his ball in play and hitting it tight, you invest the units with more conviction.
Bryan Berryman
Emiliano Grillo (+7000)
Grillo was amongst the leaders after the completion of round one week last week at the Valspar. A very poor second round led to an unfortunate missed cut, but one bad round shouldn't scare us away from one of the hotter golfers on tour in recent weeks. Grillo ranks 2nd in this field over the last 24 rounds in strokes gained off the tee, and 5th in birdie or better percentage.
Both will be key stats this week in order to make a run at the top of the leaderboard. I think there is value in this number at +7000.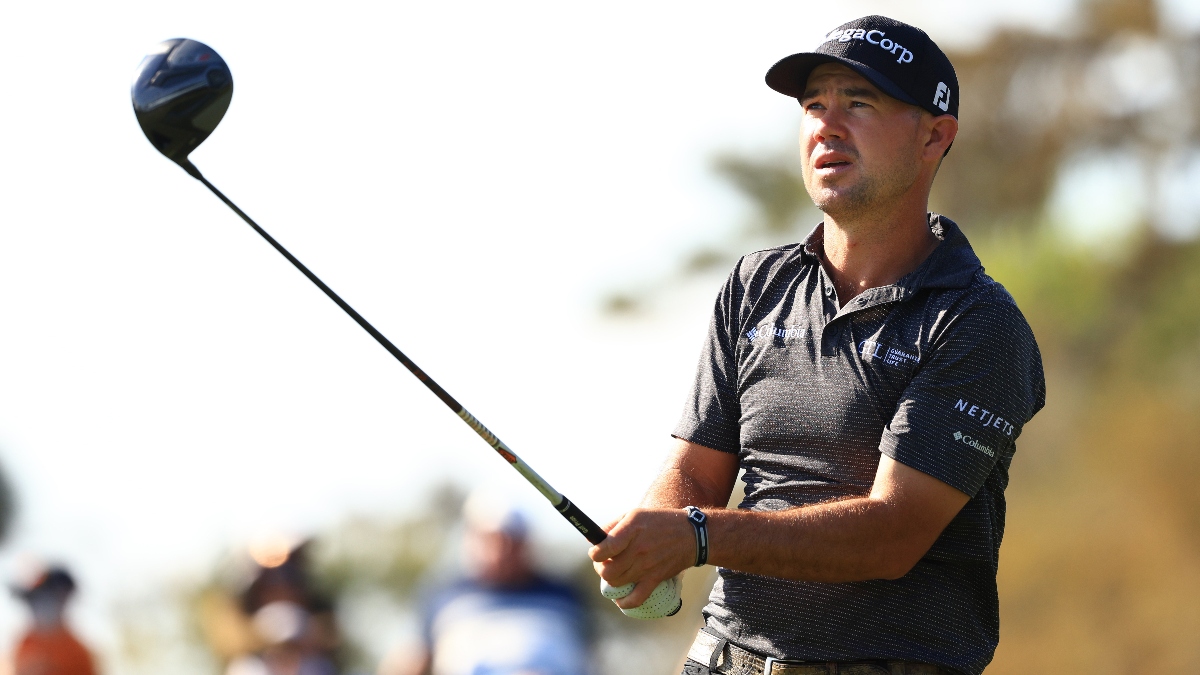 Matchups & Props
Jason Sobel
Brian Harman Top-10 Finish (+400)
His win at this event back in 2017 came at Eagle Point, a one-year-only host venue when Quail Hollow was hosting the PGA Championship. Even so, his record at this track is perfectly satisfactory, with a pair of top-25s and just one MC in seven career starts. More important is his recent form, which includes a T-3 at The Players, T-5 at the WGC-Dell Match Play, T-12 at the Masters and T-13 at the RBC Heritage in his last four starts.
Harman is running hot right now, but there's still time to jump on the bandwagon at a decent price this week.
Chris Murphy
Cameron Tringale First-Round Leader (+5000)
Tringale has become an auto-bet for me in the first round when I see him with the preferred Thursday morning tee time. He ranks 3rd on TOUR this season in Round 1 scoring average, and has frequently gotten out to hot starts. The way he has been playing, he has shown an ability to compete on any course and in any field, so I will continue to ride him especially in finish position bets this week at Quail Hollow.
Triangle will look to get that momentum started early on Thursday morning as he tees off the Par 5 10th, with a good chance to start the day at 1-under.
Matt Vincenzi
Viktor Hovland Top-10 Finish (+150)
Viktor Hovland is starting to round back into immaculate form. After a 21st-place finish at The Masters, he finished in third-place last week at The Valspar Championship. More impressive than the finish, was how he did it.
Hovland gained 8.7 strokes from tee to green including 4.9 strokes on approach. The 23-year-old has a perfect game for Quail Hollow. He hits it long and straight, and should be able to capitalize on the par 5's. With how he is playing, it is hard to see him not finding himself in contention by weeks end.
Landon Silinsky
Matt Wallace (-110) over Rickie Fowler 
I do not know how Fowler (-120) is a favorite against anyone in 2021. To say he's been bad is an understatement and he's not showing any signs of turning it around anytime soon.
Wallace on the other hand has been on a nice little run of late, finishing third at the Valero and adding two other T-18s at the API and RBC Heritage. He ranks ninth in this field in SG: Approach, eighth in SG: Tee-to-Green and 16th in total strokes gained all over his past 16 rounds. Fowler sits 87th in the total strokes gained department in the same timeframe.
It's likely his strong history at Quail Hollow is why this line is so off, but I love siding with Wallace here, as he's in total control of his game at the moment.
Rob Bolton
Make-the-Cut Parlay: Corey Conners, Cameron Tringale, Brian Harman (+135)
Since they're giving away money, I'll take some … virtually, of course. Conners and Tringale earned positions in my Power Rankings and Harman is an easy Draw in my Fantasy Insider. Loyal readers of this space already know that I love myself the parlay, and it doesn't suck that you get more than you give with this one.
Bryan Berryman
Wyndham Clark Top-20 Finish (+600)
I couldn't pull the trigger on Clark to win this tournament outright at +30000, because I don't think he has enough firepower with the irons to win. However, his length combined with an excellent short game should fit Quail Hollow's difficult layout nicely.
Clark ranks fourth in driving distance, 19th in strokes gained around the green, and 22nd in bogey avoidance in this field over the last 24 rounds. This combination sets up well for success this week. I like Clark's chances of cracking the top 20 at +600.
How would you rate this article?
This site contains commercial content. We may be compensated for the links provided on this page. The content on this page is for informational purposes only. Action Network makes no representation or warranty as to the accuracy of the information given or the outcome of any game or event.