Sobel: Dustin Johnson Built for the Front-Runner Role at the 2018 U.S. Open
Credit:
Brad Penner-USA TODAY Sports
The Highlights
Dustin Johnson holds a four-shot lead and is a -170 betting favorite to beat the field (+130) in the 2018 U.S. Open.
DJ has the right temperament to control his emotions at Shinnecock, and the right pedigree, converting nine of sixteen 36-hole leads in his career.
---
SOUTHAMPTON, N.Y. — Dustin Johnson leads the U.S. Open once again, perhaps on the verge of his second victory in this championship in the past three years.
All of which got me thinking about my favorite DJ moment, one that didn't even take place on a golf course.
This was two years ago, following his victory at the WGC-Bridgestone Invitational. Speaking with the assembled media in the interview room, he casually referenced changing his shot shape earlier that year, from the right-to-left draw that he'd previously employed to a more controllable fade.
Eager for any nugget to shine a new light on his success, reporters asked him about the transformation. After all, most professional golfers need weeks, even months, to make swing changes. Tiger Woods, at times, needed a full year.
Johnson, though, looked perplexed when questioned about how long it took him.
"Well, I was just struggling with the draw to get it in the fairway," he explained. "So I said, 'I'm going to hit a fade,' and I started hitting a fade."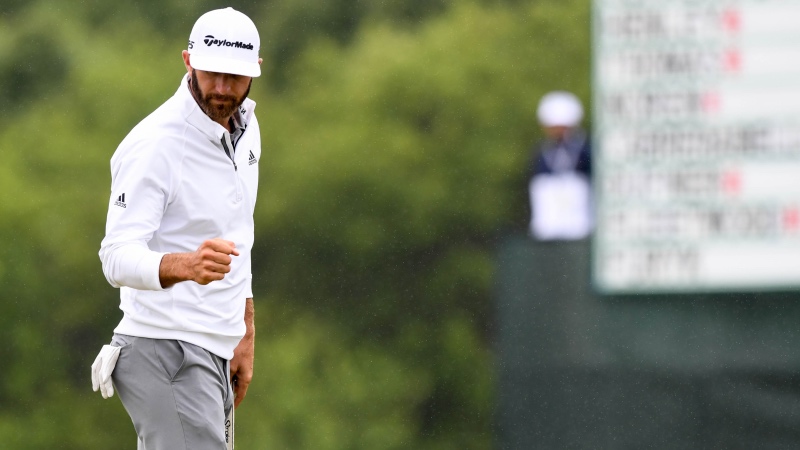 Dennis Schneidler-USA TODAY Sports
Nobody in the world makes the inherently arduous task of hitting a little white ball into a hole in the ground seem easier than the game's No. 1-ranked player. While other U.S. Open competitors have been kicking their golf bags and muttering dirty words around Shinnecock Hills this week, Johnson looks like he's still walking through Memphis, where he casually won by a half-dozen strokes last weekend, punctuated by the most nonchalant walk-off eagle in history.
It's because of this demeanor that there are a few unfair — and incorrect — labels that have been affixed to Johnson ever since he reached the PGA Tour and almost immediately started winning golf tournaments.
The first is that he doesn't work hard.
It's an easy label. After all, he's more athletic than any of his peers, more closely resembling a small forward or wide receiver than golfer. He also carries himself in a manner that suggests the game comes too easily for him. And no, he doesn't do much to shed this label when he shrugs off swing changes as if he's flipping a light switch.
Johnson might lead the world's best golfers in the Strokes Gained-Talent category, but he hasn't reached No. 1 in the ranking on sheer instinct alone.
Just because he doesn't overtly tweet about "the grind" or pepper TV interviews with tales of digging for secrets in the dirt doesn't mean he isn't working hard behind the scenes.
Trust me: Nobody ever won the U.S. Open without trying.
Soon those wins might be plural, if he can hang on to his lead for two more days. History tells us there's a strong probability, considering Johnson has converted nine of his 16 previous 36-hole leads into victories. He currently leads by four strokes over Charley Hoffman and Scott Piercy, not exactly a pair of intimidators breathing down his neck.
Asked after Friday's second-round 67 if he prefers to be the rabbit, playing with a lead and letting everyone chase him, Johnson surmised, "Yeah, I like being in the lead, for sure. It's less shots you've got to make up."
Therein lies another label that too often gets applied to Johnson: He's not the sharpest knife in the drawer.
Sure, he's not as eloquent as Rory McIlroy or as loquacious as Jordan Spieth, but he's a lot wiser than he lets on — especially when it comes to thinking his way around the golf course.
The U.S. Open has always been considered the thinking man's tournament. This is the domain of plodders and plotters, guys who can strategize and target golf their way from Point A to Point B while eluding the various pratfalls that hinder their fellow competitors.
Well, guess what? Johnson does a better job of avoiding mistakes than anyone else, as evidenced by only four bogeys so far this week. And yet, he doesn't receive enough credit for this, as if we're all supposed to believe that natural-born talent is the sole reason he continues to win titles.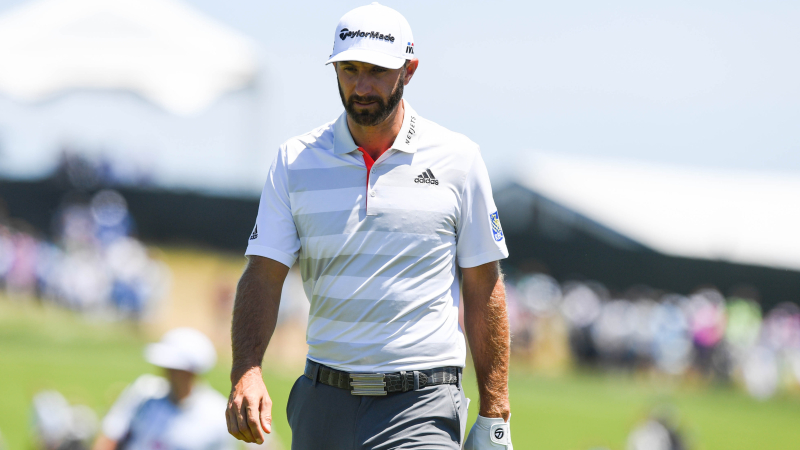 Dennis Schneidler-USA TODAY Sports
"When I do get out of position," he explained, "I'm just trying to do everything I can to get it back into position, not try to push it, and just give myself a decent look at 4, whether that's a 5-footer or a 25-footer, just something on the green where I can have a look at par."
He quickly followed with yet another theory from the Tao of DJ: "As I get older, I want to make things as easy as possible, even though they don't get any easier."
The main plotline around Shinnecock for the remainder of this weekend will be whether any other player can topple Mount Johnson. He was a -170 betting favorite on Friday evening to beat the field (+130).
Those who believe the leader is still susceptible to coughing away this title will point to those labels that have so often defined him during his career. They'll insist his approach is too casual for an event of this magnitude or his mental acumen isn't up to the standards of a U.S. Open champion.
Those labels are all contrived, of course.
Johnson has won this tournament before and he very well might do it again this weekend — and it's about much more than just his instinctual abilities.