Lindberg's Lost Bet: How an LPGA Major Champ Wound Up Doing Push-Ups in Her Underwear … in Public
Credit:
Credit: Kelvin Kuo-USA TODAY Sports. Pictured: Pernilla Lindberg
Pernilla Lindberg shares her two favorite golf betting stories with Jason Sobel -- both of which involved embarrassing stakes.
Pernilla Lindberg is the defending champion at this week's ANA Inspiration. Before the LPGA's first major of the year kicks off, the 32-year-old Swede will relive her initial major championship triumph, which also happens to be her lone professional victory. She'll recall her clutch shots down the stretch and regale anyone within earshot about stories from that final round.
None of those stories, though, will be better than the ones she told me recently.
In the past, I've written a series of favorite betting stories from current PGA Tour players and legends of the game, their tales ranging from hilarious to harrowing, each one familiar to any recreational golfer who likes to gamble, only with a few extra zeroes in the bottom line.
Since then, I've started on a similar yet-to-be-posted series from LPGA players. I've heard some great stories from a few players, but in my mind, none have been better — including those from PGA Tour players and the legends — than the stories told by Lindberg.
Even if she didn't think of them right off the bat.
"I can't think of any good ones!" she exclaimed with a laugh when first asked for a favorite betting story. "It doesn't happen very often."
She hemmed and hawed for a minute, racking her brain for a poignant memory.
And then: "Maybe when I was young, there — oh, yeah. Oh, here we go. I have a good one…"
Lindberg was born in the northern part of Sweden, but attended a boarding high school in the southern part of the country in order to have a lengthier golf season.
With plenty of high-level golf talent at the school, coaches pushed them to make some friendly wagers during otherwise casual competitions amongst themselves.
"Our golf coaches encouraged us, when we were out playing matches or having putting contests or whatever, to always have something on the line," she recalled. "Not necessarily money, but maybe something that would be painfully embarrassing."
As we all know, painfully embarrassing payoffs always lead to good stories.
"I played a four-hole match, just a loop around the clubhouse against one of the guys from my high school," she continued. "The loser of our match had to go to the town square – and needless to say, it's a very small town, just a few thousand people living there. The loser would have to go to the town square, in their underwear, and do 10 push-ups in the middle of the square."
And…?
"And I lost the match."
Unsurprisingly, her opponent made her pay up immediately.
"I had to do it. So I sat in the car, parked next to the square, took my clothes off, ran out in my underwear, did my 10 push-ups, then ran back into the car.
"I think I managed to pick a pretty good time. I can't remember when it was, but it was late enough and quiet enough that not too many people saw me. And I know we said middle of the square, but I think I was able to negotiate for the corner instead."
Even if the town square was quiet that day, Lindberg wasn't any less embarrassed.
"Swedes are pretty liberal," she explained. "But I can only imagine the color of my face when I was doing that."
When she finished, I thanked her for the, um, provocative story and started to walk away.
"I have one more, too," she said, still laughing.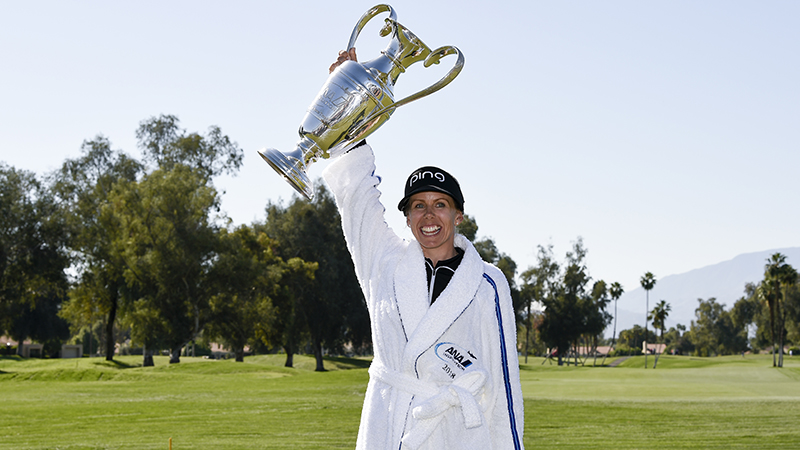 I immediately wheeled around and asked her to tell another.
"I don't want to share it," she said, before changing her mind about two seconds later. "OK, I'll share it. It's funny."
Again at the boarding school, again a fun — and potentially embarrassing — wager between friends.
"Me and another guy played a match against another girl and guy," she recalled. "Not couples, just a girl and guy paired up together on each team. We made a bet and decided the losers of the match had to go into the local Blockbuster equivalent in our little town and rent a porno together."
And…?
"I did not lose that one."
Lindberg did accompany the losing team, though, just to make sure they paid off the bet — and they did.
"That's just high school kids being high school kids," she said. "I had to go that far back, because now I don't do anything exciting like that anymore."
No, now she's doing things like winning major championships instead — and telling some of the best golf betting stories we've ever heard.
How would you rate this article?
This site contains commercial content. We may be compensated for the links provided on this page. The content on this page is for informational purposes only. Action Network makes no representation or warranty as to the accuracy of the information given or the outcome of any game or event.