The Best Golf Gambling Stories From the Game's Biggest Legends
Credit:
Michael Madrid, USA Today Sports. Pictured: Gary Player, Jack Nicklaus
The Action Network spoke with several of golf's biggest legends to find out their favorite personal golf betting stories: Mark O'Meara, Nick Price, Gary Player, Davis Love III, Nick Faldo, Lee Janzen, Jack Nicklaus, Bernhard Langer, David Toms, Tom Watson and Lee Trevino. 
In a previous series, we spoke with several of today's biggest stars about their favorite betting stories. You can find those here.
When: April, 1997
Where: Orlando, Fla.
One week before the 1997 Masters, O'Meara was playing his home club, Isleworth, with Tiger Woods as they tried to get their games in shape for the year's first major. The first day they played that week, Tiger shot a 13-under 59 against O'Meara. They decided to play again the next day, but the match wouldn't last very long.
"We go and hit balls and we're going to tee it up again. It's just he and I. We were playing $10 automatic one-downs.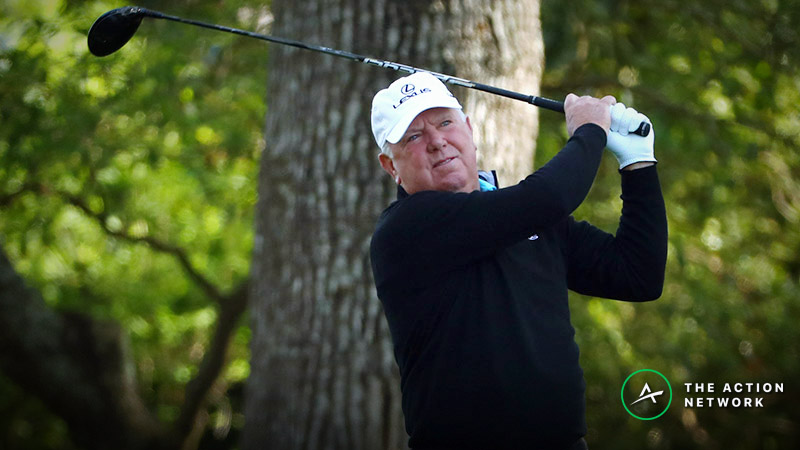 "We tee off on 10. He hit a good drive and knocks one to about 10 feet. I was about 15 feet away. I miss, he makes. So now he's 1-up and we're driving quickly up to No. 11, the par-3. He yells over, 'Mo, you've got the autos going, you're 1-down!' I'm like, 'Of course…'
"He gets up to the tee, he's hitting like an 8-iron. I haven't even gotten out of my cart, but he hits it and it's going right at it. It one-hops and goes into the hole for a hole-in-one.
"So I go over and take $100 or whatever it was – I can't remember – and I put it on his cart seat. I didn't even hit my shot. I said, 'That was a really nice shot. I quit. I'll see you later on the range when you get done.'
"He's like, 'Where are you going?'
"I said, 'I quit. You shot 13-under yesterday, you just jarred that, you're 16-under for the last 20 holes. I'm not playing golf anymore with you.'
"That was awesome. I hate that guy."
When: 1991 Open Championship
Where: Royal Birkdale Golf Club
Prior to the opening round, Price and instructor David Leadbetter were walking through the exhibition tent and saw betting odds for every player in the field. The number next to Ian Baker-Finch's name piqued their interest based on what they'd seen of his game leading up to that event.
"I had played with Finchy two weeks before at Oakmont and he'd shot two really good scores, 68-67 or something, and beat us all like a drum.
"I look and see that he's 33-to-1 to win The Open that week. So, I said to Lead, 'That's way too good a bet to pass up.'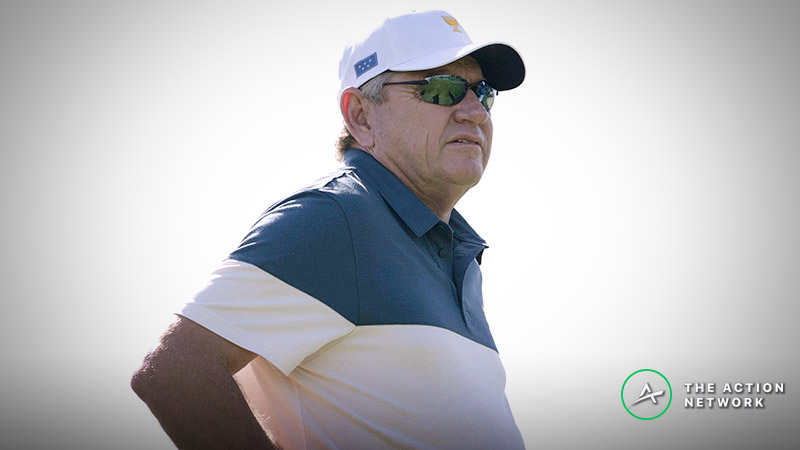 "I've probably only bet on golf a handful of times and this was one of the first bets I ever made.
"So we put 100 pounds each on Finchy each-way (meaning half the bet goes on the player to win and the other on the player to finish top-5). He birdied four of the first five holes, he came out of the blocks fast. We ended up winning like 4,500 pounds when he won.
"I mean, I made the cut, but I wasn't playing very well. I don't know what I made that week, but I made more by gambling on him.
"We were so happy for him – and for us.
"I don't think I've placed another golf bet since then."
When: Decades ago
Where: A goldmine in South Africa
Player's favorite bet with a golfer didn't happen on the golf course. Instead, it took place in a goldmine, where he made a bet on the strength of a friend – a friend named Arnold Palmer.
"The Big Three gambled together quite a bit. Throw Lee [Trevino] in there as well. But my favorite gambling story came off the golf course with Arnold Palmer.
"Arnie was in South Africa with me for a couple of exhibition tournaments, doing our part to grow the game globally. Really, we both came from humble beginnings. He knew that I grew up poor. My father was a goldminer, only making enough to feed his children and to make sure we had a proper education.
"Well, I took him down deep underground, about 8,000 feet, in the goldmine where my father worked. They had a nice little tour for people to see the mine, and the captain gathered us around this huge gold vault. He said it was impossible to pick up a single gold bar with the human hand and that nobody had ever done so.
"But Arnie, he had these strong, massive hands like Tarzan.
"I called out Arnie to the captain and said I thought he could do it. Everyone in the room chuckled, but Arnie and I were confident, so we asked to make a bet.
"The captain said no one had ever lifted it with their bare hands, and if Palmer did, we could keep it as a prize.
"Well, Arnie wrapped those gorilla hands around, and as he did you could feel the despair coming over the captain. I'll never forget the look on his face when Arnie raised the gold bar over his head.
"The mine captain was shocked. Almost in tears, he said, 'Please. No. I will get fired.' We both jokingly said, 'Well, sorry. You're fired!'
"It was all in good fun. We didn't actually keep the gold bar, but joked and teased the captain until we left.
"Memories are the cushions of life."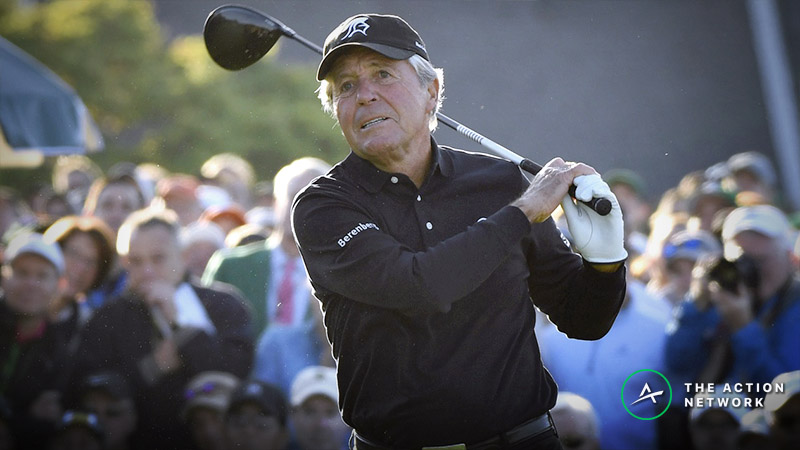 When: 1994 Open Championship practice round
Where: Turnberry, Scotland
During major championship practice rounds, Love and his fellow pros would play $1,000 no-bogey rounds, which are exactly what they sound like – if any player made it through 18 holes without a blemish on his scorecard, the other three would have to pay him a grand each. Love recalls one time when that almost happened, until he and a few others rattled their buddy into a bogey.
"That was our favorite thing to do – that $1,000 no-bogey game.
"Ben Crenshaw got us one time and we had to pay him. I think that was the only time anyone won.
"One time at Turnberry, Brad Faxon really has it going. He hadn't made a bogey through 14 holes.
"Then we started picking on him. We just started reminding him about the bet.
"We frustrated him so much that on 15, the par-3, he missed the green. We were saying, 'That wind is blowing hard left to right, you'd hate to hit it over there to the right, down that slope.' And he did it. He was just furious at us, but he got up there and knocked it to 10 feet or so and made it.
"He had it going until 17, then he wound up making a bogey.
"But he was so mad at us for picking on him. We'd never seen Brad get mad."
When: 1990 Open Championship
Where: Muirfield
Prior to The Open being contested at St. Andrews, four major champions arranged an off-site practice round at Muirfield. Faldo would use the momentum earned with this bet to later win The Open for a second time – after getting into the pocket of a fellow legendary competitor.
"I asked Jack Nicklaus to play a practice round with me.
"It ended up being with Andy North and Tom Watson and they always go at each other, so I partnered North against those two and beat Jack for twenty quid.
"On a side bet, Watson beat North out of forty quid. So North went down to the bank and got 40 pounds in 1p coins, so it weighed about 10 pounds in copper. He stuck it in his locker that week. Two giant bags of 1p coins.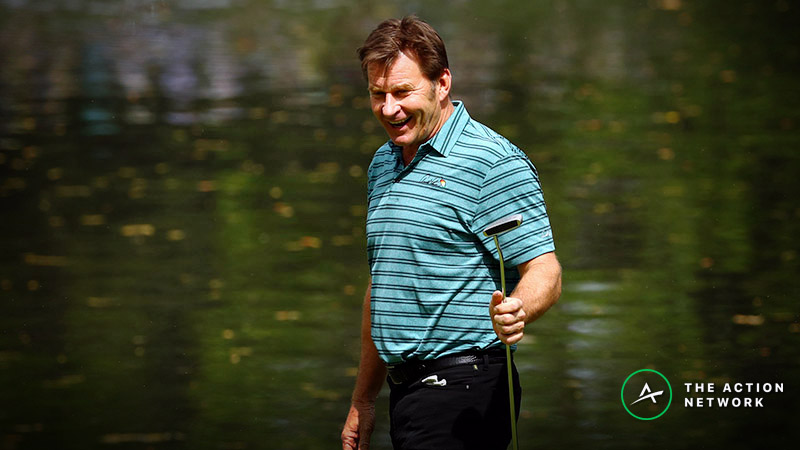 "Then [Jack and I] played in The Open together and in the first round, he walked onto the tee and gave me my twenty quid.
"Like an idiot, I should've gotten him to sign it, shouldn't I?
"I would've put that up on my wall, mate."
When: A Few Years Ago
Where: On the Road from Boise to Reno
Janzen had been getting the better of fellow pro Ryuji Imada on a series of bets on the golf course. After one of these losses, Imada pressed the bet based on the time it would take Janzen and his caddie to reach the next tournament.
"He wanted to get some money back in Boise. On the front-nine, he kept pressing and I shot 29. He's just on a bad run.
"Anyway, we were going to drive from Boise to Reno for the tournament. We'd mapped it and said we could make it in less than six hours.
"Ryuji says, 'There's no way you make it in less than six hours. I'll bet you fifty bucks.'
"We drove and stopped at a random place, saw Alex Cejka and chatted a little while. We still got there in less than six hours.
"He didn't believe it, but I had my receipt from when I dropped my rental car off in Boise and when I checked into the hotel in Reno.
"So, he paid off. But the best part is that he tried to do the same thing and get there in less than six hours, but he got a speeding ticket."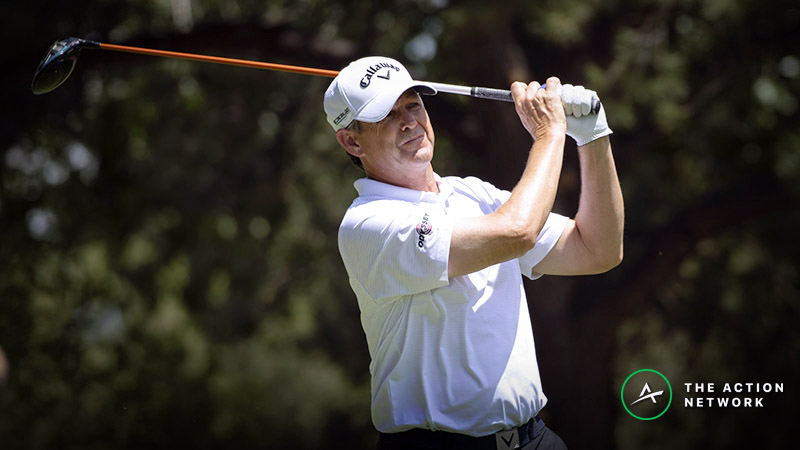 When: 1960 U.S. Open
Where: Cherry Hills Country Club in Denver, CO.
Despite winning 18 major championships, Nicklaus never won a bet on himself. The only time he ever even had a bet was in 1960, when he was the reigning U.S. Amateur champion and hadn't yet turned professional. He famously lost to a hard-charging Arnold Palmer that week, but more than a half-century later still clearly remembers the bet.
"I never had a wager on the golf course.
"The only wager I ever had was the 1960 U.S. Open. It was months before I was getting married. I was the U.S. Amateur champion. My dad came to me and said, 'Hey, they've got you at 35-to-1. You want some of that?' And I said, 'I'll have $20.'
"He asked, 'You want win, place and show?'
"I said, 'I'm not here to place and show.'
"I think I was more worried about winning $700 and getting married a month later as much as I was worried about winning the U.S. Open.
"That's the only wager I've ever had on golf ever.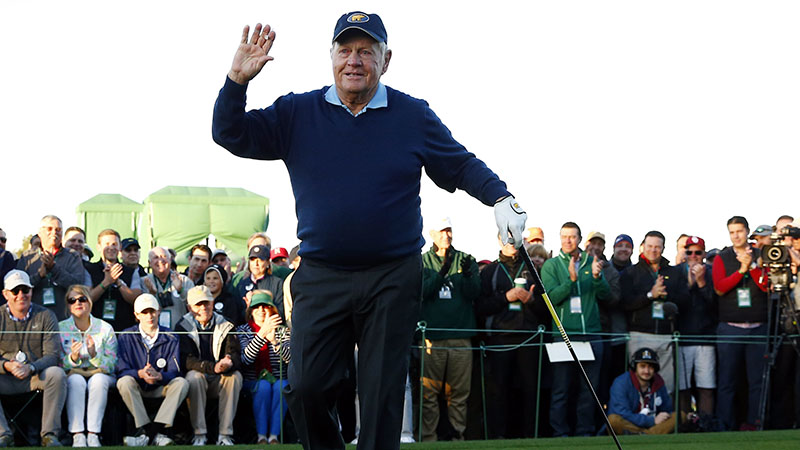 "Oh, we'd play for 10 or 20 bucks. Oh yeah, we've always done that. But not in a tournament, just practice rounds. I never had a wager with another golfer in a tournament.
"Practice rounds, sure. We all did that. But a lot of guys would have a bet in a tournament. I always said, 'I've got my mind on enough things. I'm playing golf, I'm playing in a tournament.'"
When: Long Ago
Where: Ryder Cup Practice Round
A pre-Ryder Cup match between European teammates was so long ago that Langer doesn't remember specific details, but he knows that he and a partner beat Seve Ballesteros – and remembers that it took a while to get paid on the wager.
"We had a little 20-pound bet going on during the practice round at the Ryder Cup.
"It was two against two. Whoever I was playing with, I know we beat Seve and his partner.
"Normally, when we play for money, you wind up getting it right there on the 18th green. That's just how golf is. If you lose, you pay up; if you win, you take it.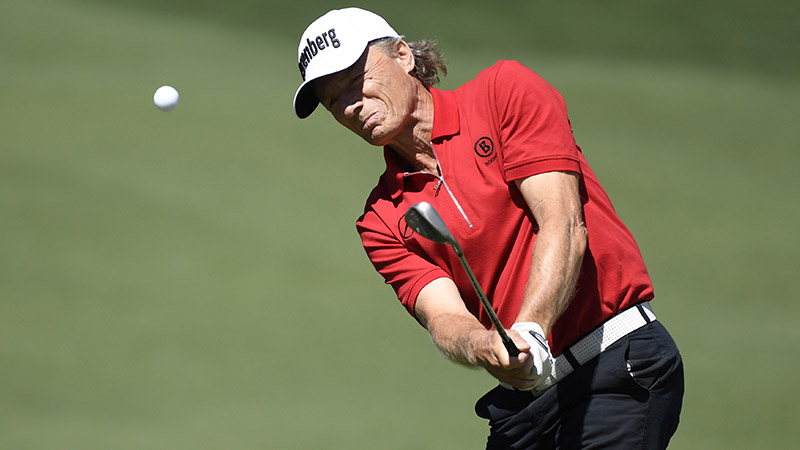 "Seve was supposed to pay me and the other guy was supposed to pay my partner. I never saw the money for a long, long time. They always said, 'If you lose against Seve, you have to ask [his wife] Carmen for the money, because he doesn't carry any cash.'
"I wasn't used to waiting a few weeks.
"Eventually, I got it. I gave him enough grief that he finally had enough of it. He found the money somewhere."
When: Recently
Where: Shreveport, La.
Toms' favorite golf betting story doesn't come from a competitive round against top pros, but from a "friendly" game of Wolf against the head professional and three other scratch players at Southern Trace Country Club, one of his home courses.
"The head pro is down. We get to 16 and he's trying to go lone wolf all the way in, because he's down so much.
"So, it's a par-3, about 180 yards. He hits first, he's wolfing, knocks it to about two feet. He's got his chest puffed out, he's all excited.
"Well, I then make it for a hole-in-one.
"And he can't pick me, because he's already wolfed it. It was pretty funny.
"That's not even my best hole-in-one story, though.
"I was in Mexico, playing a Ben Hogan event. I picked up a caddie who had taken a bus or something from Houston. He's down there working and he's one of those guys who wanted to tell me what to do on every hole, even though he'd never caddied for me before.
"We get to a par-3 the second day. It was the 16th hole. I was in between 5- and 6-iron, so I took both clubs to the tee. He's over there shaking his head in front of the other players. He goes, 'It's a 6-iron.'
"I'm like, whatever. Then he goes, 'If you were listening to me, you might be winning this tournament.'
"So, I hit the 5-iron and made a 1. Then I fired him two holes later."
When: 1992 Open Championship
Where: Muirfield Golf Links, Scotland
On the first tee of a practice round, Watson made a 1,000-pound no-bogey bet with Lanny Wadkins, Fred Couples and one other player. ("The name escapes me," Watson admits.) The bet: If any of the four could play all 18 holes without a bogey, the other three would owe him the money.
"By the sixth hole, I was the only player still in the bet as the other three made their bogeys and were out.
"As the round progressed, I remained bogey-free until the 16th hole, a par 3. I pulled my iron into the left bunker and proceeded to hit a poor bunker shot, leaving me a 15-footer for par.
"It had gotten very quiet on the back nine with little chatter — even from the usually very animated Wadkins.
"They didn't say a word as I took my time lining up the putt, which of course I made to the audible disgust of all of them.
"Now I had the par-5 17th and the tough 18th to play to keep bogey-free.
"I made an easy par on the 17th and then proceeded to hit a perfect drive and approach shot to about 5 feet above the hole on 18 — an easy winner. But I missed the putt and it rolled by the hole just outside gimme range.
"Looking up at the boys, I asked them if this putt was good, but only heard crickets — except for Lanny, who exclaimed, "Putt it!!" rather sternly.
"I made the putt and was the recipient of the winnings, but not without a small disagreement as to the amount of the bet. The boys somewhat kidded me, saying it was a $1,000, not pounds, to which I laughingly reminded them what the bet was on the first tee.
"Ironically, this ended up being the only money I won that week, as I missed the 36-hole cut, but the satisfaction of taking some of my buddies' cash that week made it a little more palatable."
In case you haven't heard, Trevino is a man of many words. When asked for his favorite golf betting story, his answer morphed into everything from old Tuesday practice round stories to how wagering can help a professional golfer to why he's never once placed a bet in Las Vegas.
"When we played, we always played on Tuesday for a little something to make it interesting. We played match play, never medal, and the reason we did that is because every once in a while we'd want to hit a shot into a bunker to test the sand.
"I used to play with Lon Hinkle and Frank Conner every Tuesday and I'd beat 'em out of $20 apiece. Everyone made fun of them about playing me for 20 bucks, but they told 'em, 'Yeah, but where are you going to get a lesson like this for $20?'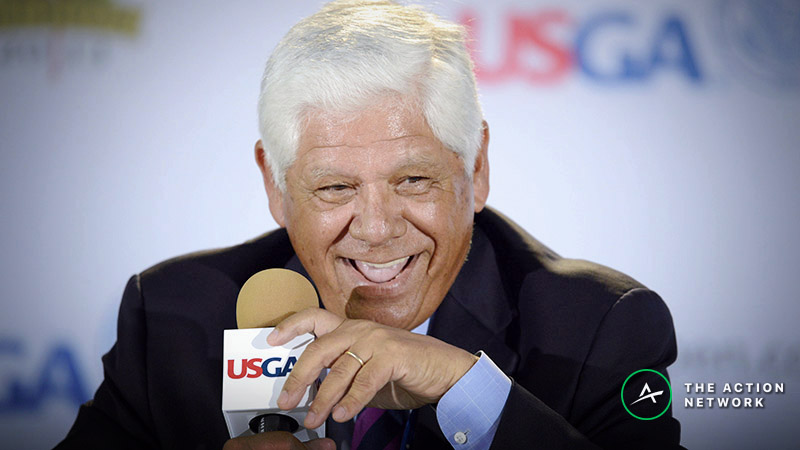 "We always played for something. Today, I think they play for more money than we used to play for. I never played for a lot of money. Now, I played some matches where there was a lot of money that other people were putting up and I was playing for them, but I never played for much of my own money.
"Titanic Thompson was one of the greatest gamblers ever. He came out to El Paso with Ray Floyd when we played back then. I have no clue what they bet. I have no clue who won what. All I know is that Raymond and I played. I won two days and he won one day, so that's just the way it came out.
"Back in the old days, I'd bet a few football games, but wagering was never one of my things. I've been to Vegas 400 million times and never bet there.
"I realized a long time ago that they didn't build those big elaborate hotels because they were giving money away.
"People go in there and play the slot machines. It's the worst thing in the world you can do. I try to tell them: You never take on someone who backs up to a wall and puts one arm behind their back and takes on all comers.
"Even matches today at the country clubs, they might not play for much, but I think everyone plays for some money. There are some matches that play a lot.
"It makes you try when you're playing for something. When you're not playing for anything, it makes the shot pretty easy.
"It's like standing on the putting green, taking three golf balls and putting to a hole with three balls. Well, the only thing that really matters is the first one; the next two don't mean anything.
"It's the same thing when you're playing a practice round. If you're out there practicing and it doesn't mean anything, you're not going to get a very good view of the golf course and you're not going to think very well. You're wasting the day, because there's no emphasis on hitting a shot."
How would you rate this article?
This site contains commercial content. We may be compensated for the links provided on this page. The content on this page is for informational purposes only. Action Network makes no representation or warranty as to the accuracy of the information given or the outcome of any game or event.