For Tiger, a 15th Major Wouldn't Be Unprecedented or Improbable
Credit:
Brad Penner-USA TODAY Sports. Pictured: Tiger Woods
The Highlights
Tiger Woods began his pro career on a tear winning 14 majors in 12 years, but he's been quiet since.
With a win, Tiger can join Henry Cotton, Julius Boros, Lee Trevino, Hale Irwin, Ben Crenshaw and Ernie Els as the only players to have at least a 10-year gap between major wins.
---
SOUTHAMPTON, N.Y. — Ten years ago this week, Tiger Woods produced one of golf's greatest displays of determination and sheer willpower. Not that we knew the entire story at the time, but he played four rounds at Torrey Pines with a torn ACL and fractured leg, then had to return for a Monday playoff, where he finally prevailed to capture the U.S. Open, his 14th career major championship title.
I remember speaking with one of his fellow pros soon afterward. When I asked at what point he believed Woods would break Jack Nicklaus' all-time major record of 18 wins, he flinched.
"I don't think it's going to be that easy for him," the player told me while shaking his head. "I think it's going to take at least three or four years."
Fast forward a decade and Woods' odometer is still stuck on 14. An amalgam of scandal, injury, yips and other strife has plagued his pursuit of a record that was once considered a foregone conclusion.
I'm not here to talk about No. 19, though. As Tiger might offer in his best clichéd narrative, I just want to take things one at a time. So for now, let's focus on No. 15.
It took Woods less than a year of being a professional golfer to win his first major and just over two years to win his second. It took him 10 more months to win his third, one more month to win his fourth and additional three weeks to win his fifth.
You get the pattern.
Since Tiger won his first major title at the Masters in 1997, he never needed more than three years to win another one. Then came the 14th and everything that subsequently came with it. All of which means Tiger is now chasing a different kind of history.
Forget Nicklaus … for now, at least.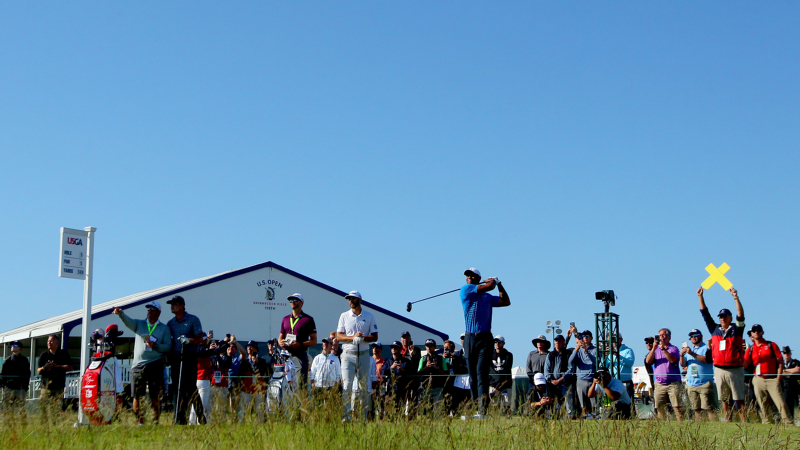 Credit: Brad Penner-USA TODAY Sports. Pictured (right): Tiger Woods
Instead, he's chasing the likes of Henry Cotton, Julius Boros, Lee Trevino, Hale Irwin, Ben Crenshaw and Ernie Els. Those are the only six players in golf's storied history to have endured a 10-year waiting period between major championship victories.
If history is to repeat itself, Woods had better start stalking the next one soon. Two of those six — Trevino, and Els — won majors exactly 10 years apart. The other four — Boros, Cotton, Irwin, and Crenshaw — went 11 years between wins. No golfer has ever gone longer.
The takeaway here is that Woods has only seven more majors — in a 13-month span — to capture that elusive 15th major win before he starts wading into uncharted territory by trying to win 12 or more years apart.
"I would think that I have been there on a number of occasions to win a major championship since the '08 U.S. Open, and I haven't done it," he said Tuesday before his next opportunity at this week's U.S. Open. "And no, I don't like that feeling. I've certainly had a nice run where I've won a few. Unfortunately, over the past 10 years, I haven't."
He does have time on his side, though. Considering the rate at which Woods has progressed — from not knowing if he'd ever play again just nine months ago to claiming a pair of top-five finishes this year and moving up to 80th in the world ranking — seven more majors will seem like an eternity. He not only has the three this year but will tee it up at Augusta National, Bethpage Black and Pebble Beach, all venues at which he has won majors in the past.
At 42, he's also right within the age range of each of those players when they ended their 10-year major droughts.
Irwin was 45; Trevino was 44; Boros and Crenshaw were 43; Els was 42 and Cotton was 41.
If Woods is studying this list — although I can almost assure you, he isn't — he should be encouraged by the fact that what he's trying to accomplish this week and beyond has not already been accomplished, but accomplished by (let's face it) lesser players at similar later points in their careers.
That doesn't mean Woods will win his 15th, this week or ever. But it does mean a major victory 10 years after his most recent one would hardly be unprecedented. Maybe it's not probable, but it's certainly not improbable, either.