Angels-Red Sox Trends, Stats: Can Chris Sale Climb Out Of The Betting Basement?
Credit:
Credit: Bob DeChiara-USA TODAY Sports. Pictured: Chris Sale
Betting odds: Los Angeles Angles vs. Boston Red Sox
Angels moneyline: +220
Red Sox moneyline: -260
Over/Under: 10.5
First pitch: 7:10 p.m. ET
---
>> All odds as of Thursday afternoon. Download The Action Network App to get real-time MLB odds and track your bets
---
On Thursday night, Chris Sale makes his 24th start of the 2019 season against the Angels at Fenway Park.
In his previous 23 starts, the Red Sox are 8-15 (34.8%) on the moneyline, making Sale the least profitable starting pitcher in all of baseball for bettors, including losing his last two starts, both against the New York Yankees.
Between 2017 and 2018, Chris Sale was one of the most efficient pitchers in all of baseball when it came to simply winning games on the moneyline.
In Sale's first two years in Boston, the Red Sox were 42-21 (66.7%) on the moneyline, beating opponents by 1.7 runs per game.
In that span, Sale actually lost bettors money due to the fact that the Red Sox were only listed as underdogs three times in his first two seasons in Boston.
In 2019, Sale has been listed as a favorite in all 24 starts, with his last game as an underdog coming all the way back in September 2018 on the road against Trevor Bauer and the Indians.
So far this season, Sale has lost bettors $1,144 on a $100 per game basis, the least profitable pitcher in baseball.
At home this season, the Red Sox are 3-8, losing bettors $676 when Chris Sale starts, with their average moneyline sitting at a whopping -231.
Prior to 2019, Sale's teams were a combined 66-38 (63.5%) when he started at home, including 19-9 (67.9%) as a member of the Red Sox.
One of the main reasons for Sale's struggles has been simply his performance and the Red Sox offense.
His 4.76 ERA at home this season is his highest by almost a full run.
Sale has allowed at least 5 earned runs at home four times this season, already tied for his most in a single-season in his career.
Sale is receiving 3.61 runs of support from the Red Sox in 2019 (95th of 114 qualified pitchers). He was 44th of 123 in 2018 (5.20) and 62nd of 125 in 2017 (4.89).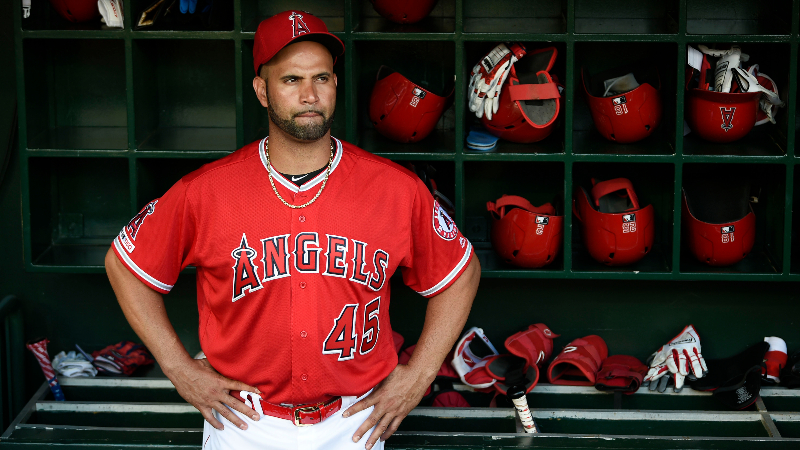 On Thursday night, there might be one player who could struggle from the plate against Chris Sale, though: Albert Pujols.
In Pujols' career, he is batting 2-for-21 (.095) against Sale with six strikeouts. Sale has faced 78 batters at least 20 times, Pujols has the seventh-lowest batting average against Sale.
From Pujols' point of view it gets even worse. Pujols has faced 127 pitchers at least 20 times in his career, and his .095 batting average against Sale is his third-lowest against any pitcher, trailing just Corey Kluber (1-for-20) and Ryan Madson (1-for-21).
How would you rate this article?