BlackJack's Favorite MLB Futures: Win Totals, Cy Young Hopefuls, and MVPs
A large part of the country was bathed in snow last week, but that doesn't change the fact that Thursday is Opening Day in Major League Baseball.
It is unlike any other opening day in sports. Hope springs eternal in ballparks across the nation. Every fan base is hoping their guys can stay healthy, put things together, surprise people and make some sort of run. For a day at least, everyone is relishing the thought of what the future may bring. Maybe their boys can live up to lofty expectations or maybe they can shock the world.
While we certainly love this day for all those reasons, we are also slightly tilted toward the degenerate side of life, so we also love the plethora of gambling options baseball provides us. While anyone who follows me regularly knows I am not a big futures player, there are some in MLB that intrigue me. Here are some of my favorite win total plays, as well as MVP and Cy Young candidates in each league.
Win Totals
Los Angeles Dodgers (96.5)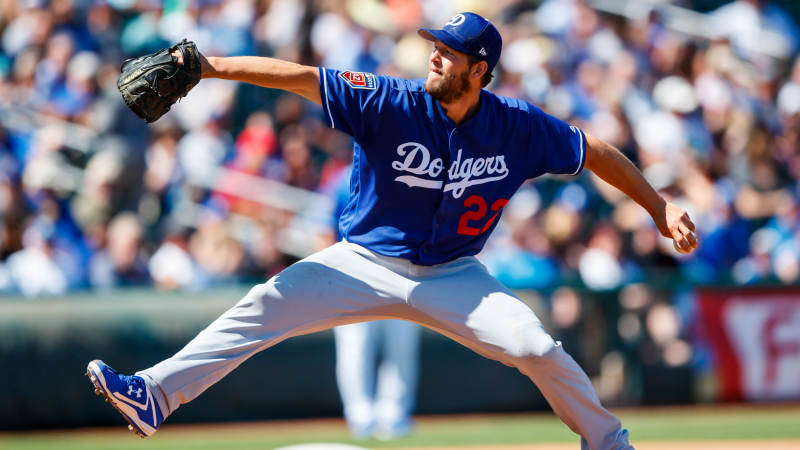 This total is just too high. First, the Dodgers will have more competition in the National League in general and more in their own division. The Padres are better than people give them credit for, and San Francisco made improvements. At the very least, that means the bottom of the division is better than it was last year. Also, the NL in general is simply stronger. The Mets and Brewers are improved from last year and should contend for a playoff spot if healthy. The Cubs are primed for a bounce-back season after a bit of a World Series hangover bothered them early last year. And there are plenty of other contenders in the Nationals, Cardinals, Phillies, Rockies and D-Backs. Factor in the injury to Justin Turner and the probability of a slight sophomore slump for Cody Bellinger, and the play here feels easy.
Pick: Under 96.5 wins
San Diego Padres (69.5)
This is another total that feels like an easy play. Listen, I don't think this team is in contention for anything this season other than a high draft pick, but they are better than this. I don't think it's any sort of stretch to say the Padres could win close to 80 games this year if their youth develops as they hope. Also, they signed Eric Hosmer and are bringing back Freddy Galvis, Wil Myers and Clayton Richard. I just don't see this team being horrible enough to lose 90 games.
Pick: Over 69.5 wins
New York Mets (81)
This call admittedly factors in some degree of health, which has eluded the Mets since 2015. I'm willing to sign on because they finally fired atrocious trainer Ray Ramirez and moved on from Terry Collins to Mickey Callaway in the manager's seat. Through the spring, Noah Syndergaard, Jacob deGrom, Steven Matz and even Matt Harvey at times have all looked good. If those guys stay healthy, we are talking about the most dominant rotation in baseball. The lineup will be better than people think — not electrifying by any stretch, but improved with the additions of Jay Bruce and Todd Frazier. There are some holes here at catcher and the bullpen, but, that said, I think the Mets are battling for a wild-card berth, not to stay above .500. I'll take the over here.
Pick: Over 81 wins
Boston Red Sox (91.5)
The Red Sox are simply too talented to not go over this total. As sometimes happens with very young teams, you will see regression occasionally for no reason, followed by a bounce back. Unfortunately for the Red Sox, almost all of their youth took that step back last season. I expect them to rebound nicely this year. The addition of J.D. Martinez will only help them as they battle the Yankees all summer. I'm looking for big years out of all the "Killer Bs": Benintendi, Bradley, Betts and Bogaerts. Factor in the bulldog that is Chris Sale leading the rotation, and I like the Red Sox in the 94-97 win range.
Pick: Over 91.5 wins
New York Yankees (94.5)
I want to be clear: The Yankees are going to be just fine and are certainly one of the American League favorites. That said, I think there are going to be some growing pains. This is a team that now has sky-high expectations after adding Giancarlo Stanton. World Series expectations. The Yankees haven't carried that weight in a long time. Nobody on this roster except CC Sabathia knows that weight in a Yankee uniform. Aaron Boone has never managed a game in his life and now walks into a pressure cooker. He's already being criticized for tinkering with Aaron Judge in the leadoff spot. Again, the Yankees will be fine, but I do think they could start slower than expected. They also play in the AL East, where wins don't come easy. I don't think this one hits by a lot, but I'm still on the low side here.
Pick: Under 94.5 wins
American League Cy Young
Dallas Keuchel (+1500)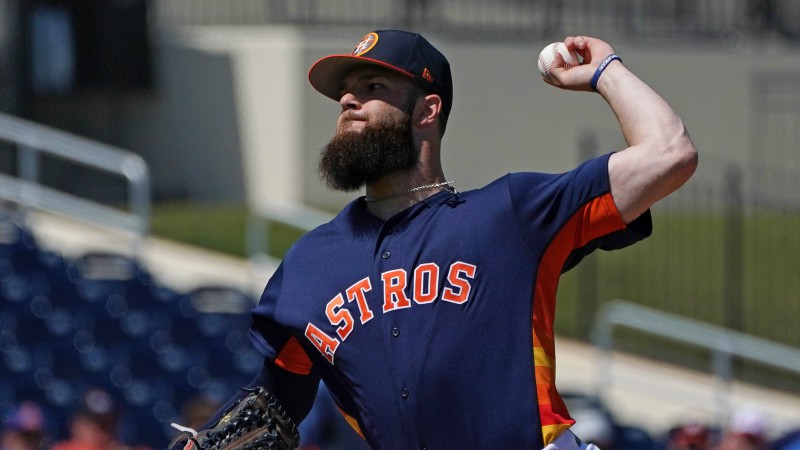 We are talking about a starter who has had an ERA of 2.93 or better in three of the past four seasons. A guy who was dominant in a World Series run last season and is still only 30 years old. Further, coming off a World Series win, the Astros will get plenty of national TV games; they will be the focus of attention across the league. The fact that I can grab Keuchel at this number is astounding to me, and I absolutely love this future.
National League Cy Young
Noah Syndergaard (+650)
This play is betting that Thor stays healthy all season. If Syndergaard is able to play the entire year, we are talking about one of the most dominant arms in all of baseball. While I readily admit spring training stats are relatively useless, Thor has been pretty damn dominant: He's posted a 1.35 ERA in five starts and 23 strikeouts in 20 innings. When he's right, he's usually hitting over 100 mph on the gun every start. At 6.5-1, I like the value here with a very live 25-year-old arm.
Stephen Strasburg (+1500)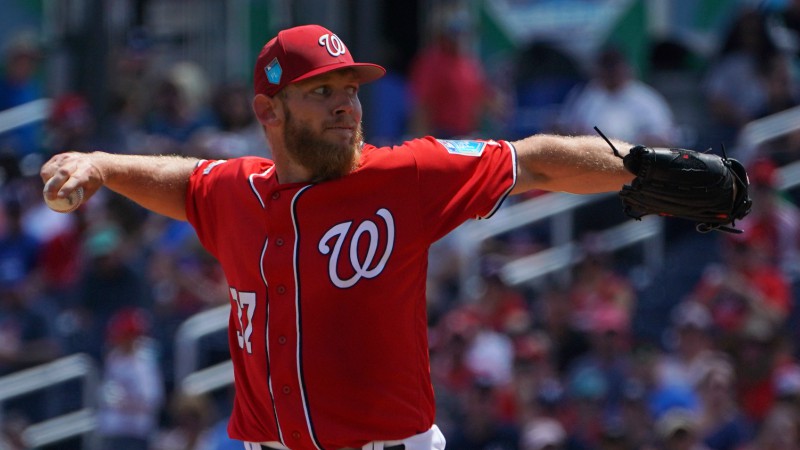 Syndergaard's toughest competition may come from within his own division. Most observers may lean to Max Scherzer, and with good reason, but I like Strasburg here. He came into the league with a ton of hype, and it took him a little while to really hit a groove, but last season was his best year yet. He went 15-4 with a 2.52 ERA and started 28 games. If he can build on that success, I think he has a very good chance to bring home the award, and at 15-1 it's well worth a shot.
American League MVP
Giancarlo Stanton (+1400)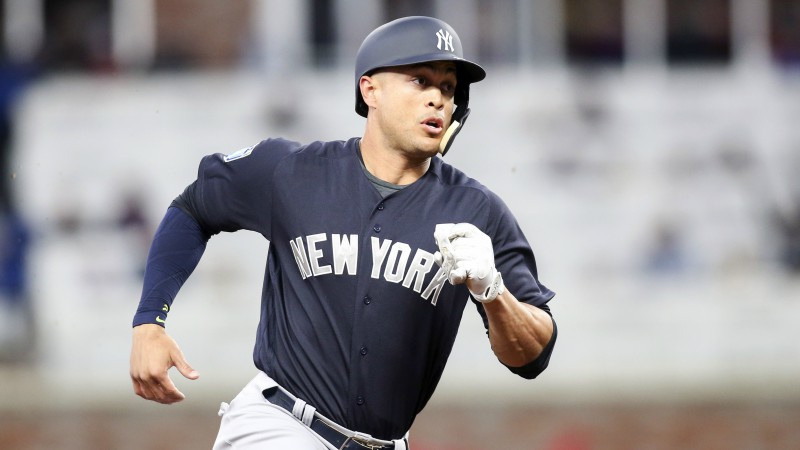 Stanton should be primed for a huge season. He's exceptionally motivated now that he has escaped the dumpster fire that is the Miami Marlins. He also has never played with the kind of lineup support that he will have in New York. While most of the New York media focuses on Judge, Stanton is simply the more polished, developed and better all-around player at this point in his career. I expect a career year out of last year's NL MVP, and at these odds it's simply foolish to overlook him.
George Springer (+4000)
This is admittedly a little bit of a longshot, but not as much as it might seem at first glance. Springer was the World Series MVP last year. Due to that and the attention that comes with winning a title, his profile should be markedly higher than it was last season. I also think teams will be more careful with Jose Altuve this year, and Springer should be a beneficiary of that. He also should be entering his prime in his age 28 season. Last year he hit .283 with 34 home runs and 85 RBIs. If he can build on that, the 40-1 odds here start to look very desirable.
National League MVP
Nolan Arenado (+500)
The Rockies third baseman hit .309 last season with 37 home runs and 130 RBIs. He's only 26 years old. He plays in Coors Field. That alone should be enough to convince you of his MVP case. Also consider that the Rockies have a very talented lineup with Charlie Blackmon, Trevor Story, Carlos Gonzalez and DJ LeMahieu. The pieces are all here for a MVP season from Arenado.
Anthony Rizzo (+1800)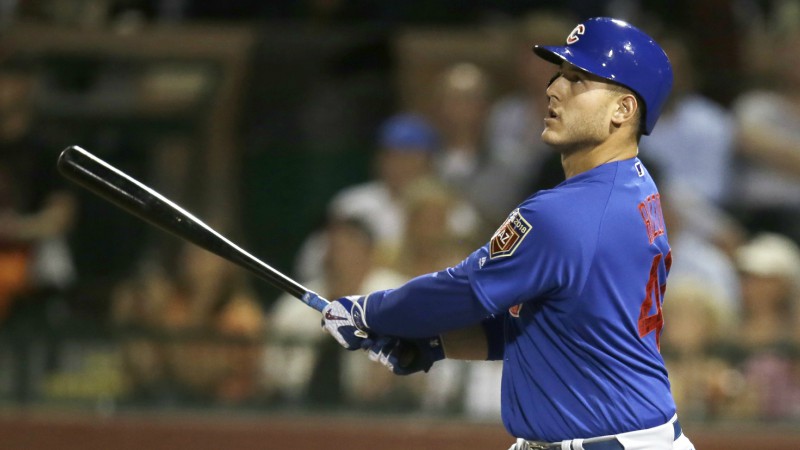 The Cubs had a bit of a World Series hangover to start last season after winning their first title in 108 years. This year feels different for the Cubbies. While most attention is paid to Kris Bryant, Rizzo is the engine that makes this team go. His production is about as consistent as you could ask for: He's hit exactly 32 home runs in three of the past four seasons and has driven in 109 runs in each of the past two. If he can increase that slightly, he has an excellent MVP case on a team that I expect to be one of the best in the NL. With his production, the 18-1 odds are very juicy.
Photo Credit: Steve Mitchell-USA TODAY Sports