BlackJack's Plays of the Day: The Ice Is Hot in Toronto
Credit:
James Guillory-USA TODAY Sports
It's the start of a new week, baby. Our beloved Golden Knights got the job done Sunday night to start us on the right foot. Now it is our job to carry the torch and set the tone for the week to come. There's only one way we know how to do that. Some people hate Mondays. Not us. Not this team. We can't wait for Mondays, because it signals a new week and a new opportunity for us to continue to dominate. It's a new chance for us to re-establish ourselves and our winning pedigree. And the best part, brother, is that it's easy to do. We have only one thing to do. Win. And win we shall.
WINNERS
Boston Bruins (-105) vs. Toronto Maple Leafs | O/U: 5.5
7 p.m. ET
Boston Leads Series 2-0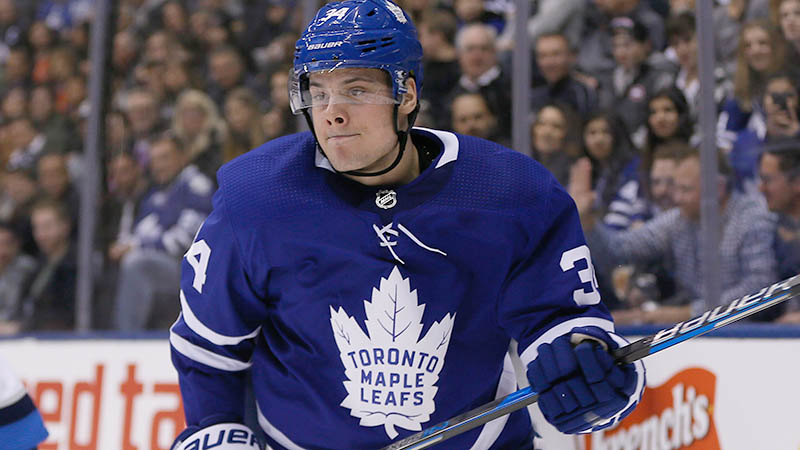 John E. Sokolowski-USA TODAY Sports
The Bruins have absolutely laid the hammer on the Maple Leafs to begin their best-of-seven series, winning the first two games, 5-1 and 7-3. Now the series shifts to Toronto, and the question becomes this: Are the Maple Leafs worth a play as a home dog tonight in essentially a must-win game?
The Bruins have used their incredible first line of David Pastrnak, Patrice Bergeron, and Brad Marchand to absolutely throttle the Maple Leafs. Through the first two games of this series, the B's top line has 20 points. In Game 2 alone, Pastrnak netted three goals and tallied three assists, while Marchand added four assists of his own. They have been simply unstoppable. The Bruins have also been making the Leafs pay for their mistakes, as they have converted 5-of-10 power-play opportunities. The Bruins have excelled in all facets of the game over the first two tilts.
The Maple Leafs' task does not get easier as Nazem Kadri's suspension continues for the next two games. If you're looking for hope for Toronto, it's that despite the last two games the Leafs did manage to go 3-1 against this Bruins team in the regular season. They also have one of the most dynamic players in all of hockey in Auston Matthews, who has been held without a point so far. The Leafs do have a dynamic offense capable of getting past Boston; they simply have to capitalize on those chances. They started to do that in Game 2, as they scored three goals on 33 shots. The goaltending also must be more consistent for the Leafs: Frederik Andersen has given up eight goals on 45 shots in these two games. He played like a Vezina candidate at times this season and he must find that form again for the Leafs to have a chance.
The Maple Leafs are going to have to play more aggressively to steal this game. They will have to play physically with Boston's top line, force the issue offensively, control the puck and limit the time those three aforementioned Bruins have in the attacking zone. The Leafs are capable of that; they've done it earlier this season. Ultimately, from a value standpoint, I cannot sit here and say confidently that I believe in Toronto at this point. What I do believe in is the offensive prowess of both of these clubs. They are elite scoring teams, and I see no reason why that will not continue tonight as Toronto figures to be more aggressive and willing to take risks to score goals. That should lead to more scoring chances for them and for Boston.
THE PICK: Over 5.5
Miami Marlins at New York Yankees (-315) | O/U: 8.5
6:35 p.m. ET
Caleb Smith (L) vs. Luis Severino (R)

Nick Turchiaro-USA TODAY Sports
The Yankees haven't played in quite a while. After defeating the Tigers in their series opener on Friday, 8-6, they've been rained out each of the past two days. Now they return home with their ace on the mound, rested, and with the Miami Marlins coming to town.
The Yankees have not started the year the way their fans would have liked. They have started 7-7, the bullpen has been shaky at times and Giancarlo Stanton's strikeout woes have been well-documented. Still there is evidence that they are going to be fine. Severino has had a nice start to the season, going 2-1 so far with a 3.50 ERA and 20 strikeouts. Aaron Judge and Didi Gregorius are both batting well, and Aaron Hicks hit a pair of homers on Friday. Now the Yankees get the Marlins in town, and you have to think Stanton would love nothing more than to break out of this slump in a huge way against his former club, for whom he seems to harbor quite a bit of resentment. The Yankees are rested, at home, motivated and have their ace going; it's a good look for them.
The Marlins have lost nine of their past 11 games and simply aren't very good. Sure, there are some intriguing players such as Derek Dietrich, but for right now there isn't much to like here. The Marlins will start Caleb Smith tonight, who they acquired from the Yankees for cash considerations last year. Smith is 0-1 through three starts this season with a 4.73 ERA. Smith is an intriguing prospect who shows flashes of talent at times, but he has not faced anything like the lineup in front of him tonight.
The bottom line is the Yankees are top to bottom a better team than Miami. They are also well-rested due to rainouts, and Severino should be very fresh tonight. Unless the Yankees just completely no-show this game, it should be an easy one. So, where do we find value with a -315 favorite? We lay the run line and have faith that this lineup does what God put it on this earth to do — and that's hit home runs and hit lots of them.
THE PICK: Yankees Run Line (-130)
Houston Astros (-114) at Seattle Mariners | O/U: 7.5
10:10 p.m. ET
Dallas Keuchel (L) vs. James Paxton (L)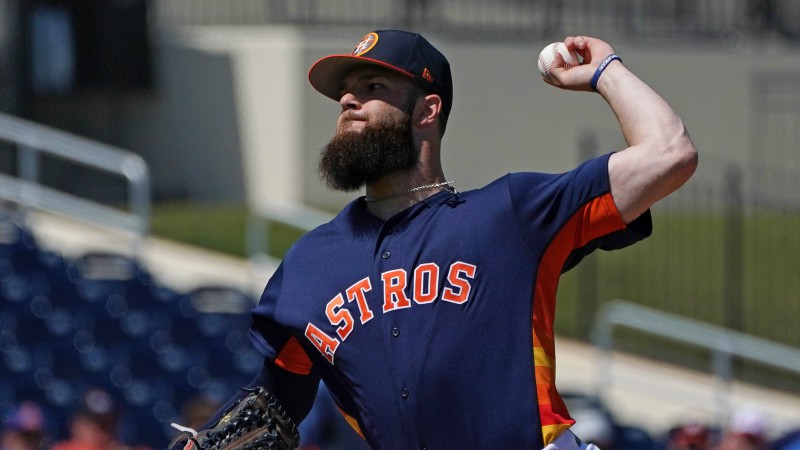 Jasen Vinlove-USA TODAY Sports
These are two teams that are surprisingly heading in opposite directions early in the season. The Mariners have won four of their past five to improve to 8-5. They have also scored at least four runs in four of their past five games. Tonight they have James Paxton on the mound. The 29-year-old southpaw got roughed up in his first start for six runs against the Indians but has surrendered just two in each of his past two starts.
Paxton is opposed tonight by fellow lefty Dallas Keuchel. Keuchel has given up three runs in two of his starts and two one in the other. The worrisome number with Keuchel is that he has only 13 strikeouts compared to nine walks. He will need to be more consistent for the Astros to reach their potential as the season goes on. More troublesome for the Astros is their offense. A lineup stacked with very good hitters has not produced to the level expected at the beginning of the year. Houston has scored more than three runs just twice in its past five games. This has been a struggle year round, as 11 of their 16 games have gone under the total, and they have covered the run line only twice in their past 10 outings.
All that said, I still believe this is the most talented team in baseball. The Mariners are on a nice little run, but the Astros are coming off two straight losses to the lowly Rangers — both in Houston. I think the champs come into this game looking to get right. You'll rarely get Keuchel and the Astros at this price; don't pass it up.
THE PICK: Astros (-114)
Let's start this week by sending a message, brother. The message is that we are here to win and will accept nothing less.
How would you rate this article?