Thursday Sharp Report: Pro Players Hammering Three Windy Totals
Credit:
David Richard-USA TODAY Sports
The Stanley Cup Playoffs have begun, and the NBA postseason is right around the corner, but sharp bettors remain fixated on MLB. It's the ultimate grinder sport: volume betting, super-long season and endless opportunities to maximize units won.
After analyzing Thursday's eight-game slate using Sports Insights' Sportsbook Insider Pro betting tools, I've pinpointed three MLB bets that professional players are focusing on, including games that start at 6:10, 8:15 and 10:10 p.m. ET.
All data as of 4 p.m. ET
Detroit Tigers – Cleveland Indians Over 8.5 
6:10 p.m. ET
The public is always inclined to bet an Over. Rooting for strikeouts and double plays isn't fun. An Average Joe wants to see hits, home runs and cash an exciting, high-scoring game. In the rare instances that the public loads up on an Under, it creates rare contrarian Over value for sharp bettors. Despite 63% of bets going Under, this total has risen from 7.5 to 8.5. Wiseguys got down hard on the Over 7.5 at Buckeye, Pinnacle and GTBets, causing market-wide reverse line movement. The Over is also getting more dollars (43%) than bets (37%), and the wind is blowing out from left to right. Another benefit to Over backers: Manny Gonzalez is the top Over umpire in MLB since 2005, according to Bet Labs.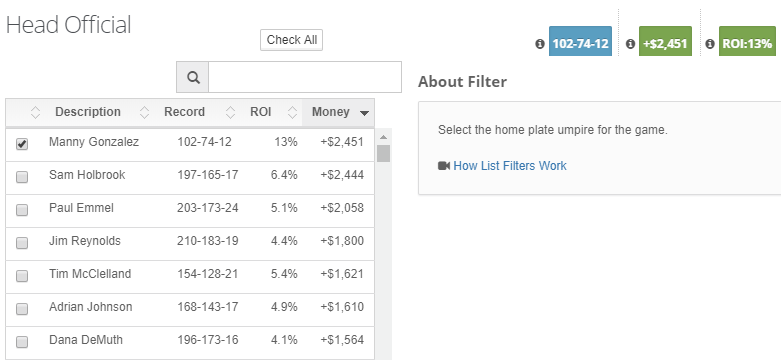 Los Angeles Angels – Kansas City Royals Over 9.5
8:15 p.m. ET
Here's another smart money total play. The Over is getting a slight majority of bets (56%), but it accounts for nearly 80% of dollars, making it one of the top bets vs. dollars discrepancy plays of the day.  Sharps at Pinnacle hammered the Over 9, causing the total to rise to 9.5 across the market. The wind is blowing heavily out to center at more than 15 mph, and sharps are hoping this turns a few warning-track outs into first-row souvenirs.



San Francisco Giants – San Diego Padres Under 8
10:10 p.m. ET
Bets on this NL West total are split right down the middle, but 80% of dollars are on the Under. After opening at 8, the total rose briefly to 8.5 overnight before smart money bought it back down. Sharps at Pinnacle and Buckeye got down hard on the Under, triggering a pair of steam and reverse line moves. Another reason why wiseguys like the Under: the wind is blowing in heavily from left to right.



Thirsty for more in-depth betting analysis? Sign up for a Sports Insights Pro trial and join our Live Betting Hangouts where we break down the board every weeknight from 6:30-7 p.m. ET.
The Pro membership also gives you a fully customizable live odds page with lines from 50+ books, the number of bets on every game, best bet picks, steam and reverse line moves, Sharp Action Report, weather, injuries, line watcher, line predictor and more.
Pictured: Detroit Tigers first baseman Miguel Cabrera (24) singles in the third inning against the Cleveland Indians at Progressive Field