Tuesday Sharp Report: Wiseguys Hitting Three Totals
Credit:
Jerome Miron-USA TODAY Sports
Pro players cashed on the Twins (+115) yesterday, but swung and missed on the Athletics (+122) and Padres (+155). It's no consolation for a losing day, but this is why wiseguys love betting dogs. When they win, they earn plus-money payouts. Yesterday's plays went 1-2, but lost only 0.85 units. Had they gone 1-2 betting all favorites (at -150 or -175), they would be down 2.5 units or more. Volume betting, long season, stay the course, think long term.
After analyzing Tuesday's 15-game slate using Sports Insights' Sportsbook Insider Pro betting tools, I've pinpointed three MLB bets that professional players are focusing on, including games that start at 7:05 and 7:10 p.m. ET.
All data as of 2:15 p.m. ET
Boston Red Sox – New York Yankees Under 8.5
7:05 p.m. ET
The Sox and Yanks kick off a pivotal three-game series in the Bronx tonight. The public sees Betts, Judge and Stanton on the same field with a short outfield porch and automatically assumes it will be a high-scoring game. Not the sharps. Nearly 80% of bets are on the Over, yet the total has either remained frozen at 8.5 or fallen to 8 depending on the book, indicating Under liability. Wiseguys at Pinnacle hammered the Under 8.5, triggering a pair of steam and reverse line moves. This Under also matches a profitable Bet Labs system: Contrarian Unders for Winning Teams (+168.72 units since 2005).

New York Mets – Cincinnati Reds Under 9.5
7:10 p.m. ET
Last night the Mets-Reds Over 9.5 cashed as the two teams combined for 13 runs. Today, the public sees the ERAs of the two starting pitchers (Jason Vargas at 16.20 and Luis Castillo at 7.01) and says easy Over, once again. However, despite more than 80% of bets going Over, the Under juice has moved from 9.5u -105 to 9.5u -121 at Pinnacle. At Bookmaker, the total has already fallen from 9.5 to 9. Why would the books drop the total to give public Over backers and easier number to cover? Because they took in a wave of sharp Under action from respected players. Wiseguys at Pinnacle, Bovada, Sportsbook and Heritage all hammered the Under 9.5, triggering a plethora of steam and reverse line moves.

Detroit Tigers – Texas Rangers Under 9.5
7:10 p.m. ET
This Under checks off all the sharp money boxes for wiseguys. The public is on the Over (64%), yet the Under is getting juiced up at Bookmaker (9.5U -110 to 9.5u -120). This means that liability is on the Under and the next move is likely to be down to 9. Wiseguys steamed the Under 9.5. The wind is blowing in heavy (12-13 mph) from center, which Goodfellas hope turns first-row homers into warning-track outs. Lastly, Bill Miller is behind the plate. Since 2005, the Under has produced +28.56 units won with Miller calling balls and strikes, making him one of the top Under umps in MLB.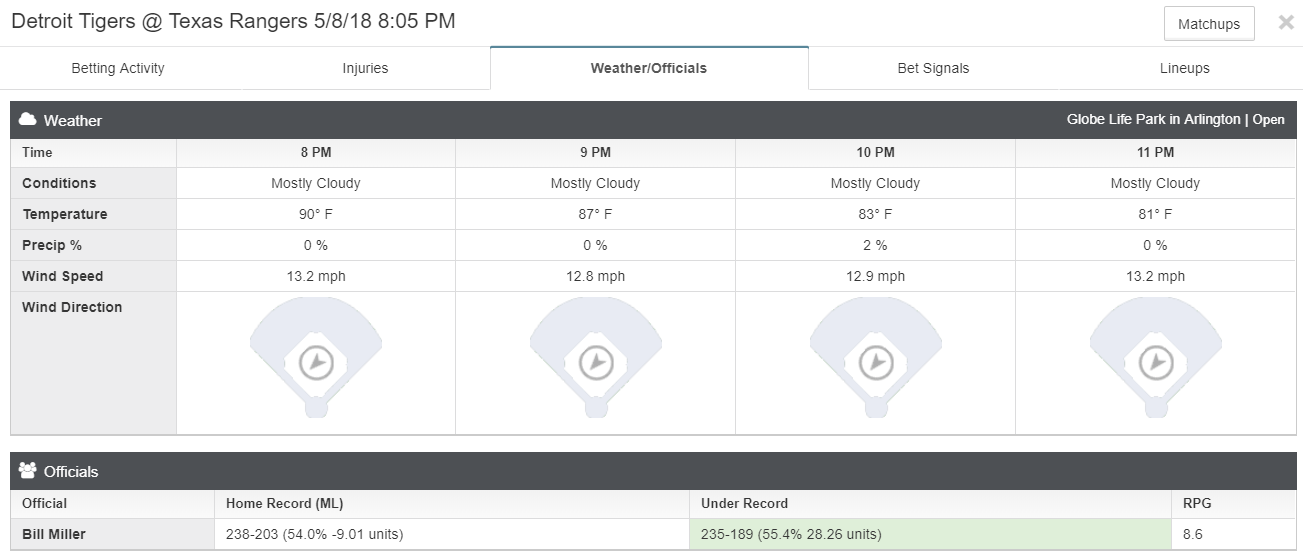 Looking for more in-depth betting analysis? Sign up for a Sports Insights Pro trial and join our Live Betting Hangouts where we break down the board every weeknight from 6:30-7 p.m. ET.
The Pro membership also gives you a fully customizable live odds page with lines from 50+ books, the number of bets on every game, best bet picks, steam and reverse line moves, Sharp Action Report, weather, injuries, line watcher, line predictor and more.
For more betting info and customer support, you can find me on twitter @Josh_Insights.
Pictured: Detroit Tigers right fielder Nicholas Castellanos (9) slides in to home plate during the third inning against the Texas Rangers