MLB Sharp Report: 3 Monday Moneyline Plays
Credit:
Isaiah J. Downing-USA TODAY Sports
As you may have heard, there was some pretty big news in the sports betting world today.
After perhaps a brief morning celebration, wiseguys turned back to tonight's MLB slate in hopes of building on their 6-1 weekend. Here are their three favorite Monday night plays, including games at 7:10 p.m. and 9:40 p.m. ET.
All data as of 2:40 p.m. ET. For live info, check out our MLB live odds page.
Detroit Tigers (+203) vs. Cleveland Indians
7:10 p.m. ET
Sharps are finding plenty of value on the Tigers, whose +203 payout makes them the biggest underdogs on the board tonight.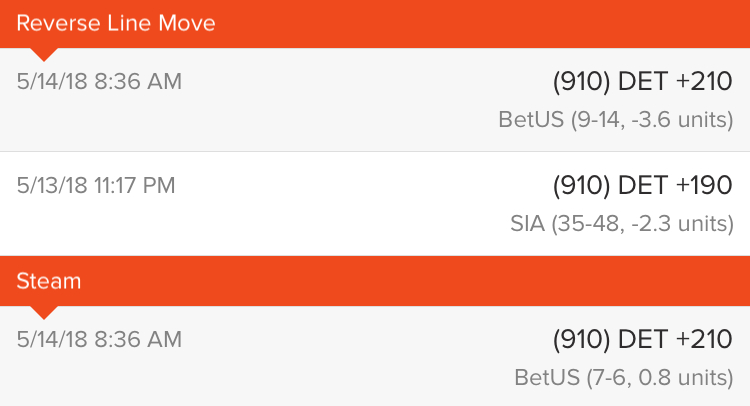 In addition to three unchallenged bet signals, the betting percentages in this matchup point to Detroit as the sharp side.

With only 33% of bettors accounting for 57% of dollars, the larger — and likely sharper — wagers are clearly landing on the Tigers.
Seattle Mariners (+101) at Minnesota Twins
7:10 p.m. ET
Bettors are split nearly down the middle in this matchup, with 51% taking the Twins. All sharp indicators are on Seattle, however, as they've triggered two bet signals, received more money and their line has fallen from +109 to +101.
Milwaukee Brewers (+124) at Arizona Diamondbacks
9:40 p.m. ET
The D-backs have attracted 74% of bettors, making them one of tonight's most public spots. Wiseguys see this one differently, however, as they've triggered two bet signals on Milwaukee to help bring the Brew Crew down from +135.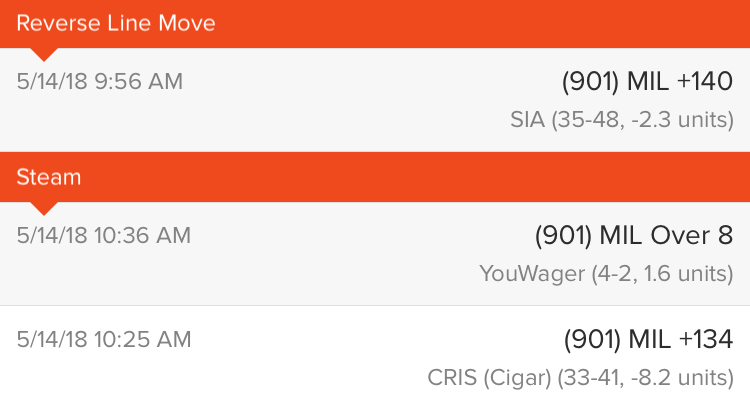 Photo: Rockies shortstop Trevor Story (27) is forced out at second base by Brewers shortstop Tyler Saladino.