Astros vs Phillies Game 4 World Series Predictions
Credit:
Drew Hallowell/MLB Photos via Getty Images. Pictured: Rhys Hoskins
The Astros and Phillies meet in Game 4 of the World Series tonight.
Cristian Javier goes for Houston, while Aaron Nola gets the start for Philadelphia.
Continue reading for our lead MLB betting analyst's prediction for tonight's matchup.
Throughout the Major League Baseball playoffs, I will provide a daily breakdown summarizing my thoughts on both futures and individual games for that day.
Below, I will address how to handle betting on these playoff series, whether on the series moneyline or a game-by-game basis, while using my daily MLB Model projections.
You can find my projections for every MLB game in the Action Network App (on both the PRO Projections tab and the game pages) and our Projections Hub (which you can bookmark).
You can also shop for the best lines on our odds page.
Using my projections, where can we find actionable value for Wednesday?
Series Moneyline Corner
First, let's take a look at my updated projection for the 2022 World Series:
The Phillies came into this series as roughly a 40% underdog in my projections, and as low as 33.3% (+200) per the betting market. They have gained or lost between 15-18% toward their series win probability through each of the first three games.
If you don't have Phillies' futures, consider betting their series price at -136 (57.7% implied) or better before Game 4 (-140 at Caesars); you'll need to wait for a slightly better number.
If you have Phillies' futures and are looking for the best opportunity to hedge, I would wait until after Game 4. Even at the best available odds (+130 at FanDuel), Houston is a -EV bet (-3.2%).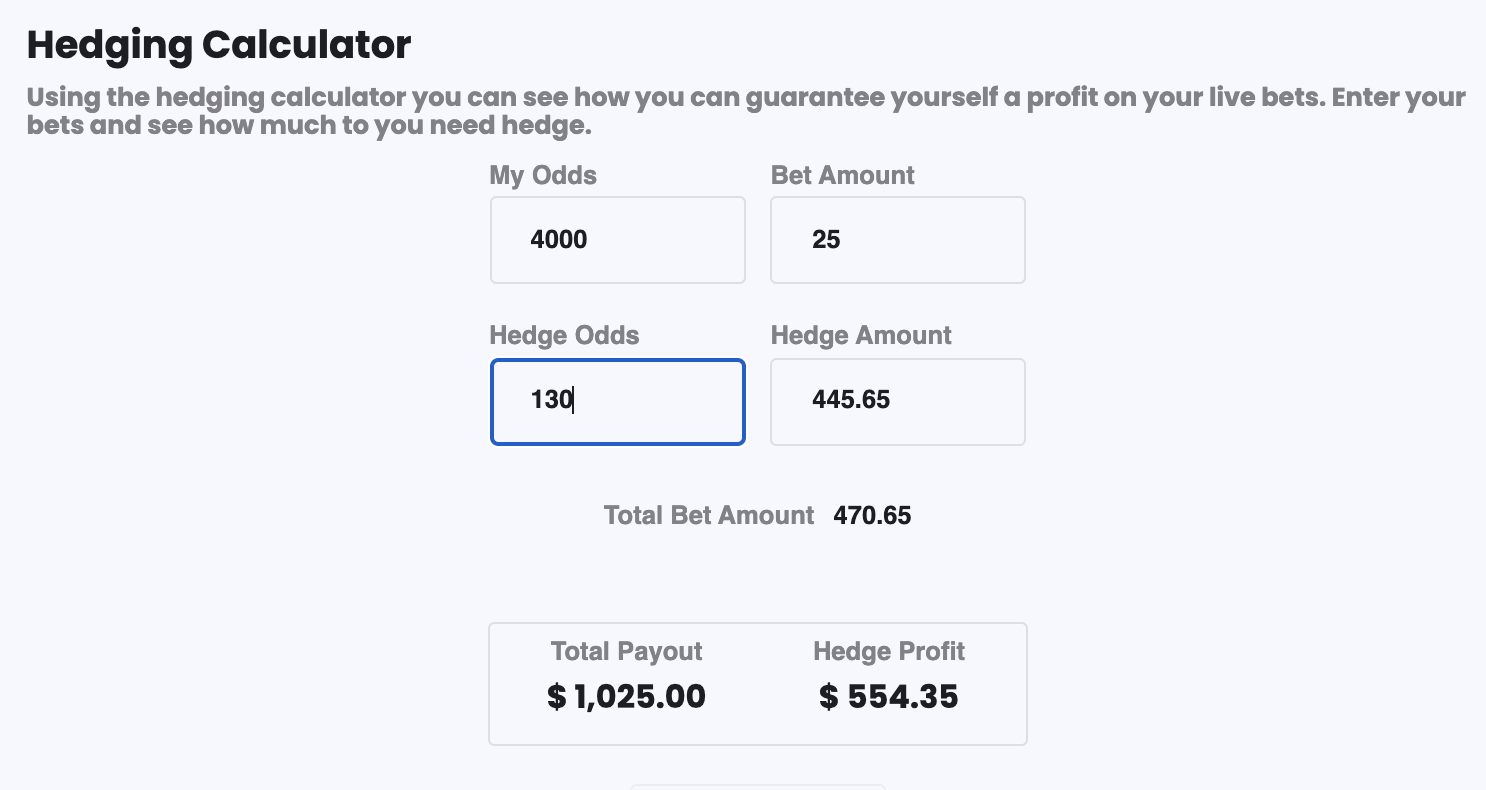 Hopefully, Aaron Nola can provide the Phillies with a 3-1 lead. I would make their series odds around 81% (-425) with a win in Game 4, but I would favor Houston in each of the final three games. 
I would set the Astros around a 61% favorite (-157) if they knot the series at two apiece.
Astros vs. Phillies, 8:03 p.m. ET
Cristian Javier vs. Aaron Nola (full projections here)
Starting Pitching
Monday's rainout pushed Nola up from Game 5 to Game 4, while the Astros will give Justin Verlander an extra rest day before what could be a must-win Game 5.
Nola struggled in Game 1 (4 1/3 IP, 6 H, 5 R, 2 BB, 5 K) — his worst outing since August — after six perfect innings against Houston on October 3.
His pitch mix in both starts was highly similar (roughly 50% fastballs — with a slight lean to four-seamers; 32% curveballs — his most commonly selected offering; and about a 10% distribution between either his changeup or cutter).
The sinker usage has increased slightly  and the changeup is down against the Astros relative to his season-long marks, which aligns with expectations against Houston's pitch splits. Every pitch in his arsenal rates as above average.
Nola generated five additional whiffs and six more called strikes (40% CSW%) in that playoff-clinching start, compared to his Game 1 outing (30% CSW%).
Houston sat on the fastball in the rematch, with just one whiff and 11 called strikes (31.6%) against the four-seamer and sinker, compared to 21 (46%) a month ago.
Nola has as good of command as any pitcher in baseball (second in walk rate) but seemed unnerved last Friday.
Unlike his teammate, Zack Wheeler, Nola's newfound velocity stayed intact through a poor start in the World Series.
Nola sat at 92.8 mph on his heater during the regular season but has averaged 94.1 mph on his fastball (+1.3 mph) over his past five starts (low of 93.8, high of 94.6).
Perhaps he goes to the cutter more often — at the expense of some four-seamers and sliders — as an adjustment for this third matchup against Houston in a month.
Houston ranked as a top-four offense against fastballs but a bottom-four offense against cutters this season. Nola's cutter is more effective — and deployed more frequently — against right-handed hitters, and Houston has a righty-heavy lineup.
Nola only started throwing a cutter in 2021, but he has gained confidence in the pitch (which rates as an above-average offering) of late and deployed it more frequently in September and October.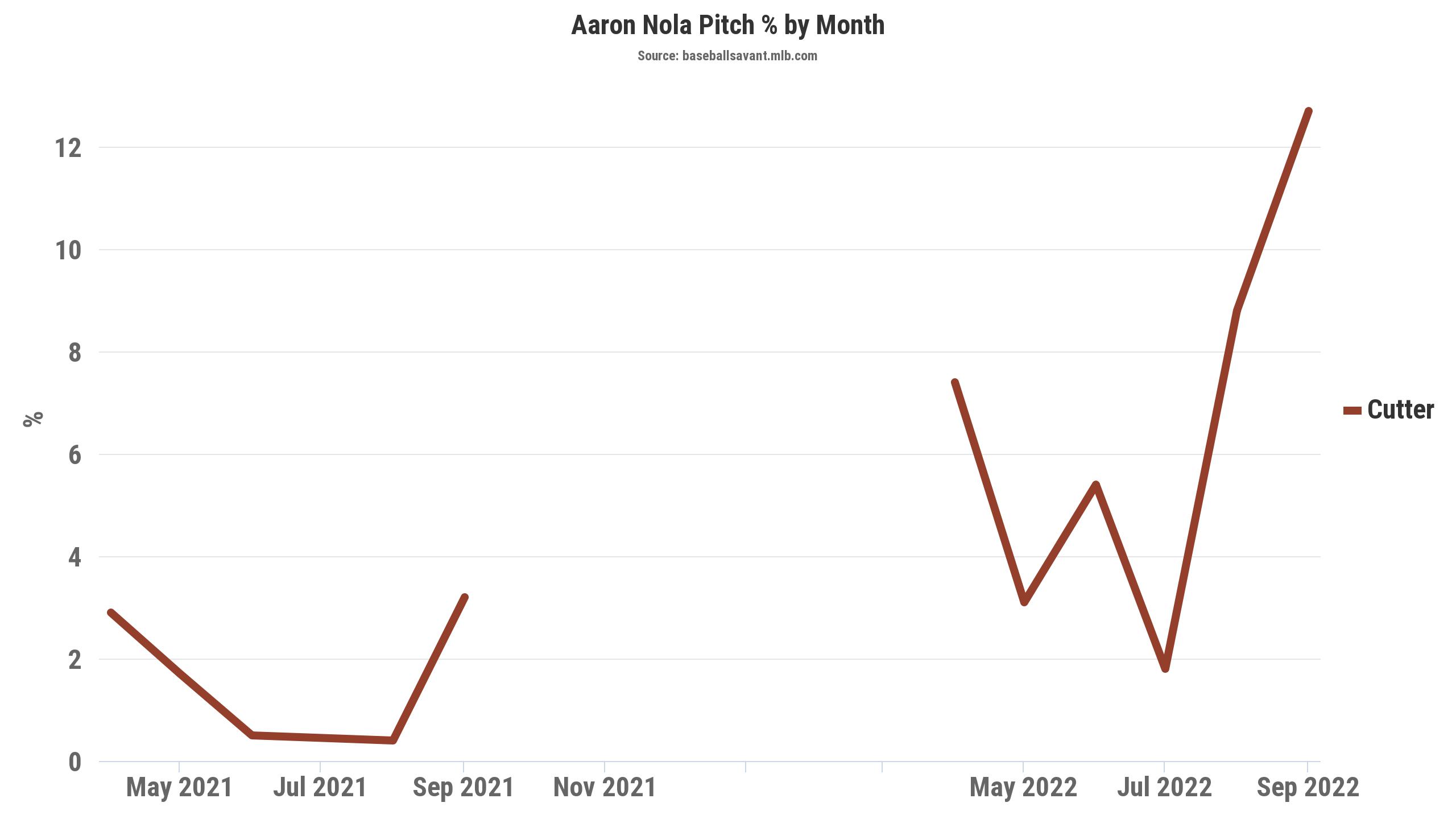 Cristian Javier is a simpler pitcher to analyze — but no less challenging to hit. He throws a plus four-seam fastball or a plus slider nearly 90% of the time, with a below-average curveball or changeup mixed in to keep hitters honest.
Despite a two-pitch mix, Javier ranked in the top 4-5% among pitchers in every predictive Statcast metric (xBA, xSLG, xwOBA, xERA) and seems like a potential Cy Young contender next season — especially if he adds a third pitch for lefties.
Against righties, Javier threw a fastball or slider more than 98% of the time this season (1.7% curveballs). He used the same combination nearly 20% less often against lefties (78.8%), while trying to find a feel for a third pitch.
Against righties, Javier permitted a remarkable .143 xwOBA with his slider. Against lefties, that number increased to a still good but far more human mark of .227.
Among pitchers who tossed at least 100 innings this season, Javier had the seventh-best fastball and the 15th-best slider on a per-pitch basis. He also ranked 15th in swinging strike rate.
In contrast to Nola, called strikes (19.7% for Nola vs. 14.4% Javier) and strike one (70.1% vs. 55.9% respectively) are the biggest concerns for the Houston electric factory (MLB averages 16.1% and 61.4%).
The Phillies' offense should be in more hitters counts when both starters are in the game.
Still, I view Nola and Javier as relative equals (2.76 and 2.79 Model Weighted ERA) and typically see both as underrated by the betting markets.
Lineups and Defense
Below are my projected lineups for Game 4, alongside their 2022 splits and defensive runs saved per 9 innings:
Both teams are back in their lesser split against righties, which slightly favors the Phillies' offense in late-season splits (Houston rated as an average team against righties after the trade deadline). Still, assuming Trey Mancini starts, I'll project Houston's offense with a negligible advantage.
The Astros surprisingly started 26-year-old rookie David Hensley at DH on Tuesday as they desperately grasp for production from the DH spot with Mancini (0-for-17 in the playoffs) and Aledmys Diaz (1-for-18) both struggling.
I expect Mancini to draw the start in Game 4 after pinch-hitting for Hensley in the ninth inning of Game 3. He offers neutral splits for his career and seems the best option for Houston among the trio in a righty-on-righty matchup.
If the Astros fail to win the World Series, you can draw a direct line to the Michael Brantley injury in late June. He balanced their lineup against righties (career 130 wRC+), and the Astros haven't found an adequate replacement — or group of substitutes — to replicate Brantley's vital OF/DH playing time.
The Phillies will continue to roll with the same lineup against righties as they have all postseason. They ranked as an above-average team against both fastballs and sliders.
Both lefties — Bryce Harper and Kyle Schwarber — had a ton of success against four-seamers and sliders this season; Rhys Hoskins is the righty I would target from Philadelphia from a prop perspective. All three players may be juiced beyond playability after homering on Tuesday. I'm comfortable taking Hoskins at a severely reduced price, despite the slider splits for Javier.
Jose Altuve and Kyle Tucker are the bats I'd want to target from Houston. I doubt you will find a great price on Tucker after his two-home-run outing off Nola in Game 1.
Bullpens
The Astros used Jose Urquidy (45 pitches) to mop up the final three innings of Game 3. That usage shouldn't decrease their Game 4 chances. Still, another short outing from Javier or Justin Verlander in Games 4 or 5 could force their entire bullpen into action' and cause attritional effects later on in the series. 
The Phillies avoided their key relievers with a big lead in Game 3 but pressed four bullpen arms into action (72 combined pitches).
A short start from Nola in Game 4 could have debilitating effects on a planned bullpen day in Game 5 if Andrew Bellatti, Connor Brogdon and Kyle Gibson have to pitch for a second consecutive day on Wednesday.
Nick Nelson will be at the back of the line for the Phillies after a grueling eighth inning (30 pitches) on Tuesday.
Venue and Umpire
Citizens Bank Park is a hitters' park and plays about six percent above the MLB average run-scoring environment under normal conditions.
With cool temperatures and the wind slightly blowing in on Thursday, the park should have a pitcher-friendly lean.
The Game 4 plate umpire is Tripp Gibson, who posted an 18-12 record to the Over this season.
Per UmpScorecards, Gibson rated in the top four among all umpires for called pitch accuracy (95%) over the past two seasons. Game 2 umpire Pat Hoberg (95.6%) is the most accurate over the same span.
Ignore the short-term Over trend. Expect Gibson to call a fair game.
Projection and Pick
I projected the Phillies as 51.9% favorites (-108 implied) for the first five innings (F5) on Wednesday and as 51% favorites (-104 implied) for Game 4.
I don't see value on either side of the moneyline in either half. In case there's dramatic movement, I would look to bet the Phillies at +100 F5 and +104 full game, or the Astros at +117 and +113, respectively.
Concerning the totals, bet the F5 Under (projected 3.28) down to 3.5 (-101) and the full game Under (projected 6.54 down to 7 (-108).
Depending on game flow, look for live overs at 6.5 and 5, and shoot for a small or large middle around the odd numbers.
Bets for November 2
Add Under 7.5 To Your FanDuel Bet Slip Right Now Via QuickSlip!
How would you rate this article?
This site contains commercial content. We may be compensated for the links provided on this page. The content on this page is for informational purposes only. Action Network makes no representation or warranty as to the accuracy of the information given or the outcome of any game or event.